Wisconsin River – Prairie du Sac Dam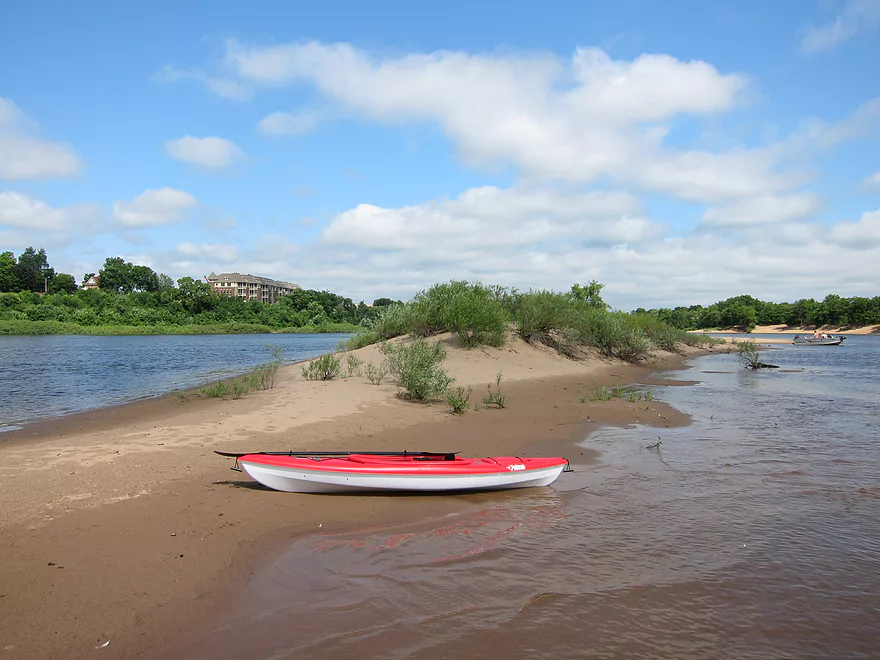 Put-in:
Prairie du Sac Dam (VFW Park)
Take-out:
Ferry Bluff or Arena
Distance:
Ferry Bluff (8 Miles) or Arena (14 Miles)
Time:
3 Hours 20 Minutes (Ferry Bluff)
From the Prairie du Sac Dam to the Mississippi River is probably Wisconsin's most popular all-around canoe and kayak destination (well…if not top, tied with the Kickapoo and St. Croix for popularity). A number of reasons why this section is so popular:
It is not impeded by any dams
Great sandbars (at least after Ferry Bluff)
Great camping options
Lots of wildlife
Large chunks of protected river-front
Shallow enough water to scare away heavy boat traffic (yet not too shallow to paddle)
Lots of great side sloughs and islands to explore
Scenic bluffs overlooking the river
Few (not like the Dells) rock faces on the water front
Large number of public landings and private shuttles/rentals
On the flip side…the current is a little weak (not bad like Lake Wisconsin) and the large size of the river kind of swallows up interesting bends and quirks that small rivers have (although some side sloughs share these values). It is also in the open, so wind/sun/heat can be more so issues than with small rivers.
Don't paddle the river during high water…it's dangerous and all the sandbars vanish (lower is better when it comes to water level for the lower Wisconsin).
This section (to Arena from the Prairie du Sac dam) is a long one, and you'll want to split it up probably unless you are camping. Again…use the Google map measuring tool and figure two miles an hour to calculate time. The most prominent feature right away is the dam itself. It's the largest in Wisconsin and has one of the most problematic environmental impacts. The dam slows down Lake Wisconsin so much that a ton of (toxic) sediment has deposited behind the dam and will have to be dredged in the future or it will threaten the life of the dam. On the downstream side, the opposite problem occurs…the lack of sediment doesn't protect the channel from erosion and the river has eroded 6-8 feet in the 100 years that the dam has been in operation. In fact, the erosion is so bad downstream that the locks (huge things in the middle of the dam) are unusable because they rise 6-8 feet above the water-line. 
As for a review on this section… You can subdivide this segment into two legs…one from the dam to Ferry Bluff (~8 miles) and from Ferry Bluff to Arena (~6 miles). Again, the dam is a minor tourist attraction in and of itself. You can check it out from a safe distance at the VFW public park (most popular), or if you are more daring, you can put in at the dam itself.  Hoofers from UW-Madison (the university outdoor club) actually put in here and paddle against the discharge for whitewater training. The other attraction besides the dam are the eagles that flock here in huge numbers (especially in the winter). From the dam to Ferry Bluff honestly is very weak when it comes to sandbars (the lower Wisconsin's best asset), thanks to the dam blocking upstream sediment. The first few miles after the dam you will travel through the twin cities of Prairie du Sac and Sauk City.
The next major 'highlight' is the old railroad bridge that is partially torn down. It's considered dangerous because the current picks up there and turns at the same time. Generally speaking you should stay all the way to the right and avoid the pillars like a hawk (they create mini-whirlpools that can capsize your kayak). From here to Ferry Bluff you'll enjoy a natural river front (but alas, few sandbars).  (Webmaster's Update…it's been removed which is good news.)
Ferry Bluff is considered the highlight for many canoers/kayakers in the area. It's basically a large bluff that you can climb on top of for a very nice view of the river. The bluff extends all the way down as a rock face right into the river. If you want to check it out, head up Honey Creek and in just a bit you'll find a public landing on your left. Hide your boat and scamper up the trail for a nice vista of the Wisconsin River. Honey Creek is actually a water body I hope to cover in more detail on another page. It's the largest/longest creek in Sauk County, originating in the Baraboo Hills, and can be a cool/shady contrast to the Wisconsin river on hot muggy days.
After Ferry Bluff and going on to Arena, expect a LOT more sandbars and very nice ones at that. So if you want to do camping or like navigating around these cool sandbar islands this is a good stretch. The best sandbar sections (generally speaking) are from Ferry Bluff to Gotham. Second best are from Gotham to Wauzeka.  Third goes from Wauzeka to the Mississippi (the closer you get to the Mississippi the weaker the sandbars get), and the weakest section is from the dam to Ferry Bluff. Granted, this is all subject to change based on the spring floods.
Third Party Resources:
Many of these locations can be quite popular on summer weekends and reservations are recommended. If you're into kayaking many of these launches do rent kayaks but vary with quality…make sure you ask about the lenth of their kayaks (longer ones will track better and have much less paddling resistance and better top-end speed). Services ordered by base of operations from upstream to downstream.
Bender's Bluff View Canoe Rental – 608-544-2906
E10032 Huerth Rd, Sauk City, WI 53583
Their base of operations is a private landing just downstream of Ferry Bluff. They service many locations including VFW park upstream (by the dam) and all the way down to Wyalusing (junction of the Mississippi). Mostly canoe rentals and some kayak rentals. They do not service Arena for some strange reason.
Sauk-Prairie Canoe Rental – (608) 643-6589
944 Water Street, Sauk City, WI 53583
Also known as 'Wisconsin River Outings'. Base of operations is a private landing just northeast of the hwy 12 bridge (believe they have a secondary base near Boscobel). They do rentals and shuttles all the way to Wyalusing (pricey though!). They are mostly a canoe rental service although they do have nice kayaks (but not a lot at 30…they were all booked when I tried to rent from them this summer). Don't believe they do Prairie du Sac routes or put-in by the Dam…but am not sure.
Jensen's Blackhawk River Runs – (608) 643-6724
PO Box 57 Sauk City, WI 53583
Base of operations is a private put-in close to the Mazo boat landing. I don't believe they service the Sauk Prairie segment but do shuttles/rentals all the way to Wyalusing. Don't believe they rent kayaks but am not sure.
Traders Bar and Grill (aka Sandbar Canoe Rental) – 608-588-7282
Trader's Bar and Grill 6147 Highway 14 Arena, WI 53503
Based out of Arena, they service 'Sauk Prairie' to Wyalusing. Sauk Prairie is vague as I don't know if they put in at the Prairie du Sac dam or the Sauk City ramp near the Hwy 12 bridge. They do kayaks/canoes/tubing (I personally don't think tubing works because it is too slow). They brag they have the cheapest overnight rates but I am not sure.
Wisconsin Canoe Company – (608) 432-5058
E5016 E Hwy 14 (GPS gets this incorrect…they instruct: 'Go to Woody's Spirits and Sports next door to Subway and Century 21 near the intersection of Hwy 14, 23, and 60')
These guys are based out of Spring Green and do primary routes… Arena to Spring Green (Pecks Landing) and Prairie du Sac (VFW park) to Spring Green. Again, this is an example of an older business that mostly rents canoes but they are catching up to the times and renting some kayaks now as well.
Wisconsin Riverside Resort (aka Bob's Riverside) – 608-588-2826
S13220 Shifflet Road Spring Green, WI 53588
Based in Spring Green, they do downstream trips to Wauzeka and put-in upstream at the public Sauk City launch (SW of the Hwy 12 Bridge). They do tubing/canoes/kayaks/shuttles. I don't know if they do stand-alone shuttles though.
General Lower Wisconsin Information
Generally speaking I haven't spoken too much about trip times and distances as this can vary a lot depending on the type of paddler you are, the river conditions and your navigation style. Generally speaking you can calculate distance using google maps distance measuring tool and for times take the distance in miles and figure two miles an hour.
It can be helpfull to get a rough ballpark idea though…
Here are some common times put out by the DNR and Lower Wisconsin Riverway Board:
Credit: http://lwr.state.wi.us/docview.asp?docid=11222&locid=50
| | | |
| --- | --- | --- |
| Trips | Miles | Hours |
| Sauk City – Arena | 11 | 3.5 |
| Arena – Spring Green | 10 | 3 |
| Spring Green – Muscoda | 22 | 6 |
| Muscoda – Blue River | 8 | 2 |
| Blue River – Boscobel | 10 | 3 |
| Boscobel – Bridgeport | 23 | 6 |
The DNR has also put out a nice custom distance calculator which is quite handy:
Credit: http://lwr.state.wi.us/docview.asp?docid=11222&locid=50
Quick Overview
Upstream of Stevens Point:  I don't have information yet on these stretches.
Stevens Point to Lake Petenwell:  ~42 miles.  This stretch in Central Wisconsin used to have many natural rapids, but most have been buried under 8 dams, some of which are now difficult portages.  Despite this there is still some good paddling to be had in this region.
Lake Petenwell:  14.9 miles.  This is a large flowage lake that is challenging for paddlers because of frequent strong winds and big waves.
Castle Rock Lake:  14.5 miles.  Another large flowage lake that is likely too big for enjoyable paddling.
Castle Rock Lake Dam to Lemonweir River:  9.4 miles.  This pre-Dells leg isn't elite, but is a pleasant stretch.
Lemonweir River to Indian Trails Landing:  21.7 miles.  This includes the famous Upper Dells and Lower Dells which feature many scenic sandstone outcrops.
Indian Trails Landing to Portage:  16 miles.  This is an overlooked section sandwiched between the Dells and Portage.  While the scenery isn't top-notch, it does have many sandbars and few people which is a nice combination.
Portage to Lake Wisconsin:  14.3 miles.  This is a neat stretch of the river with many sandbars and cliffs, but the shoreline is very developed and motorboat traffic can be heavy on weekends.
Lake Wisconsin:  14.5 miles.  This is a challenging lake for paddling because of the huge and frequent waves created by motorboats.
Prairie du Sac Dam to Port Andrews:  57 miles.  This is the first half of the famous Lower Wisconsin Riverway.  This is a super popular stretch for paddlers with the highlights being large sandbars, big bluffs, occasional cliffs, and fun side sloughs to explore.
Port Andrews to Wyalusing:  40 miles.   This is the second half of the Lower Wisconsin Riverway which has far fewer paddlers and sandbars.  But the bluffs and sloughs are larger and more interesting.
Detailed Overview
Upstream of Stevens Point:  I don't have enough information yet on these legs to comment.
Stevens Point Dam to Blue Heron Boat Landing:  4.2 miles.

Steven Point Dam to Whiting Dam:  2.6 miles.  Starts slow and uninteresting, but the river becomes very scenic after the Hwy HH bridge.  The rock formations below both dams are very striking.  Many alt access points.
Whiting Dam to Kimberly Clark Dam/Al Tech Park:  0.6 miles.  Incredible scenery with exposed bedrock and boulder gardens below the Whiting Dam.  Some rapids, but nothing major.  The Kimberly Clark Dam is a dangerous low-head dam and should be treated carefully.
Kimberly Clark Dam to Blue Heron Landing:  1.0 miles.  Class 2 rapids below the dam, but after that the river slows dramatically and splits into many sub-channels and islands.  Round trips on this leg are possible.  I chose the far western channel where there were some nice rocky stretches.

Blue Heron Landing to Mill Creek Landing:  4.1 miles.  Likely a mediocre paddle with nothing special.  Galecke Park is an alternate access.
Mill Creek Landing to Biron Dam North Gate:  7.6 miles.  Mostly uninteresting flowage paddling.  Several alternate access options on route.
Biron Dam North Gate to Veteran's Memorial Park:  4.5 miles.

Biron Dam North Gate to Biron Landing:  1.0 miles.  Super scenic stretch by two islands with many granite boulders.
Biron Landing to Legion Park:  3.0 miles.  A nice stretch by Big Island.  The west channel is more undeveloped...but the east channel has several scenic granite islands.
Portage through Legion Park:  680'.  A steep wall separates the park from the river but in two locations the wall is short enough to get over (see map).  Paddlers may want to consider a longer portage to bypass some of the shallow rocky stretches by Legion Park.
Legion Park to Veteran's Memorial Park:  0.4 miles.  A scenic stretch that features a large boulder field and the powerhouse of a large paper mill.

Veteran's Memorial Park to Port Edwards Landing:  3.8 miles

Veteran's Memorial Park to Demitz Park:  0.8 miles.  A pleasant stretch that includes Belle Island.
Demitz Park to Ben Hansen Park:  1.2 miles.  This leg goes by Garrison Island and Edwards Island.  Lyon Park is located across the river from Demitz Park and is another access option.
Ben Hansen Park to Port Edwards Landing:  1.8 miles.  Nice prospect that includes paddling past some historic islands.  The Centralia dam should be an easy portage (east bank by golf course).

Port Edwards Landing to Nekoosa/Riverside Park:  3.6 miles.

Port Edwards Landing to Port Edwards Powerhouse:  1.3 miles.  A half-mile portage is required.  A very scenic boulder field is located below the dam.  At high levels, the rocks are submerged and produce a half mile stretch of rapids (some strong).
Powerhouse to Moccasin Creek Landing:  1.8 miles.  A generic wooded stretch that isn't super interesting.
Moccasin Creek Landing to Riverside Park:  0.5 miles.  During the Nekoosa dam drawdown, this stretch had nice boulder fields and rapids.

Riverside Park to Hwy 73:  0.8 miles.  An ok stretch of the river.  There are scenic cliffs south of Hwy 73, but these are past the dam warning line.  Hwy 73 is not a good access option.
Hwy 73 to Point Basse Ave (Portage of the Nekoosa Dam):  1.5 miles.  A difficult 1.5 mile portage through downtown Nekoosa.  Don't try to portage the south bank.  There is a steep hill, cliffs, and large Domtar paper mill fences to deal with.
Point Basse Ave to Jim Freeman Memorial Boat Landing:  0.8 miles.  A generic stretch going by historic Point Basse.  If you're willing to backtrack to the dam, you can see scenic boulder fields (during low flows) and a few cliffs.  Point Basse Ave is a somewhat speculative access, but it seems public and doable for launching.
Jim Freeman Memorial Boat Landing to Plank Hill Small Boat Access:  2.0 miles.  Generic stretch.
Plank Hill Small Boat Access to 19th Drive Landing:  5.3 miles.  Features two epic sand banks.  The main channel has some minor sandbars.  Several of the side sloughs can provide fun side adventures.
19th Drive to the Petenwell Dam:  14.9 miles.  This is Lake Petenwell which is a large and challenging lake for paddling.  Waves and strong winds are frequently an issue.  But when calm there are nice sandbanks on the northwest shore, hidden sloughs, and large islands to explore.  See the overview map for more info.
Petenwell Dam to Ganter Lane Landing:  3.8 miles.  This stretch isn't too impacted by dams and may have nice sandbars at low levels.
Ganter Lane Landing to Castle Rock Lake Dam:  10.7 miles.  Castle Rock Lake is likely too big (wind/waves) for enjoyable paddling.  There are many alternate launch options along the shore.
Castle Rock Lake to the Lemonweir River:  10 miles.  An ok section.
Lemonweir River Mouth to River Bay Landing:  7 miles.  The first half of the classic Upper Dells.
River Bay Landing to Blackhawk Island:  6.5 miles.  Second half of the classic Upper Dells known for its fantastic outcrops.  Note, the Blackhawk Island landing is no longer accessible without special permission from the local 4H club.  
Black Hawk Island to Wisconsin Dells Dam:  2.0 miles.  More nice sandstone outcrops.  You can take out at a public ramp off Indiana Ave or portage the dam and take out SW of the dam by a launch off Wisconsin Dells Pkwy/Hwy 12.
Dells Dam to Indian Trails Landing:  6.2 miles.

Dells Dam to Newport Park:  2.2 miles.  This is the heart of the famous Lower Dells with many scenic outcrops.  Unfortunately jet boats are a serious plague on this stretch.
Newport Park to Indian Trails Landing:  4.0 miles.  Features the famous "Sugar Bowl" and four super cool caves.  The outcrops soon disappear and this stretch is mostly uneventful (but peaceful) big river paddling.

Indian Trails Landing to Pine Island Boat Ramp:  9.8 miles.  Few paddle this stretch as it isn't as interesting.  But...it does have a good concentration of sandbars and few competing paddlers for them. 
Pine Island Boat Ramp to Portage/Hwy 33 Access:  6.0 miles.  Not an elite section that is lacking in cliffs and bluffs.  It does have good sandbars though.
Portage to Dekorra Park:  7.7 miles

Portage to Baraboo River/Thunderbird Road:  5.2 miles.  A good section with great sandbars.  Close to Portage there are few motorboats.
Baraboo River to Dekorra Park:  2.5 miles.  River splits around massive Lib Cross Island.  West channel has nice sandbars.  St Lawrence Bluff has scenic sandstone outcrops and includes a cave you can paddle into.  

Dekorra Park to James Whalen Memorial Park:  6.6 miles.

Dekorra Park to Camp Rest Park:  5.1 miles.  A terrific section with rock outcrops, large island deltas, hidden sloughs, and nice sandbars.  Unfortunately this part of the river is popular with motorboats and jet skis which can be a plague.  Multiple alternate access options.
Camp Rest Park to James Whalen Memorial Park:  1.5 miles.  Not a great section because of the open water paddling, powerboats and big waves.  The west shore though does have nice outcrops.

James Whalen Memorial Park to Prairie du Sac Dam:  14.5 miles.  The river turns into "Lake Wisconsin" here...an inadvisable section due to the amount of open water paddling required.  There are many intermediate access options.
Prairie du Sac to Mazomanie:  8 miles.  An ok section of the Wisconsin but lacking in sandbars. 
Mazomanie to Arena:  9.7 miles.  A great section with nice sandbars and scenic bluffs. 
Arena to Hwy 14:   8.0 miles.  Good section with a high concentration of sandbars.  One of the more popular legs on the Lower Wisconsin.
Hwy 14 to Hwy 23/Spring Green:  2.2 miles.  Neat mini-section with sandstone outcrops.  Very popular in the summer.
Spring Green to Lone Rock:  7.4 miles.  Another fine sandbar/bluff section with some nice rock outcrops too.
Lone Rock to Gotham:  8 miles.  This stretch has super impressive rock outcrops and sand banks.
Gotham to Muscoda: 7 miles.  Cool limestone rock outcroppings.
Muscoda to Port Andrew:  7 miles.  A good stretch with many islands and sandbars.
Port Andrew to Boscobel:  9 miles.  Wooded islands start to get massive.
Boscobel to Woodman/Big Green River:  9 miles and start of the less paddled stretch of the Lower Wisconsin.  Far fewer sandbars from here to the mouth, but good bluffs and side sloughs to explore.
Woodman to Adiantum Woods State Natural Area:  3.9 miles.
Adiantum Woods State Natural Area to Millville:  3.8 miles.
Millville to Bridgeport:  5.3 miles.  A peaceful stretch with few paddlers, yet good river bluffs and islands.
Bridgeport to Wyalusing (the mouth):  9 miles.
Trip Map
Overview Map
Photos
4 Comments to "Wisconsin River – Prairie du Sac Dam"
How did your trip turn out?

Questions or comments?

Feel free to leave your feedback.