Dell Creek & Upper Mirror Lake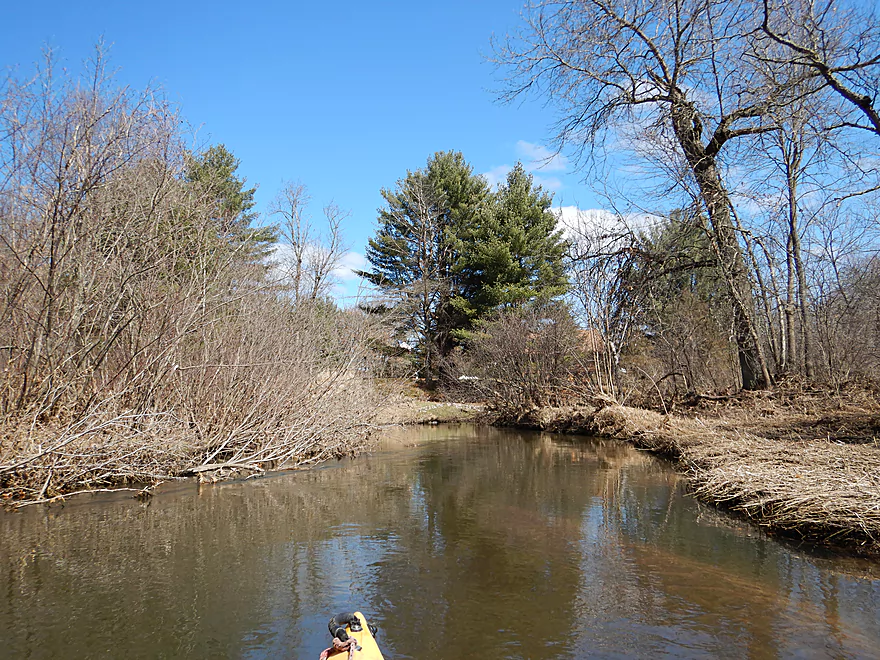 Take-out:
Mirror Lake State Park - Main Ramp
Time:
2 hours 28 minutes (more typical would be 2 hours)
Dell Creek is a tributary to the Wisconsin River and runs through the famous Wisconsin Dells area.  This is a neat creek which flows through both Mirror Lake and Lake Delton.   My previous trips on Dell Creek were great experiences but were limited round trips with outdated camera gear.  This past weekend I was anxious to do a paddle, but not anything too exotic because of cold weather and because my Suburu was behaving like a Suburu.  So I chose to redo the upper section of Dell Creek.  
My initial plan was to start the trip far upstream off South Ave.  This upper segment is a pleasant section that I've scouted quite a bit and is popular with trout fishermen.  It's doable for paddling, but does have annoying logjams and many low alders.  Not what I wanted with 30 degree temperatures, so I opted for an easier downstream put-in off Coon Bluff Road.
The first half mile was a pleasant and twisty woodland paddle.  The stream bank grasses were absolutely flattened by recent floods and large sand deposits were a frequent sight, including several surprise sandbars.  Typically woodland creeks mean logjams, but someone had cleared them out and I never had to portage (there was one zigzagger that might be tricky for canoes though).
Later the bigger hardwoods became displaced by smaller alders, which for paddling can be annoying.  Alder branches are dense and hover low over the water.  Because of the surprisingly fast current, dodging these wasn't always the easiest and at times felt like running a gauntlet.  This section is best suited for shorter and more maneuverable boats.
After the alders, the creek opened up and flowed through an attractive wetgrass marsh with tall white pines visible in the distance.  This is followed by Hwy 23, which unofficially marks the start of Mirror Lake and a completely different paddling experience.
Mirror Lake is an artificial lake created by a dam.  The far southwestern reaches flow through an attractive marsh filled with wild rice.  This would actually be a great harvest spot, but you should get permission from the park office before doing so.  Unfortunately, like most flowages, Mirror Lake has a sediment delta here which can result in mucky and shallow paddling during low water (not a problem for a spring paddle though).
The Lake soon narrows dramatically as it exits through a canyon with sandstone walls on both sides of the creek and towering white pines looming overhead.  A truly fantastic and scenic stretch.  One can only imagine how much bigger and more scenic this canyon would be if it wasn't flooded by the downstream dam.  A highlight along the Upper Narrows is Fern Dell Gorge, where you could park your boat and get out to explore and hike.  After the canyon, the creek opens back up into the main node of Mirror Lake.  This is the most popular part of the state park, and it was here at the main ramp where I took out.
In summary this was a great trip and a classic for southern Wisconsin.  The creek portion (Coon Bluff to Hwy 23) was a fun and secluded wetland paddle but wasn't as interesting and by itself might be just 3 stars.  Paddling through the canyons of upper Mirror Lake though was a five star experience.  The best of Mirror lake wasn't even included in this trip though.  As a future trip idea I hope to do a one-way paddle from the main boat ramp through lower Mirror Lake and its gorges, then through Lake Delton, and finally onto the Wisconsin River and the lower Dells.  Adventurous paddlers looking to get the complete Dell Creek experience could start at Coon Bluff and paddle the 8.2 miles to the Wisconsin River at Newport Park which would be a fantastic experience.
Noteworthy Wildlife:
Many geese, many ducks, two cranes, a lot of beaver evidence, and two eagles soaring over the sandstone cliffs.  The highlight were the large muskrat lodges located on Mirror Lake.
Put-in:
Coon Bluff Road was a decent bridge access with parking along the southeast shoulder.  Launching is a bit trickier because of two downed limbs, but quite doable along the southwest corner (behind the old USGS gauge).
The next put-in option 1.9 miles downstream is at Hwy 23.  This is also a good access option that paddlers frequently use…launch here if small creek paddling isn't your thing. 
There are other public access options as well…for more information see the overview map.
Take-out:
I took out at the main boat ramp in Mirror Lake State Park.  This is scenic and very nice with outhouses and a wheelchair accessible launch.  If you don't have a trailer, you will have to park at the far east end, which can mean a 500′ hike.  During summer weekends, this ramp can be quite popular and can even run out of parking spots.   A state park sticker is required. 
If crowds are an issue at the main ramp, an alternate take-out just to the south would be the beach.  This has a better parking situation, but because there is no ramp, you do have to drag your boat 200′ over sand to reach your car.  A state park sticker is also required.
Just 1.5 miles downstream is the dam by S. Burritt Ave which is an obscure and scenic take-out option.  There is a new portage area upstream of the dam that makes getting out easy and public parking is just nearby.  The access road to the dam is occasionally gated shut.  If this is the case you'll need to carry your boat 540′ up the access road where there is public parking along Burritt Ave.  The section between the main ramp and the dam contains some of the tallest sandstone cliffs and best scenery on Dell Creek.
An additional 0.7 miles downstream would be the Canyon Street boat launch and the start of Lake Delton.  This is also a very scenic section.
An additional 2.1 miles downstream would be Newport Park on the Wisconsin River.  This leg is mostly busy Lake Delton, but does include some nice dells below the Lake Delton dam as well as on the Wisconsin River itself. 
Shuttle & Rental Information:
The bike shuttle was a hilly 5.6 miles, but was manageable and pleasant with mostly little traffic.
I'm not aware of any local liveries, but Wisconsin Dells (despite being a small city) has countless taxis, plus Uber and Lyft.  So you could lock your boat at the put-in, drive to the take-out, pay somebody to shuttle you back to the put-in, and then start paddling back to your car.
If you are content with a round-trip (no shuttling), there is a rental place located at the main boat ramp.  Call ahead to assure availability.
Hazards, Logjams and Current:
Current: Upstream of Hwy 23 the current is surprisingly fast.  After Hwy 23, the current is mostly non-existent (killed by the dam).
Logjams:  Above Hwy 23, there was only one noteworthy downed tree and I was able to zigzag through with little difficulty (longer boats may need to portage).  There are no logjams below Hwy 23.
Alders: These are shrubby trees with dense branches that tend to congregate over the creek channel.   I was able to avoid them ok, but they were a little annoying especially in the sections with fast current.
Wind: Mirror Lake is open and therefore vulnerable to the wind.  Be mindful of forecasted direction and speed.
Powerboats: Actually not a problem, as the entire lake is no wake.
River Depth and Navigability:
Sadly the gauge on Dell Creek has been shut down and is no longer in use.  My rough estimates are based on the Lemonweir gauge in New Lisbon.
0-200 CFS:  Low depth but should be navigable.  Good water clarity on the creek segment.  The delta just downstream from Hwy 23 may be mucky and shallow at this depth.
201-800 CFS:  Average depth.   No problems.
801-1500 CFS:  Above average depth.  No problem.
1501-2000 CFS:  A high depth.   Current can be a bit pushy above Hwy 23.  I did the trip at 1800 CFS.
2000+ CFS:  Dell Creek is likely bursting its banks.  Mirror Lake though can likely be paddled at any depth.
Mirror Lake State Park:

Plenty to do in Mirror Lake besides paddling.
Camping:  The campsites are decent and a nice alternative to Devil's Lake (which can be difficult to get reservations for).  Nearby Rocky Arbor State Park also has good camping options.
Skiing:  This is one of the best cross country ski parks in southern Wisconsin.  There are many trails to choose from, and most are well groomed and scenic.  The following are my favorites.
Ishnala Trail: IMO the best and most scenic trail.  Highlights include skiing through a small canyon and under the attractive Ishnala walk bridge.
Northwest Trail: A scenic trail with many white pines and the best hills in the park.
Hastings Trail: This used to be one of my favorite trails, but was totally messed up by logging a few years back.  Why state parks are allowing logging, I don't know…
Hiking: You can't hike on the ski trails when groomed, but can any other time.   The most popular hiking trail is Echo Rock Trail which is a half mile hike which starts from the boat ramp.  Here you'll see some great sandstone outcrops, the photogenic Ishnala Restaurant and the Ishnala canyon walk bridge.
Fern Dell Gorge:  This is accessible from water or from a relatively new parking lot.  This is an attractive hike through a sandstone canyon and can feature scenic ice flows during the winter.  This can get muddy so bring your boots. 
Cold Weather Paddling Guide:
This trip was done in relatively cold weather which can be challenging.  The following are pointers on how to prepare for cold weather paddling.
Pick the Right Stream: Assume you will get dumped and make sure you are not a long ways from shore.  The ideal cold weather creek will not have high water, will have slow current, will lack logjams, and wading to shore is a viable option in case things go bad.
Wind/Sun: Calm and sunny days are best and make a HUGE difference for personal comfort (especially on the bike shuttle which usually is colder than the paddle).
Winter Gear: Serious winter paddling should only be done with proper protective gear.  This usually means neoprene clothing from head to toe.  Places like Gander Mountain and Rutabaga should sell what you need for hardcore winter paddling.
Fall/Spring Gear: For less serious cold water paddling, you can get by with less restrictive clothing and options.
Other Dell Creek Trips:
For additional landing information see my overview map here.
Upstream of South Ave:  Likely too small and congested to run.
South Ave to Briar Bluff Road:  1.9 miles.  Nice stretch, but there are probably too many logjams.
Briar Bluff Road to Coon Bluff Road:  1.6 miles.  A popular section with trout fishermen and attractive, but likely too congested for paddling.
Coon Bluff Road to Mirror Lake Boat Ramp (main one):  3.9 miles. 

Coon Bluff Road to Hwy 23:  1.9 miles.  A pleasant creek section with an attractive marsh.  No logjams, but some limb dodging and alder ducking required.
Hwy 23 to Mirror Lake Boat Ramp (main one):  2.0 miles.  The western lobe of Mirror Lake.  Starts with a nice marsh filled with wild rice.  Then the lake narrows as it enters a scenic gorge (Upper Narrows).  Great segment.

Mirror Lake Boat Ramp (main) to Newport Park/Wisconsin River:  5.0 miles.

Mirror Lake Ramp to Mirror Lake Dam:  1.5 miles.  Fantastic stretch through the canyons of the Lower Narrows. 
Mirror Lake Dam to East Adams Street Ramp:  0.7 miles.  A great stretch with more sandstone outcrops.
East Adams Street Ramp to Newport Park:  2.8 miles.  This is Lake Delton which is very developed and overrun with motorboats.  It's not a great paddle but it can be novel to see some iconic Dells businesses from the water.  The highlight is Dell Creek below the Lake Delton dam, which is scenic.
Trip Map
Overview Map
Video
Photos
How did your trip turn out?

Questions or comments?

Feel free to leave your feedback.