Mecan River – Upper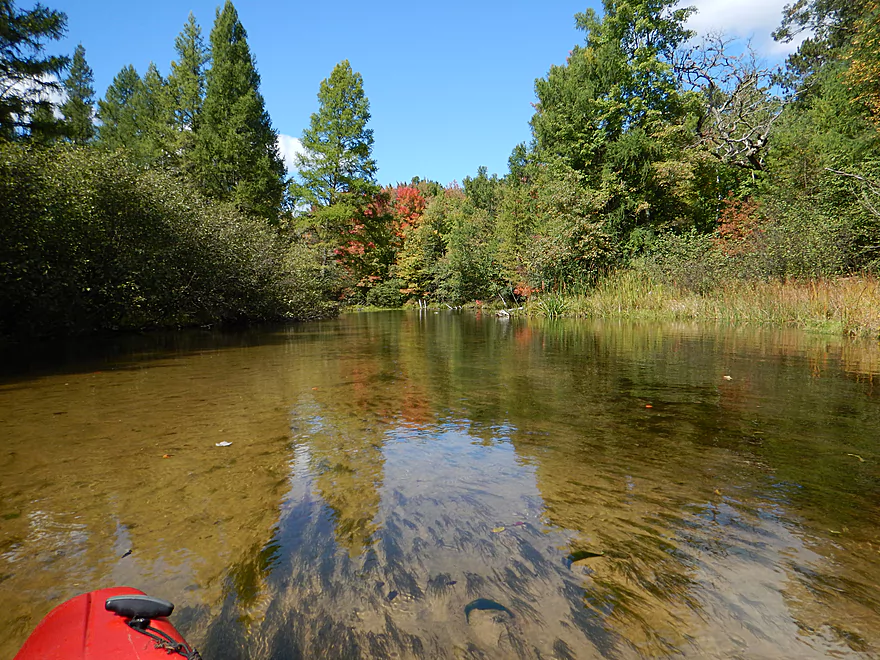 Date:
September 21st, 2014
Time:
2 hours 26 minutes (2 hours would be more typical)
Gradient:
4' per mile (rough guess)
Despite the Mecan being a popular paddle, this section is often overlooked and undeservedly so.  This is a fine wilderness paddle and one of the clearest rivers in southern Wisconsin–a must paddle for south central Wisconsinites (you "northerners" already have lots of these type of rivers).
Put-in:
Very good bridge put-in at 11th Road.  Small trail on the northwest side of the bridge leads down to the water and some light rapids.  I suggest putting in a bit upstream so you don't have to fight the current.  Parking is available at a nice pull-off area 100′ to the north.
Shuttle Information:
There is a popular livery in "Mecan River Outfitters" but I don't know if they put in this far to the north.  Their number is 920-295-3439.  I had trouble reaching them, so perhaps they don't have fall hours.  There is another rental service in "Lake of the Woods Campground" but I don't know much about them.  Their number is 920-787-3601.
Otherwise, this is an easy bike shuttle.  Relatively flat, no gravel, minor traffic and only 2.34 miles.
River Depth, Navigability and Current:
The Mecan is largely spring-fed, which keeps the river extremely stable and means it can usually be paddled when other rivers are too high or too low (especially the upper sections).  I've included a reference to the nearby Silver Creek gauge at 30 CFS (not a super accurate representation, but better than nothing).  It had recently rained in the area, but I don't know if that affected the depth much.  I suspect it was a tad above average and certainly could have been paddled at a much lower depth.  I never once got stuck on any shallow areas for reference.
The gradient is a medium 4′ per mile, with some riffly areas near the put-in and take-out.  Much more consistent and with less "slow areas" than the next section of the Mecan. 
Substrate and Water Quality:
FANTASTIC water quality and this is the "star" of the trip.  The reason why the water is so clear is because the river is largely spring-fed.  While the next (more famous/popular) segment of the Mecan has nice water quality, this was actually much better.  For the most part, the substrate is sand (this is a very sandy part of the state), with occasional attractive gravel beds.
The Trip:
I'll start quick with a personal anecdote.  I've paddled the Mecan before, but from Hwy JJ to Hwy 22 (the classic section).  Really liked the river and was definitely hoping to revisit the river this year.  A video review by "Morrall Films" spoke highly of a downstream  section from the Germania Marsh to 2nd Hwy N bridge.  Alas, it was not to be.  I had called the local livery three times, but nobody answered.  That's okay, as this seemed like an easy bike shuttle.  I drove up to the marsh dam and discovered the main road to the dam (and the put-in) was blocked by a gate.  Ugh…deja Grand River.  I suspect (if this is the same as the Grand Marsh), the DNR opens this only from May to Labor Day and then a brief period afterwords for gun season.  I would have to drag my kayak 940′ from the parking lot to the dam…which was doable in my book.  I had dragged a kayak 700′ just a week earlier for the East Fork of the Black River.  So I locked up my kayak and drove down to the Hwy N bridge to park the car and start the bike shuttle.  When I took the bike out of the car, I realized one of the quick release bolts for the front tire was gone.  Frantically searched everywhere for it with no luck.  I decided I had driven this far, why not try a "walk" shuttle at five miles (or hitchhike).  At about a mile in, nobody passed my way and it started to rain (was a 0% chance of this in the forecast)  First time I gave up on a trip.
The next day was Sunday and with a fixed bike, decided to give the Mecan another go.  Because of the rain, I was worried that the lower sections would be not flooded per say but higher than preferred, so decided to do a far upper section instead and am glad I did.
This far upper section (about 4 miles upstream of the popular JJ launch) is rarely paddled, most likely due to  rumors (false) of deadfall in the water.  I would be surprised if you saw another kayaker on this stretch, despite how popular the next section of the Mecan is.  For this trip, I lucked out on the timing (mid-September) as the trees were turning color and the color was terrific.  I had paddled the lower Mecan early in the spring when everything was so dead, and it was such a nice change of pace to see the trees fleshed out and in color.
The combination of clear water, clean sand, lack of mud banks and attractive white pines really made this a five-star trip…a trip I easily preferred to the next river segment as the current was more consistent, water cleaner, and the plant life/trees were better.
Wildlife:
Some dragonflies but not much else I can remember (the disadvantage of being so behind on my reviews).  Some nice aquatic plants, but generally mostly a sandy substrate.  Some of the plant highlights were wild mint growing by the put-in, numerous white pines (Wisconsin's largest tree), and gorgeous fall colors (especially the maples).  More wooded and not as scrubby as the section after Hwy JJ.  There were two nice, I believe, sandstone banks, but they were absolutely plastered with mosses, lichens and other exotic plants, so it was difficult to tell what rock was hiding behind it all.  Many ferns but not as many as after Hwy JJ.  Numerous wild berries on this trip, but all I think are toxic.  Many dying wildflowers and this would have been a great July/August paddle for them.
Hazards and Log Jams:
No log jams, thanks to the clean-up efforts of locals.  Maybe a tight duck-under at one point, but not bad.  There were some light rapids, but mostly minor (really, the put-in and the take-out are the main ones).  The Hwy JJ rapids are rockier and faster than you would think…almost class 2.  I "t-boned" my kayak in these rapids a few years ago so know not to underestimate them, but honestly, they are pretty easy and safe (very shallow water too if something were to go wrong).
Take-out:
Very good bridge take-out either above or below the bridge.  On the SW side, there is a nice grassy launch area that you can use if you want to avoid the rapids.  There is private property nearby, so be considerate.  The main put-in is at the NE side of the bridge with a small trail leading down below the rapids.  The rapids are fun and you should definitely run them!  On the NW side….maybe 50′ to the north, is the main parking area under an attractive white pine canopy.  Warning:  this lot does fill up in the summer, so you may want to come early.  Might be able to park by the road, but it wouldn't be ideal.
Human Impact:
Very little.  The river (up to this point) is largely spring-fed and reasonably protected from commercial, agricultural and residential pollutants.  You'll see only a couple of homes on the river, which is very nice.
Detailed Overview
Generally speaking, the further upstream you go on the Mecan, the better.  Upper Mecan segments tend to have less mud, better current, better clarity, and more attractive shorelines.
Mecan Springs to 9th Ave:  1.4 miles.

Mecan Springs Boat Launch to Hwy GG:  0.6 miles.  The river starts as a spring-fed lake sandwiched between two moraines.  This is a neat lake paddle with clear water and visible springs located mostly along the western end.  Trip length can be expanded by 1-2 miles if you explore the various bays throughout the lake.
Hwy GG to 9th Ave:  1.4 miles.  The first mile of the river has a few snags to dodge, but is super scenic with nearly perfect water clarity.

9th Ave to Hwy 21:  2.3 miles.  Satellite maps indicate there could be many logjams and portages.
Hwy 21 to Cumberland Road:  2.3 miles.  Satellite maps indicate there could be many logjams and portages.
Cumberland Road to 11th Ave:  3.9 miles.  A great section with fast current, clear water and scenic white pines.  A few logjams to portage but not bad.
11th Ave to Hwy Y/JJ:  3.7 miles.  A fantastic section and my favorite on the entire river.
Hwy Y/Dakota to Dixie Ave:  5.4 miles.

Hwy Y to 14th Ave:  2.8 miles.  An excellent section with white pines, tamaracks, narrow twisty turns and crystal clear water.
14th Ave to Dixie Ave:  2.5 miles.  While not as good as the previous leg and more open, this is still a good stretch.  This includes the "Mecan River Pine-Oak Forest State Natural Area".

Dixie Ave to Dover Ave:  2.0 miles.  An ok section, but not as good as upstream sections.  Even more open and slower, with far fewer pines.
Dover Ave to Hwy E:  1.8 miles.  River starts to become less interesting but is still ok.
Hwy E to Hwy 22:  0.7 miles.  Nothing special about this section.  Open and somewhat simple.
Hwy 22 to Duck Creek Road/Electric Fence:  4.2 miles.  More open and not as interesting, but the river does flow through a state natural area.  Access to Duck Creek Road may be restricted.
Duck Creek Road/Electric Fence to Dam:  1.6 miles.  River turns into flowage pond and marsh.  Take-out is on a small access road off Hwy N.
Dam to Elk Road:  6.3 miles.  The most popular section on the Lower Mecan.

Dam to Hwy N:  5.2 miles.  River turns into a flowage pond and marsh.  Take-out is on a small access road off Hwy N.
Hwy N to Elk Road:  1.1 miles.  The river completely moves east creating a really cool corridor.

Elk Road to Hwy 23:  2.4 miles.  Traditionally a section with many logjams, this does get cleared out periodically by the local livery.  Hwy 23 is a poor access option.
Hwy 23 to Hwy C:  2.7 miles.  Again, this usually has logjams but they are often cleared out by the locals.  Hwy 23 is a poor access option.
Hwy C to Mouth:  1.1 miles.  Simple open stretch leading to the Fox River.
Mouth to the Princeton Locks:  3.1 miles.  An uninteresting stretch on the Fox River.
For further information on the Fox River, see my Fox River review.
Trip Map
Overview Map
Video
Photos
13 Comments to "Mecan River – Upper"
How did your trip turn out?

Questions or comments?

Feel free to leave your feedback.