Baraboo River – La Valle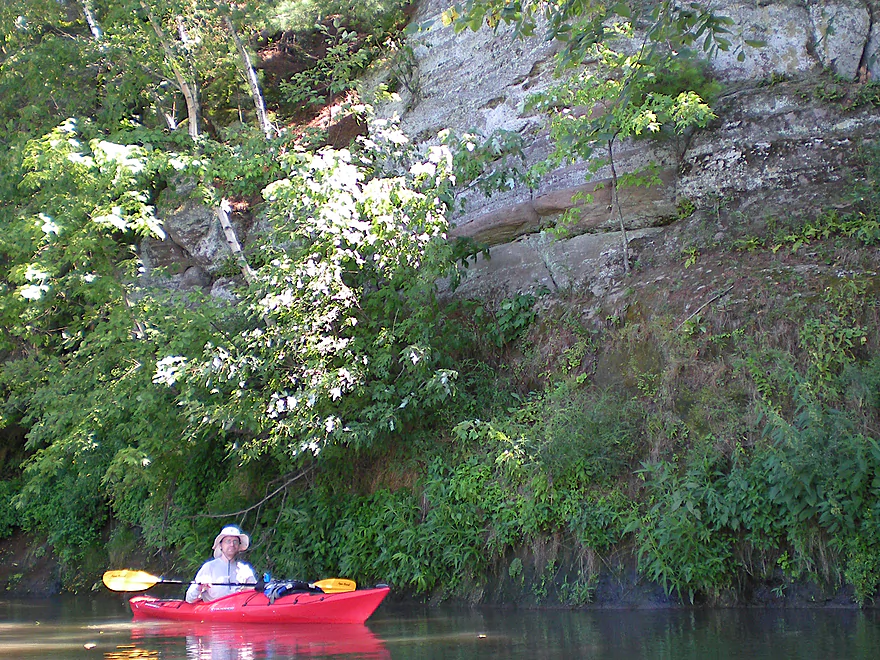 Put-in:
La Valle Public Ramp
Take-out:
Lake Redstone County Park
This is a nice little section of the Baraboo River between the city of La Valle and a take-out near Lake Redstone.  Put in at the main boat ramp on the west end of town.  You can't park at the bar there…but have to drive a block north and park at the bike park where the 400 bike trailhead is.  There are public restrooms at this park.  This section of the state is more known for the old 400 bike trail and you can do a bike shuttle for the route.  The downstream landing is probably only a half mile from the trail intersection on Hwy V, while the upstream landing is right next to the trailhead.
The put-in at La Valle is quite nice and you'll be floating down a partially dammed section for a couple hundred feet.  They did remove the dam (mostly), but a small remnant remains which backs up the water a little and creates some nice little rapids.  The rapids are probably class II and shouldn't be too bad unless the "Boo" is flooding.  Stay to the right…and you can scout out the rapids from the rocks on the right shore if you aren't sure.  All in all, pretty safe and fun. 
After you leave the rapids you will enter a wooded section.  Normally there would probably be a lot of dead-fall in the area, but it tends to be cleaned out by the locals.  For the entire stretch, I never had to get out of my kayak to portage.    It probably doesn't hurt to go after the annual 'Lazy Beaver Canoe Race' which would ensure that the river is cleaned out.  The race itself is interesting in that it not only goes from La Valle to Lake Redstone…but ten more miles onto Reedsburg, which represents a hefty 14 mile trip.
Unlike certain downstream sections of the Baraboo (like between North Freedom and the city of Baraboo), there isn't that much farm country in this area.  It's mostly wooded banks with occasional bluffs–two of which are quite nice and are reminiscent somewhat of the upstream section by Wonewoc.  The landing will be on your left at the mouth of 'Big Creek'/Lake Redstone and the Boo.  It's very nice (although no bathrooms).  You can venture up Big Creek somewhat before you get stuck…it is quite clean and has lots of clams.  If you wade up the creek, you'll bump into the Lake Redstone Dam (cool waterfall).  After you take out your boat, you might want to consider checking out Lake Redstone itself to the north.  There is a nice swimming beach and restrooms on the south side.  When there isn't a lot of traffic on the lake, it's a great paddle as well with lots of cool rock formations.  For more information check out my Lake Redstone Review.
You can extend the trip to Reedsburg, which I hope to do eventually…but this would increase the trip length from 4 miles to 14 miles…IMO it is more logical to split this section into two.  Reedsburg also has access to the 400 Trail, so this is another bike option if you would like to do a bike shuttle.
Detailed Overview
Nutmeg Road to Hwy PP:  6.2 miles.  Flows by the historic Elroy-Sparta Trail and is mostly open, but there are a few logjams.  This is a narrow small stretch that will need very high water to be runnable.  There are scenic outcrops on this stretch….maybe 3.
Hwy PP to 2nd Main Street:  1.6 miles.  Maybe 3 logjams.
2nd Main Street to Franklin Street:  0.9  miles.  Maybe 1-2 logjams.  Trip starts at a scenic covered bridge and on Class 1 rapids.
Franklin Street to Hwy 82(South of Lincoln Street):  0.5 miles.  A good stretch that is mostly open and has maybe one outcrop.
Hwy 82(South of Lincoln Street) to Schultz Park:  0.6 miles.  Maybe 2 logjams.
Schultz Park to Hwy 82(South of Snyder Road):  4.0 miles.

Schultz Park to Hwy 82(North of Lumsden Road):  0.6 miles.  One outcrop, one logjam portage and a few tight fits.
Hwy 82(North of Lumsden Road) to Hwy 82(South of Snyder Road):  3.4 miles.  Three outcrops, three significant logjams and several tight fits.  A section with good potential but needs cleanup work.

Hwy 82(South of Snyder Road) to Hwy W:  1.9 miles.  Maybe 2-3 jams…think this is doable though.
Hwy W to Hwy 82/Union Center:  1.3 miles.  Good prospect by the golf course with maybe 2 outcrops.  Maybe 1-2 logjams.
Hwy 82 to Hwy FF Landing/Wonewoc:  7.1 miles.  A great section with one of the largest rock outcrops on the river.
Hwy FF Landing to Wayside Park:  2.9 miles.  There used to be a lot of logjams here.  I think it might be doable…maybe 2-3 major portages.
Wayside Park to Kalepp Road:  4.5 miles.  An uninteresting part of the river with weedy, muddy banks.  But…there are three fantastic sandstone outcrops.
Kalepp Road to N. Dutch Hollow Road:  5.3 miles.  One logjam portage with several "hoppers" and "duckers".  There are some outcrops but most are recessed and away from the river.  Mud and downed trees are a bit unsightly, otherwise a pleasant paddle.
N. Dutch Hollow Road to La Valle:  3.8 miles.  Second best section on the entire river with great rock outcrops.
From La Valle to Lake Redstone:  3.6 miles.  One of the more underrated sections of the Boo, which I really liked.
Lake Redstone to Monument Park/Reedsburg:  9.0 miles.  Supposedly kind of boring, but the logjams should be cleared out.
Monument Park to South Park:  1.4 miles.  Spanning the length of Reedsburg, this should be a nice section mostly free of jams.
South Park to Golf Course Road:  4.7 miles.  Maybe 4-5 logjams.  Probably one too many.  Should be 1-2 small sandstone outcrops.  Golf Course Road might not be a good access.
Golf Course Road to Hwy 136(by Beth Road):  3.6 miles.  Maybe a few jams.  Likely mostly floodplain paddling and probably uninteresting.
Hwy 136(by Beth Road) to Hwy 136(by Ableman's Gorge):  6.0 miles.  Maybe some outcrops at the end, but mostly uninteresting paddling I suspect.  Likely several serious logjams with difficult portages because of the high muddy banks.
Hwy 136(by Ableman's Gorge) to North Freedom Boat Launch:  8.2 miles.

Hwy 136(by Ableman's Gorge) to Rock Springs Boat Launch/Firemen's Park:  1.3 miles.  One of the most scenic parts of the entire Baraboo River.  Highlights include a steep gorge, riverside boulders and scenic outcrops.
Rock Springs Boat Launch to North Freedom Boat Launch:  7.1 miles.  This is a nice paddle, but with some downed trees to dodge and one to portage.  Highlights include historic railroad bridges, scenic outcrops, and seeing the railroad museum from the river.

North Freedom Boat Launch to Giese Park:  7.4 miles. 


North Freedom Boat Launch to Kohlmeyer Road:  4.3 miles.  Stretch starts nice as the river naturally curves and has many shade trees.  There is a scenic long outcrop after Seeley Creek.  River becomes boring after that except for a scenic railroad bridge and a few rocky banks.  Kohlmeyer Road isn't a great bridge access.
Kohlmeyer Road to Giese Park:  3.1 miles.  Some longer and less interesting stretches.  There is however a unique large volume artesian well, and a historic railroad tunnel you can wade under.

Giese Park to Gander Outdoors:  2.9 miles.  A pleasant but simple farm country paddle.  Highlights include the Skillet Creek bridge, the towering Hwy 12 bridge, and a rock outcrop upstream of Hwy 12.
Gander Outdoors to Glenville Landing:  4.9 miles.  A fantastic stretch through the heart of Baraboo with many light rapids.

Gander Outdoors to Haskins Park:  0.6 miles.  A good stretch with some fantastic rapids upstream of Hwy 136.
Haskins Park to

Maxwell-Potter Conservancy

:  3.3 miles.  The best section on the entire river with many rapids.

Maxwell-Potter Conservancy

to Glenville Landing/Hwy 113:  1.1 miles.  A pleasant stretch, but lacking in rapids.

Glenville Landing to Luebke Landing:  5.1 miles.  A pleasant trip, but a little boring at times.  I would rate this as one of the more uninteresting sections of the Baraboo.  On the plus side it had no logjams (as of 2023) and remains plenty navigable even during big droughts.
Luebke Landing to Hwy 33:  3.5 miles.  This might be one of the better legs on the Lower Baraboo.
Hwy 33 to Wayside Park:  8.0 miles.  A stretch I'm curious about.
Wayside Park to Hwy U:  3.9 miles.  Simple but pleasant short section flanked by busy interstates.
From Hwy U to the mouth:  5.3 miles.  The final leg running through floodplain forest.
Notable Baraboo River Tributaries:
West Branch of the Baraboo River:  For the most part, too many logjams, but the flowage by Hillsboro is navigable with scenic outcrops by the dam.
Dutch Hollow Lake:  A heavily developed lake and popular with locals.  Not as great as Lake Redstone but still nice.  Dutch Hollow Creek is likely too shallow to run, but it (and the bike trail) goes past a fantastic and huge exposed rock face.
Hemlock Slough:  A nice little lake paddle with many rock outcrops and attractive hemlocks.  
Little Baraboo River:  For the most part too many logjams.  However the small flowage by Cazenovia Memorial Park is navigable and there are small outcrops both below the dam and on the northwest corner of Lee Lake.
Lake Redstone:  Definitely a fun paddle with fantastic red rock formations, a swimming beach, and a spillway waterfall.
Big Creek:  You can't get too far upstream because of logjams, but there is a nice outcrop by Hwy F and this can be combined with a trip on the north side of Lake Redstone.
Narrows Creek:  There is a neat section by Weidman Memorial Park with boulders and light rapids with I believe nearby outcrops downstream.  Unfortunately there are likely too many logjams.  I did partly paddle a nice downstream portion from the mouth on the Baraboo before I hit a logjam and turned back.
Seeley Creek:
Skillet Creek:

From Gasser Road to Pewit's Nest:  Gorgeous, but filled with logjams.
Pewit's Nest:  Stunning scenery, but the ledges are likely too steep and narrow for kayaking.  Best experienced as a hike.
Pewit's Nest to Hatchery Road:  A bit of nice geology, but likely small with several logjams.  Neither endpoint is a great access.

Rowley Creek:  A scenic creek, but shallow and with hostile locals.
Leech Creek:  From Hwy U to Tritz Road would be 2.5 miles.  Likely open and an easy paddle, but uninteresting because of the artificial channelization.
Long Lake:  A very slow creek that empties into the Boo close to the Wisconsin.  There could be serious logjams by the mouth, but the upper sections are plenty navigable and are paddled by locals.
Trip Map
Overview Map
Video
Photos
10 Comments to "Baraboo River – La Valle"
How did your trip turn out?

Questions or comments?

Feel free to leave your feedback.