Apostle Islands National Lakeshore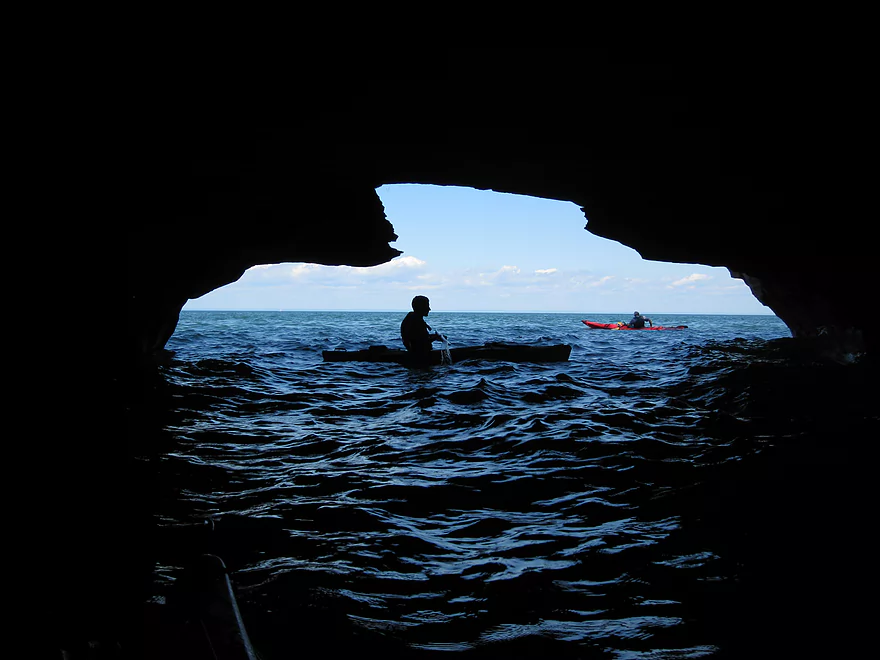 Distance:
8-10 Miles Round Trip (easy to shorten because it is a loop)
There are a number of paddling opportunities on Lake Superior, but by far and away the best section is the Apostle Islands National Lakeshore and surrounding area, which will be touched on in detail below. Kayaking on Lake Superior is obviously very different from river paddling, as the water can get very cold and the wind and waves can be quite strong. You don't want to paddle the open water in a canoe or other small open boat and really have to pay attention to the weather. Many Lake Superior rental outfits require special safety courses before they will let you use their equipment, so if you are an experienced paddler and don't want to waste your vacation on such courses you probably want to bring your boat up to Lake Superior. The 'risk' of paddling open water is worth it, as the bulk of the lake shore is quite scenic with nice beaches, clean water, cool rock formations and sea caves (just keep an eye on the water, keep your legs short and paddle in groups of experienced paddlers).
While technically Apostle Islands National Lakeshore consists of just 21 islands off the Bayfield Peninsula, plus a section of mainland shoreland…the following review will lump this area in with Madeline Island and areas east and west of the shoreline.
The most important thing that the park is known for are the sea caves, the best of which are probably located on Devil's Island. This is, however, one of the outlier islands, which is difficult to get to and requires a multiple night island hop camping trip or shuttle from a boat (see rentals at the bottom of this page).
The second best (and most popular) area for sea caves is on the mainland on a stretch of coast east of Meyer's Beach that extends for 4-5 miles. Park at the National Park Service parking lot (you'll get inspected and have to check-in with the park staff) and you can put in at the beach below. From here it's a paddle northeast along the cost until you turn the corner and then a long stretch of cool rock formations and sea caves start. While I suppose you could take-out at the second park station/launch upstream at Little Sand Bay, it would be a long paddle (probably 20+ miles) and would of course require a shuttle. Most just turn around after a few miles and head back to the beach. You can check out these cliffs somewhat with the Lakeshore path, which is roughly 4 miles…but you will rarely get a good view of the sea caves and the best views will be at the end of the path (where camping is available).
Probably the third best spot for sea caves are on Sand Island…located somewhat close the the mainland. A number of local kayak services will do overnight trips out of the Little Sand Bay harbor to Sand Island and then spend the night or two on the island.
Other islands and sections have sea caves (like Stockton Island and Madeline Island and sections near Bayfield)…but the above are the big three IMO. There are, of course, other reasons to visit the islands… There are a number of cool sea stacks (tall skinny rock islands…very nice on the northeast side of Stockton Island…example). The beaches are quite nice (especially Big Bay State Park on Madeline Island) and somewhat plentiful. Camping is regulated by the park service but works well with kayaks as a combo trip. If you're the lazy type, you can get yourself and your kayak shuttled to one of these islands (see shuttles below). There are also a number of shipwrecks, lighthouses, and island trails to explore. The bears actually swim out to the islands, so obviously you want to be very careful.
While probably the most expensive island to get to, you may consider Outer Island, as this large island has some very cool shoreline. One of the tour companies ranks this as their favorite. Sand Island is again a great camping location and has great caves and is located conveniently close to a mainland harbor at Little Sand Bay. Oak Island is a solid all around island that is close to the mainland, has some sea caves, and is popular with a lot of tours. Devil's Island probably has the best sea caves, while Stockton Island has probably the best sea stacks. Madeline Island (not part of the park service) is a cool area to visit and can be accessed via a car ferry. The best part is Big Bay State Park, located on the east end, as well as a cool section of shoreline south of the beach. You can view a map of the area using the Google map below or the following official PDF Map put out by the park service.
Again safety is a big issue. It's a good idea to keep an eye on the waves and you can do so by calling the park service or by checking out this cool website: http://wavesatseacaves.cee.wisc.edu/ .   (New in 2013, a Kiosk at Meyers Beach will now display current wave conditions).  As a somewhat general rule, the waves are calmest in the morning and build up over the day as the warm winds kick up the wake…so the earlier you can make it out, usually the better (plus parking will be easier). If you bring your own kayak you probably want to ensure you have a nice skirt as well. Besides the trail and kayak routes…one of the cooler ways to explore the Meyer's Beach Sea Caves is in the winter. A lot of people actually hike out onto the ice from the beach and can go up to and into the frozen sea caves (very scenic). If you do so, you obviously want to keep an eye on the ice conditions which you can do so at: http://www.nps.gov/apis/mainland-caves-winter.htm
In the summer of 2018, a tandem kayak flipped while traveling from Madeline Island to Michigan Island.  Despite wearing life jackets, the father and three of the children died from hypothermia, while the mother survived.  Michigan Island was 4 miles away and a difficult trip because of the 3 foot swells.  Kayakers should always be mindful of the forecasted wind (ideally nothing greater than 10 mph) and the swell height (no more than 1′ for rec boats).  Also protective clothing against hypothermia (even in the summmer) should be worn for open water paddles on the great lakes.
Because the weather can be very bad, you obviously should have backup plans. Perhaps a couple day buffer in your vacation…or a willingness to explore other areas. A common 'plan-b' trip for the local rentals companies is to take kayakers to Bark Bay (west of Meyers Beach) which is protected and there is cool exploring to be done in the Bay and Bark River estuary. Another very good option is the Bois Brule River, located just to the west of Bayfield County (not that bad of a drive from the National Lakeshore area). The lower section is probably too rough to navigate, but the upper section is very nice and popular with canoers and kayakers. The Bois Brule is not only one of Wisconsin's elite rivers but one of the most famous rivers in the Midwest as well (five US presidents have fished the river!). Other options include local beaches on the Bayfield Peninsula, various waterfalls in the area (Copper Falls is a must), and Madeline Island as long as the ferry can make it in rough weather will offer some cool trip ideas that won't be foiled by high waves.
This is a tourist area…so make sure to shop around when it comes to rental/tour/shuttle services (I try to include prices below). Prices range from 30 dollars to over a 1000 dollars, so you want to be careful. As general rules, the camping trips are most expensive…local companies are cheaper than out-of-state companies, the further you go out the more expensive it gets and the official shuttle service endorsed by the park service is much, much cheaper than most alternatives. Personally, I think it is a good idea to bring your own kayak (you'll still have to pay the park service a small fee) and to explore the islands with your own group of private experienced paddlers so you can go at your own pace and save a lot of money. If you are taking a safety course (some services require them) obviously give yourself enough time. For lodging, Bayfield is the local city in the area but is pricey…you'll probably be better serviced by moteling in Washburn or even Ashland as the rates will be much cheaper.
If you like the Apostle Islands…then you should consider checking out Pictured Rocks National Lakeshore located on the north side of the UP near Marquette. The cliffs here are quite cool and honestly are much grander than their Wisconsin siblings. In fact, the shoreline here might be the best in the United States. You can check out the area using the 'Lake Superior Shoreviewer' or by reading my review here.
Commercial Livery Options
The park service only authorizes so many services to operate commercially within park boundaries. Most of the below are authorized and those that aren't will be noted (I'll include as many as both as I can find). Included on this list will be primarily kayak services and boat shuttles (that can get you and/or your kayaks to the islands).For other services like fishing and sailing, see the park services complete list of authorized commercial operators. Many kayak services require safety courses that can last a day…something to keep in mind when choosing the service you want to patronize.
Authorized Kayak Tour and Rental Companies
Adventure Vacations – (715) 747-2100
104 Middle Road, LaPointe, WI 54850
This company does shuttle and kayak rental combos. Custom shuttles are available and are pricey ($200 – $700 + $50 for the kayak). Combo pre-planned trips are cheaper and range from $60-170 dollars. Stops include the Madeline Island Sea Caves, Stocktan Island Sea Caves, various lighthouses, beaches, lighthouses, shipwrecks, and the famous towering sea stacks near Stocktan island. Custom overnight trips available…am not sure if they rent kayaks…think they do but inflatables only (not sure).
Chequamegon Adventure Company – 715-356-1618
Box 580 – Minocqua, WI 54548
They apparently service the apostle islands with kayak rentals but their online documentation is very poor, so this is not completely clear.
Crawdaddy Outdoors LLC – 319-352-9129
P.O. Box 5, Waverly, IA 50677
While authorized by the park service it appears they only do one trip at the end of July for 450 dollars. Little other trip details are available.
Geneva Kayak Center – 630-882-9211
34 N. Bennett Street, Geneva, Illinois 60134
Service for a single trip at the end of July. Pricey at 850 to 950 dollars but covers all the islands including Meyer's Beach. Not for beginner kayakers as they require 'level 4 training'.
Lost Creek Adventures LLC – (715) 953-2223
22475 Highway 13, Cornucopia, Wisconsin 54827
Rental Rates very from 30-130 dollars. Shuttle services available (one of the few I can find) for Meyers Beach, Bark Bay, Little Sand Bay and Siskiwit Lake (15-45 dollars). Trip rates 55 dollars to 400 dollars (largely dependent on time). Lot of nice routes… They do the classics like Meyer's Beach Sea Caves and Sand Island Sea Caves. Also do a small part of Lost Creek (doubt they paddle upstream to the waterfalls that make this creek famous). They do service Bark Bay (nice natural area where the Bark River empties into Superior and is a B-trip on rough weather days). They also have a heavy emphasis on Roman's Point and it's sea caves which many other services don't cover. Lastly they do have trips that 'go around the horn' including and up to Buffalo Bay on the Red Cliff Indian Reservation (long trip though).Most of their service require mandatory safety courses.
Living Adventure Inc. – 715-779-9503
P.O. Box 874, Bayfield, WI 54814
Large operation that does kayak rentals, shuttles day trips and overnight trips. Kayak rentals require safety course ($50). Rental rates vary from 32-300 depending on the the time on water + the type of kayak. Primary day trip is the Meyers Beach caves. Other trips include the red cliff area east of Meyer's Beach, various shipwreck tours and the Bark Bay/Bark River area as a backup plan in case of bad weather. Cost is about 100-60 dollars for these trips. They do have nice overnight trips as well. Various options but destinatations can include Sand Island, Stockton Island, Devil's Island and Outer Island (all the good ones!). They actually like Outer Island the best. Overnighters range from 300 to 750 dollars.
(Living Adventure is no longer in business)
Northwest Passage– 847-256-4409
1130 Greenleaf Avenue, Wilmette, IL 60091
Primary trip is to Sand Island for multiple-night visit. Cost is roughly 685 dollars.
Trek and Trail – 715-779-3595
P.O. Box 906, Bayfield, WI 54814
Day trips range 30 dollars to 100 dollars. Not sure if their safety course is required. Locations include Meyer's Beach Sea Caves, Bark Bay and Basswood Island. Overnight trips range from 270 dollars to 800 dollars. Locations can include Sand, Oak, Stockton and Devil's Island.
Whitecap Kayak Adventures – 906-364-7336
930 E. Cloverland Drive, Ironwood, MI 49938
Appears they only do a day trip in the Meyer's Beach region for 100 dollars. Unsure if their 100 dollar safety course is also required.
Wilderness Inquiry – 612-676-9400
808 14th Avenue SE, Minneapolis, MN 55414
Mostly overnight trips in the range of 400-800 dollars. Most trips seem to target local islands like Sand and Oak.
Unauthorized Tour and Rental Companies
Apostle Island Kayaks – 715 747-3636
690 Main Street, La Pointe, WI 54850-0498
Not technically in the Apostile Islands, these guys are based out of Madeline Island…the largest island off of the Bayfield Penisula. Rates vary from 27-37 dollars. You can explore the beaches on the west side of the island or explore Big Bay State Park on the east side of the island (nice park!). You will have to use the ferry to get from Bayfield to Madeline Island which isn't free.
Dog-Paddle Kayaks – 715-373-2675
Washburn, WI
Rates from 15 dollars to 50 dollars. Smaller more stable kayaks…not sure if they allow them outside of Chequamegon Bay…believe there are som sea caves in this area (from Ashland to roughly Washburn). They they will also drop if you off where you want to paddle and training courses aren't required.
Water Taxi's/Shuttles
An emphasis on services that transport kayaks…for more taxi options read this.
Apostle Islands Cruises – (800) 323-7619
2 N. Front St., P.O. Box 691 City Dock • Bayfield, WI 54814
The most affordable shuttle company. They do non-stop tours that run all the way to Devil's Island for roughly 40 dollars. 18 and 24 dollar local tours also available. They aso do more of a shuttle service to Stockton, Oak and Raspberry islands (the local islands). Cost is roughly 40-55 dollars. Kayaks cost 20 dollars to transport (but this is round trip). Believe this is only available for the shuttles.
Adventure Vacations – (715) 747-2100
104 Middle Road, LaPointe, WI 54850
Shuttles available to most islands and go from 200 to 750 dollars plus 50 dollar transport fee for kayak. Cost includes round-trip service.
Apostle Trawlers – (651) 485-8989
Bayfield Marina Bayfield, WI
Cost is for 800 – 4100 dollars depending on duration. They do include inflatable kayaks and you might be able to bring non-inflatables with as well.
Trip Map
Overview Map
Video
Sorry about the horrible quality!


Photos
2 Comments to "Apostle Islands National Lakeshore"
How did your trip turn out?

Questions or comments?

Feel free to leave your feedback.