Big Eau Pleine River – March Rapids Park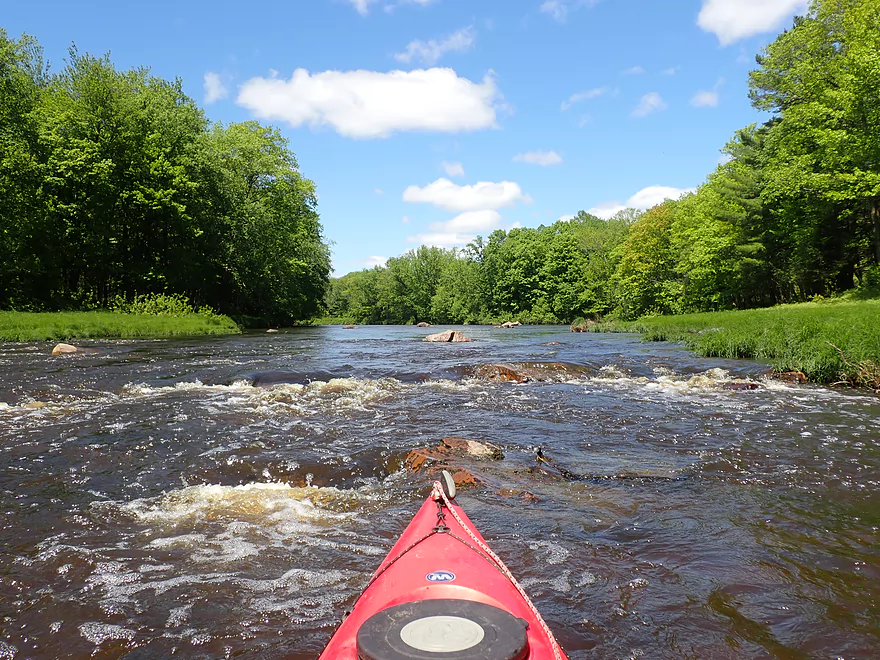 Put-in:
March Rapids Park
Take-out:
Big Rapids Park
Time:
4 hours 14 minutes (1 hour 30 minutes would be more typical)
Gradient:
Indeterminate...maybe 10' per mile
The Big Eau Pleine is an underrated paddling prospect located between Wausau and Marshfield.  It's got a lot going for it including scenic outcrops, boulder gardens, little development and rapids.  But few paddle it as it is somewhat of a Goldilocks river…usually it's either too high or too low.  So some patience is required for that "just right" paddling window…but it's worth it.
I started the trip at March Rapids Park which was quite nice, but a little deserted (I'm not sure locals use it much).  North of the park is "March Rapids" and multiple fishing paths allow paddlers to launch above or below the rapids.  Despite being named, these rapids aren't too fierce…just Class 1 and pretty beginner friendly.
The first mile accounted for most of the rapids on the trip and was the funnest part of the trip.  Here there were multiple Class 1's and one Class 2.  I thought these were all manageable but they could be rough in high water.
Much of the shoreline was quite scenic with occasional hemlocks growing atop exposed granite.   Other scenic highlights included boulder gardens, one significant outcrop and many ferns.
Two-thirds into the trip, Hamann Creek joins the Big Eau Pleine.  It's not big enough to do a trip on, but I could explore it a bit by paddling upstream from the mouth.  It's one of those ridiculously cute creeks with clear water, granite banks, hemlocks and boulder gardens (albeit too dense to get through).
Following Hamann Creek was another fun set of rapids.  While I was taking pictures a family of four passed me.  This was a bit surprising as I didn't think that many people kayaked this far upstream.  But they seemed to be having fun and this was indeed a good stretch for intermediate rec paddlers.
The trip ended at Big Rapids County Park, which was preceded by "Big Rapids"…the longest continuous rapids of the trip.  I would rate these as Class 2, but they weren't super difficult.  I had actually scouted these same rapids six years ago (as part of a downstream trip I did) and back then (at 34 CFS) it was nothing more than an impenetrable boulder field.  Now though it was a different scene with most of the boulders submerged under fun whitewater.  
At the base of Big Rapids Park is a small dam which creates a brief pond.  The dam serves no purpose and if removed a fantastic stretch of whitewater would likely be revealed.  Big Rapids Park itself was quite nice and had a dedicated dirt launch for taking out.
In summary this was a trip that I enjoyed, but paddlers should consider several factors.  First, three miles is likely too short for most paddlers.  I only do short trips like this because I spend a lot of time taking video and pictures.  Most other paddlers will benefit from putting in earlier or taking out later…both of which are good options.  The second consideration is timing.  This isn't a river you can plan a trip for months in advance…you need to keep your eyes on the gauge and be willing to take advantage of brief paddling windows that appear on short notice.
Noteworthy Wildlife:
Sights included two eagles, turkey vultures, a few painted turtles and one softshell turtle.  The highlight was a mother duck who went into "submarine mode" when she saw me and was able to stay under water for a surprisingly long time.
March Rapids Park:  This is a good put-in option and a nice public park.  There are multiple paths leading to the water and you can launch above or below the rapids.  Be mindful of the poison ivy.  Outhouses are available and parking is free.
Alternate Put-ins:
Hazelnut Road (5.5 miles upstream):  This is an undeveloped bridge access with some poison ivy issues but is doable.  This upstream stretch is a good prospect with multiple boulder gardens and at least one set of significant Class 2 rapids.
Cherokee Park (8.6 miles upstream):  This is a good public access.  This stretch includes the above, plus more scenic boulder gardens and rapids.  There is one stretch of significant Class 2 rapids below Hwy N.
Take-out:
Big Rapids Park: This is a very nice public park.  A dirt kayak launch is located just upstream of the dam.  Parking is free and outhouses are located at the far end of the park.
Alternate Take-outs:
Hillside Street (0.8 miles upstream of take-out):  Paddlers do access the water here (it's a dead-end road).  I advise taking out at Big Rapids Park instead which is a nicer access and lets you run "Big Rapids".
Equity Street (1.3 miles downstream of take-out):  There isn't a bridge here but some paddlers do access the water by the shoulder here.  This is a pleasant wooded stretch with light rapids and one section of Class 2 rapids.
Hwy 97 (1.9 miles downstream of take-out):  Hwy 97 is a busy road, but I did see paddlers put in here.  This stretch is the same as the above but also includes a nice section with boulder gardens.
Hwy M (7.9 miles downstream of take-out):  Hwy M isn't an easy take-out but is doable.  This trip would include the above, plus a longer stretch with multiple nice outcrops.
Shuttle & Rental Information:
Big Rapids Park to March Park:  6.2 miles – 190′ of hill climbing.  This was not a fun bike shuttle.  The first mile on "Big Rapids Street" consists of loose, large gravel and a lot of hill climbing.  The remaining miles are paved but somewhat hilly.  Bike shuttlers are advised to skip Big Rapids Park entirely and instead choose another access (such as Hwy 97) which would bypass all the gravel.  As a general rule for this area…roads that are simple letters or numbers are paved.  Roads that are named tend not to be.
Hazards and Concerns:
Rapids:  There are roughly seven Class 1 rapids and two Class 2's.  Some of these rapids will likely be much more difficult in higher water.  Each of the rapids is marked on my trip map as well on my Youtube video.
River Depth and Navigability:
Nearest Gauge:  Big Eau Pleine River @ Stratford – Located about 5 miles downstream.  I did this trip at 200 CFS but the gauge was dropping rapidly throughout the day and I ended the trip at 170 CFS.  This is a Goldilocks river…too shallow and you'll be hitting too many rocks, but if too high the rapids will be pushy and dangerous for rec paddlers.  Often the river rises and drains quickly so timing a trip on the Big Eau Pleine can be tricky (but worth it!).
< 100 CFS:  Likely too shallow.
101-150 CFS:  Most of the river will be fine, but there will be some bumpy spots.
151-200 CFS:  A good depth.  A few bumps here and there, but all-in-all pretty good.
201-250 CFS:  Also a good depth.  The boulders should be well padded.
251-300 CFS:  A bit on the high side but likely manageable for experienced paddlers.
301-400 CFS:  A high depth for rec paddlers, but a good depth for whitewater paddlers.  Rapids will become more difficult at this point with some Class 3's.
401-500 CFS:  Likely only suitable for whitewater paddlers.
501+ CFS:  Very high flow rates…perhaps only suitable for very experienced whitewater paddlers.
Detailed Overview
Upstream of Gierl Ave:  Only runnable at very high flow rates.  A reader by the name of Jeremy provided a quick summary here.
Gierl Ave to Elderberry Road:  2.1 miles.  This leg doesn't have quite the concentration of boulders/rapids as downstream legs but is a good prospect with maybe one major stretch of rapids/boulders and three mediocre stretches. This is a shallow leg that can only be run in high water.
Elderberry Road to Cherokee Park:  3.7 miles. 

Elderberry Road to Huckleberry Road:  1.9 miles.  A shallow wooded stretch with a handful of Class 1's and two Class 2's at the end.
Huckleberry Road to Cherokee Park:  1.5 miles.  Very wooded flowing mostly through Cherokee Park.  Nice leg with three Class 3's and one large boulder garden.

Cherokee Park to Hazelnut Road:  3.1 miles.  Fantastic trip with clear water, many boulder gardens, and fun rapids.  The highlight is an 800′ long boulder field below Hwy N.
Hazelnut Road to March Rapids Park:  6.1 miles.  Heavily wooded leg with multiple boulder gardens and a few small outcrops.  There are two sets of significant Class 2 rapids.
March Rapids Park to Big Rapids Park:  3.4 miles.  A good trip with 7 Class 1's and 2 Class 2's.
Big Rapids Park to Hwy M:  8.5 miles.

Big Rapids Park to Hwy 97:  1.9 miles.  Shallow but scenic section.
Hwy 97 to Hwy M:  5.6 miles.  Scenic section with several rock outcrops.

Hwy M to Hwy 153:  0.9 miles.  There are some rock walls after Hwy M, but you could just paddle down and back to explore, instead of taking out at Hwy 153.  Hwy 153 is not an ideal take-out.
Hwy 153 to Maryel Drive Boat Ramp:  2.2 miles.  Probably uninteresting flowage padding.  Put-in at Hwy 153 would be tricky, but the take-out at the ramp would be good.
Maryel Drive to Reservoir Dam:  13.3 miles.  A huge lake that is not paddle friendly.  Numerous launch options are marked on my overview map.  The dam is located on the mouth near the Wisconsin River.
Trip Map
Overview Map
Video
Photos
2 Comments to "Big Eau Pleine River – March Rapids Park"
How did your trip turn out?

Questions or comments?

Feel free to leave your feedback.