Redgranite Quarry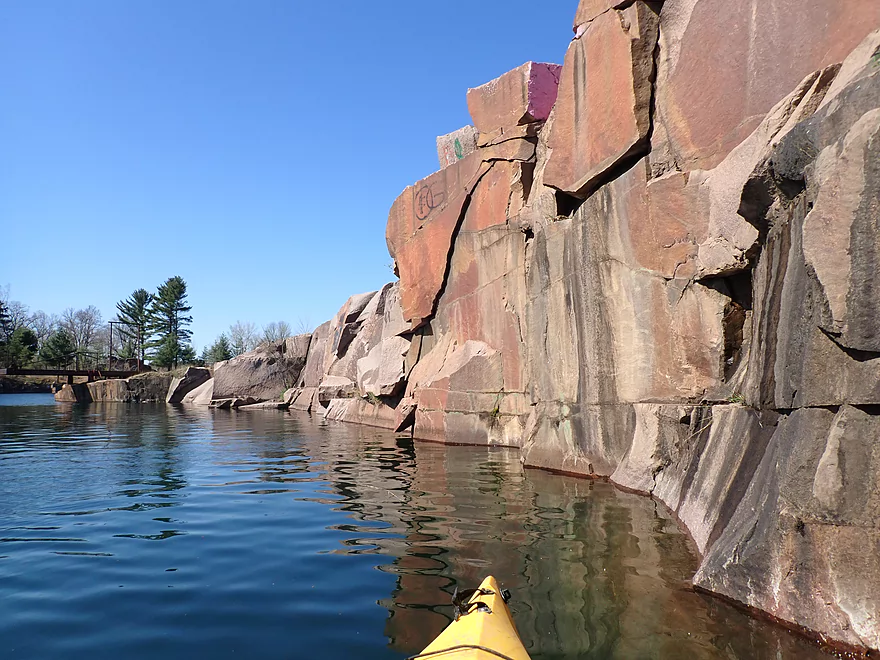 Take-out:
West Parking Lot
Time:
30-60 minutes to do a loop
Redgranite is a small lake located in central Wisconsin formed by a reclaimed quarry.   It's at the site of a former granite mine that was operational until the 1930's (old picture of the mine).  Up until the 1960's it was used by the Chicago Pickle Company to clean pickles.  After that it was turned into a local park.  It became very popular with locals who liked to jump off its scenic red cliffs into the water.
This was a spur-of-the-moment trip I did after paddling nearby Willow Creek.  I didn't plan on paddling the quarry, but it looked inviting and my earlier trip had finished sooner than expected.
The put-in at the west end was pretty good aside from an overly loud car stereo and having to dodge past a few fishermen to reach a launchable spot between the cliffs.  The trip plan was to simply do a loop which is often the best way to kayak most lakes.  The logic being that you're always close to the shoreline in case something goes wrong and you're closest to the shoreline scenery (in this case red cliffs).
While much of the former quarry has nice "outcrops", the best are located along the eastern shore.  Here is where most locals hang out and there is where the main diving board is (the only allowed spot to dive into the water).  Nobody was swimming that day though.
Sadly the lake has been stuck in a tug-of-war between juvenile delinquents and an overly authoritarian local government, with no proper compromise in between.  Many of the kids leave trash at the quarry and obnoxious graffiti is on many of the rocks (which need a good power washing).  Many of the kids also get drunk and take stupid risks.  Injury and death are not uncommon.  On the flip side the local government has ridiculously overreacted.  When you enter the quarry there are two signs with a long list of rules you must follow (see notes below) and a note that it is under watch by a video camera.  In 2020 the lake was closed for several reasons including "lack of social distancing" (I kid you not!).  It was later reopened, but it wasn't clear if swimming was still specifically prohibited.
A unique problem the lake faces is its abnormally large number of drownings (19 since 1979), which is kind of shocking given the lake is no more than 700′ across.  Part of the problem is the deep depth (163′) keeps part of the lake quite cold which can shock swimmers.  The cliffs and deep water can make getting out of parts of the lake tricky as well.  Granted, not all deaths are swimmers, but some are scuba divers who have gotten disoriented.  The clear water makes this a very popular location for divers.  But still, this MANY deaths is odd.  Maybe the lake is cursed…
In summary, this was a neat kayak trip with fantastic geology and super clear water.  It compares favorably to another quarry paddle in Wazee Lake, although not quite as nice.  The only major downside is its lack of size.  Doing a loop will just be a half mile, which for most is a bit short.  This can be a nice "dessert paddle" to a "main course" paddle such as the nearby White River or Willow Creek.
Noteworthy Wildlife:
I did see a school of fish.  There were a lot of fishermen on the banks, so this might be a well-stocked lake.
Put-in/Take-out:
West Parking Lot:  At the west end there is a public parking lot.  Despite much of the shoreline being sheer cliffs, it's not difficult to find a shallow launch spot.  Alternatively you can launch from the east parking lot.
Rules:
Redgranite Quarry has many rules to follow:
Park is closed 7 PM to 7 AM
No dogs or cats
No open fires
No glass containers
No possession or consumption of alcohol
No climbing trees
Personal property is subject to search
No swinging from tree ropes
No swimming alone
No swimming across the quarry
No jumping off the rocks
At one point in time social distancing rules on the lake were enforced, but I'm not sure this is applicable anymore
While much of the lake has reopened since its 2020 closure, it's not clear if swimming is still prohibited.
The lake is watched 24 hours by a security camera.
Hazards, Logjams and Current:
Cold Water:  Because of its depth, pockets of the lake can get quite cold.  Swimmers encountering these pockets can lose crucial energy and warmth.  This has likely been the cause of some drownings.  Because of this, a life jacket is advised despite the lake being so small.
Sheer Sides:  Parts of the lake are not easy to wade or climb out of because of the steep cliffs and deep holes.   Again, it would be a good idea to wear a life jacket.
Trip Map
Video
Photos
2 Comments to "Redgranite Quarry"
How did your trip turn out?

Questions or comments?

Feel free to leave your feedback.