Milwaukee River – Fredonia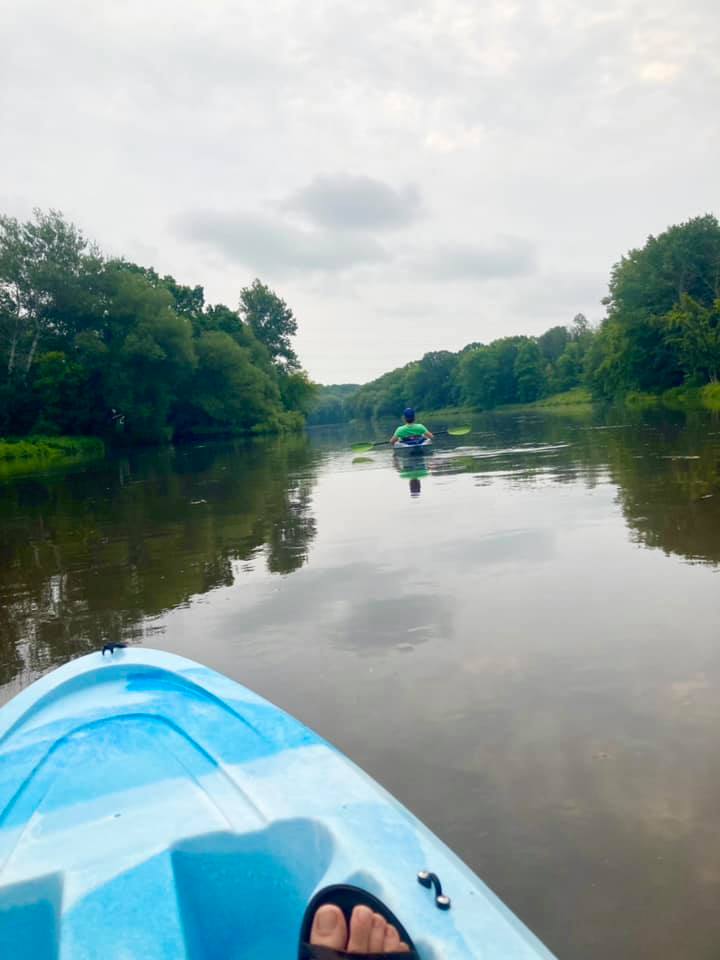 For being close to Milwaukee, this was pretty awesome and didn't feel like we were close to civilization at all. The majority of the trip was a calm, gently winding path through heavily wooded areas, sometimes with rather tall hills on both sides. Oh, and Herons! So many Herons. I lost count, we definitely saw over 25 of them, sometimes they were fighting/dancing with each other, eating, standing still and pretending we couldn't see them, it was hilarious. Multiple eagles, and the usual smattering of turtles and frogs/toads.
We went the day after an absolute massive storm, so the river shot up from around 100CFS to around 1000CFS, 10x the flow! There was so much water that this trip went rather quickly, we covered 5.5 miles in a little under 2 hours. The rapids were almost non-existent, tho we did see some large rocks, so many that I am not sure if this is passable at lower flow levels. The rapids were more just like sections of the river where the water wasn't flat, but there was never really a need to maneuver or pick a path down them, it was just disturbances beneath the surface of the water.
We put in near Fredonia at Waubeka Park, they have a pretty nice Kayak launch site with a lot of parking. We pulled out at Ehler's Park, the landing was a bit tricky but I managed.
We wound up bringing 2 cars, and it is an 8 minute drive from put in to take out. Super cool, would like to go again sometime.
Addendum from the Webmaster:
Thanks for the review!  It's too bad about the high water…you'll definitely have to do this leg again during shallow levels to experience the rapids.
WisconsinRiverTrips.com is always very appreciative of guest reviews, and if you the reader is ever interested in submitting one, you can use this online form.
Detailed Overview
Additional access options are visible on the overview map.  Special thanks to Milwaukeeriverkeeper.org which has some detailed information on the river, including this great map.
Above Kewaskum:  The Milwaukee River splits into two (west branch and main branch) and while I think these are good creek prospects (especially the west branch), I don't know enough to say.  Some additional information has been posted on the overview map.
Hwy 45 to Kewaskum Dam:  (3.6 miles)  Starts technically on the West Branch.  Maybe 2-3 logjams, otherwise a nice prospect.
Kewaskum Dam/Park to Hwy H:  (2.9 miles)  Solid prospect.
Hwy H to First West Bend Dam:  (6.3 miles)  A solid prospect with some flowage paddling at the end.  The take-out entails dragging your boat across a private parking lot.
First West Bend Dam (Barton Ave) to the Second West Bend Dam:  (1.3 miles)  Mostly an urban flowage paddle.  The first dam is a difficult portage or put-in.
2nd West Bend Dam to Quaas Creek Park:  (3.8 miles)

2nd West Bend Dam (Washington Street) to South River Road:

(2.1 miles)  Terrific section with a restored prairie, fast current, light rapids, and good urban scenery.
South River Road to Quaas Creek Park: 

(1.7 miles)  A paddle through urban woods...pleasant but not top-notch.

South River Road to Hwy M: 

  (6.3 miles)  A pleasant stretch with little development and clear water.
Hwy M to Main Street Bridge (Newburg):  (3.4 miles)  Good prospect with small boulder gardens in shallow water.
Main Street Bridge (Newburg) to Hwy A Bridge: 

  (6.3 miles)  A popular paddle with great water clarity.
Hwy A to Waubedonia Park (Waubeka): 

  (5.7 miles)  A decent leg with good current, some rocky stretches, and nice color in the fall.  North Branch joins up and significantly enlarges the river.
Waubedonia Park to Ehlers Park/Mink Ranch Road:  (5.3 miles)  A solid stretch with I believe some light rapids.
Ehlers Park to Peninsula Park:  (2.5 miles)  A suburban stretch with maybe one set of rapids.
Peninsula Park to Grafton Canoe Launch (south Saukville on Hwy O):  (1.9 miles)  Kind of a suburban paddle.
Grafton Canoe Launch to Veterans Memorial Park (Grafton):  (4.1 miles)  Some suburban and flowage paddling, although I think there are minor rapids in the upper stretch.
Grafton Dam (SW of Bridge Street) to Lime Kiln Park:  (1.3 miles)  A terrific section with class 2-3 whitewater and scenic dells.
Lime Kiln Park to Hwy T:  (1.6 miles)  Good section with scenic 'Grafton Dells' and some Class 1 whitewater.  I'm not sure Hwy T is a good take-out.
Hwy T to Pioneer Road:  (1.9 miles)  A solid prospect.
Pioneer Road to Thiensville Park:  (6.9 miles)  Solid prospect but with some flowage paddling at the end. 
Thiensville Park to Brown Deer Road:  (4.8 miles)  A solid prospect with a few minor rapids.
Brown Deer Road to Kletzsch Park:  (4.1 miles)  Solid prospect.
Kletzsch Park to Estabrook Park:  (4.1 miles)  Some flowage paddling and a nasty low-head dam to portage.  A second dam has been I believe recently removed so this section might be very different now.
Estabrook Park to Riverside Park:  (3.1 miles)  A number of decent rapids in this wooded but urban paddle. 
Riverside Park to McKinley Marina: 

(6.3 miles)  A great trip on the last section of the Milwaukee.

Riverside Park to Bruce Street Boat Ramp:  (3.9 miles)  A scenic paddle through downtown Milwaukee featuring some skyscrapers and great architecture.
Bruce Street Boat Ramp to McKinley Marina:  (2.5 miles)  A bonus add-on section along Lake Michigan that features scenic vistas of the downtown.
Trip Map
Overview Map
Photos
How did your trip turn out?

Questions or comments?

Feel free to leave your feedback.