Namekagon River – K to McDowell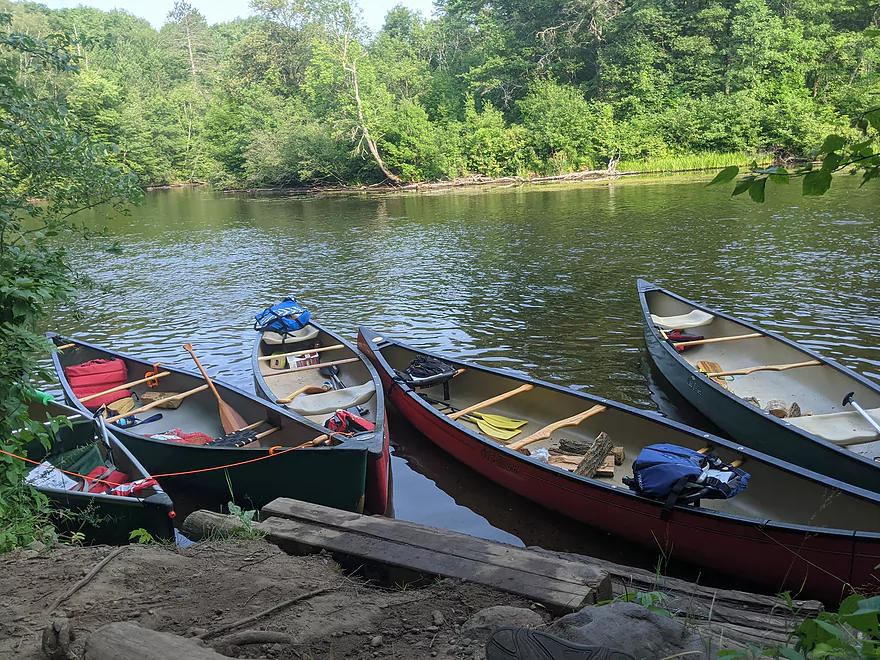 Put-in:
County Road K Landing
Take-out:
McDowell Bridge Landing
Time:
Three-day camping trip
This was the annual canoe trip for the Chippewa Order of Canoeists/Kayakers.
County Road K Landing is a great landing with ample parking in a paved lot. It's popular with local canoe/kayak rental businesses. The river was lower than when previously paddled and canoe had to be dragged in a few spots. Our group of five canoes (ten paddlers) camped the first night (7/18/21) at site 26.7N. Nice campsite with a good swimming spot. Not too steep of a bank for gear unloading/loading.
We took off the next day (7/19/21) with an expected 10-12 mile paddle with several stops for swimming and other shenanigans.
A couple sites between 26.7N and 16.5N were closed for restoration as well as the Whispering Pines Landing. I didn't see information about closed sites posted on the NPS website in the several weeks of planning leading up to the trip.
Again, there were several spots where we had to drag the canoe but not for long distances. Saw many fish in the river, mostly some species of carp and a few muskies. Spotted several deer, eagles, herons, ospreys, redhead ducks, and a couple muskrats.
With the upper portion of the Namekagon being extremely low this year, this portion was pretty popular for paddlers and our desired campsite was occupied. We paddled a bit further than expected to campsite 12.5N. Paddling time was about average, maybe a bit swifter. I wouldn't recommend site 12.5N to anyone with bad knees- the site is on a high bank with about 10 steep steps. The view was worth it though. That spot on the river wasn't too desirable for swimming- current was slow, river bottom was sandy and weedy.
With having paddled further than expected on Day 2, our last day of paddling was only about half an hour to the landing. More riffles and sleepers than I remember in previous years. McDowell Bridge Landing is sandy with low banks making for easy unloading. Namekagon holds a special place in my heart and it's a great river for beginners.
Addendum from the Webmaster:
Thanks for the review!  Sounds like a long trip, but a ton of fun.
WisconsinRiverTrips.com is always very appreciative of guest reviews, and if you the reader is ever interested in submitting one, you can use this online form.
Detailed Overview
Upstream from the Namekagon River Dam: There is an immediate flowage and then upstream the river splinters and could still be navigable, but I don't know.
Namekagon River Dam to Cable Wayside:  14.7 miles.


Namekagon River Dam to Hwy M:  7.2 miles.  A terrific leg with some Class 2 rapids.
Hwy M to Cable Wayside/Hwy 63:  6.9 miles.  Good prospect with much less rapids.  Many intermediary access options (each bridge really).

Hwy 63 to Mossback Road Landing:  3.9 miles.  Very good prospect and a local favorite.
Mossback Road Landing to Larson Road Landing:  4.9 miles.  Very good prospect and a local favorite.
Larson Road Landing to Phipps Landing/Hwy 63: 3.3 miles.
Phipps Landing to W. Phipps Bridge/Trout Run Landing: 2.8 miles.
W. Phipps Bridge to Eagle's Landing: 2.4 miles. Eagle's Landing should be a bit NE of W. Hospital Road.
Eagle's Landing to Hayward Dam:  3.2 miles.  Mostly flowage paddling.
Hayward Dam/1st Street to Stinnett River Road Landing:  9.1 miles.  A good and popular stretch.
Stinnett Landing to Groat Landing/Brickman Lake Road:  3.0 miles.  Several Class 1 rapids.
Groat Landing to Springbrook Landing:  4.9 miles.

Groat Landing to Trails End Road Landing:  2.4 miles.  Section with Class 2 rapids.
Trails End Road to Legion Lane Landing:  2.7 miles.  A few Class 1 rapids.

Legion Lane Landing to Big Bend Landing/Pow Road:  5.2 miles.  A few Class 1 rapids.
Pow Road to Earl Park Landing/Road N:  3.8 miles.  Mostly flatwater.
Earl Park Landing to Trego/Cash Road:  5.0 miles.  Mostly flatwater...there are other take-out options in Trego.  Take-out is just NE of Wagon Bridge Road.
Trego to Road K Landing:  5.6 miles.  Mostly flowage paddling.
Road K to McDowell Bridge Landing:  22 miles.

Road K to Whispering Pines Road Landing: 10.3 miles.
Whispering Pines to Howell Landing:  4.4 miles.  You can take out on either side of the river.
Howell Landing to Fritz Landing/River Landing Road:  3.5 miles.
Fritz Landing to McDowell Bridge Landing/Web Creek Dr.:  2.7 miles.

McDowell to Namekagon Trail Landing:  7.0 miles.
Namekagon Trail Landing to Mouth:  5.0 miles.
Mouth to Riverside Landing/Hwy 35:  3.7 miles.  A short stretch on the St. Croix to reach a take-out.
Trip Map
Overview Map
Photos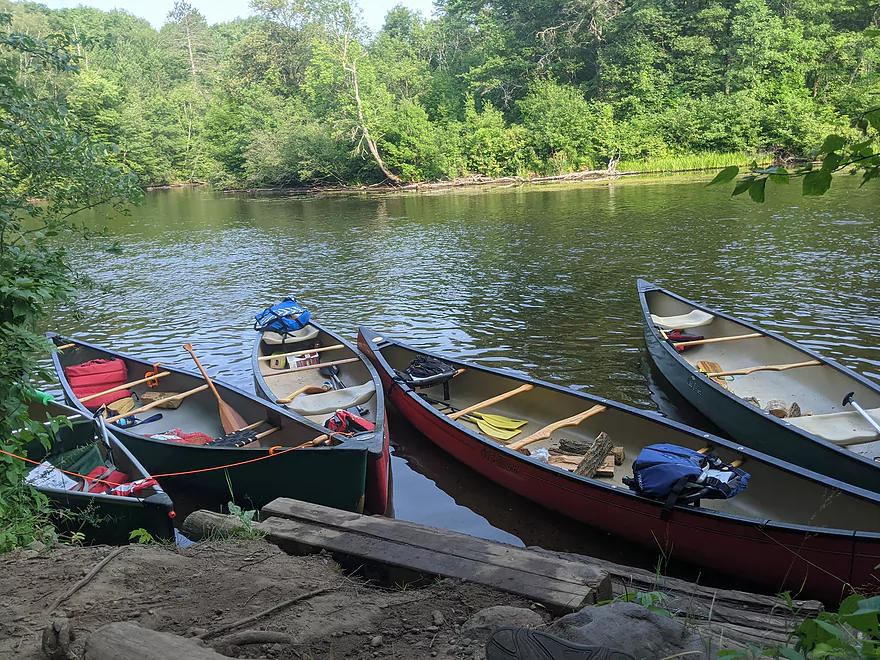 How did your trip turn out?

Questions or comments?

Feel free to leave your feedback.