Little Platte River – Platteville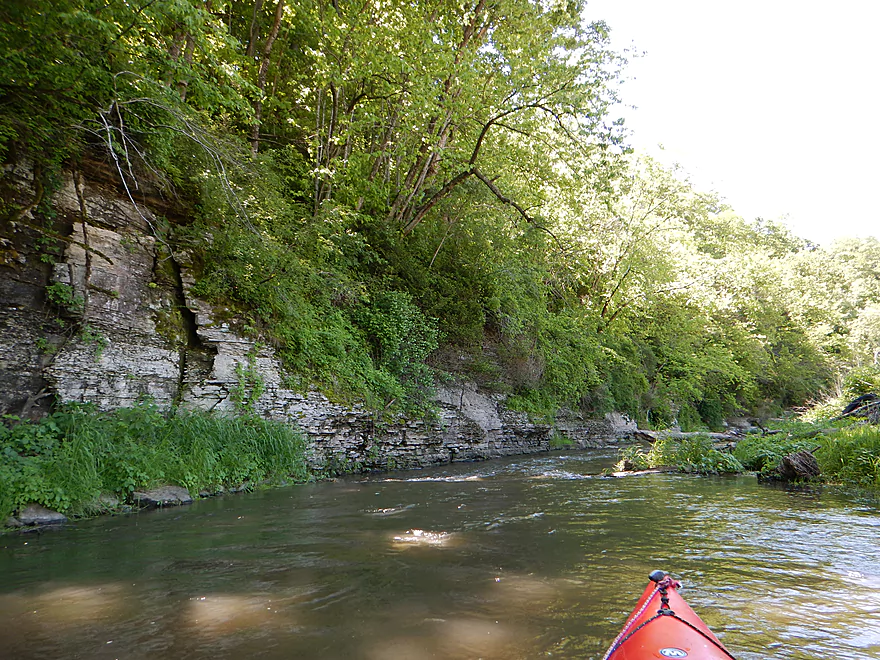 Take-out:
Stumpton Road Bridge
Time:
5 hours 1 minute (atypical...expect 3 hours)
Gradient:
15' per mile (fast!)
The Little Platte wasn't in my immediate plans, but when heavy downpours submerged much of the state (only bypassing far southwestern Wisconsin), I kind of let the weather pick this trip for the week. SW Wisconsin has some some amazing paddling prospects, including the Grant River, Platte River and Fever River, but the Little Platte is easily better than all of them and is IMO one of the elite paddling prospects in the entire state.  Think Kickapoo River but with with fun light rapids and instead of sandstone rock outcroppings, you have gorgeous limestone rock outcrops with exotic layers and textures. 
The start of the trip is mostly an open pasture paddle.  Very pleasant with attractive views of the green hillsides and fun riffles over many of the turns.  This section has the most cows (and fences) though, so do be mindful.
The strength of the trip would be the many rock walls along the side of the river (I lost count, which is a good sign).  The photos and video convey some of this, but unfortunately many did not turn out and I weren't usable (taking pictures of rock bluffs is exceptionally difficult and you need very good back lighting to pull it off…not to mention the current was not camera friendly). 
Many of the rock walls are not immensely large, but what makes them cool is their unique texture, at times good length, being often flanked by light rapids and frequently being hidden by the many curves which adds a fun discovery element to the paddle.   Adding to this is usually a thick forest canopy on top of the rock bluffs which often gives this small river the effect of paddling through a canyon (or at least one side of one).
The other strength of the river is the fun current.  At my depth, it was bumpier than ideal but still enjoyable.  Most of the major rapids were video'ed below if you're curious as to their size and strength.
Put-in:
Pretty good access off of Quarry Road.  Am not 100% sure it is public, but suspect it is and others do use this launch. 
Take-out:
Doable but inconvenient take-out at Stumpton Road.  This is a popular fishing spot with good shoulder parking, but it is a steep walk through thick grass to get to your car.  Plenty doable though.
Shuttle Information:
This is a hilly bike shuttle that rises 351′ and drops 253′ over 4.5 miles.  Managable, but be sure you are in shape (I had to walk some hills).  On the plus side, the bike shuttle goes smack through the heart of UW-Platteville which is a pleasant campus.
Hazards and Log Jams:
There is a low fence shortly after Quarry Road that I was able to duck under.  Am not sure if it was electric.  Might be an issue for taller boats.
There is a second low fence (likely electric) maybe halfway between Quarry Road and Lancaster Road that I thought was easy to duck under by paddling close to the shore.
I believe there is at least one more fence to duck under but it wasn't too bad and was not electric.
Little Platte is remarkably free of log jams.  However, there is a strainer in fast current within eyesight of Hwy B.  I broke enough branches, that you should be able to punch through ok now, but be mindful of this.
Lastly, the Little Platte turns into a dangerous whitewater river you don't want to mess with when high.  So be VERY mindful of the depth gauges before planning a trip.
River Depth, Navigability and Current:
Most important section of the review…  The nearest gauge is on the Platte River and is probably accurate enough.  I did this at 3.45′ which is considered very low.  For reference, the guys at American Whitewater consider 4.5′ to 5.5′ barely runnable!  But these are whitewater kids who typically exaggerate how much water you need and typically underestimate how dangerous high water is.  At 3.45′, much of the river is plenty runnable.  The issue is that some of the rapids will be bumpy and I did have to get out to walk my boat a few times, but I considered this minor relative to my Fever River experience (that WAS too low)!  That being said, 3.45′ was lower than ideal, and I only suggest running the river at this level if you have a high bump tolerance and have a small boat that can maneuver. 
On the flip side, this river can be deadly at high water.  I considered most of these rapids to be class 1, but would easily be class 2 or higher with more water.  There was one section in which the current went strongly into a rock wall forming a strong reverse eddy.  Tougher than it looks…I was not able to turn my boat in time and hit the rock wall gently (it's in the video).  In higher water, this would be much pushier and an issue.
In summary, I recommend 4.0′ to 5.0′ for this section.  Anything above 5.0′ is very high water and is probably too pushy for casual paddlers (for reference it has only gotten above 5.0′ once this year and just briefly).
Substrate and Water Quality:
Not good water quality.  Brownish opaque with fine debris suspended in the water.  This is a byproduct of the steep grade and poor agricultural practices (both past and present) that have contributed a lot of silt to this otherwise nice river.
Substrate is very rocky (mostly softball sized).
Wildlife:
A great blue heron, a flying turkey (always elegant & graceful), ducks, geese, an eagle and a muskrat (or beaver).
You will probably encounter bovines in the water.  Thankfully I saw no bulls, but there was a steer that gave me the stare down from the middle of the river.  He eventually relented and ran off.  Cows are so much easier to scare off…you clap your hands and wave your paddle…and they are "running for their lives".
Special Thanks

Thanks to Americanwhitewater.org for their review, which provided a lot of helpful information.
Detailed Overview
Arthur Village (Hwy A or 80) to Waterfall Road:  3.6 miles.  Typically tiny, with perhaps some electric fences and definitely some downed trees.  Rock outcrops by Arthur are impressive.
Waterfall Road to Crosscut Road:  2.1 miles.  An interesting creek prospect.
Crosscut Road to Quarry Road:  5.9 miles.  A curious prospect, but likely has a handful of downed trees.
Quarry Road to Stumpton Road:  6.6 miles.  A great five star section.
Stumpton Road to Hwy O:  6.3 miles.  A good four star section.

Hwy O to Church Road:  4.7 miles.  A great five star section.
Church Road to Oak Road:  4.6 miles.  Medium prospect.  Maybe 1 outcrop and 8-12 logjams.
Oak Road to the Mouth:  4.6 miles.  Medium prospect.   Maybe 11 logjams.
Mouth to Indian Creek Road:  1.5 miles.  A short section on a now very wide Platte River.
Trip Map
Overview Map
Video
Photos
18 Comments to "Little Platte River – Platteville"
How did your trip turn out?

Questions or comments?

Feel free to leave your feedback.