Illinois Fox River – Hwy ES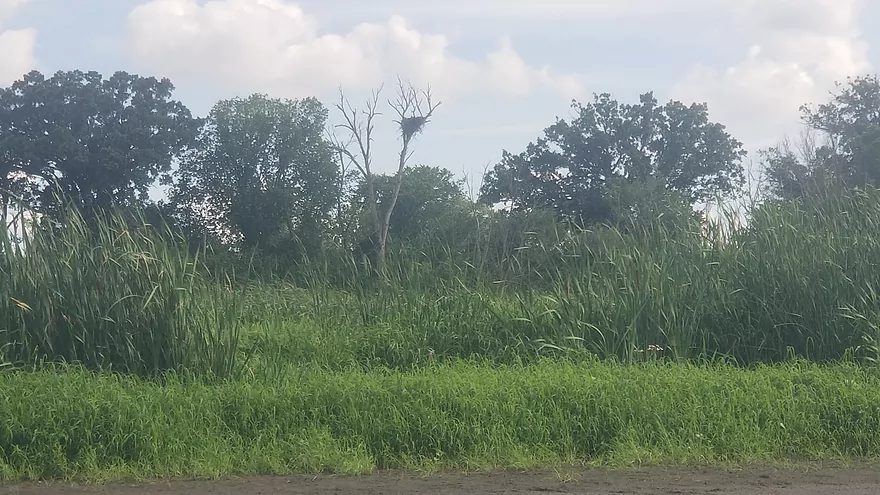 Temperature was 90°+F, with no shade, but still enjoyable. Current was about 1 mph and the river was low but we never had to scoot.  I was surprised by the lack of homes along this stretch of the river. It was mainly wetlands and tall grasses. Fish could be seen scurrying across the bottom of the river bed. We saw an eagle nest as well as red-tails, herons, river otters, egrets and a menagerie of other critters.
We were pretty much alone. A family joined us early on from the Mukwonago River, but they pulled out less than a mile downstream on private property. From there we only saw two fishing boats and a game warden who did not bother us.
Insect swarms were not a bother on the day we we went out.
Addendum from the Webmaster:
Thanks Mark for the review!  WisconsinRiverTrips.com is always very appreciative of guest reviews, and if you the reader is ever interested in submitting one, you can use this online form.
Detailed Overview
Thanks to Mike Svob, author of "Paddling Southern Wisconsin," for the info about the lower sections.
Upstream of Mitchell Park: The river actually seems big enough to run up here and there doesn't seem to be too many logjams.  However, I am not familiar with the area and am unsure of possible public access points.
Mitchell Park to Wray Park: 4.5 miles that is mostly an open wetgrass paddle.  Not exotic, but should be pleasant.
Wray Park to Grede Park:


Sub Trip – Wray Park to Wonderland Tap: 3.8 miles and nice, with wetgrass and some woods.
Sub Trip – Wonderland Tap to the Waukesha Dam: 1.9 miles on a boring, noisy flowage.  While there is a park by the dam, I'm not sure where you can leave your car.
Sub Trip – Waukesha Dam to Grede Park: .7 miles on a really narrow, fast section with lots of light rapids.  Very urban, but great fun!

Grede Park to Sunset Drive:  2.5 miles.  River slows and widens.  Might be nice spots.
Sunset Drive to Hwy 59:  1.0 miles.  Slow and weedy section of the river.
Hwy 59 to Hwy H:  1.8 miles. 
Hwy H to CR I:  5.2 Miles.  This is a lazy stretch that lacks major highlights (other than good water clarity) and isn't an elite water trail, but locals may still enjoy it.
Cty I to Cty ES/National Ave: 7.0 miles.  Part of the Vernon Marsh State Wildlife Area.  Much of this is marshy.
Cty ES to Big Bend:  7.6 miles (reviewed by Mark Rhodes)
Big Bend to Conservation Drive/Tichigan Lake Public Landing: 7.4 miles (reviewed by Morrall Films)
Tichigan Landing to Waterford Dam: 5.0.  I presume mostly a boring, over-developed flowage.
Waterford Dam to Sailer Woods/Hwy 36: 3.5 miles.  From here on we lose most of our swamp and get higher banks and more woods.  There is one other dam to portage in this section.  There are numerous other access options on this route.
Sailer Woods to Burlington (Congress Street): 4.8 miles
Burlington to Hwy JB Bridge Access: 6.6 miles
Hwy JB Bridge Access to Hwy W: 3.0 miles
Hwy W to Silver Lake (Fox River Park): 6.0 miles. 
Silver Lake to Wilmont: 2.5 miles. 
Wilmont to Hwy 173 Landing: 2.8 miles (you are in Illinois now)
Hwy 173 Landing to Chain O' Lakes State Park: 3.9 miles
Trip Map
Overview Map
Photos
How did your trip turn out?

Questions or comments?

Feel free to leave your feedback.