Bark River – Merton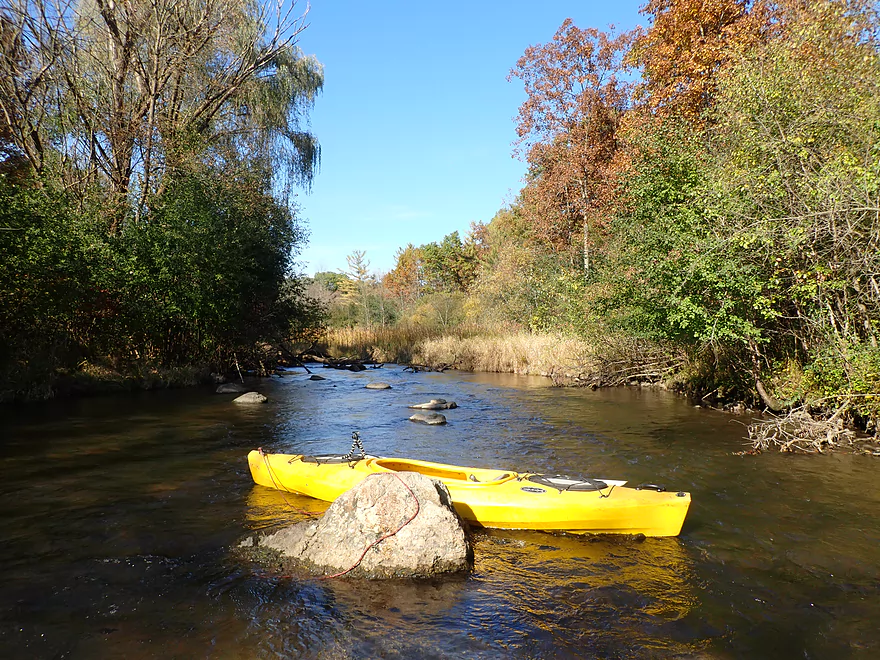 Take-out:
Bark River Park
Time:
5 hours 13 minutes (2-3 hours would be more typical)
The goal for any good mid-October paddle in Wisconsin is to try pick a water trail with great color.  Unfortunately last week was too cold for paddling and this week much of central Wisconsin was already past peak color.  A few months back I had done a stretch on the Upper Bark (Hartland to Delafield) and when reviewing Google Street View images near Merton, I was impressed with the fall color I saw, so decided to give this a shot for this week.
I started the trip at the Merton dam where there is a nice public park.  The banks are unfortunately walled in with concrete, but steps led to the water so it wasn't a difficult launch.  Shortly after the dam is an old mill and the remnants of a mill race.  Unfortunately the river is constricted by a logjam and a low hanging low branch that required a portage.  The left bank was on somebody's lawn, so I decided to be nice and portage along the right bank, which was quite congested and difficult because of the dense undergrowth.
The river at Merton starts small and with some light rapids.  The Upper Bark River is more of a creek really, but outside of a few minor sections it was mostly navigable and had good current.  Technically this part of the Bark River is within the Milwaukee Metro Area, but you wouldn't know it as the banks were mostly undeveloped and scenic with a surprising number of pines.  In fact the general character of the river is very unusual for southern Wisconsin because of its combination of hardwoods, pines, marshes, springs, clear water, and boulder gardens.
Many years ago the last glacier stopped at what is known as the terminal moraine.  This glacier left behind a lot of rock debris behind known as drift which gives the area a unique vibe.  Many "Ice Age" paddles tend to be unusually clear and rocky, and are among my favorite water trails in the state.  These include the Eau Claire, Plover, Waupaca, Crystal, Mecan, Lawrence Creek, Wisconsin Dells, Devil's Lake, Black Earth Creek, Upper Sugar, Oconomowoc and more.  The Upper Bark definitely ranks up there with the best of them.
The first mile of the trip was pretty rocky with a number of small boulder gardens.  At the first boulder garden is Pollworth Park which is a possible put-in option (you would bypass that logjam).  After Pollworth, the river widened and I witnessed some great fall color (the best on the entire trip).  The second major boulder garden was shallow enough that it had to be waded, but this wasn't a big deal and it was followed by a third and very scenic boulder garden.  A trick with paddling is to occasionally turn around, as often the best scenery and lighting is actually directly behind you.  That was the case at Dorn Road where there was a fantastic vista of the marsh, pines, and a fourth boulder garden.
The trip became a bit less interesting after Dorn Road but was still very good.  Dorn Road to Rybeck Road featured some calendar moment sections, light rapids, and more boulders.  Initially I had been concerned about logjams, but up to Rybeck Road, I only had to portage once (by the mill).
Past Rybeck Road, the river straightened and slowed.  This leg had the best and largest boulder garden which very much reminded me of the Plover River.  Unfortunately as the river approached Hwy K, I encountered a labyrinth of downed trees.  I never had to portage, but did have to hop over my fair share.
Past Hwy K the current started to pick up speed and logjams finally started to become a serious concern.  I finally encountered a jam I couldn't sneak past and had to portage.  But this proved very easy and convenient as the Ice Age Trail was just next door.  This one logjam was followed by three immediately after, so I simply did a 400′ super portage around the entire mess.  This may sound arduous, but pulling a kayak along a boardwalk is incredibly easy. 
What's interesting was there were an abnormal number of downed trees in this area, and I saw extensive cleanup work being done by the city (not only on the trail but also along part of the river (likely to prevent flooding and not to help paddlers).  It turns out that in June Hartland endured some severe storms that knocked down a lot of trees.  My trip was three months later, and the city was still working on cleaning up this mess and parts of the Ice Age Trail were still "closed" (everybody still used it).  When portaging along the trail, I bumped into a homeowner who said other kayakers also used the trail as a portage….which surprised me not because of the portage, but because other kayakers had been doing this segment.
After that super cluster I didn't have to portage again.  With some waning October light, I passed Hartbrook Park and then paddled through the long Hwy 16 tunnel.  This was a cool tunnel for several reasons…the first was that it had a bend in the middle which blocked a lot of light which made for a pretty dark paddling experience.  Then roughly in the middle, a storm grate shot a shaft of light into the middle of the darkness which was very striking.  Immediately after the tunnel was Bark River Park, which was a great take-out.
In summary, this was a trip with five star scenery, but not a five star trip because of the logjams.  Technically speaking I had to portage only three times, but beyond that there were a number of downed trees I had to hop over…especially in the last mile.  This is definitely not a paddle for big boats.  Savvy paddlers can learn from my experience though.  One trick would be to simply start the trip a bit further downstream at Pollworth Park to avoid the mill logjam (but you would miss a nice stretch then).  A better solution might be to pack a handsaw to clean out that troubled branch.  The second portage I did could also easily be cleared out with a saw.  The same couldn't be said for the logjams in the last mile though.  You could avoid the worst by simply taking out a mile early at Centennial Park, or by using the adjacent Ice Age Trail, like I did, as a short portage path.
Noteworthy Wildlife:
Sights included a few deer, damselflies, small fish, geese, ducks, a great blue heron, and many turtles.  The highlight were the countless snails that lay scattered over the river bottom.
Put-in:
I started the trip at the Merton dam where there is a public park.  For those wanting to paddle upstream of the dam, there is a convenient boat ramp.  It's a bit trickier for downstream launches as there are short concrete walls along the banks.  This wasn't so bad though as there are steps leading to the water, and the channel is shallow enough to wade in.
An alternate access would be to launch 1000′ downstream at Pollworth Park.  Why launch here?  Well you bypass the logjam by the mill, you skip a rocky shallow section, and Pollworth would be a slightly easier launch.   …but, you would miss out on a nice stretch of the river.
Take-out:
The take-out at Bark River Park was very good.  By the pedestrian bridge, a sidewalk leads to a public parking lot.  Nearby outhouses are available, but they are only operational in the summer.
For those wanting to skip the last mile of the trip which is the most congested, you could disembark at Centennial Park which would be a great access.
Extending the trip even further is a great option.  The downtown Hartland section is scenic with some fun rapids.  Downstream access options include Cottonwood Ave and Nixon Park.
Shuttle & Rental Information:
The bike shuttle was a fairly straightforward 4.5 miles.  There were a couple of hills, but it wasn't bad and was mostly a simple urban pedal.   You'll have a number of route options to choose from so pick wisely.  From the take-out, cross Hwy 16 west of the river so you can connect with the Ice Age Trail.  This is a scenic bike path here that parallels parts of the Bark River.  Soon you'll have to get off and pedal some of the main roads.  Hartland roads tend not to have good shoulders or sidewalks, so you'll likely want to choose the less busy roads.  If you are willing to go a bit out of the way you can connect with a second bike trail closer to the take-out that also parallels part of the river.
Hazards and Concerns:
Current:  The river had a mixture of slower sections and light riffles.  The fastest current occurs in the final mile of the trip.
Strainers:  At low levels these won't be an issue, but at higher levels some of the downed trees could be a nuisance.
Rapids: Only a few Class 1 rapids and many light riffles. 
Logjams: There were multiple instances in which I had to hop over or duck under a logjam.  Most of the congestion through occurs in the last 1.5 miles of the trip.  My portage count tallied three.
Logjam Portage #1:  Just downstream from the put-in is a low branch over a small chute.  The left/south portage is easier but is over somebody's yard.  The right/north portage has dense undergrowth and proved to be a tricky portage.
Logjam Portage #2:  Downstream from Hartling Road is a downed tree that is a super easy portage.
Logjam Portage #3:  About halfway between Centennial Park and Hartbrook Park there is a series of roughly four major logjams.  I suggest portaging them all in one swoop.  There is a path along the shore which makes for a super easy portage.  It will be safe to re-enter the water about 400′ downstream (where the boardwalk ends).  There is evidence of some of the logjams being cleaned up, so hopefully these will be removed in the future.
River Depth and Navigability:
There is a gauge located about four miles downstream.  I did this trip at 42 CFS and my previous trip at 31 CFS.
0-25 CFS:  A very low depth with exceptional clarity.  This could be a scenic trip but you might have to walk your boat 6-8 times. 
26-35 CFS:  An average depth.  Many of the riffles will be bumpy, but I suspect this will be a viable trip for paddlers with flat bottom boats.
36-50 CFS:  A good target range.  There will still be good clarity and boulder gardens.  There will be some bumps, but I didn't think it was too bad at 42 CFS.
51-80 CFS:  A high depth but likely still viable.
81+ CFS:  The river might be too dirty and pushy to run.  If you know for sure, let me know in the comments below.
Detailed Overview
For more information on access options see my Overview Map.  For a background on area human interest stories, I recommend the book "The Bark River Chronicles".
Hwy Q to N Road:  0.1 miles.  Small, channelized and weedy…this may require high water to run.
N Road to Hillside Road:  1.4 miles.  Small and marshy with maybe 2-4 logjams.  High water is likely needed to run this part.

Hillside Road to Hwy 164:  2.0 miles.  Maybe 5-10 logjams.  Very small and marshy.  Likely needs high water to run.

Hwy 164 to Lisbon Park:  2.9 miles.  Maybe 2-4 logjams.  The channel here is small, shallow, weedy and bog-like.  High water is recommended.
Lisbon Park to Merton Dam/Firemen's Park:  1.3 miles.  Mostly simple flowage paddling.
Merton Dam to Bark River Park:  4.9 miles.

Merton Dam to Dorn Road:  1.2 miles.  Very scenic section with great fall color.  Highlights include some boulder gardens, springs, clear water, and pine trees.  Diverse banks with some woods and some marsh.  There is one tricky logjam by the old mill.
Dorn Road to Hartling Road:  0.7 miles.  A short but pleasant open section with no logjams.
Hartling Road to Rybeck Road:  1.0 miles.  A scenic mix of light woods, marsh, and a few boulder gardens.  There was one easy logjam to portage and a few hoppers/duckers, but it is mostly open.
Rybeck Road to Centennial Park:  1.0 miles.  Starts open and has a fantastic boulder garden.  The last part is more cluttered with a number of logjams to hop over.  I never had to portage though.
Centennial Park to Bark River Park:  1.0 miles.  A fast wooded section with multiple logjams.  There are about four major logjams in a row, but you can skip them all by portaging on the boardwalk to the east (super easy).  There are some additional hoppers beyond this stretch, but I didn't think they were too bad.

Bark River Park to Delafield Post Office:  6.1 miles.

Bark River Park to Nixon Park:  0.7 miles.  Terrific stretch through the heart of Hartland.  Highlights included many fun Class 1 rapids and one Class 2.
Nixon Park to Cottonwood Ave:  0.5 miles.  Nice stretch with a mix of light woods and suburban homes.
Cottonwood Ave to Hwy 83:  1.4 miles.  Mostly an open marsh section.  A few portages are required for downed trees.
Hwy 83 to Lake Nagawicka Mouth:  1.3 miles.  Less marsh and more woods…this is a nice stretch with good water clarity.
Lake Nagawicka Mouth to Delafield Post Office:  2.2 miles.  This is almost all lake paddling.  Lake Nagawicka has good clarity and some attractive shoreline homes, but it is heavily developed and suffers from excess motorboat traffic.  Several alternate access options exist along the lake shore.

Delafield Post Office to Hwy 67:  7.7 miles.

Delafield Post Office to Nemahbin Lake Boat Launch:  1.8 miles.  Likely the best stretch on the entire river.  Highlights include attractive rocky sections and stunning clarity.
Nemahbin Lake Boat Launch to Sawyer Road:  0.7 miles.  Mostly a simple paddle on Lower Nemahbin Lake.  Highlights include great water clarity, an attractive cattail corridor and the "Blue Hole".
Sawyer Road to Genesee Lake Road:  2.2 miles.  Very nice marsh paddle.
Genesee Lake Road to Summit Ave:  3.0 miles.  A good stretch with ecologically diverse banks.

Summit Ave to Hwy 18 Wayside:  3.8 miles.  A decent prospect.  The take-out is a small park/wayside and the last of the three Hwy 18 bridge crossings.  Note a recent reader comment says this stretch has many serious logjams.
Hwy 18 Wayside to Hwy E:  6.2 Miles.  Heavily channelized, but some of it still seems like it has potential.  Note a reader noted that this stretch has many serious logjams some of which are difficult to portage.
Hwy E to the Rome dam:  4.2 miles.  Half of this leg would be a flowage paddle on Rome Pond.
Rome to Cushman Road:  5.6 miles.  A fantastic stretch and one of southeast Wisconsin's paddling gems.
Cushman Rd to Hwy 106 Canoe Launch:  4.4 miles.

Cushman Rd to Hagedorn Rd:  0.6 miles.  A great leg with clear, fast water and many rocks.  Only downside is it can get shallow.
Hagedorn Rd to Hwy 106:  3.8 miles.  The first half is pleasant, clear and rocky.  The second half is more of a floodplain paddle with more mud and downed trees which was less interesting.

Hwy 106 canoe launch to Prince's Point Wildlife Area:  5.5 miles.  Be careful of the partly removed dam at Hebron.  There are definitely downed trees in this section.
Prince's Point to Burnt Village County Park:  7.1 miles.  Mostly floodplain forest and doesn't look as interesting IMO.
Burnt Village County Park to the Rock River:  5.5 miles.  Does not seem super interesting.  Landing is just upstream of the mouth on the east bank.
Trip Map
Overview Map
Video
Photos
One Comment for "Bark River – Merton"
How did your trip turn out?

Questions or comments?

Feel free to leave your feedback.