Coon Creek – Coon Valley to Koll Road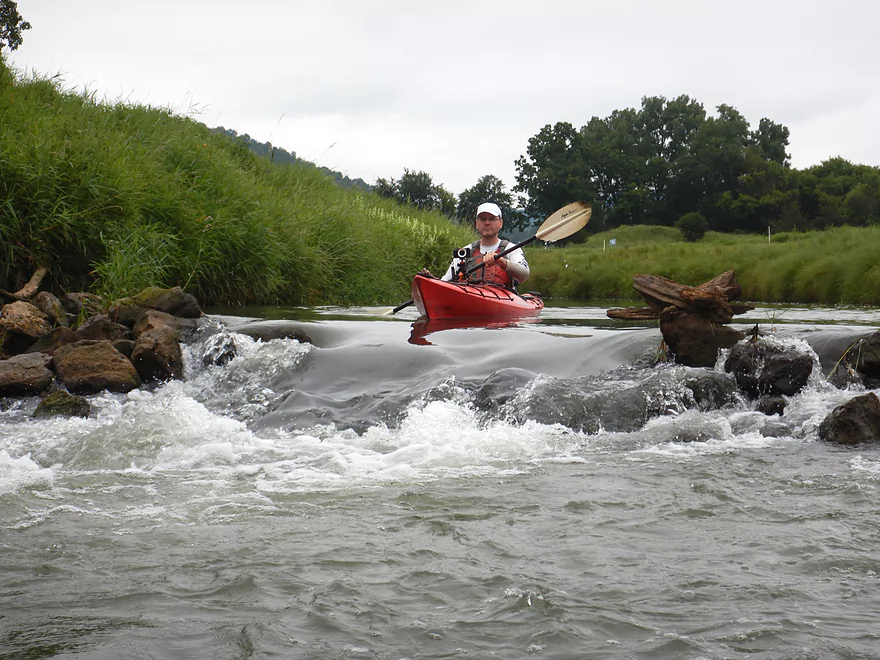 Put-in:
Veterans Memorial Park, Coon Valley
Coon Creek is a tributary of the Mississippi River located just south of La Crosse.  I previously paddled it 8 years ago (2014), but while the creek was scenic with fun rapids, it had several annoying logjams and the lowest electric fences I've ever had the misfortune of trying to get past.  Times change though… 
In 2018 a massive flood devastated the Coon Valley area.  A lot of property along the creek was destroyed, which included parts of the city of Coon Valley and Veterans Park where I previously took out.  There were also harrowing stories of a boy who had to be rescued from a storm sewer and a bull that had been washed downstream and found himself on flooded streets in downtown Coon Valley.  The creek itself physically changed and is now, in my opinion, wider and larger–in part due to a higher water table.  
As part of rebounding from the flood, the community decided to restart the annual canoe races that had been a tradition 25 years previously.  To my surprise the new race route was moved upstream of Coon Valley.  That was my trip from 2014 and not the original pre-1994 race route below Coon Valley.  I asked about the fences and logjams and they are apparently no longer an issue, so they were either removed by the floods or by the farmers.  BTW:  The race will be held this year (2022) on August 27th and you can attend or participate if interested.
For this second trip I wanted to explore the stretch below Coon Valley.  I didn't know much about this portion of the creek, but it looked good from satellite view and one source told me it was viable.
The trip started at Veterans Memorial Park, which (despite being still damaged from the flood four years earlier) was a  good access.  There are fun Class 2 rapids at the north end of the park which you can run.  Otherwise it's easy enough to launch below the rapids.  Before the 2018 flood, the park had a paved trail on both sides of the creek, and 12 "handicap fishing pods" adjacent to the creek.  All these were destroyed during the flood and the park is still recovering.
The stretch by the park was really nice.  The channel was narrow, twisty, and zippy…a lot of fun!  A walking path (now gravel-covered) still follows the creek and crosses over it via two pedestrian bridges to make a looped trail.  On both bridges were large banners that advertised the "Annual Coon Creek Canoe Race," which was a nice touch.
Right after Coon Valley, the creek became bordered on both sides with very high (10-12 ft.) grassy dirt banks.  These would give a distinct character to the creek and continue for the entire trip.  The first mile of our trip would also include some 2018 flood debris, including a dumpster, construction fencing, and various other things that don't normally belong in a river. 
In many ways Coon Creek reminded me of the La Crosse River, but nicer, with faster current and more rapids.  The scenery, despite a lot of large weedy banks, was fantastic, with steep 500′ Driftless bluffs and scenic open valleys, known as coulees, in the distance.  This IMO could be a stunning fall color paddle.
We soon encountered the first of three artificial ledges.  These have been added to the creek for flood control.  Each of these was at least a foot high and all were pretty safe and fun.  Regardless, you don't want to fall in when running the ledges as the water was surprisingly cold despite it being August.  I suspect the reason for this is all the upstream springs that feed Timber Coulee Creek.
There were just a few challenges on this trip:  two strainers in fast current and a logjam that had to be portaged.  These shouldn't be a problem for intermediate paddlers, but beginner paddlers could get themselves into trouble.  Make sure to safely portage anything you aren't comfortable dealing with.  Hopefully these obstacles will be cleared out in the future.
Typically Coon Creek is pretty clean and clear.  In fact both Coon Creek and upstream Timber Coulee Creek are famous trout streams–some of the best in the state!  But because of a recent rain, the creek was atypically turbid–something to consider when looking at the photos, since the creek is normally much more clear.
We eventually came to Knudson Lane, which is a decent bridge access.  It's also a very scenic spot that overlooks a rustic Driftless valley sandwiched between steep hills.  Next to the creek was a large herd of sheep that followed us along the bank.  I don't know if they were curious, thought we had snacks, or were just being…sheep.
It's a good thing we didn't take out at Knudson Lane as the highlight of the trip was located just downstream from it.  This was the largest ledge of the trip…a drop of at least two feet.  This was super fun and easy to run.  (Just don't be surprised if you get a lapful of water.)
The last half mile of the trip wasn't as interesting.  There were fewer open grasslands and woods…it was more of a scruffy mix and less attractive.  There were still those high banks, which made it feel like paddling in a giant trough.  Historically the steep Coon Creek watershed suffered from bad land use that resulted in a lot of erosion.  Thankfully this has changed (somewhat) and topsoil erosion in the watershed has been reduced.
In 1933 the Coon Creek watershed was targeted for erosion control measures and became a national prototype for improved farming practices.  Here is a fascinating video of this story, with incredible pictures of the land before and after improvements were made. 
The take-out at Koll Road was difficult because of the steep banks and weeds.  This is another thing that hopefully can be improved in the future.  There was, however, a very nice mowed area by the bridge with a paved pull-off.
In summary, this was a surprisingly nice trip despite a few challenges.  The scenery and rapids were fantastic and best of all, there were no fences to deal with.  The creek has really changed since I paddled it 8 years ago.  Now I would consider it a small river and definitely a legit water trail for paddlers.
Noteworthy Wildlife:
Sights included a barred owl, one tame eagle, a deer, and some beaver sign.  The highlight was a herd of freshly-shorn sheep that followed us for a short ways (perhaps they thought we had snacks).
Veterans Park in Coon Valley:  This was a good access with free parking and an outhouse.  You can launch upstream of the Class 2 rapids (located under the trail bridge) or below…your choice.  The easier launch option is located downstream of the rapids.
Alternate Put-ins:
Bohemian Valley Fishery Area (located 5.3 miles upstream from Coon Valley).  This would include my previous trip and is the current race route.  This is a nice leg.
Hwy P (located 3.9 miles upstream from Coon Valley).  This is not a great bridge access, but would offer a shorter and less wooded trip relative to launching on Timber Coulee Creek.
Take-out:
Koll Road:  This is a bridge access with a nice mowed shoulder for parking.  Unfortunately the banks here are steep and weedy.  Paddlers may find it helpful to use rope to drag their boats up the bank.
Alternate Take-outs:
Knudson Lane (located 0.7 miles upstream from Koll Road).  This is a nice bridge access, scenic and used by trout fishermen.  The downside of taking out here is it means you don't get to run the fun two foot ledge located just a bit downstream.
Hagen Lane (located 0.6 miles downstream from Koll Road).  I didn't scout this, but I assume this stretch and take-out are decent.
Dodson Hollow Road (located 1.3 miles downstream from Koll Road).  This is a more open stretch through pasture.  There might be a fence to deal with.  Otherwise this is a good prospect.
Shuttle & Rental Information:
Bike Shuttle:  3.4 miles with 39′ of ascent.  This would be an easy bike shuttle.
Hazards and Concerns:
Note, the main hazards are marked on the trip map and on the video.  Generally speaking this isn't a leg for raw beginners but intermediate paddlers with some minor whitewater experience should be fine.
Rapids:   
Logjams:
4:56 – There was only one logjam that required a portage ( a large fallen cottonwood).  The banks were weedy and steep.  We were able to wade/climb over the east end, but had to be careful as there were deep spots to avoid stepping in.
Strainers:
2:52 – Fourth Class 2 Rapids/Strainer – Rapids are easy, but a low hanging branch at the end requires tight maneuvering to get around.
6:24 – Second Strainer – Located just upstream from Koll Road.   Fast constricted current flows under a low-hanging shrub and requires a difficult hard turn to get around.
River Depth and Navigability:
There is no gauge on Coon Creek.  The Upper Kickapoo at Ontario Gauge is a rough but imperfect corollary.  Because of the steep hillsides, Coon Creek will shed its rainwater quickly and in large volumes.  It is also subject to groundwater distributions from Timber Coulee Creek.  So when the water table is high, the creek will be high regardless of recent rain.  I did the trip at 8.57′.  This was peculiar as my 2014 trip was done at 8.6 feet, yet this time the creek seemed higher (again likely a product of the higher water table).  The following guide is just a rough guestimate.  Always use your own judgement and scout a river/creek before running.
< 8.4′:  Maybe too shallow.
8.5-8.6′:  An average flow and good target range.
8.7-8.8′:  A high depth only suitable for advanced paddlers.
8.9-9.1′:  Very high depth only suitable for expert paddlers.
9.2+:  Likely a bank bursting depth.  The creek is likely very dangerous at these levels.
Norskedalen Nature & Heritage Center, Inc.:  This is a non-profit dedicated to preserving the local environment and cultural heritage.  The 43-acre property features rustic Norwegian log cabins.  It's located next to Coon Creek and is very scenic!
Organic Valley:  This co-op is one of the largest producers of organic dairy in the US.  Their headquarters are located in nearby Cashton.  Their "corporate" campus is quite impressive and is worth checking out.  A visitor center/outlet store is located at the south end and features many of their cheeses and other dairy products.  Much of the campus has an "Epic" vibe with impressive landscaping and buildings.  The main visitor center has a farm theme with part of it being a grain bin and the other part shaped like a barn.  There is a strong environmental theme on the campus with electric car charging stations, a huge solar farm, several tall windmills, a bike shed for shuttling between buildings, and non-grass prairie plantings. 
Coon Creek Canoe Race and Festival:  Enjoy the festivities or take part yourself.  Canoes, kayaks, and paddleboards are provided with the registration fee.  The races this year (2022) will be on Saturday, August 27.

Trout fishing:  Coon Creek is one of the state's more famous trout streams.
Detailed Overview
Upstream of Rullands Creek Junction:  I believe this far upstream Timber Coulee is too congested to run.
Hwp P (by Rullands Coulee) to Hwy P Fishing Wayside:  1.2 miles.  Tricky put-in.  Either park on Oakdale Ave and launch in Rullands Coulee Creek and negotiate a serious electric fence.  Or park east of the Coon Creek bridge/Hwy P and launch there.  The latter lets you float by scenic outcrops.  Electric fences and shallow water can be issues.
Hwy P Wayside to 2nd Hwy P Wayside:  3.8 miles.  A future trip.

Hwy P Wayside to Olstad Road:  1.2 miles.  Creek here is small, shallow, open and fast.  Maybe one logjam.
Olstad Road to Hwy P Wayside:  2.6 miles.  Interesting prospect I might do in the future.  Mostly pasture but perhaps some outcrops.  Public fishing access at Olstad.

Hwy P Wayside to Coon Valley/Veterans Park:  5.3 miles.

Hwy P Wayside to Hwy P Bridge:  1.4 miles.  Scenic stretch with fun rapids.  Note this stretch used to have difficult fences, but I believe per a source they are no longer an issue.
Hwy P Bridge to Hwy 14:  3.9 miles.  This stretch used to have very challenging electric fences, but I'm 99.99% sure they were all removed or raised.  This is a scenic leg with many rapids and rocks.  An annual canoe/kayak race also takes place along this route.

Coon Valley/Veterans Park to Koll Road:  4.5 miles.

Coon Valley to Knudson Lane:  3.7 miles.  This is a surprisingly scenic stretch with nice Driftless vistas and rapids.  Note, this leg does contain some Class 2's, one logjam, and a few strainers that can be tricky for beginner paddlers.
Knudson Lane to Koll Road:  0.7 miles.  Aside from a sheep farm and a fun two foot ledge, this leg isn't as scenic/interesting as the preceding one.

Koll Road to Swain Street:  4.8 miles.

Koll Road to Hagen Lane:  0.6 miles.  A short open stretch with only one minor obstruction.
Hagen Lane to Dodson Hollow Road:  1.3 miles.  Mostly an open section through farm pastures.  Solid stretch but not spectacular.  One major logjam to portage.
Dodson Hollow Road to Hwy KK:  2.1 miles.  Scenic leg with great vistas of the nearby wooded hills.
Hwy KK to Swain Street:  0.8 miles.  Nice leg that wraps around Chaseburg and parallels a fantastic trail.  One logjam, but a super easy portage.

Swain Street to Hanson Lane:  2.0 miles.  This stretch has more deadfall with maybe four major logjams.
Hanson Lane to Hwy 162:  2.2 miles.  An open stretch with maybe one logjam.
Hwy 162 to Hilltop Road:  3.3 miles.  A very eroded stretch with maybe 11 logjams.
Hilltop Road to Hwy 35:  6.3 miles.  Scenic, but I suspect too many jams (~14).  A short ways after, you are on the Mississippi.
Trip Map
Overview Map
Video
Photos
How did your trip turn out?

Questions or comments?

Feel free to leave your feedback.