Kickapoo – Far Upper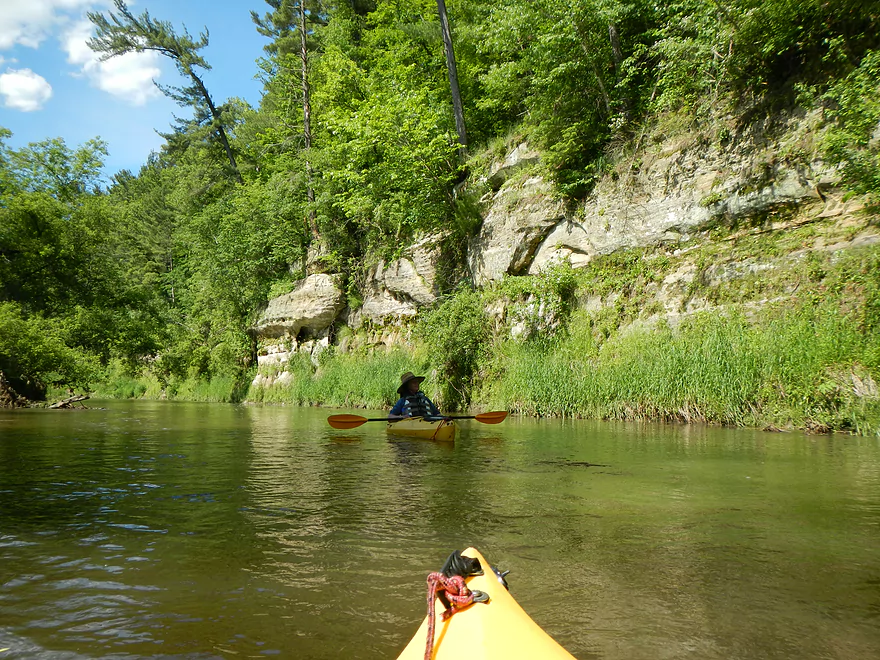 Put-in:
Bridge Upstream of School
Take-out:
Ontario - Titanic (Private Livery)
While the Kickapoo is one of the most popular paddle rivers in the Midwest, virtually nobody does the sections upstream of Ontario.  Before doing this trip I had heard mixed stories about the navigability of the far upper sections.  I emailed a local tour operator (Fred Flasher) who said he had actually done the Kickapoo all the way from Wilton to Ontario (at least 22 miles).  While he liked this section and said it was very scenic with riffles, he did end up having to pull his canoe a lot over shallow water, which made for a tiring trip.  Not to mention run-ins with electric fences.  He did say the section close to Ontario was much more navigable, as the Kickapoo grows quite a bit in size over the length of this segment.  Talked to my coworker, who had done part of this section putting in below Oil City, and was encouraged.  However, when I called the Titanic livery service they said nobody does this section because it is too shallow.  I asked if he knew anybody who had attempted it and he said no…which was a green flag for me.
For the trip, I obviously didn't want to bite off more than I could chew, so skipped Wilton and a good portion of the extreme upper reaches and settled for a 4-5 mile trip from one of the bridges.  The water was up, which was perfect for this type of 'marginal paddling'.  So, I paid the livery service to drop us off upstream of Ontario (which really baffled them and they were asking each other if they could do that).  Initially I was eyeing the bridge above Oil City (or downstream of the 'Norwalk-Ontario-Wilton'  school).  But examining the put-in, it looked like tough sledding.  While downstream of Ontario the landings are frequent and excellent, there is almost no infrastructure upstream of the city (although there are lots of bridges).  We settled for a bridge upstream of my original put-in idea (this would be upstream of the school).  The grass was very thick and high, which made it difficult to carry our kayaks down, but it could have been worse.  There was a bit of a steep muddy drop-off leading into the river there, but with rope leading the kayaks in, it was manageable (but not ideal…the put-in might have been the low-point of the trip, minus the woodchuck family that greeted us).
Right-away you realized the effect the high water had on the river, as it was fast, high, and muddy.  We did see evidence of some chainsaw work, so somebody had worked on this section in the past, but when we did the river, there were some tight fits (which I've tried to mark on the map from memory).  Some of these were tricky because of the fast water, and with a longer kayak or canoe might have been really tough.  There were also some low hanging branches that we were able to duck under that would give grief to a taller canoeist.  Under different water conditions the log situation might have been better or worse…not sure, although we were definitely paddling over a number of logs.  The first log situation came up soon after put in, which required very careful navigation.  Now, all things being said with my talk of logs…I don't want to oversell how bad this was, as we never once had to get out to go around a log jam or for shallow water (nor did we see electric fences), which was a major plus.  After Moore Creek kicked in, we didn't encounter any tight situations that I remember.  Don't be discouraged about putting in where we did though, as there are some very nice bluffs that you will miss otherwise.  Just paddle with a shorter kayak and make sure you have some experience with class 1-2 rapids.
Soon after put-in, we encountered our first bluff, which was quite nice.  I've marked the best bluffs on the map below, but really, they're easy to find by using terrain view of google maps.  The entire section of the river is very scenic.  Even when you're not paddling by bluffs, the towering white pines are quite photogenic, as are the hemlocks which grow by the river.   Another highlight was the the two eagles were saw on the River.
After the Oil City bridge, we encountered a significant drop (see map/photos/video).  You should hear this first (quite loud) and definitely want to give this a lot of due diligence….this would be a serious class 2 area.  There is an overhanging trunk on the left fork…avoid that side.  If the water levels are right, you can do as I did and gun over the right ledge (go fast to avoid the back current), and try to avoid any underwater obstacles at the bottom (I had to turn slightly right).  You'll be met by some choppy rapids. 
Use basic white-water techniques.  Paddle hard through the valleys and avoid the 'mountains'.  Keep your kayak straight downstream at all cost.  Never turn a boat sideways to fast current and avoid underwater obstacles that will force your boat sideways.  If this does happen, tilt your boat so the water flows underneath the hull.  Never tilt your boat toward oncoming water.  Water getting on top of the boat means you're in trouble.  Even with ocean ships, water going over the hull is one of the few things that can cause a modern ocean freighter  to go over.
While this was the most extreme rapids, there were plenty of riffles that might have been interesting at lower water levels.  All in all, this was a fun addition to the trip though and reminded me some of Badfish Creek or Spring Creek.   After the 'big rapids', you'll have a long, straight section and then some of the nicest bluffs on the trip.  First, a nice sheltered area before the last bridge, and then a nice open bluff after the bridge that actually had perfect sunlight for pictures (taking pictures of dark bluffs and bright skies really confuses the dynamic ranges of most digital cameras).
We took out at the Titanic landing, which is the first canoe livery in town.  This is easy to miss though, as you'll shoot around a corner on some rapids and, if you're not careful, will end up paddling too far downstream.  However, if you don't prefer private take-outs, there is a nice public take-out just a bit further downstream (marked on the map).  This is hidey in fast current though, so you do want to be vigilant (it will be on your left).
All in all, a pretty positive trip that had great scenery, bluffs, and rapids.  On the downside, some of the logs were tricky and the water was not as clean as it normally is because of the heavy rainfall.  There were also a couple of dead animals in the water that were quite pungent.  If you're new to the Kickapoo, do the downstream sections first (which I also review).  But if you've done those  sections and the water is high…then consider the upstream sections as well.  If you go during low water, this may actually be a plus, as the water will be much cleaner and peaceful (albeit still swift).   Definitely bring towing rope with you as it is great to lead boats down tough landings and if you have to tow a boat over shallows or around log jams, rope is a life saver.  With low water you'll also want aqua-shoes or boots in case you do have to do a lot of wading as well.  If you go during high water, be careful, as even the upper Kickapoo can get too high (I was told this section was in bad shape on June 22, 2013, but when I went on June 16, it was perfect).  You may want to study the USGS gauges and call the local livery companies to get a feel for the river.  When I called Titanic recently, they said the river by their livery was only a foot above normal.  While that was an understatement, it is a relative gauge you might be able to go by.
For the trip, our USGS reading at Ontario was about 120 cubic feet per second (this can vary a LOT quickly though…just a couple of days later it spiked to 700 cfs so keep an eye on the gauges and weather).  For our depth gauge measurement at Ontario we were at 8.8 ft.  Because of the bluffs and small size of the stream this far north, it does seem to be prone to flash floods so be careful.
If you're in the Ontario area, make sure to check out Wildcat Mountain State Park.  Besides the nice trails and camping options they have, there is a terrific lookout overlooking the valley and the river (see video).
Quick Overview
Wilton to Ontario:  12 miles.  This stretch is seldom paddled, but is cleaner and faster than downstream legs.  Those willing to endure weedy bridge accesses and occasional snags will be rewarded with spectacular outcrops.  A very underrated part of the river.
Ontario to Rockton:  13.5 miles.  This is the most popular section for kayaking on the river (if not the entire state).  Highlights include many spectacular sandstone outcrops.  This stretch can easily be subdivided.  Shuttle services are plentiful, but this leg can get crowded and noisy during summer weekends.
Rockton to La Farge:  11 miles.  This is the second most popular stretch of the river.  While the outcrops here aren't as numerous as the Ontario leg, they do tend to be larger and more impressive.
La Farge to Mouth:  ~90 miles.  After La Farge there are few rock outcrops and the river becomes much less interesting.  The Lower Kickapoo is a generic hardwood floodplain that is at best a mediocre paddle.
Tributaries:

Kickapoo River – West Fork:  While lacking the outcrops of the main branch and a bit shallow in spots, this is a very underrated river with many fun rapids.
Billings Creek:  I actually like this creek better than the main river itself.  There are just as many outcrops, and the water and banks are much cleaner.
Tainter Creek:  While not very big and lacking in outcrops, it's still a cool creek with very swift current.
Detailed Overview
Upstream from Lincoln Ave:  The river is likely too small and degraded by open pasture to have  much appeal for kayaking.   Although "Kickapoo Springs" (the primary source of the river and a public DNR area) might be interesting.
Lincoln Ave to Keystone Road:  2.5 miles.  River is small (likely too small for most paddlers) and more scruffy with fewer outcrops.  Figure 1-2 logjams and 3 outcrops.  Several of the Elroy Sparta Trail bridges are quite scenic/rustic.  High water will be required to do this stretch.
Lincoln Ave to Hwy 131 (East of Midge Road):  6.3 miles.

Lincoln Ave to Hwy 71:  1.6 miles.  Section includes five outcrops including one really nice one.  River is shallow here with many Class 1 rapids.  There is one strainer that has to be portaged, but no other logjams.  I encountered a bull on this stretch (here) which might be a deal breaker for most paddlers.  You could possibly portage around the farm in question along the Elroy Sparta Trail but it would be a long and difficult portage.
Hwy 71 to Wilton Campground/Library:  0.7 miles.  A nice stretch with ~3 mediocre outcrops and one really nice one.  Water clarity is stunning here.  There is a low tree that requires some tight ducking to get under.
Wilton Campground/Library to Hwy 131(by Posey Creek):  1.4 miles.  Less attractive stretch but still ~4 mediocre outcrops.  There is a serious logjam by Water Street that must be portaged.

Hwy 131 (by Posey Creek) to Hwy 131 (by Mica Rd):  1.3 miles.  A terrific stretch with scenic pine trees, several mediocre outcrops and one fantastic sandstone outcrop.
Hwy 131 (by Mica Rd) to Hwy 131 (East of Midge Rd):  0.7 miles.  More of a scruffy stretch, but still a few mediocre outcrops.  The Black Valley hills in the distance are very scenic from this leg.

Hwy 131 (East of Midge Road) to Hwy 131 (near Nicollet Ave):  4.1 miles.

Hwy 131 (east of Midge) to Hwy 131 (by Michigan Ave):  0.5 miles.  A good leg with a one nice set of outcrops.
Hwy 131 (by Michigan Ave) to Hwy 131:  0.6 miles.  Another good leg with 3 outcrops.  Some minor rapids including a 4-6" ledge.
Hwy 131 to Hwy 131 (by Nisswa Rd):  0.6 miles.  One of the best legs on the Upper Kickapoo which features 6 noteworthy outcrops and terrific ice flows in February and early March.
Hwy 131 (by Nisswa Rd) to Hwy 131 (by Nordale Ave):  1.1 miles.  Not as scenic as other legs with messy shorelines and eroded banks.  There are still a few nice outcrops.
Hwy 131 (by Nordale Ave) to Hwy 131 (by Nicollet Ave):  1.3 miles.  Another one of the Upper Kickapoo's best legs with ~6 outcrops including a small natural bridge one can paddle through.

Hwy 131 (near Nicollet Ave) to Ontario:  5 miles.

Hwy 131 (by Nicollet Ave) to Hwy 131 (Oil City):  2.3 miles.  Two long stretches of bluffs contain great outcrops. 
Hwy 131 (Oil City) to Hwy 131 (Kickapoo Wild Adventures):  1.4 miles.  Terrific stretch with two major outcrops.  One set of Class 2 rapids.
Hwy 131 (Kickapoo Wild Adventures) to Ontario (Brey Valley Road Park):  1.5 miles.  One set of outcrops.

Ontario to Hwy 131/Bridge #4:  3.6 miles.  A more open and flatter stretch of the Kickapoo.  There are still 3-4 outcrops. This is THE most popular leg on the entire river.
Bridge #4 to Bridge #7:  6.0 miles.

Bridge #4 to Wildcat Landing:  3.1 miles.  A super popular stretch and the most scenic on the Kickapoo.  River flows past steep hillsides and many outcrops (at least 16).
Wildcat Landing to Bridge #5:  0.9 miles.  River opens up a bit, but still three super sandstone outcrops.
Bridge #5 to Bridge #7:  2.1 miles.  A good stretch with seven major outcrops and one cave.

Bridge #7 to Rockton/Bridge 12:  5.1 miles.

Bridge #7 to Bridge #8:  1.2 miles.  From bridge #7 onward, the Kickapoo becomes much less interesting.  There are still some good spots though.  This stretch has maybe 3 outcrops.
Bridge #8 to Bridge #10:  2.5 miles.  A good stretch with 5-6 outcrops.
Bridge #10 to Rockton/Bridge #12:  1.4 miles.  This stretch is more open, but still perhaps 3-4 outcrops.

Rockton to La Farge:  10.4 miles.

Rockton to P/Bridge 14 Canoe Landing:  2.4 miles.  An ok stretch with 3-4 outcrops.
P/Bridge 14 Canoe Landing to La Farge/Bridge 14 Landing:  8.0 miles.  A great stretch with a covered bridge and 4-5 outcrops...several of which are huge (the largest on the river).

La Farge to Hwy 131 (by Ski Hill Road):  6.8 miles.  Nice section but with a few jams. 
Hwy 131/Ski Hill Road to Viola (Banker Park):  7.0 miles.  Maybe 2 bluffs, but mostly open I think.  Have been told there are 26 portages between La Farge and Viola, so beware.
Viola to Hwy 131 - Bridge 1:  5.8 miles.  Maybe one outcrop and 14 major logjams.
Hwy 131 - Bridge 1 to Hwy 131 - Bridge 2:  4.3 miles.  Maybe one outcrop and 13 major logjams.
Hwy 131 Bridge 2 to Readstown Tourist Park:  3.0 miles.  Maybe one outcrop and three major logjams.  The river grows significantly with the addition of the West Fork.
Readstown Tourist Park to Soldiers Grove:  6.9 miles.

Readstown to Hwy 61:  3.1 miles.  A surprisingly nice stretch with impressive hills and good current.   On the downside there is a lot of tree debris although it is always avoidable.  Hwy 61 is not a good access.
Hwy 61 to Soldiers Grove:  3.8 miles.  Not as good as the previous leg with fewer hills, muddier banks, and slower current but still not bad.  The highlights include a few impressive bluffs and two minor rapids in Soldiers Grove.

Soldiers Grove to Hwy B:  9.0 miles. I doubt there are logjams, but I think this stretch would not be very interesting.  The river flows through one of the wider flood bottoms on the river.
Hwy B to Gays Mills:  4 miles.  Probably not interesting.  A dam and flowage to contend with near Gays Mills.
Gays Mills to Hwy S:  4.6 miles. 
Hwy S to Haney Valley Road:  5.8 miles.
Haney Valley Road to Taylor Ridge Road:  3.6 miles.  Likely an ok prospect.  Note, Taylor Ridge Road is aggressively fenced by the local farm and would be a difficult access.
Taylor Ridge Road to Steuben Landing:  5.0 miles.  A good prospect with likely some nice bluffs.  Note, Taylor Ridge Road is aggressively fenced by the local farm and would be a difficult access.
Steuben Landing to Hwy 179:  2.9 miles.  A mediocre prospect.
Hwy 179 to Plum Creek Landing:  11.8 miles.  A good prospect with nice bluffs.
Plum Creek Landing to Hwy 60:  6.7 miles.  Starts uninteresting with fast current, but features some surprisingly nice bluffs and overall was a decent trip.
Hwy 60 to Lowell Geitz Memorial Boat Landing:  2.7 miles.  This stretch mostly lacks interesting bluffs but does feature wetgrass and floodplain forests as part of the Wauzeka Bottoms State Natural Area.
Take-out options on the Wisconsin River:

Lowell Geitz Memorial Boat Landing to Adiantum Woods State Natural Area:  2.5 miles.  This is mostly a downstream trip on the Wisconsin River.

Lowell Geitz Memorial Boat Landing to Woodman Landing:  2.8 miles.  This is mostly an upstream trip on the Wisconsin River .
Trip Map
Overview Map
Video
Make sure to view in full screen at full 1080P resolution!
Photos
How did your trip turn out?

Questions or comments?

Feel free to leave your feedback.