Wedges Creek
This is a terrific but shallow tributary to the Black River.  While not having as many outcrops as neighboring Halls and Robinson Creeks, it does have some terrific boulder gardens and fun rapids.
Trip Reports
Snyder Park to Middle Road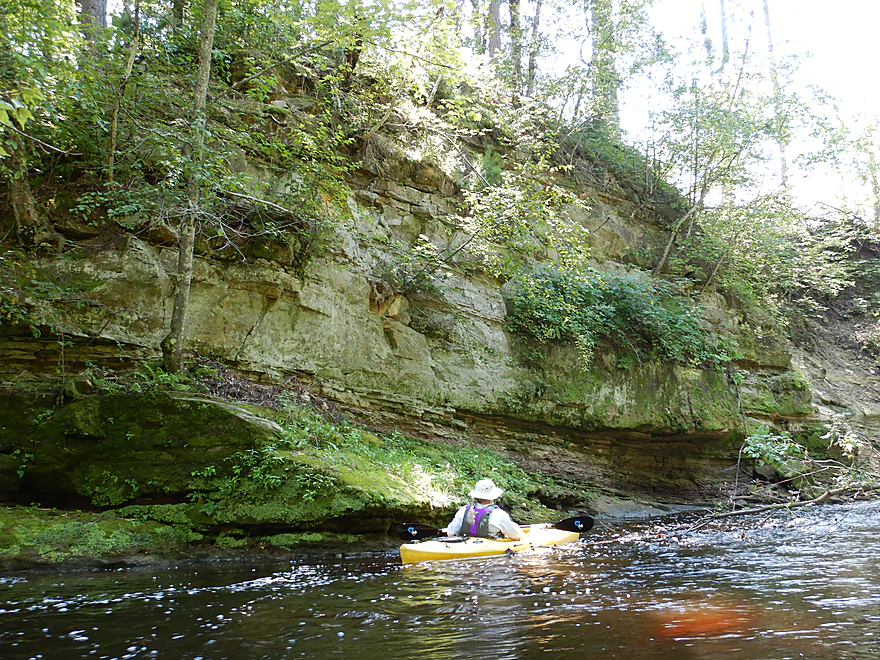 Date Paddled:
August 19th, 2017
Distance:
5.9 Miles
Time:
7 hours 7 minutes (3 hours is more typical)
A bonanza of sandstone outcrops and granite boulder gardens make this a special paddle.  Just don't attempt to do it during low water.
Read More...
Middle Road Bridge to Hwy 95 bridge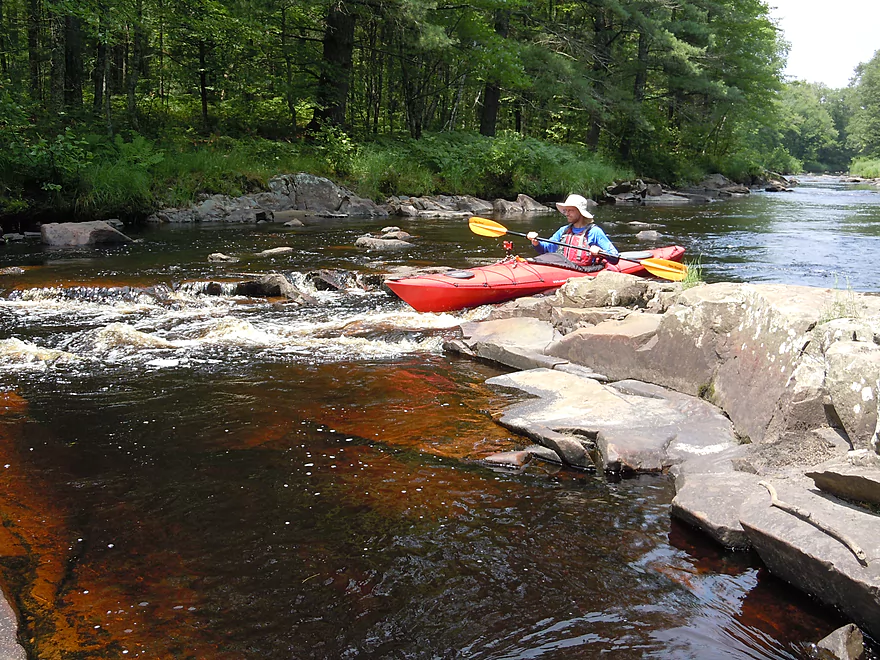 Date Paddled:
July 5th, 2015
Distance:
5.8 Miles
Time:
5 hours 42 minutes (3 hours would be more typical)
A return to the Black River area for a fun wilderness paddle, some small rapids and a LOT of rocks.
Read More...
Overview Map
Detailed Overview
Upstream of Chili Road:  Not sure about these stretches.
Chili Road to Snyder County Park:  5.8 miles.  During spring run-offs you can run the section from Chili Road to Snyder County Park.  Supposedly people have done this.  Chili Road is a good put-in.  When I scouted this on June 13th 2015, I actually thought it looked too high.  Unfortunately this entails at least 4 miles of gravel biking.  Likely some jams but should be scenic. 
Snyder Park to Middle Road:  6.4 miles.  A neat section with boulder gardens and many rock outcrops.  But low water can be an issue.  Reviewed Aug 2017.
Middle Road to Mouth:  4.4 miles.  A nice section with only one sandstone outcrop, but some really neat boulder gardens and a few fun rapids.  Reviewed Jul 2015.
Black River Take-Out Options:


Wedges Creek Mouth to Hwy 95:  1.4 miles.  Kind of a wide, uninteresting section of the Black River but does include interesting dam remnants.  Reviewed Jul 2015.
Hwy 95 to Lake Arbutus Sports Grill:  1.1 miles.  This section includes the Red Granite Rapids which are Class 3 and should be scouted beforehand.  You can do this a bit from the Hwy 95 bridge, but you will get better views of the rapids from Reesewood Ave and/or Riviera Ave. 
Lake Arbutus Sports Grill to Lake Arbutus:  1.7 miles.  An over developed flowage section that is still nice.  Many take-out options on or just north of the lake.
Further Upper Black River Options:  See my Neillsville trip review which has a nice overview of the Black River.
Of note, Five Mile Creek is a significant tributary to Wedges that has also apparently been paddled and should be very scenic.  This creek is very fast with a few boulder gardens but I doubt it has outcrops.  It would be a 5.3-mile stretch from Hwy B to the mouth on Wedges (just above Middle Road, which would be a good take-out).  I suspect this has more jams though.  Bike shuttle would be mostly gravel outside of a short stretch on Hwy B, but only 4.2 miles.
Nearby Guages
Videos
Comments
How did your trip turn out?

Questions or comments?

Feel free to leave your feedback.