Black Earth Creek – Black Earth to Mazomanie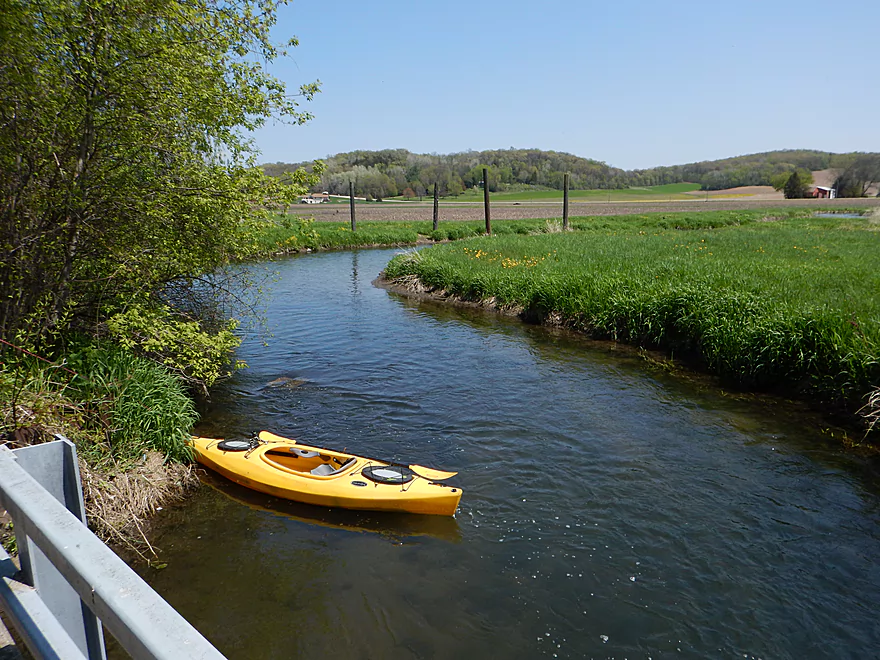 Put-in:
Black Earth Community Park
Take-out:
Olson Road Bridge (Mazomanie)
This is a very nice, clear, fast creek that runs from the Middleton Airport all the way to the Wisconsin River near Arena.  On occasion, paddlers will run Blynn Road (the last bridge) to the mouth, and this is considered a good prospect that recently was cleaned up in 2011 of log jams by "Capitol Water Trails" (editors update…but has since filled in..another editors update…but sounds like it has been cleared up again!) .  Upstream of Blynn Road, there is very little public information in regards to navigability.  It's certainly not an obscure creek.  Ranked one of the top 100 trout streams in the country, this creek is very popular with anglers.  The DNR and local volunteers are very active in maintaining and improving the stream for fish habitat and you'll see evidence of creek re-routing, narrowing, clearing, and gravel beds along a good deal of this waterway.
Encouraged by the lack of forest cover and by rumors of riffles by Black Earth, I decided to roll the "log jam dice" and take a chance on a section from just east of Black Earth running almost to Mazomanie.  The nice thing about this section is that it made for a good bike shuttle.  Hwy 14 runs the length of the creek and is very busy and fast…going 55 is a licence to be tailgated on this road.  Shoulders are okay, but it's still a tad unnerving to bike on and would feel like the video game Frogger.   Hwy KP is a convenient (albeit a tad longer)  option that I would recommend–very bike friendly and only 2.7 miles (I spotted a lot of other bicyclists on the road and counted over 5 "share the road" signs!)
You'll put in at "Black Earth Community Park" on the east side of the town of Black Earth.  This is a great access area, with bathrooms, good parking, a post to lock your kayak/bike to, and a good launch area.  Riffles run under the bridge…so you'll want to put in on the upstream side!  You'll no doubt see your share of trout fishermen on this trip and the ones I encountered were initially befuddled (and stared a bit long), but were friendly and told me boating the creek looked like fun.  When I went, the water was a tad on the high side, which was fine.  I never had any serious shallow water issues and think this creek could be run at lower depths.  I do not know, but don't think this creeks gets too low to navigate in the summer (perhaps by Cross Plains…don't quote me on this).
The first mile or two of the creek forms a large upside down "U" that circumnavigates the city of Black Earth.  This was my favorite section.  Water was terrifically clear, bank quality was good, you could see trout in the water, and there were a number of riffles to run.  These were fun and not the pushy, obnoxious types you have on some rivers (could be different in higher water though).  There is some tree cover, which adds a nice touch to the creek, but no real log jams in the first mile or so of the trip (notice I didn't say on this trip).  There is some debris to dodge and two "hoppers" that might be jams in lower water and a squeaker that might be tough for bigger boats than my 10′ yak.  The lack of log jams is due in part to the work of volunteers who clean up the creek to keep the water running fast, cold and oxygen rich for the trout (not kayakers).
The first real obstacle comes after the Main Street Bridge, where there is a private drive bridge set way too low and this necessitates a portage.  Maybe in lower water you could go under…but the current is fast here and this could be tricky.  The portage is okay, but it is a bit of an effort to hoist your kayak over the retaining wall by the bridge.  Definitely bring rope and amphibious shoes for a trip like this, as it will make your life much easier.
Soon after, you'll paddle under Hwy 14 (a second time) and see the famous Black Earth Shoebox store on your left.  On the right is an obscure drive/access by the BP gas station for fishermen that would work as a public put-in (Black Earth Community Park is much nicer though).  In regards to access, all of this (and more) is detailed on the map below.
Right after Vermont Creek enters, I encountered major problem #2–a serious log jam with riffles running underneath.  I carefully got out plenty early and made my way up the steep railroad bank to get around the jam.  This was not easy, even with rope…as this was a steep, high railroad bank with loose footing.  When I got to the top (nice view), I realized the mistake I had made, and should have portaged the north shore instead.  If you do this, this shouldn't be too bad.
After this point, the few trees start to fall back and the channel gets larger.  The most serious rapids are ahead and hug Hwy 14.  This is perhaps a class 2 run and requires active dodging of the boulders.  Fun…but if you have a longer kayak or canoe, you may want to portage.
Wildlife was very good on this trip, with songbirds being the highlight (lots of red-winged blackbirds).  After the "Hwy 14" rapids, I spotted a goose on her nest.  I patronized her woeful hiding attempt of just lowering her neck in thin grass by quietly giving her a wide berth.  Soon after, I encountered what I presumed was her mate.  Even though he could have easily flown off, he led me on a proverbial "goose chase" away from the nest and down the creek for a half mile.  Not a very thrilling race, as neither of us was moving very fast…but it seemed clear to me what his intent was.  As I "followed" this goose under a graffiti-riddled railroad bridge, the tree clutter started to pick up, as did the current.  Be on your toes here….it's okay, but not a section to take for granted, especially if you have a longer boat.  The creek wraps around to tag the railroad again and this time there is a serious log jam  blocking the water…and even the goose got out to fly away.  This is a very easy portage though.
After this section, the creek remains very open.  Water quality, while still good, starts to degrade, with more fine silt floating in the water and muddier "farm banks".  To an extent, this reminded me of the Platte River, with the clear, riffly sections and nice scenic hilly vistas in the background…then the beat-up farm sections.  I didn't see as many big birds on this trip relative to the trips I've done earlier this year, but saw my share of ducks, geese, and a blue heron.  Saw two MASSIVE soft-shelled turtles.  The first I missed for a picture…but the second I was able to sneak behind and photo (picture lacks scale though).  After I got out, I also saw and photoed a terrific (and filthy) snapping turtle, which was a treat, as well as a chubby groundhog.
Major obstacle #4 would not be a log jam, believe it or not, but a low hanging cattle fence.  Two in fact…as the fences formed a path for the cattle to cross the water.   The water was riffling through here fast and a portage (over two sets of cow fences) looked difficult.  I moved to the right where the current was slow and was BARELY able to duck under both sections (had to take off my lifejacket to fit under, if that gives you an idea of how tight this was).  This might be easier to run in lower water…could be a huge issue in higher water.  The debris trapped by the fences rained down on my then clean kayak, leaving it filthy, adding insult to injury.  This is the last obstacle though and it's clear sailing to the finish line at Olson Road.  Editors update…the fence has been raised to let paddlers under!  Thanks to the farmer and volunteers involved in this effort.  Again, this is more of a farm country section…still a number of riffles, but more open and a tad more polluted.  One farmer just piled a massive amount of sileage wraps by the creek for burning, which was a bit of an eyesore.
Take-out at Olson is pretty good.  Parking is great and clearly public and its a low trafficked road.  The pull-off area is, unfortunately, not next to the launch area due to a poorly placed guard rail, so there is a little hiking/kayak dragging involved.  If you double park, and are willing to hoist your boat over the guardrail, this might be much easier.  The upstream side is much easier to take out on than the downstream side.
All in all, this was a creek I really enjoyed paddling and would recommend to other kayakers.  Just come prepared for the portages and you'll have a nice trip. (editor's note…the jams are scheduled to be cleared in the future which is good news)
If you're curious about learning more about Black Earth Creek, check out these links:
—
Webmaster's Update – A new free kayak shuttle for Black Earth Creek has been formed.  Click here for more information.
Detailed Overview
Upstream from N. Birch Trail:  The creek is small, but might be surprisingly navigable during high water.
N. Birch Trail to Stagecoach Rd:  0.5 miles.  Creek here is small and wooded with possible congestion and a few jams. 
Stagecoach Rd to Cross Plains:  2.0 miles.  An intriguing prospect that may now be viable because Black Earth Creek has grown in size.  Starts narrow, rocky and wooded then opens up.  Maybe 2-3 logjams.  Stagecoach Rd may not be a good access as a "No Tresspassing" sign is on one side of the bridge.
Cross Plains to Salmo Pond:  4.3 miles.  Nice stretch.  Half of this leg flows by the community of Cross Plains.  One fence and one logjam to deal with but not major.
Salmo Pond to Black Earth Community Park:  4.2 miles.  Several fences to deal with, but all in all, one of the more underrated legs on the creek.
Black Earth Community Park to Olson Road:  4.5 miles.

Black Earth Community Park to The Shoe Box Landing:  1.5 miles.  Nice stretch that passes through the outskirts of Black Earth.  Might be a few minor logjams to sneak past.
The Shoe Box Landing to Olson Road:  2.9 miles.  Pleasant open stretch.  This is a common "add-on" leg for those wanting to do the popular Mazo trip, but as a longer trip.

Olson Road to Walking Iron Park:  3.7 miles.  The best and most popular leg on the creek.  Much of it flows around the outskirts of Mazomanie and though a nice woods. 
Walking Iron Park to W. Hudson Road:  1.1 miles.  A small but great section that is recommended as an add-on to an Olson Road trip.  This doesn't receive as much upkeep so paddlers may encounter a logjam or two.
W. Hudson Road to Blynn Road:  4.4 miles.  An ok section but nothing special.  This leg while once clear, may now have a few surprise logjams.
Blynn Road to Mouth at Arena:  6.8 miles.  Technically now Blue Mounds Creek, this is the weakest section.
Trip Map
Overview Map
Video
Photos
9 Comments to "Black Earth Creek – Black Earth to Mazomanie"
How did your trip turn out?

Questions or comments?

Feel free to leave your feedback.