Trempealeau River – Perrot State Park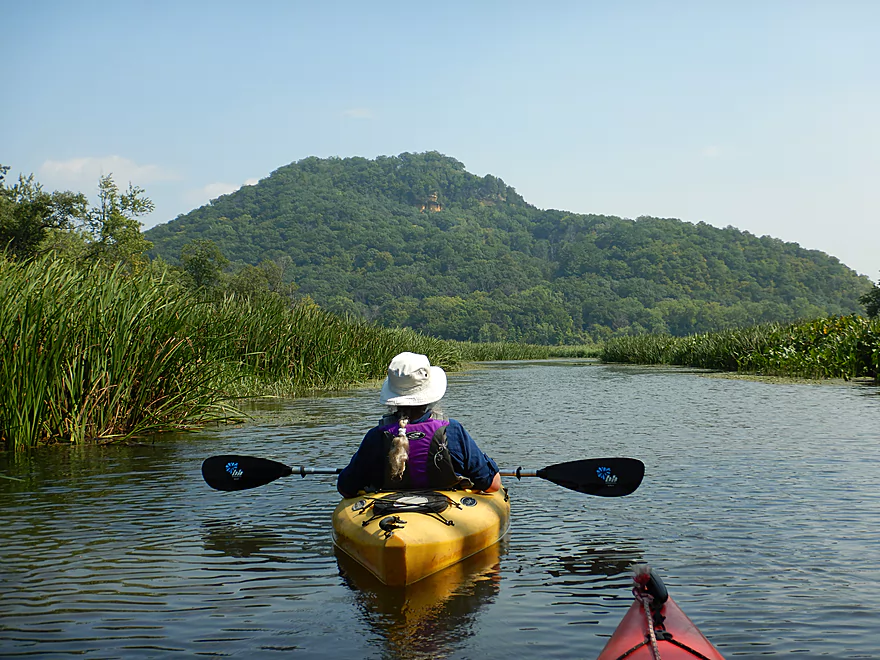 Date:
September 4th, 2017
Put-in:
Trempealeau State Park - Boat Landing
Take-out:
Trempealeau State Park - Boat Landing
Distance:
3.5 miles (+0.7 mile detour)
Time:
6 hours 0 minutes (2 hours would be more typical)
Before even starting a paddle trip on the lower Trempealeau, I highly recommend checking out Perrot Park's scenic overlooks first thing in the morning for optimal lighting.  The principal and best overlook is atop Brady's Bluff, which is accessible via the local trail system.  A trailhead and parking is available by the boat ramp and a steep 0.4 mile hike leads to the summit.  The trail is actually a highlight in and of itself as it goes by scenic sandstone outcrops, fern colonies, has multiple scenic outlooks, and the extremely steep path is artistically constructed.  At the summit is a phenomenal view of the Trempealeau River mouth as it flows south of Trempealeau Mountain.  To the north you can see the expansive marsh of the Trempealeau River and its distributaries, and to the south a fine vista of the Mississippi River valley. 
Perrot State Park has a marked water trail ("Voyageurs Canoe Trail") that loops counterclockwise upstream on the east distributary, then downstream to the west distributary, then back to the landing.  This 3.6 mile loop is popular with paddlers and what we chose to do.  The nice thing about this route is that it doesn't require a shuttle and you don't backtrack over the same scenery.  In essence, this is a loop around a massive island.
The trip starts really nice in a large marsh filled with arrowheads and wild rice.  On occasions you'll see glimpses of distant Mississippi bluffs which are gorgeous.  Soon you'll paddle past the canoe landing, which is an alternate put-in.  This was all upstream paddling for the first mile and was surprisingly brisk.  Now it was certainly doable, only one mile, and everybody else was paddling against the current…but had I known it would have been this strong, I would have converted this to a one-way trip.
About a half mile later, the marsh starts to recede as you enter the Trempealeau River bottomlands.  This was a typical floodplain forest with messy hardwoods and beat-up banks that wasn't too exciting.  Finally the river split with a channel going left to join the main/west distributary ending the ordeal of upstream paddling.  Do be alert because if you miss this turn, you'll end up paddling into the wrong slough (the little blue signs do help).
The current on the west distributary was even faster than the east distributary, which made the return trip very easy.  The river here has been artificially straightened by a large dike which separates the adjacent Trempealeau National Wildlife Refuge from the river.  While the refuge is mostly just a large lake, it is known for its waterfowl and we were lucky enough to see a huge flock of pelicans flying overhead.  Atop the dike is a scenic gravel path, but access I believe is partly restricted per National Wildlife Refuge rules (call Perrot State Park for details).
Soon you paddle across one of the highlights of the trip.  Directly in front of the channel towers Trempealeau Mountain (425′) and was quite the sight.  It is one of only three solid rock islands on the Mississippi and acts as a funnel to force the Trempealeau River to the southeast.  In theory, you can actually hike up the mountain from the base, but we didn't see any practical options.
The channel then forks with yet another distributary going to the right and under the east face of the "mountain".  I do recommend this side trip because of the scenic lily beds, fine bluff views to the east, and a sandstone outcrop you can paddle up to.  In high water, this side channel will actually flow unimpeded to the Mississippi, but we got stuck trying to do this and had to double back to rejoin the main channel (still worth it).
Once on the main channel, you'll see the second highlight of the trip in Brady's Bluff.  This was much bigger and nicer than Trempealeau Mountain and rises to 520′.  As it faces west, it will be most scenic and photogenic late on cloudless days.  From the water, we could see little hikers staring at us from the main overlook…quite the juxtaposition as earlier in the morning we had been the ones on the overlook checking out the tiny boats and kayaks.
Soon all the distributaries rejoin and the river exits under a busy railroad bridge onto the Mississippi.  Just a little upstream is the boat landing and we were back where we started.
In summary, this was a great trip but with some caveats.  The headwinds and current were stronger than expected and the bottomland portion of the river wasn't as interesting.  But…the marsh and waterfowl were great, while Brady's Bluff and Trempealeau Mountain were phenomenal.  In hindsight, I regretted doing this as a round trip and instead would have preferred to do this as a one-way trip.  Sure it would require a shuttle, but launching from Refuge Road and paddling down the west distributary would have featured all of the best elements of the trip but with no upstream paddling.
Put-in / Take-out:
The trip put-in (and take-out) was the Perrot Park boat landing. This is a good launch with plenty of parking, has nearby outhouses, and is scenic.  Alternatively you can launch from the park canoe ramp just to the north, which is less crowded, but you would have to drag your boat 367′ over grass to reach the dock.
For those not wanting to do a round trip, you can do a one-way trip starting from Refuge Road or Hwy 54 (both good launch options).  If you do a one-way trip, you will have to pick which distributary to take.  I highly recommend taking the west one which is more scenic.
Shuttle & Rental Information:
Perrot Park has a popular canoe and kayak rental service.  You pay at the park entrance (in the southeast corner) and the boats are located at the canoe ramp (located on the below map).
For liveries, the "Safe House Bar & Grill" might service paddlers but I'm not sure if they go this far south.  You can reach them at (608) 539-4001 or at N20281 County Road J, Dodge, WI 54625.
For those wanting to do a bike shuttle for one-way paddles, you can use the Great River State Park Trail.  This is a scenic trail but does require a state trail pass which you can purchase at the park office.   From Refuge Road to the boat landing, would be a flat 3.8 mile shuttle.  From Hwy 35 to the boat landing would be 6.9 miles.
Hazards, Logjams and Current:
There are no rapids or logjams to worry about.  The few downed trees in the channel have been cleared out by volunteers.
The current is surprisingly fast (given that this section is a popular round trip).  It's doable, but in hindsight I would have preferred a one-way trip.  What's interesting is that the bay is becoming faster as silt fills the mouth which narrows the channels and will progressively speed up the river over time.
Wind is the biggest concern as this is a very open section of the river.  We did the trip with a 10-15 mph headwind which with the current was definitely not recommended.
River Depth and Navigability:
If the channel gets very low, I still think you should have enough depth to get through.  However, I suggest not doing this trip when it is too high as the entire bay will become one giant lake and will bury many of the scenic marsh plants.  We went at 700 CFS per the local gauge at Dodge.  Here is a rough depth guide:
0-500 CFS:  A likely average for late summer.  Probably a good depth.
501-800 CFS:  Above average flow rates.  Trip was done again at 700 CFS.  The current will be stronger at these levels (notable for those doing a loop).
801-1000 CFS:  A trip is likely doable, but the current could be strong.
1001-1500 CFS:  Likely the marsh would be submerged and it would be one giant lake paddle.
1501+ CFS:  Very high conditions.  Perhaps doable but not enjoyable.  At very high levels you can't get under the railroad bridge by the mouth.
The other variable to take into consideration is the Mississippi River which can backfill the Trempealeau River.  The closest gauge is at Winona and measured 14,600 CFS.  For this time of the year that is actually high, but when you factor in spring water levels, this is actually quite low.  If the Mississippi is too low it can create stronger currents on the Trempealeau.  If too high, it can bury the marsh.  Here is a rough guide for the Mississippi gauge:
< 10,000 CFS:  Near drought conditions.  Likely very strong currents on the Trempealeau.
10,001-14,000 CFS:  Low conditions.  Likely strong current.
14,001-16,000 CFS:  Average conditions, resulting in a brisk current.
16,001-18,000 CFS:  Much less current, but parts of the marsh might become a lake.
18,001+ CFS:  It is likely the entire marsh would be turned into a giant lake.
Noteworthy Wildlife:
We saw 2-3 eagles, 6-7 great white egrets, 30-40 white pelicans, two water snakes, two cormorants, a mink, a few painted turtles and a catfish that poked his head above the water to check me out.  This segment is adjacent to the Trempealeau National Wildlife Refuge so it shouldn't be uncommon to see a lot of wildlife.
Other Trempealeau River Trips:
If you are interested in a list of other Mississippi area water trails, see my Wyalusing Review. 
For a guide to other Trempealeau trips, see my Trempealeau River Overview Map or use my bullet list below.  The book "A Canoeing Guide to the Indian Head Rivers of West Central Wisconsin" also has good information as well.
Upstream of Hwy 54:  The far upstream reaches will likely still have some navigable sections, but logjams could be issues in spots (although the sand can make portaging these easier).  Nearby Pigeon Creek could be an interesting prospect as well.
Hwy 54 to Earle Street/Colonel Larson Park:  0.3 miles.  A short segment through the town of Whitehall.
Colonel Larson Park to 4 Seasons Park, Independence:  8.2 miles.  One of the most popular stretches on the river.
4 Seasons Park to Joe Pietrek Park:  7.0 miles.
Joe Pietrek Park to Willow Street:  5.9 miles. 
Willow Street to Lower River Bridge Road:  5.8 miles. 
Lower River Bridge Road to Hwy P:  16.2 miles.
Hwy P to Hwy 54:  7.3 miles. 
Hwy 54 to Refuge Road:  2.3 miles. 
Refuge Road to Mouth:  Partly reviewed here.


Refuge Road to Perrot State Park – Boat Ramp:  3.2 miles.  A one-way trip that ends by the mouth.  The west distributary is more scenic.
Voyageurs Canoe Trail:  3.6 miles.  An official water trail that loops north on the eastern distributary and comes back on the west distributary (a counter-clockwise route).  Access is available via the park boat ramp or the canoe ramp.
Trip Map
Overview Map
Video
Photos
3 Comments to "Trempealeau River – Perrot State Park"
How did your trip turn out?

Questions or comments?

Feel free to leave your feedback.