Black River – East Fork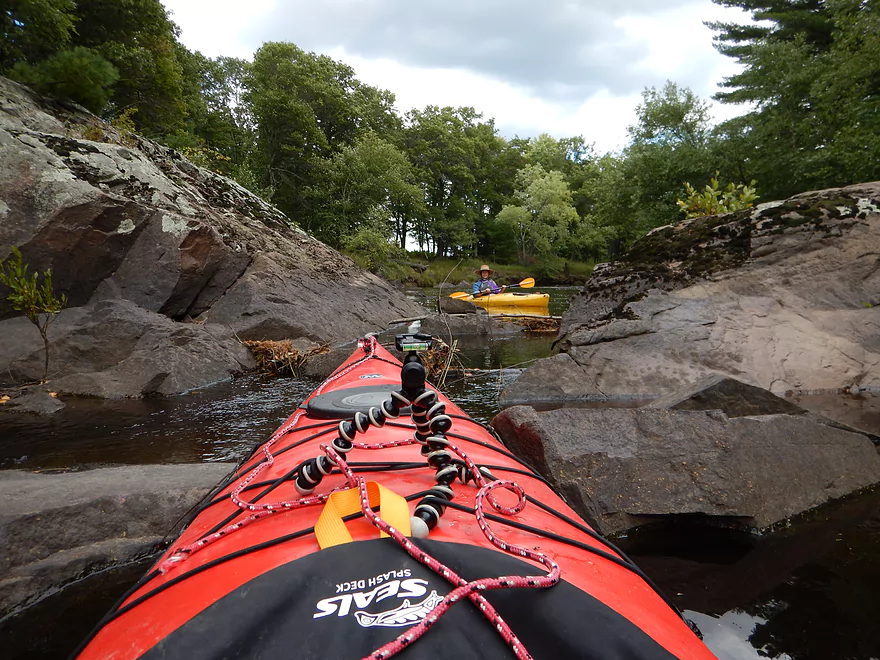 Date:
September 14th, 2014
Take-out:
Overguard Road Public Access
Gradient:
2.8' per Mile (educated guess)
A pleasant central Wisconsin paddle with little signs of human civilization.  Enjoy oxymoronic slow riffley current with the highlight of the trip being large granite protrusions and boulder beds.
Put-in:
Good but hidey access area by Pray Road.  It will be on the northwest side of the bridge, with a solid pull-off area for the car and an obscure trail leading down to the water. 
Shuttle Information:
Unless you are an uber-mountain biker, this is a no-go for a bike shuttle.  The roads between Pray Road and the East Fork Campground are, for the most part, all gravel–the big, bad loose stuff to boot….would be no fun at all to bike.  
There is a livery service for the Black River in Hatfield (not too far away) and the owner is willing to do shuttle services for the East Fork if you arrange appointments in advance (normally he services just the upper Black River).  The business is called "Hatfield Sports Shop" and can be reached at: 715-333-5009.
I've been contacted by Todd who can also assist with shuttling, as well as provide water level updates.  You can reach him at wheeler54615@yahoo.com.
River Depth, Navigability and Current:
Despite the occasional riffles you'll encounter, this is not a fast river and drops at a slow 2.8′ per mile.   For all the horror stories about how low the East Fork can get, we went at 477 CFS with PLENTY of padding to spare.  I suggest not going any deeper (that will submerge the rock formations).  You want to paddle through granite Atlantis not above it.  I think 300 CFS would be a good target rate and you might get away with a low 200 CFS run with bumps on the riffles.  Note:  USGS no longer uses the East Fork gauge so you'll have to use weather.gov. 
Substrate and Water Quality:
Fairly clean water, but heavily stained from the local minerals and plants, which gives it a unique black and sometimes root beer color.  Actually think this river is "blacker" than the main branch of the Black River.  Substrate is very clean, with a mix of sand and large rocks.  On occasion boulder gardens will pop out of the water and these will be most striking at lower flow rates.  
Wildlife:
Some ducks, shorebirds, an eagle, and a lot of beaver evidence (both paths and chewed sticks).  There were more pines (especially majestic white pines) in the beginning of the trip; then later on there was intermittent to mostly oak barrens.  This definitely has potential to be a nice fall color paddle. In the shady areas by the rock bluffs were cool mosses, fungi and ferns.  For an "up-north" river, there was a surprising number of prairie plants and grasses, particularly bluestem, growing on the banks.  
The Trip:
I've wanted to do the East Fork for a while, but kept putting it off for multiple reasons, but mostly because of my worry about it being either too high or too low.  It's not a commonly paddled nor reviewed river, but I have heard stories of how shallow and high it can get, so was very nervous about incorrectly timing a paddle on the river.
The trip starts well at Pray Road, with very nice tree canopies casting a peaceful aura over the river.  You'll soon see some small sandbars and random boulders on the shoreline which are a sign of things to come.  There were multiple boulder gardens and slabs of granite "pouring in" from the banks, which gives this river a unique and exotic feel.  The granite formations are very similar, coming in perpendicular to the current, like wing dams, forcing the current to one side of the river.
By and large this is a surprisingly wide and deep river for just 477 CFS (which is maybe a bit above normal).  Often the current is very slow, but at times picks up for a fun little riffle.  Most of the riffles are located at the granite "wing dams," which adds much appreciated thrust to the current.  None of the riffles were tricky.  Maybe at much higher flow rates they could be dangerous and at much lower flow rates bumpy, but really should be pretty minor.  The only solid class 1 rapids would be in the middle of the trip (officially called "Whitetail Rips") and even that is pretty easy.  In fact, many of my trips are NOT suitable for longer kayaks and canoes, but this river certainly would be!
The best part of the river will be the middle third.  There will be some occasional smooth, dark granite outcroppings, but the highlight was the massive granite boulders and (for lack of a better term) big granite blobs on the shore and in the water.  If it wasn't for these rock formations, it would just be a 3-star trip, as it is a solid wilderness adventure, but nothing super exotic or varied.
Hazards and Log Jams:
No log jams to worry about.  Multiple riffles, but all no greater than class 1 at our flow rate.  At higher flow rates (maybe 500 CFS+) these might get pretty rough.   Pretty easy-peasy.
Take-out:
Poor but workable take-out at the end of Overguard Road.  At the north end of Overguard, the road opens up and forks, which is your cue to park.  To the east, the road joins with a nearby pond and to the north the road "continues" 705′ to the water.  This section of the road is very poor, and you'll have to drag your kayak with rope to the river.  I didn't mind, but some might.  The disembarkation 'ramp' at the landing is a tad muddy, but not too bad.  The big issue with this access is its obscurity and it could be easy to miss from the river.  I used GPS to find it coming back, which I recommend.  Also, go to the take-out and scout it prior to running the trip, so you recognize landmarks–the most notable one being a broken paddle hanging from a small tree…no doubt strung by fellow paddlers as a proverbial lighthouse.
Human Impact:
Very little, and this is a great wilderness trip.  While this river gets occasional paddlers, it doesn't get many, and I doubt you'll see anybody else on the river.  The only sign of civilization we saw was one log cabin. 
The treeline at times was not as thick as it should be and I strongly suspect logging is an issue despite much of this section being FCL (Forest Crop Law) land and county forest.  How FCL land works is that the state provides SIGNIFICANT property tax breaks for private forest owners to provide "public" access (hunting/fishing…no hiking, cross country skiing or anything that is too low-impact).  The property owner (mostly logging companies), then must get approval before logging FCL classified property, but these tend to get rubber stamped of late so the "approval" is a joke.  In a nutshell, it is tax breaks for logging/paper companies that don't need tax breaks.  Much of this FCL land was acquired from the government under dubious mechanisms and if you are interested in learning more about our state's messed up logging history, considering reading "The Wisconsin Pine Lands of Cornell University" or "Empire in Pine: The Story of Lumbering in Wisconsin, 1830-1900."
Fun obscure fact…did you know that the "Healthy Forest Act" stipulates that ALL state land parcels of at least 10 acres must submit a percentage "tribute" to the "chief state forester" for private logging?  State forests, state natural areas, and even state parks are open targets, which is why so much mysterious logging is happening now on public land.  Read Act 166 for yourself!  Perhaps fooled by the "Healthy Forest Act" name, the media hasn't covered this at all, unfortunately.  There have been some lawsuits from property owners who sold or donated their forest to the state and are now mortified to see it being logged, but these lawsuits haven't been effective.  The bill was, of course, conceived and written by the timber industry.
Detailed Overview
River Road to Hwy 73:  1.8 miles.  A small creek that might be runnable in high water.  Jams shouldn't be too bad.
Hwy 73 to Hay Creek Road:  5.4 miles.  Probably a feasible creek prospect.
Hay Creek Road to Peterson Road:  4.3 miles.  Probably doable as a creek prospect as it is more open, but there would still be some jams.
Peterson Road to Hwy ZZ:  7.0 miles.  Probably too many downed trees.
Hwy ZZ to Knutes Road:  5.1 miles.  Very narrow and wooded…downed trees are probably an issue.  Best launch option probably SW of bridge. 
Knutes Road to Steponik Road:  5.8 miles.  Probably a sandy slow section with no rapids and a handful of downed trees.  You should be legal to launch by Knutes Road, but the local landowner doesn't like outsiders.  Supposedly there is an access option at Borek Road.
Steponik Road to Pray Road: 

  4.6 miles.  Ok section with several small Class 1's, a Class 3, and a Class 4. 
Pray Road to Overguard Road: 

  7.4 miles.  Good section with large granite boulders and one Class 1 rapid. 
Overguard Road to East Fork Campground: 

  4.5 miles.  The last, best, and most popular segment on the East Fork.

Overguard Road to East Fork Road:  2.3 miles.  Scenic section of the river with four Class 1's and one Class 2.
East Fork Road to East Fork Campround:  2.3 miles.  Another good section of the river with two Class 1's and two Class 2's.

East Fork Campground to Lake Arbutus:  Simple flowage paddling.  Lake Arbutus has about 9 landings to choose from.
Trip Map
Zoom out for a lot more information! I know it is confusing, but the red line in the middle is the route we paddled.
View
Black River - East Fork
in a larger map
Overview Map
Video
Note, that the clip at 3:19 is not the East Fork of the Black River but rather the main branch of the Black. That particular shot shows the Canyon Rapids at 2100 CFS on the Neilsville Gauge.


Photos
8 Comments to "Black River – East Fork"
How did your trip turn out?

Questions or comments?

Feel free to leave your feedback.