Badfish Creek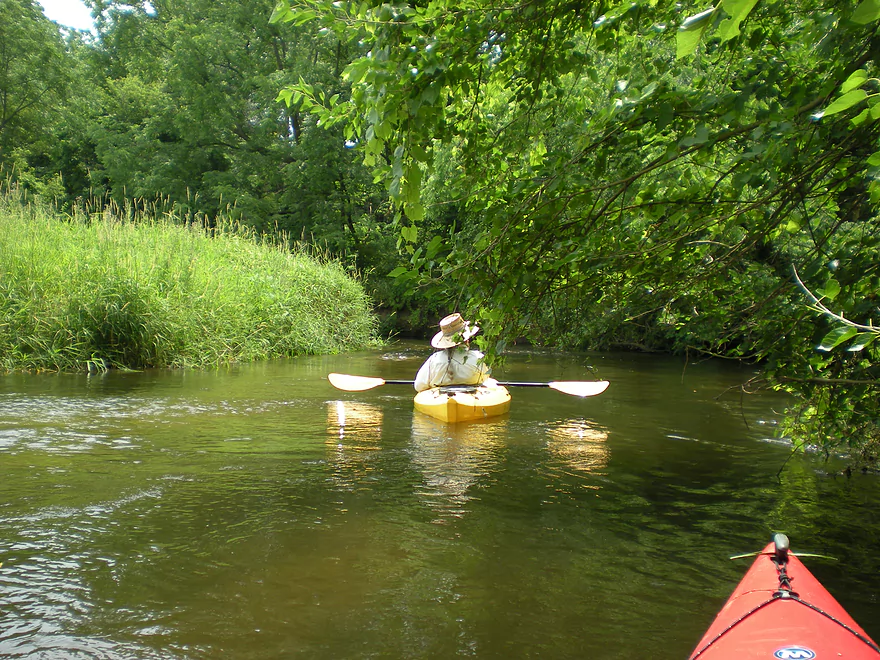 This 'creek' is probably one of the best kayaking prospects in southern Wisconsin.  Quite large, the Badfish Creek should perhaps instead be referred to more accurately as Yahara West.  This was kayaked during the height of the 2012 drought, and we had little problems with navigation.  The key thing to know, of course, about this creek is that it gets a significant percentage of its water from Madison's sewage plant (which uses elaborate canals to divert the discharge west of the Yahara before emptying into the Badfish.  Despite this…the Badfish is actually cosmetically extremely clean.  I don't know if you would want to go swimming in it…and it is recommended to do any trips early in the morning so you are off the water by 2:00 (when Madison discharges their waste water).  But, despite this contradiction, the Badfish is one of the cleanest 'rivers' I've been on.  The bank quality is excellent and is probably due to the discharges, which keep water levels stable even during droughts.
One of the best things about the Badfish is the current.  It is quite swift, but never really dangerous for a competent kayaker.  There are many riffles that are fun to scoot through.  The banks tend to be varied…with diverse grass lands, oak savannas and forest corridors hugging the creek.  There were black raspberries and wild plum trees on the banks, which can provide snacks when in season.  Wildlife is decent in the area…we saw a doe and lots of insects (the good type–like dragonflies an damselflies–as opposed to mosquitoes/horse flies).  We saw a pretty sickly duck…and hope that wasn't because of the water.  The pond weeds in the water are quite cool…you'll have to see them for yourself.
The first section of the trip is probably the nicest.  You are swiftly propelled through a forest canopy and soon meet up with riffles.  You can see evidence of former log jams that other boaters have cleared away.  There is still some 'head-ducking' and sharp maneuvering here and there, but all in all, nothing that you have to get out of your boat for.  The Badfish then opens up a bit into more grassland…but soon returns to riffles and pockets of forest.  Near the end of the trip, it's mostly grassland, but there are still occasional riffles.  I read reviews that described sandbars, but I didn't really see any.
You can extend the trip by putting in earlier (see the map) but there are apparently a couple of serious log jams up there.  You can extend the trip after Casey Road (very popular) and take out on the Yahara…but I believe there might be some obstructions on this section (probably cleared out by now) and this section is not as scenic.  Again, don't let the sewage references scare you away from this as it is very much worth doing.  Some reported smelling an odd chlorine smell…which we absolutely didn't.  Then again we went early in the morning before the discharge…which we highly recommend.  On the subject…bathrooms are not to be found at either the main pick-up or take-out…so plan accordingly.  I believe if you want to split the trip in 'half' (the first half is better) you can possibly do so at Hwy 138 near Cooksville.
Editors Update — I received the following update from Dave concerning creek conditions:
I've paddled Badfish Creek dozens of times and assure you it is not just cosmetically clean. Since improvements were made in sewage treatment and disposal, the fish populations in Badfish have rebounded, which is why kingfishers and great blue herons are commonly seen.  
Detailed Overview
Hwy B to Rutland Dunn Town Line Road:  2.5 miles.  A challenging section because of the steep put-in, low clearance bridge and logjams.
Rutland Dunn Town Line Road to Sunrise Road:  2.5 miles.  A good prospect with one dam to portage.
Sunrise Road to Hwy 138:  1.4 miles.  A good prospect with maybe a few jams, although Hwy 138 might not be a good access point.
Hwy 138 to Hwy A:  2.8 miles.  A good prospect, but again Hwy 138 is very busy.
Hwy A to Old Stage Road:  4.2 miles.

Hwy A to Old Stone Road Landing:  1.6 miles.  A mediocre section...good clarity and current, but uninteresting scenery and poor bank quality.  One logjam just above the put-in.
Old Stone Road Landing to Old Stage Road:  2.6 miles.  Starts open and channelized...not as interesting.  The last half through dense woods in the Badfish Creek State Wildlife Area is terrific though. 

Old Stage Road to North Casey Road:  6.8 miles.

Old Stage Road to Hwy 138:  1.8 miles.  The best section on the entire creek.
Hwy 138 to North Casey Road:  5.0 miles.  A more open section of the Badfish with a naturally meandering channel.  Good section.

North Casey Road to Hwy 59 on the Yahara River:  2.5 miles.  The final stretch on Badfish Creek.  Likely ok, but not as nice as upstream sections.
Trip Map
Overview Map
Video
Photos
45 Comments to "Badfish Creek"
How did your trip turn out?

Questions or comments?

Feel free to leave your feedback.