Rocky Run Creek – Dunning Rd to Hwy 51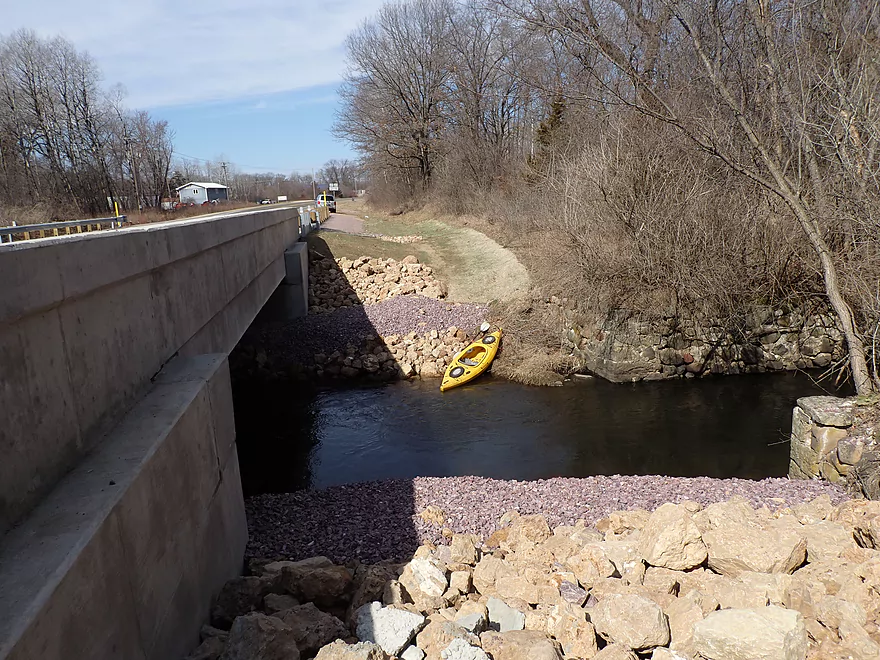 Rocky Run Creek is a small tributary to the Wisconsin River that runs through a wide, shrubby lowland located southeast of Portage.  It sees occasional paddling traffic from Hwy 51 to J or even to the mouth, but those doing this trip must deal with several logjams.  Very rarely do paddlers venture upstream of Hwy 51, but I received a tip that Dunning to 51 was open, so I decided to go for it.
I started the trip at the Dunning Road bridge which is a scenic area and was my favorite part of the creek.  By the road there is a nice woods and the creek flows swiftly through it culminating in some fun Class 1 rapids.
It wasn't long before I encountered my first logjam.  I thought I was quite clever carefully weaving my way through without portaging, only to be immediately rewarded with logjam #2 that absolutely had to be completely portaged.  Some of this was slightly expected, as I knew the first half mile would be the most obstructed based on my satellite map analysis.  But the situation was more serious than I anticipated and these jams were soon followed by more.  Besides full-blown jams there were many overhanging alders and low branches to deal with.  These were tough as the current was fast and pushy, while countless stone flies kept landing on my neck and face.  Water levels were above normal, but I suspect this creek is typically pretty fast.
After the first mile, things did start to open up and the trip became nicer.  There were still occasional low branches to deal with though.  I can't imagine doing this trip in the summer when the branches would become thick and heavy with leaves. 
By mile 2, the creek entered an attractive wetgrass marsh with almost no obstructions.  This was a great part of the trip with the highlight being the many singing songbirds and cranes in the marsh.
As I neared Hwy 51, the woods returned along with a few obstacles, but not nearly as bad as the first mile.  I took out on the upstream bank of Hwy 51 which was a good bridge access.
In summary this trip was kind of a dud.  Now it had nice parts…clear water, gravel substrate, lots of songbirds and a really nice wetgrass marsh.  But unless you enjoy alder gauntlets and logjams, the trip is just too much work.  Perhaps it's better in lower water when the current is less pushy and it's easier to duck under the branches…but maybe not.  I do hope though that somebody in the future attempts to clean it up.
Noteworthy Wildlife:
Sights included some deer and a few beaver gnawings.  The highlight was all the singing birds along the creek, including quite a few sandhill cranes.  The lowlight was all the stoneflies that hounded me throughout the trip.  I lost track of the number that I swatted off my face or neck.
Rocky Run Creek is actually a trout stream, but I didn't see any trout.  I'm sure they love to snack on stoneflies.
Local Diversions:

The MacKenzie Center is very close and definitely worth checking out if you have never been there before.  The Center features wildlife (including wolves and bison), museums, historical structures, a pond and prairies, trails, and picnic areas.  The Center is also a major location for environmental and outdoor education.  Adjacent to the Center is the State Game Farm, which raises thousands of pheasants for annual release at public hunting grounds throughout southern Wisconsin.
Put-in:
Duning Road:  This wasn't a bad bridge access and the area is kind of scenic.  Shoulder parking was a bit tight, but there is a DNR parking lot just to the north that one can use.
Take-out:
Hwy 51:  This is a busy road, but the bridge access isn't bad with plenty of shoulder room for parking.
Alternate Access Options:  You could continue downstream to Hwy J or even the Wisconsin River, but those legs likely have logjams.
Shuttle & Rental Information:
Hwy 51 to Dunning Road:  2.7 miles with 20′ of ascent.  This was a pretty easy bike shuttle, but there was an annoying dog that chased me near Dunning Drive.  He came VERY close to hitting my bike.  With these stupid dogs a key is to avoid eye contact.  Another trick is to keep a good pace.  Often these house dogs are out of shape and don't have the endurance to keep up with a bike for a long distance.
Hazards, Logjams and Current:
Current:  This was a fast and pushy creek with repeated tight turns (way squigglier than the last week's Kickapoo trip).  Combined with the many low branches and alders, this became a trying combination.
Low Bridges:  One walk bridge was low and had to be portaged (easy portage).
Rapids:  There are several riffles and one set of Class 1 rapids close to the put-in.
Logjams:  There were a handful of serious logjams that required either portaging or a serious effort to get through.  Because of them I can't recommend this trip.
Strainers:  There were countless low branches and thick alders that had to be dodged and pushed away.  That wasn't fun.
River Depth and Navigability:
Closest Gauge:  Spring Creek @ Lodi
Trip Depth:  27.4 CFS or 3.9′
0-2.5′:  A low depth that may require some boat dragging.
2.5-3.0′:  A good target range.
3.0-3.5′:  Above average depth.
3.5-4.0′:  High depth with pushy current.  I did the trip at 3.9′.
4.0-5.0′:  Very high depth.
5'+:  Perhaps flood stage.
Detailed Overview
Traut Road to Cuff Road:  (2.6 miles)  Surprisingly open and clear of most deadfall, this is a simple wet-grass prospect but very small and would require above average conditions to be feasible.  An intriguing prospect.
Cuff Road to Dunning Road:  (3.1 miles)  Deadfall appears to be too much of an issue for this leg. 
Dunning Road to Hwy 51:  (3.9 miles)  Swift current, gravel, and an attractive marsh are highlights.  Unfortunately logjams and low hanging alders are a bit much.
Hwy 51 to Hwy J:  (2.5 miles)  An ok section but with several muddy portages. 
Hwy J to Dekorra Landing:  (2.0 miles)  This section has too many jams to be enjoyable.  But during high water you can go over these and through the silver maple forest which is an amazing experience.
Additional Wisconsin River Options: For other take-outs and adventures on the Wisconsin, see my Wisconsin River overview map.
Trip Map
Overview Map
Video
Photos
How did your trip turn out?

Questions or comments?

Feel free to leave your feedback.