Six Mile Creek: Waunakee Village Park to Woodland Drive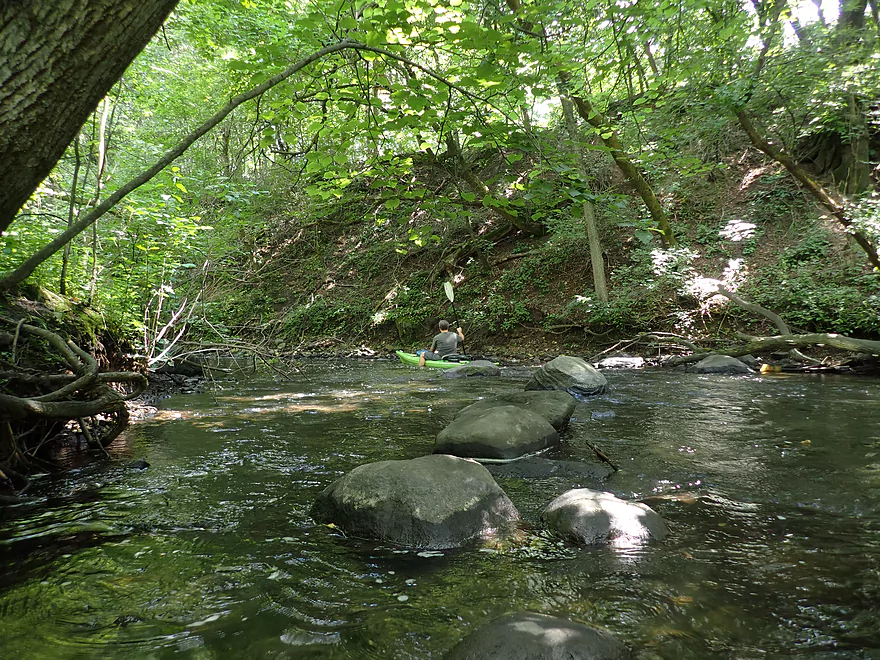 Put-in:
Waunakee Village Park
Time:
Expect 3 hours if cleared out (way more if not)
Six Mile Creek is located north of Madison and is a tributary to Lake Mendota.  I've done the creek several times before and it's a nice paddle.  In the past year the group "Friends of Six Mile Creek" (along with Capitol Water Trails) has been working on cleaning it out and making it navigable its full length.  From Ripp Park (on the west side of Waunakee) to Village Park is mostly clear, and their focus recently has been on Village Park to Woodland Drive.  Assuming this latter stretch was now mostly clear, I decided to check it out.
We started the trip at Waunakee Village Park which is a nice area.  The creek cuts through the heart of the park, under three scenic stone arch bridges, and through a scenic shady woods.  I was happy to see that three logjams that had plagued me in 2018 had been removed.  There were a few rocky stretches here that were quite shallow and required some "bumping" to get down.  I assumed that this would be the worst of the shallow rocky stretches, but this turned out to be a major mistake on my part.  Much of the creek actually turned out to be too shallow.  This wasn't a minor issue as we spent a lot of time wading.  To be fair I can't be blamed 100% for this as I had relied on the Hwy 19 gauge which I didn't realize until later was either messed up or had been recalibrated.  Eg it says that June 1st had a higher CFS rate than July 1st…but ALSO a lower depth reading.  That's not possible. 
After passing under S. Division Street (an access option) we entered Castle Creek Conservancy.  This is yet another Waunakee city park, but this one was much larger and more wooded.  Here the water quality, despite a few turbid exceptions, was surprisingly clear and nice.  Between Division Street and Mill Street (the next bridge) there were four "minor" logjams that had to be hopped or ducked, one of which I was able to clear out partly for future paddlers.  Hopefully these snags will be removed as part of  future cleanup efforts.  Despite this being another scenic leg, shallow water was still a bane.  Every single riffle was too shallow and had to be waded.  I lost track of the number of times I had to get out of my boat.
A number of things were going wrong with our trip at this point…we had a broken paddle, a fogged up camera lens, and my boat sprung a leak, which required constant bailouts.  With this in mind I suggested taking out at Mill Road, despite it being a horrible access, and hiking a mile to Woodland Drive to get to our car.  But we decided to soldier on with the trip.
The final leg (Mill Road to Woodland Drive) proved to be the most challenging part of the trip.  It started nice enough, with a small boulder garden and another attractive pedestrian bridge (by my count we crossed under eight fantastic trail bridges and 14 total bridges during the entire trip!).  But the shallow riffles got more frequent and the logjams got bigger. 
Most of the area the creek travels through after Mill Road is part of a large Dane County nature preserve called the North Mendota Natural Resource Area.  We didn't hear or see any signs of people for much of this section, which is pretty amazing considering we were technically still in a major suburban area.
Along the western shore was (I believe) a glacial moraine which provided a steep bank (practically a cliff in spots) and large collections of boulders in the stream.   Here, where the creek snaked against the bluff, twisted through the dense rock beds, and under dense forest canopies, was the most scenic part of the trip.  In fact, it's likely the most scenic section of creek in all of Dane County.  Waunakee and Dane County are both very active with their trail building, so hopefully one day they will extend their trails along this moraine or by the creek.  But for kayaking it was too shallow and we ended up walking more than paddling.
This wooded stretch was followed by a  more open, straight stretch (likely a gift from the neighboring railroad).  Once the creek started to "squiggle", we started encountering some major logjams.  Previously we had dealt with snags, but these could be ducked/hopped/waded.  But the big boys we encountered now required some difficult portages through dense undergrowth, which was unpleasant (especially with nettles and sawgrass).  In hindsight, I definitely should have waited for the logjam cleanup efforts to finish before we did this stretch.
But then something magical happened…east of Enchanted View Lane (the west entry road to the North Mendota Natural Resource Area) all the logjams we encountered had been cleared out and it would be (mostly) clear sailing to the take-out.  The final twisty mile was a nice change of pace, with the highlight being a scenic triangle-shaped wooden bridge, followed by a quaint boulder garden.  A large hill bordered the river to our left, which was lined with houses partly obscured by the trees.
Unfortunately there was one final issue with the trip.  There used to be a millpond located upstream of Woodland Drive, and while the dam was removed, all the silted-in muck it left behind remained.  Dane County is planning on cleaning out this section ("Suck the Muck"), which is good news.  But for this trip we had to struggle through the muck to cross this former pond (I assume this would be easier in high water).
In summary this was a difficult trip to judge.  I messed up by doing the trip before the logjams were cleared out and when the water levels were too low.  Our trip experience was a "one star", but in ideal circumstances would be a much and maybe significantly better trip.  Note, the creek was never super big, and regardless this will never be a practical trip for paddlers in big boats or those unwilling to get out for a few rocky stretches.
Noteworthy Wildlife:
Sights included a number of song birds, geese, ducks, a muskrat and one woodchuck.  Interesting first time sightings included a rock covered with the trumpet-shaped nets of net-building, or web-spinning, caddisflies, and a log with chocolate tube slime mold.
Local Diversions:
North Mendota (Waakikizu) Natural Resource Area:  This is a huge nature preserve surrounded on both sides by Waunakee development.  Most of Six Mile Creek runs through this from Mill Road to Woodland Drive.  Access is from Enchanted View Lane (off Woodland Drive) where there is a prairie trail for hiking.  The name of the preserve was just recently changed to Waakikizu–a Ho-Chunk word meaning "community and togetherness."
Put-in:
Waunakee Village Park:  We launched at the north end of the park just south of Hwy 19.  This was a good put-in with free parking and outhouses.
Alternative Put-ins:
Ripp Park (2.8 miles upstream from our put-in):  This is a nice leg and has been mostly cleared of logjams.  It can be shallow though.  The park itself is a suitable access, although you do have to drag your boat down a boardwalk to access the water.
Castle Creek Conservancy (1.0 miles downstream from our put-in):  Putting in here would exclude one of the nicer stretches of the creek that has been cleaned out and has some nice stone arch bridges.  Shoulder parking is available on Division Street where it is easy to launch into the creek.
Take-out:
Woodland Drive:  Take-out was kind of meh.  There is a weedy bank on the southeast shore and some mud to deal with.  At the top is a nice grassy area by a utility station, but you can't park here.  Nor can you park on Woodland Drive (which is new).  Your best bet is to park on Tall Oaks Road just east of Woodland Drive.  This is close to a residential home so be respectful.
Alternative Take-outs:  None really unless you want to take out on Lake Mendota.  Mill Road looks like an ideal bridge access, but there is nowhere to park because of the raised curbs.  Waunakee is crazy like that.  Hopefully in the future a nice landing is added by this bridge which is ideally positioned.
Shuttle & Rental Information:
Bike Shuttle:  Woodland Drive to Waunakee Village Park (2.8 miles with 79′ of ascent).  This would be a good bike shuttle with much of the route being along a public paved bike trail.
Hazards, Logjams and Current:
Current/Rapids:  Generally pretty lazy, but there are a large number of light rapids.  These are mostly pretty easy but in some cases there isn't much room to maneuver.  More of a concern is how shallow they are–which requires frequent wading.
Logjams:  See trip map for more details.  This trip had many logjams, and I don't recommend paddling after Division Street until they get cleared out.
Waunakee Village Park to Division Street:  I don't remember any logjams on this stretch.
Division Street to Mill Road:  There were four minor logjams.  We were able to hop/duck past all without portaging on the shore.  One I cleared for future paddlers.
Mill Road to Woodland Drive:  This was the worst stretch with three major logjams and four minor logjams.
Quick Mud:  This isn't common, but there are a few select spots I suspect it exists.
River Depth and Navigability:
There is a gauge upstream at Hwy 19 which read 2 CFS or 2.95′ for our trip.  This was way too low.  Note making estimates for this creek is very difficult because the gauge was re-calibrated which messed up a number of my historical reference points.
0-2.9′:  Too shallow.
3.0′-3.5′:  Likely a good target range.
3.6'+:  Maybe too high?  If you know more, let me know.
Detailed Overview
Hwy 19 Culvert to Kingsley Road:  3.4 miles.  An interesting prospect through the Waunakee Marsh with clear water.  The first half mile is extremely narrow and may need very high water to be viable.  Maybe 1-2 logjams.
Kingsley Road to Ripp Park:  1.2 miles.  Likely a nice marsh paddle with maybe 1-2 logjams.  There is a mat of dead cattails to circumnavigate at Kingsly Road, otherwise this seems like an ok access.
Ripp Park to Castle Creek Conservancy:  3.8 miles.  A varied paddle with marsh, boulder gardens, rapids, urban parks, and dense woods.  Very nice, but a few logjams.

Ripp Park to Hwy 113:  1.8 miles.  An open paddle through a grassy corridor with lazy current.  One logjam, but an easy portage.  Hwy 113 is a busy road, but access might be possible by parking north of the bridge and launching between the road and the trail bridges.
Hwy 113 to Waunakee Village Park (North):  1.0 mile.  A wooded section with some boulder gardens and rapids.  Neat part of the creek.  Most logjams should be cleared out by now.
Waunakee Village Park (North) to Waunakee Village Park (South):  0.3 miles. A tidy part of the creek that flows though the park.  Highlights are a few rapids and several stone arch bridges.  The south end of the park doesn't have a parking lot…so disembark by Madison Street(2nd bridge) and drag your boat north to 3rd Street to load up your car.  Long-term parking is available by the Village Center.  Creek here is shallow.
Waunakee Village Park (South) to Castle Creek Conservancy:  0.7 miles.  A densely wooded section that is scenic but shallow and should only be run in high water.  There is a nice set of rapids just upstream of Division Street.  I suspect Village Center Pond might be a take-out option.

Castle Creek Conservancy to Woodland Drive:  3.9 miles.  Scenic stretch with a lot of potential.  But there are significant logjams (which are being cleaned out).  This leg is rocky and can only be run in high water.
Woodland Drive to Governor Nelson State Park Boat Ramp:  4.2 miles.  Recently cleared out by Capitol Water Trails this is a nice section with a mixture of marsh and woodlands.
Trip Map
Overview Map
Video
Photos
3 Comments to "Six Mile Creek: Waunakee Village Park to Woodland Drive"
How did your trip turn out?

Questions or comments?

Feel free to leave your feedback.