Big Eau Pleine River – Cherokee Park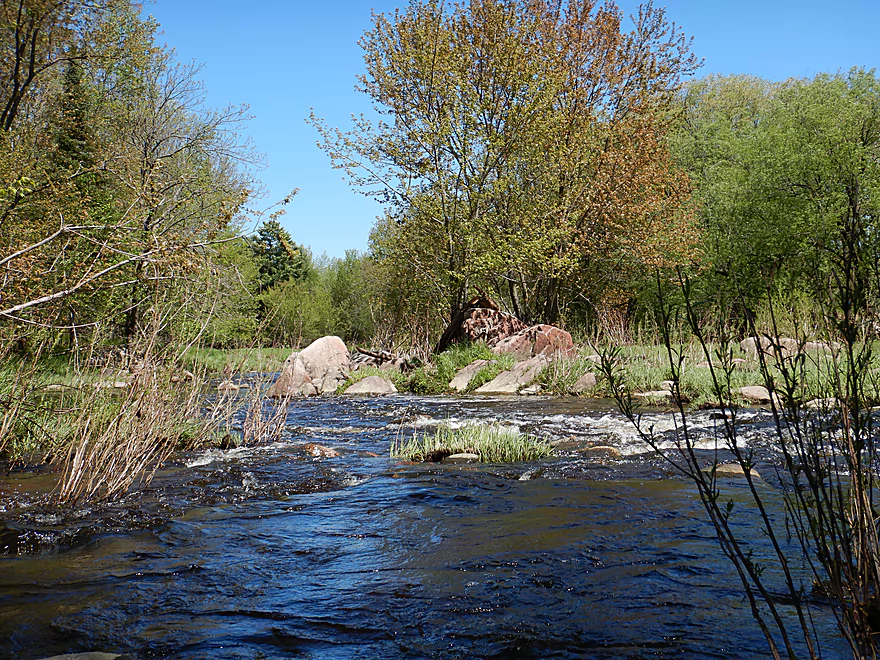 Time:
4 hours 23 minutes (1.5 hours would be more typical)
The Big Eau Pleine River is an obscure tributary of the Wisconsin River located just southwest of Wausau.  It doesn't get a lot of paddling traffic and part of the reason might be that a good portion of the lower river is dammed to form a massive 6,348 acre flowage.  The upper portions though flow mostly free and contain plentiful boulder gardens, rapids, clear water and occasional outcrops.  In fact, I would rank the Big Eau Pleine ahead of the Big Rib (the watershed neighbor to the north) despite the latter being much more popular with paddlers.
Five years ago I did a fall paddle on a downstream segment near Stratford that was a bit shallow, but otherwise turned out great.  This time around I wanted to do a far upstream segment near Cherokee Park recommended by paddling author Frank F. Piraino.  The park itself is scenic and a popular picnic location with locals.  Just below a small dam, there is a boulder garden where it is easy to launch a kayak.
Just downstream of Hwy N was the first highlight of the trip in an 800′ long section of boulders and rapids.  I would rate these rapids as a weak Class 2, but they could be significantly stronger during high flow rates.  The boulder field was quite thick and finding my way though was at times like running a maze, which was a lot of fun.
From here on, the river would feature slower flatwater, punctuated by numerous granite boulder gardens and rapids.  The upper Big Eau Pleine watershed is relatively clean and undeveloped, with little mud and many rocks and pebbles.  Clarity was fantastic with a  slight red hue that provided a window to see fish, crayfish and pebbles along the bottom.  The banks were mostly densely wooded with occasional pine and a surprising amount of maple (this would be a great fall paddle).  A huge amount of tree pollen had accumulated in the channel like snow, which was fun to paddle through.
Most of the remaining rapids were relatively easy, but in a few cases split around islands with some minor channels being not entirely navigable.  At times paddlers will need to choose their path wisely, but this shouldn't be too difficult.
In summary this was a trip I highly recommend for its scenery, water clarity and rapids.  It is unfortunately somewhat flow dependent so interested paddlers will need to monitor gauge levels carefully, but this should well be worth the effort.
Noteworthy Wildlife:
One frog, two snapping turtles, several ducks, a few dragonflies, some clams, and a handful of small fish.  The highlight were the crayfish which scurried amidst the rocks and were easy to spot through the clear red water.
Put-in:
Cherokeee Park is a nice public area overlooking a small dam.  The best launch area is at the east end of the park, directly below the dam.  No fee is required to park here and outhouses are available just south of the dam.  Unfortunately the parking lot is not adjacent to the river, and I did have to drag my boat 290′ over grass to reach the water.
If you don't like boat dragging, consider the Hwy N bridge and fishing pull-off just 500′ downstream from Cherokee Park.  This has immediate access to the water, but the shoreline is steeper for launching.  In hindsight I wished I had launched by the bridge, but some paddlers may still want to launch by the dam.
An alternate bridge access 1.5 miles upstream of Cherokee Park would be Huckleberry Road.  I didn't scout this, but it looks like a suitable bridge access from satellite maps.  This additional leg looks great…wooded, narrow and with likely two large sections of boulder gardens and rapids.
An alternate bridge access 3.4 miles upstream would be at Elderberry Road where there is a nice pull-off and trail leading to the water.  From here to Cherokee Park is a narrow wooded leg with maybe four sections of significant boulder gardens and rapids.
Take-out:
Hazelnut Road is a secluded gravel road bridge which is suitable as a take-out.  The north bank has poison ivy so I suggest taking out along the southwest corner.
An alternate take-out 5.5 miles downstream would be at March Rapids Park.  This additional leg is a very good prospect with more rapids and boulder gardens including a noteworthy stretch of Class 2 rapids. 
Shuttle & Rental Information:
The bike shuttle was short at 2.6 miles but a bit grueling.  My shuttle involved 138′ of hill climbing, one mile of gravel, and a stiff 15 mph headwind.  I shouldn't complain too much though as 2.6 miles was pretty short and this could have been hiked.
Note for bikers that detest gravel shuttles, you could do a trip from Cherokee Park to March Rapids Park.  That would be a longer 8.6 mile trip and a great paddle.  The shuttle would be longer too at 7.7 miles but gravel could be avoided (E > P > E > N).
Hazards, Logjams and Current:
Logjams:  No logjams.  There was maybe one strainer but I thought it was easy to avoid.
Fences:  Unlike the far upper stretches of the Big Eau Pleine, this stretch is free of fences.
Current:  This is a classic pool and riffle stream.  Pools were slow, while the many riffles were fast.
Rapids:  There were countless rapids on this trip.  Most were easy Class 1's.  There was a Class 2 located just downstream from Hwy N.  This consisted of an 800′ long boulder garden and was easy to scout along the east bank.  Note, I paddled this river at a relatively low rate, so most of the rapids were really easy.  At higher flow rates though, the Hwy N rapids would likely be Class 3 and several downstream rapids could grow to Class 2 levels.
River Depth and Navigability:
There is a gauge on the river located about 10-15 miles downstream by Stratford.  The watershed is very rocky, which results in quick drainage.  Often the river is either too high or too low for kayaking.  Below is a depth guide based on my guesstimates.
< 100 CFS:  Likely too shallow.
101-150 CFS:  Most of the river will be fine, but a handful of rapids would have to be waded.
151-200 CFS:  A shallow but safe depth.  I did the trip at 180 CFS which I liked.  I hit my share of rocks, but with rapids you'll always bounce off some rocks.
201-250 CFS:  Likely a good target range.  A few bumps here and there, but should be pretty good.
251-300 CFS:  Rapids should be well padded.  The boulder field rapids downstream from Hwy N may start to become strong.
301-400 CFS:  A high depth for rec paddlers, but a good depth for whitewater paddlers.  Rapids will become much more difficult at this point.
401-500 CFS:  The scenic boulder gardens and clarity are likely submerged by now.  Likely only suitable for whitewater paddlers.
501+ CFS:  Very high flow rates…perhaps only suitable for very experienced whitewater paddlers.
Detailed Overview
Upstream of Gierl Ave:  Only runnable at very high flow rates.  A reader by the name of Jeremy provided a quick summary here.
Gierl Ave to Elderberry Road:  2.1 miles.  This leg doesn't have quite the concentration of boulders/rapids as downstream legs but is a good prospect with maybe one major stretch of rapids/boulders and three mediocre stretches. This is a shallow leg that can only be run in high water.
Elderberry Road to Cherokee Park:  3.7 miles. 

Elderberry Road to Huckleberry Road:  1.9 miles.  A shallow wooded stretch with a handful of Class 1's and two Class 2's at the end.
Huckleberry Road to Cherokee Park:  1.5 miles.  Very wooded flowing mostly through Cherokee Park.  Nice leg with three Class 3's and one large boulder garden.

Cherokee Park to Hazelnut Road:  3.1 miles.  Fantastic trip with clear water, many boulder gardens, and fun rapids.  The highlight is an 800′ long boulder field below Hwy N.
Hazelnut Road to March Rapids Park:  6.1 miles.  Heavily wooded leg with multiple boulder gardens and a few small outcrops.  There are two sets of significant Class 2 rapids.
March Rapids Park to Big Rapids Park:  3.4 miles.  A good trip with 7 Class 1's and 2 Class 2's.
Big Rapids Park to Hwy M:  8.5 miles.

Big Rapids Park to Hwy 97:  1.9 miles.  Shallow but scenic section.
Hwy 97 to Hwy M:  5.6 miles.  Scenic section with several rock outcrops.

Hwy M to Hwy 153:  0.9 miles.  There are some rock walls after Hwy M, but you could just paddle down and back to explore, instead of taking out at Hwy 153.  Hwy 153 is not an ideal take-out.
Hwy 153 to Maryel Drive Boat Ramp:  2.2 miles.  Probably uninteresting flowage padding.  Put-in at Hwy 153 would be tricky, but the take-out at the ramp would be good.
Maryel Drive to Reservoir Dam:  13.3 miles.  A huge lake that is not paddle friendly.  Numerous launch options are marked on my overview map.  The dam is located on the mouth near the Wisconsin River.
Trip Map
Overview Map
Video
Photos
2 Comments to "Big Eau Pleine River – Cherokee Park"
How did your trip turn out?

Questions or comments?

Feel free to leave your feedback.