Arnold Creek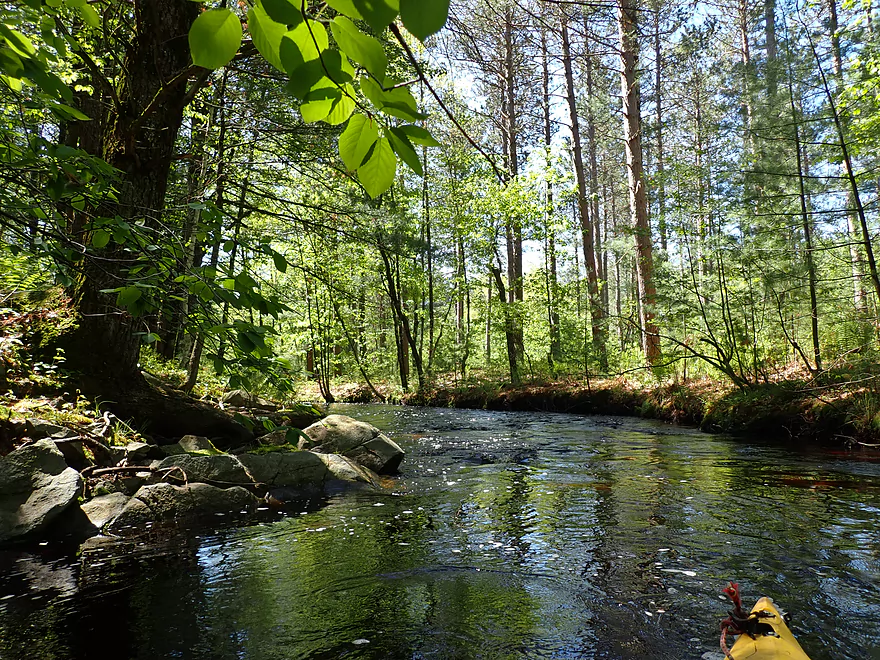 Take-out:
Russell Memorial Park
Time:
Expect 60-90 minutes
Arnold Creek is a small tributary to Lake Arbutus.  It sees some kayak traffic on its lower portion which is impounded by the Hatfield Dam.  But few (if any) explore its upstream legs.  With one exception (Dickey Creek), I've had terrific luck exploring Black River tributaries (Halls Creek, Robinson Creek, Morrison Creek, East Fork, Wedges Creek, Perry Creek) and was eager to see if Arnold Creek was yet another hidden gem.
The trip started at Fire Lane Rd, which is about as upstream as you can launch.  The area by the put-in is coincidentally next to a major ATV trailhead.  This was handy as it allowed me to use the adjacent ATV parking lot to leave my car behind.
The first half mile was fairly generic (just 2 stars).  To start there were a series of three snags to hop/duck/slide past right near the put-in, but the river opened up after that (mostly).  There were still some low-hanging alders here and there that poked me at inopportune times.  Thankfully there were no serious logjams that had to be portaged, but I did encounter four beaver dams.  Most were in poor shape and were easy to run given the high water…but three were intact enough to create fun ledges to scooch over.
The next mile was fantastic (5 stars).  The brushy and messy alders were replaced with large white pines that at times grew just inches from the creek.  The channel picked up speed, became much more rocky, and featured a handful of fun Class 1 rapids.  At times this reminded me of Arnold's more famous southerly neighbor (Halls Creek)…especially the root beer red water, ferns, and white pines.
Sadly the creek soon came to a complete stop thanks to the Hatfield Dam.  From the first impounded waters to Hwy J (half mile + 3 stars) the shoreline became much more developed with lakefront homes, piers, and boats.  I suspect many local kayakers explore this portion of the creek.  They likely go upstream until they meet the first rapids and then turn around.  This is a shame as the mile preceding the impoundment is the best part of the creek.  All that said though, the developed stretch wasn't entirely bad as many white pines grew on the banks.  Because the creek here is so black, and sheltered from the current and wind it can produce fantastic reflections when the sun is out.  I did get a number of cool reflection shots, but a slow moving pontoon boat spoiled many potentially good photo-ops.
Paddlers could take out at Hwy J where there is a public landing.  Instead I continued 0.7 miles to the mouth on Lake Arbutus.  This stretch was kind of boring honestly and mostly just a long lake with the shoreline filled with vacation homes and high density campsites.  But this last stretch of Arnold Creek does have No Wake protections which is always great for paddlers.  Last year I did a trip on Lake Arbutus and really got bounced around pretty good by powerboat waves.
There are many access options on Lake Arbutus, but I chose Russell Memorial Campground which is conveniently located at the mouth of Arnold Creek.  It's also very scenic with many huge white pines, the best public beach on the lake, and great vista of Lake Arbutus.
Whether or not I can recommend this trip to other paddlers needs a lot of qualifications.  If you're new to the area, then start with Halls Creek and Robinson Creek which are better paddles and in fact are among the best water trails in the state.  Arnold Creek sadly isn't a five star paddle like many of its Black River brethren, but it's still not bad and can be fun for locals looking for a new adventure.
Local Diversions:
Black River Falls ATV Routes:  There are a cluster of ATV routes in the Black River Falls area with Hatfield being a major hub.  I saw plenty of ATVs at both the put-in and take-out.  Many of these trails snake through public lands in the Black River Forest.  Riders enjoy these routes because they are so scenic and feature fantastic white pines.
This does raise the ethical question of whether such extensive ATV traffic going through Central Wisconsin's finest public forest is a good thing.  While ATV's on the trails are (supposedly) limited to 96 decibels, that's still quite loud and one can hear an ATV from over a mile away.  This has to really spook local wildlife.  I'm also not sure that an ATV is an ideal way to experience a state forest…  There is the constant wind, dust, vehicle vibrations, exhaust, and risk of tipping over in these very top-heavy vehicles.  IMO hiking and kayaking are far superior ways to experience the Black River State Forest.
Noteworthy Wildlife:
I didn't see too much which is sadly kind of typical for Central Wisconsin paddles.  Southern Wisconsin paddles (despite being more developed, less interesting, and muddier) strangely enough have more wildlife.  But sights did include ducks, dragonflies, and a red-tailed hawk.  The highlight was not one, not two, but four beaver dams I got to paddle over.  Most were in poor shape, but still provided a fun ledge to zip over.
Put-in:
Fire Lane Rd:  This was a decent bridge access.  Parking is available via one of two adjacent public ATV parking lots.  A public outhouse is located in the south lot.
Alternate Put-ins:
Upstream from Fire Lane Rd:  I think the creek is too small, brushy, and boggy to run upstream from Fire Lane.
North Arnold Creek Boat Landing (Hwy J).  I suspect most paddlers will simply launch here and do a round-trip on the impounded stretch.  The problem with this plan is you won't see the best part of the creek unless you plan on wading against the current.  This launch does require a $5 fee.
Take-out:
Russell Memorial Park:  This was a good take-out option and scenic (great beach and large white pines).  Outhouses are available in the park.  The park does have an official boat ramp at the north end, but I think that requires a fee to use.  Instead I took out on the beach (which I think was fee-free).
Alternate Take-outs:
Hwy J (0.7 miles upstream from Russell Memorial).  You could certainly end a trip here as the best parts of Arnold Creek are all upstream from J.  A public landing is located by the bridge, but it does require a $5 to use.
Other Lake Arbutus Landings:  There are many access points on the lake.  Click here for a map.
Shuttle & Rental Information:
Russell Memorial Park to Firelane Road:  2.0 miles with 56′ of ascent.  This was a short and mostly easy bike shuttle, but the last mile had loose gravel which was annoying.   Sometimes I could find a packed in tire groove which helped (a little).

Hazards, Logjams and Current:
Logjams: While I didn't have to portage any logjams, I did have to deal with three snags in a row by the put-in that required careful navigation to get through.  After that the creek really opened up.  Note, my trip was done at high levels and this may have allowed me to get over some obstructions that otherwise would require portaging.
Beaver Dams:  There were four beaver dams on this stretch, but all of which were in bad shape and easily runnable.  Three of these created noteworthy ledges.
Rapids:  The middle portion of the trip had maybe 4-5 Class 1 rapids…nothing too scary.
Current:  To start slow and steady…but a few spots were pushy.   The middle portion was fast, but because most of the low hanging alders were replaced with more open white pines it wasn't a big deal.  The last part of the trip had no current.
River Depth and Navigability:
This creek has no gauge and is too small to use approximate gauges.  For reference, I did this two days after one inch of rain.  The creek was high but was still completely navigable.  I suspect it can be paddled at low levels although some of the rapids may become bumpy.  Note, the put-in area is THE shallowest and most congested part of the trip.  So don't be (too) discouraged if things don't look great from Fire Lane Rd…it soon opens up.
Alternate Arnold Creek Trips:

Upstream of Fire Lane Rd:  The creek here is likely too narrow, obstructed, and marshy to navigate.
Fire Lane Rd to Hwy J:  1.9 miles.  Stretch starts slow and is a bit overgrown.  But middle stretch is nice with big white pines, root beer red water, and fun little rapids.  Last stretch is impounded and less interesting, but does feature still water and cool reflections.
Hwy J to Russell Memorial Park:  0.7 miles.  This is a sheltered inlet to Lake Arbutus.  It's not super interesting, but it is protected by No Wake restrictions which makes it kayak friendly.
Note, there are many additional access options on Lake Arbutus.  If you're curious here is a map.
Trip Map
Video
Photos
How did your trip turn out?

Questions or comments?

Feel free to leave your feedback.