Milwaukee River – Thiensville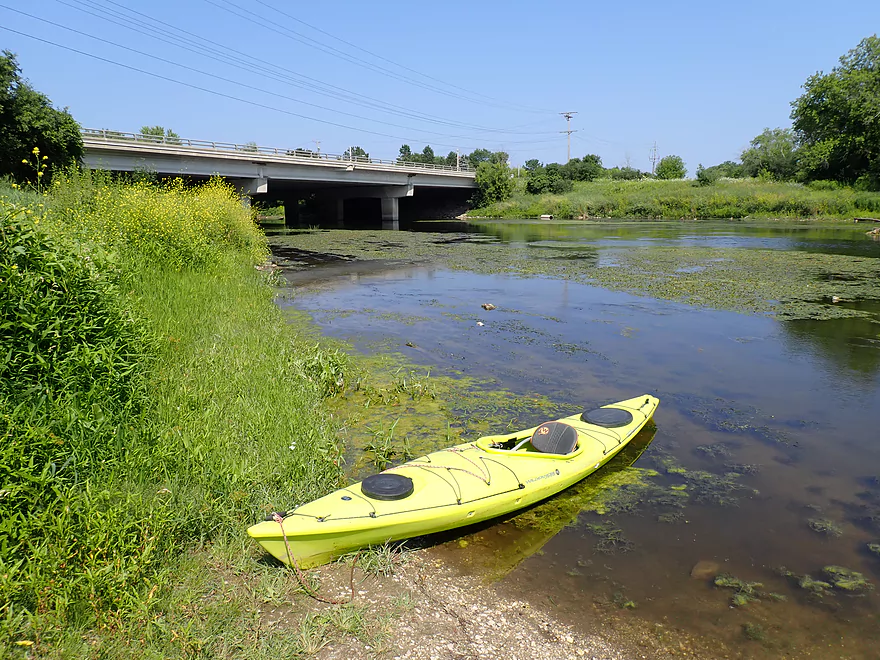 Put-in:
Thiensville Village Park Launch
Take-out:
Badger Meter River Park
The goal for this week's trip was to explore the river that flows through Milwaukee's northern suburbs which is typically overlooked by other water trail guides.  I chose to start at Thiensville Village Park which has a nice launch option and is located by the Thiensville Dam.  With the Estabrook dam recently removed, the Thiensville and Kletzsch dams are some of the last left on the Lower Milwaukee. 
One of the more remarkable features of the Thiensville dam is a 1200′ fish passage that connects the north end of the dam to the main channel.  The idea (in theory) is fish that normally would be blocked by the dam can swim up the passage and around the dam.  It is actually a small creek and looked navigable so I opted to start the trip here.  The passage (while artificial) is quite scenic with many boulders and huge prairie grasses that dwarf the channel.  Little ledges separate the passage into a series of small pools.  Most I was able to get past, but a few were tricky and had to be waded.  In hindsight, water levels were likely too low to run the fish passage.  
In the end the passage looped back on itself, flowed under a bridge and emptied back into the Milwaukee River over a small ledge.   I think the idea behind the fish passage was sound but misguided.  I suspect it's too fast/steep for small fish and too shallow/narrow for big fish.  The barrier by the dam itself may also be a tricky impediment.  I fear this fancy fish passage may be used as an excuse to NOT remove the dam, which would be a much better solution.
The first mile of the trip (up to the I-43 bridge) was nice aside from some loud road noise.  Here the waterfowl were suspiciously tame (local signs warned against feeding animals), the channel rocky, and the banks wooded with interesting buildings.  It was also somewhat shallow, thanks to the drought, but if you are good at reading the river, you can almost always paddle around the shallow spots and find consistently navigable water.
Past the golf course, the river slowed down a bit and the banks while wooded seemed to contain more "weed trees" which weren't as attractive.
The halfway point in the trip is marked by a long island (about a third of a mile long) which was plastered with some of the most No Trespassing signs I've ever seen on an island.  Paddlers will have a choice…the left/east channel is wider, while the right/west channel is narrower.  I chose the latter and really liked this attractive stretch of the river which featured a number of nice shade trees.
The second half of the trip wasn't as interesting.  The current slowed so much that I thought (incorrectly) I was coming up on a dam.  There was one last small boulder garden which was nice, but aside from that, the river was a bit monotonous with similar looking wooded banks and odd generic homes popping up on the shoreline.  Frankly it wasn't that interesting.  I ended the trip at Badger Meter River Park which was a nice area of the river and a good spot to wrap up the trip.
In summary this was a slightly disappointing trip.  It wasn't bad, and locals may want to explore it.  But it lacked unique traits that make other Milwaukee River segments special.  If you're new to the Milwaukee River, I suggest instead to focus on the "Big 3" sections first:
West Bend to Waubeka:  Much less developed and has really nice water clarity.
Grafton Section:  Features fun rapids and attractive rock formations.  This can get too shallow though.
Downtown Stretch:  A terrific trip through downtown Milwaukee which features some neat urban scenery.
Noteworthy Wildlife:
Sights included a great blue heron, eagles, a green heron, clam shells, carp, damselflies, and a number of ducks and geese.  It was surprising how tame the wildlife was…in many cases I could paddle fairly close to them.  Signs warn not to feed the wildlife (which may explain their tameness).
Local Diversions:
The Mequon Nature Preserve: 
510 acres just two miles west of the trip route.  Features six miles of trails, an education center, and a 40-ft. observation tower.
Thiensville Village Park Launch:  This is a public park with options to launch above or below the dam.  It is a good access with restrooms.
Alternate Put-ins:
Pioneer Road (6.9 miles upstream from Thiensville Park):  This is an ok access option.  The upstream leg should be nice but would include some flowage paddling.  There are a number of alternate landings between Pioneer Road and Thiensville Park.
Take-out:
Badger Meter River Park:  This is a very good public access option.  The park doesn't feature playgrounds or picnic tables, so it's really just for paddlers and you'll likely have it to yourself.  The only downside is you have to drag your boat up a 300′ grassy hill to reach the parking lot, but I didn't think that was a big deal.  A hidden path on the south side of the park can offer a shorter route to the parking lot.
Alternate Take-outs:
Kletzsch Park (5.3 miles downstream from Badger Meter Park):  There are multiple access options in Kletzsch Park.  The leg downstream from Badger Meter River Park should be a good prospect.
Shuttle & Rental Information:
Bike Shuttle:  4.8 miles with 23′ of ascent.  Other than a busy stretch by the take-out/Hwy 41, this was a really nice bike shuttle and mostly along the Brown Deer Trail and the Ozaukee Interurban Trail.  The bike trails in the Milwaukee metro area are very underrated.  Many are paved, flat, mostly secluded from traffic, and often close to rivers so can be used in combination with kayak shuttles.
Hazards and Concerns:
Current/Rapids:  There were a few minor riffles that almost weren't worth mentioning.  The current varies…but in general isn't super fast.  The second half of the trip featured especially slow and stagnant current.
Logjams/Hazards:  None.  This is a pretty easy & safe leg (as long as levels aren't crazy high).
River Depth and Navigability:
0-100 CFS:  Exceptionally low.  Some sections may require walking.
101-200 CFS:  On the low side but with good navigation you can avoid grounding out.
201-300 CFS:  An average depth.
301-400 CFS:  A slightly above average depth.
401-600 CFS:  A higher depth.
601-800 CFS:  A high depth.  Likely navigable but the river won't be attractive.
801+ CFS:  Maybe too high for enjoyable paddling.
Detailed Overview
Additional access options are visible on the overview map.  Special thanks to Milwaukeeriverkeeper.org which has some detailed information on the river, including this great map.
Above Kewaskum:  The Milwaukee River splits into two (west branch and main branch) and while I think these are good creek prospects (especially the west branch), I don't know enough to say.  Some additional information has been posted on the overview map.
Hwy 45 to Kewaskum Dam:  (3.6 miles)  Starts technically on the West Branch.  Maybe 2-3 logjams, otherwise a nice prospect.
Kewaskum Dam/Park to Hwy H:  (2.9 miles)  Solid prospect.
Hwy H to First West Bend Dam:  (6.3 miles)  A solid prospect with some flowage paddling at the end.  The take-out entails dragging your boat across a private parking lot.
First West Bend Dam (Barton Ave) to the Second West Bend Dam:  (1.3 miles)  Mostly an urban flowage paddle.  The first dam is a difficult portage or put-in.
2nd West Bend Dam to Quaas Creek Park: 

  (3.8 miles)

2nd West Bend Dam (Washington Street) to South River Road:

(2.1 miles)  Terrific section with a restored prairie, fast current, light rapids, and good urban scenery.
South River Road to Quaas Creek Park: 

(1.7 miles)  A paddle through urban woods...pleasant but not top-notch.

South River Road to Hwy M: 

  (6.3 miles)  A pleasant stretch with little development and clear water.
Hwy M to Main Street Bridge (Newburg):  (3.4 miles)  Good prospect with small boulder gardens in shallow water.
Main Street Bridge (Newburg) to Hwy A Bridge: 

  (6.3 miles)  A popular paddle with great water clarity.
Hwy A to Waubedonia Park (Waubeka): 

  (5.7 miles)  A decent leg with good current, some rocky stretches, and nice color in the fall.  North Branch joins up and significantly enlarges the river.
Waubedonia Park to Ehlers Park/Mink Ranch Road:  (5.3 miles) 

A good stretch with a number of light rapids.
Ehlers Park to Peninsula Park:  (2.5 miles)  A suburban stretch with maybe one set of rapids.
Peninsula Park to Grafton Canoe Launch (south Saukville on Hwy O):  (1.9 miles)  Kind of a suburban paddle.
Grafton Canoe Launch to Veterans Memorial Park (Grafton):  (4.1 miles)  Some suburban and flowage paddling, although I think there are minor rapids in the upper stretch.
Grafton Dam (SW of Bridge Street) to Lime Kiln Park:  (1.3 miles)  A terrific section with class 2-3 whitewater and scenic dells.
Lime Kiln Park to Hwy T:  (1.6 miles)  Good section with scenic 'Grafton Dells' and some Class 1 whitewater.  I'm not sure Hwy T is a good take-out.
Hwy T to Pioneer Road:  (1.9 miles)  A solid prospect.
Pioneer Road to Thiensville Park:  (6.9 miles)  Solid prospect but with some flowage paddling at the end. 
Thiensville Park to Badger Meter River Park: 

  (4.8 miles)  This is a less popular stretch of the Milwaukee. While not bad, it had somewhat repetitive scenery and lack of unique features. 
Badger Meter River Park to Kletzsch Park:  (5.3 miles)  This is a solid prospect.
Kletzsch Park to Estabrook Park:  (4.1 miles)  Some flowage paddling and a nasty low-head dam to portage.  A second dam has been I believe recently removed so this section might be very different now.
Estabrook Park to Riverside Park:  (3.1 miles)  A number of decent rapids in this wooded but urban paddle. 
Riverside Park to McKinley Marina: 

(6.3 miles)  A great trip on the last section of the Milwaukee.

Riverside Park to Bruce Street Boat Ramp:  (3.9 miles)  A scenic paddle through downtown Milwaukee featuring some skyscrapers and great architecture.
Bruce Street Boat Ramp to McKinley Marina:  (2.5 miles)  A bonus add-on section along Lake Michigan that features scenic vistas of the downtown.
Trip Map
Overview Map
Video
Photos
How did your trip turn out?

Questions or comments?

Feel free to leave your feedback.