Oconomowoc River – Concord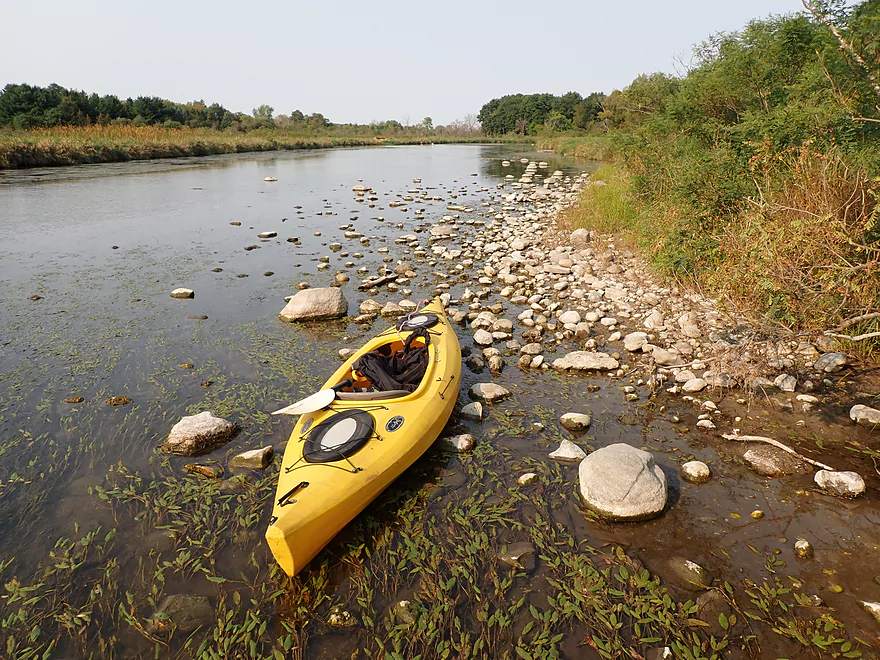 Date:
September 11th, 2021
Put-in:
Concord Road (2nd bridge)
Take-out:
North Morgan Rd
Time:
Expect 60-90 minutes
The Oconomowoc River is one of the Milwaukee area's great water trails. The most popular stretches are by Loew Lake and Fowler Lake, but almost all of the river is good for paddling.  The lower river (below Lac La Belle) however does lack some of the magic of the upper stretches, but it's still a nice little paddle.  The idea for this trip was to explore one of these lower legs to see how it compared.
I put in at the second Concord Rd bridge, which had a nice make-shift access by the utility station.  The trip started on an ominous note, as I had to wade the first 1000′.  Some of this was to be expected though as I knew the river was low, and I hoped it would get deeper after that (which it kind of did).  Low water trips though do have one great advantage…often they have good clarity.  The Oconomowoc at times was incredibly clear and it was fun watching the little pebbles, fish, and crayfish zip past my boat.
The last remnants of Oconomowoc (the city) soon faded away along the right bank and this was replaced by generic grassy banks and countless dead ash (similar to my other eastern Wisconsin trips in 2021).  The water quality also did degrade the further downstream I went.  Oconomowoc (the city) has a significant wastewater discharge that empties into the river which creates a lot of nutrient growth and algae.  I also smelled chlorine for much of the trip.
The first half of the trip roughly flowed north and that was really nice.  But after that, the river turned south and became significantly less interesting.  The channel got deeper and wider, most of the clarity vanished, and what little current was left mostly vanished.  One of the trip highlights was the nice pebble substrate (a gift from the last Ice Age) but by the second half of the trip most of the pebbles were mostly buried under mud.
The trip ended at N. Morgan Rd where I met another group of paddlers putting in.  In summary this was kind of a mediocre trip.  Most paddlers will enjoy the Upper Oconomowoc much more, but this wasn't bad and could be a fun diversion for those looking for a new Oconomowoc adventure.   Note, this trip was on the short side (2.7 miles) and most paddlers will likely do this as a longer trip.  A good extension would be to start further upstream by the Lac La Belle dam where the river is really nice.
Noteworthy Wildlife:
Animals included snails, clams, crayfish, one egret, an eagle, a great blue heron, and many small fish.  The most remarkable sight was what at first appeared to be two snapping turtles killing each other…but it turned out they were just mating.
Put-in:
Concord Rd(2nd bridge):  Northwest of the bridge is a small pull-off and public utility station.  A small trail leads to the water.  All in all, a pretty good bridge access.
Alternate Put-ins:
Chaffee Rd Park:  2.5 miles upstream from my put-in.  This is a good public access.  The river downstream from here is quite nice with great clarity and scenic bridges.
Concord Rd(1st bridge):  1.6 miles upstream from my put-in.  Locals sometimes put in here.  This is an ok stretch, but it gets a bit mucky after the city wastewater plant empties its discharge into the river.
Take-out:
N. Morgan Rd:  This is a suitable bridge access, although not nearly as nice as the second Concord Rd bridge.
Alternate Take-outs:
Elm Drive:  2.2 miles downstream from my take-out.  This bridge is viable as a take-out, but parking is a trick as you there are "No Parking" signs by the bridge.  You should be able to launch here…but you'll just need to leave your car on a shoulder beyond the "No Parking" signs and hike 500′ back to the water.  The river after Elm Drive is kind of generic.
Hwy F:  4.0 miles downstream from my take-out.  This has a bigger shoulder to deal with and more weeds…but it's more private for paddlers with no visible parking restrictions.
West River Drive:  6.6 miles downstream from my take-out.  This is not an appealing access…there are "No Parking" signs, and the adjacent land has No Trespassing signs.  It's likely doable, but not suggested.
Northside Drive:  8.0 miles downstream from my take-out.  There is a nice public parking lot, but the shoreline is quite muddy and there is an electric fish barrier to get around.  Despite this, I suspect this is a popular access on the lower Oconomowoc.
Hwy P:  11.6 miles downstream from my take-out.  Hwy P is a decent access.  Taking out here though would involve a few miles of paddling on the Rock River.
Shuttle Information:
Bike Shuttle – N. Morgan Rd to Concord Rd (2nd bridge):  2.4 miles with 49′ of ascent.  This was a very easy bike shuttle.
Hazards, Logjams and Current:
Hazards or Logjams:  None really…this is kind of a safe stretch.
Current:  Generally speaking it was pretty slow and lazy.
River Depth and Navigability:
Trip done at 12 CFS per the gauge on the Bark River near Delafield.
0-10 CFS:  Near drought conditions.  90% of the river will be navigable, but you may have to walk 1000-2000′.
11-20 CFS:  Good clarity, but some shallow spots.  Figure maybe 500-1000′ of wading.
21-35 CFS:  Good target depth with decent clarity.
36-50 CFS:  Ok depth, but clarity won't be as good.
51-80 CFS:  Manageable depth, but likely no clarity.
81+ CFS.  This might be a bit high for enjoyable paddling.
Detailed Overview
Hwy 164 to Holy Hill Road:  (0.9 mile)  Mostly unknown.  Appears pretty open, but with one wooded section that probably has logjams.
Holy Hill Road to Hubertus Road:  (2.2 miles)  Pretty open marsh paddle and should be no downed trees.  Some lake paddling to contend with.
Hubertus Road to Elmwood Road:  (0.9 miles)  Downed trees are definitely an issue in the first half, but the second half is open and has some nice rocky sections with clear water.
Elmwood Road to St. Augustine Road:  (0.9 miles)  A good prospect with nice rocky sections.  There will be portages for downed trees, but am not sure how many.
St. Augustine Road to County Line Road:  (4.4 miles)

St. Augustine Road to Loew Lake:  (1.0 miles).  A scenic stretch with glacial boulders, rapids and springs.  Some parts of the creek here are shallow and will have to be waded.
Loew Lake to County Line Road:  (3.3 miles).  A popular wetland paddle with locals.  Most do this as a round trip from County Line Road.

County Line Road to Kettle Moraine Drive/Monches Dam:  (0.3 miles)  A slow large millpond. 
Kettle Moraine Drive to West Shore Drive:  (5.9 miles)  A great trip with clear water, boulder gardens, scenic bridges, fun rapids and attractive marshes.  Only a few logjams prevent this from being five star.

Hwy E to E. Kilbourn Road:  (2.6 miles)  Starts with some light woods and boulder gardens then opens into a marsh before closing with some rapids.  There are three logjams, but the portages aren't difficult.
E. Kilbourne Road to Hwy 83:  (1.2 miles)  Fun wooded section with the longest rapids and several scenic bridges.  There are three logjams and one tricky strainer.  Note Hwy 83  used to be a good landing, but new owners have declared it private property and put up No Trespassing signs.
Hwy 83 to West Shore Drive:  (2.2 miles)  Mostly lake paddling (North Lake).  The short river section goes through a scenic marsh.

West Shore Drive to Hollywood's Roadhouse Bar:  (1.3 miles)  Section with good potential.  Might be a downed tree to portage.  The bar is private and you must get permission to disembark here.
Hollywood's Roadhouse Bar to Wisconsin Ave Launch:  (3.5 miles)  Probably an uninteresting paddle through Okauchee Lake, but the one mile river portion looks interesting.  The Okauchee Lake Boat Launch is an alternate take-out.
Wisconsin Ave Boat Ramp to Fowler Lake Park:  (3.95 miles)  A great lake and river prospect with amazing water clarity.

Wisconsin Ave Boat Ramp to Wisconsin Ave Fishing Access:  (1.7 miles)  Mostly a lake paddle on Oconomowoc Lake, but some nice connecting river sections and a scenic railroad bridge.
Wisconsin Ave Fishing Access to Fowler Lake Park:  (2.3 miles)  Half of this is through a nice marsh and half runs though a nice attractive suburbs.

Fowler Lake Park to N. Golden Lake Road:  (4.2 miles)  Another good lake/river combo trip with good clarity.

Fowler Lake to Veterans Memorial Park:  (0.4 miles)  A neat lake paddle with stunning clarity and attractive lakeside buildings.
Veterans Memorial Park to W. Wisconsin Ave/Dam:  (1.3 miles)  A short section on Lake Lac La Belle.  Heavily developed, this was a mediocre experience.  Easy portage or take-out at end by dam, but parking is difficult.  Ask permission from Paddleboard Specialists to park in their lot or park one block to the south at Chaffee Road Park.
W. Wisconsin Ave/Dam to Chaffee Road Park:  (0.3 miles)  Terrific section with perfect water clarity.
Chaffee Road Park to South Concord Road:  (0.9 miles)  Great section with clear water and scenic bridges.
S. Concord Road to Concord Rd(2nd Bridge):  (1.6 miles)  Section starts good, but gets mucky after the sanitation plant.  Still an ok section.  Take-out at North Golden Lake Road is good, and apparently open to the public but can't be 100% sure of this.

Concord Rd(2nd Bridge) to N. Morgan Road:  (2.6 miles)  Some ok clarity, but the river starts to slow down and become less interesting.
N. Morgan Road to Elm Drive:  (2.2 miles)  Ok prospect (river is getting slower and wider).  For Elm Drive, you should be able to launch NE of the bridge, but must park further to the north to clear the No Parking signs.
Elm Drive to Hwy F:  (1.8 miles)  Ok prospect.  Hwy F is not great, but one of the more secluded bridge accesses on the lower section.
Hwy F to W. River Drive:  (2.6 miles)  Weaker prospect.  No Trespassing signs beyond the ditch by W. River Drive and a sign that limits parking doesn't make this an appealing access.  Probably doable for access though.
W. River Drive to Northside Drive:  (1.4 miles)  River is getting less interesting and muddy.  You must portage by an electric fish barrier under Northside Drive (plenty doable but a bit brushy and super muddy…do scout this before running).  Parking is good at Northside Drive.
Northside Drive to mouth on Rock River:  (1.0 miles)  Probably an uninteresting section. 
Mouth to Hwy P:  (2.6 miles)  The lower Rock River is not an interesting prospect IMO (too wide and muddy).  Hwy P should be adequate for taking out if you do this section.
Trip Map
Overview Map
Video
Photos
How did your trip turn out?

Questions or comments?

Feel free to leave your feedback.