Fox River – Swan Lake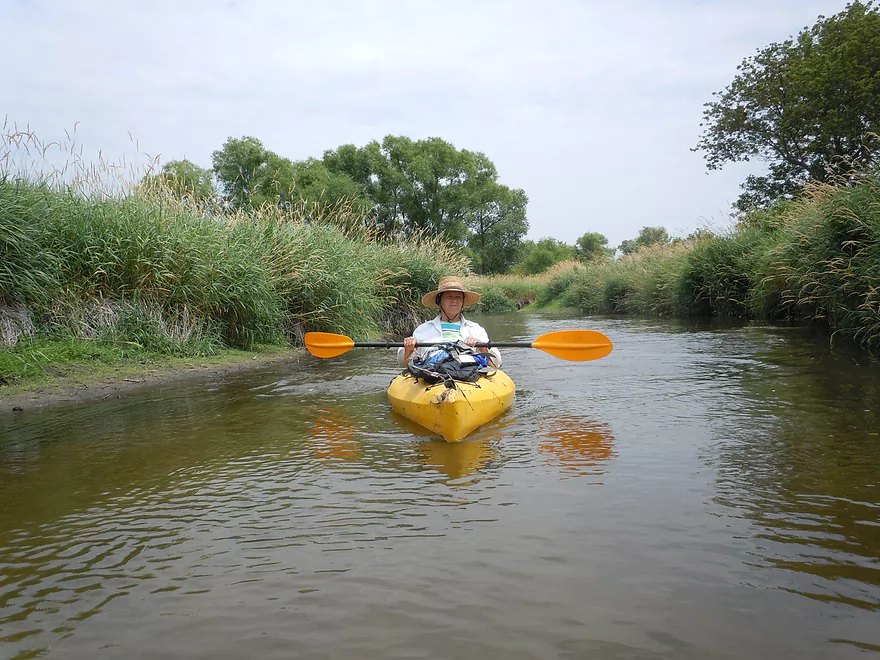 Put-in:
Indian Trails Campground
Take-out:
Swan Lake Public Launch
Despite being only an hour drive from Madison, the upper Fox River tends not to be super popular with most kayakers.  This is the same historic Fox that runs right west into Portage and then north towarda Green Bay.  Mike Svob reviews two sections from the canal downstream (which I hope to run eventually), but an additional route exists upstream of Swan Lake where the Fox River is more like a creek than a river.
The only access that I know of is from the private 'Indian Trails Campground'.   I don't know for sure, but I don't believe you can use their landing or shuttle service without going in one of their groups…which is unfortunate.  The Fox River starts out nice enough…as a quaint creek, and then opens up into grass channels.  When I went, the water was very low and this required getting out numerous times.  This wasn't too bad through as the river is pretty sandy and easy to walk on.  If you read the river right, you can avoid getting stuck more than needed.  All in all, this is a nice section, but there is nothing really special about it.  It's mostly the same old grass and avoiding the shallows can be tedious…especially in hot weather. 
Eventually the river empties into Swan Lake, which is a decently sized man-made lake that you have to navigate through.  The lake is very popular with power-boaters, so waves can be an issue.  We (as recommended) went south and then west a mile or so toward the DNR landing.  There is a beach where the Fox River empties into Swan Lake which can be a chance to take a swimming break if this works with the rest of your group.  As always when paddling decent sized lakes it's always a good idea to check the weather forecast as far as wind goes and to avoid the open water if blustery.
The campground offers an extended route that we did not take, but is an option for those interested.  Instead of  going just 4 miles…you can go another 4 miles to the Hwy 33 takeout (just upstream of the Portage Canal).  This requires, of course, paddling the length of Swan Lake before you paddle the remainder of the leg.
In the future, I hope to do the rest of the Fox from Hwy 33 to Governer Bend Park.  Last I heard there are just two hang-ups on the river.  One by the canal/Portage and one at the takeout/Governor Bend County Park.
Detailed Overview
Hwy H to Hwy E:  3.1 miles.  Creek/river is kind of small here and you may need high water.  Route is 3.1 miles and logjams shouldn't be an issue.  A very open and grassy route.
Hwy E to Ross Road:  2.9 miles.  Hwy E has tough parking because of steep shoulders but you should be able to park in a drive NW of the bridge.  Next 2.7 miles will be mostly open wetgrass and logjams shouldn't be an issue.
Ross Road to Hwy 44:  3.3 miles.  More open wetgrass for the next 2.9 miles with possible logjams before Hwy 44.  Parking isn't the greatest at Ross because of the steep shoulders.
Hwy 44 to Haynes Road: 6.6 miles.  An obscure section of the Fox River upstream of Pardeeville that has redeeming values, but can be a frustrating paddle because of the logjams in the stream.
Haynes Road to Hwy 22 Dam (the south one):  2.0 miles.  Looks like a boring lake paddle IMO.  I did not see public access at either dam, so you may have to portage them.  Am not sure.  I believe canoe author Frank Piraino put in on the Hwy 22 bridge by the north dam/fork. 
Hwy 22 to Swan Lake Campground:  2.6 miles.  I do not know much about this route, but it was paddled by Frank Piraino who had a favorable opinion of it.  Rumor has it there are snags here.  I suspect there will be jams in the north fork after Hwy 22, but the south fork should be free (but less scenic).  Swan Lake Campground requires a fee for access.
Swan Lake Campground to Swan Lake (South Shore Boat Ramp):  2.7 miles.  An ok stretch.  In essence a creek paddle through grasslands with a bit of lake paddling at the end.  Serviced by a local livery.
Swan Lake to Hwy 33:  5.8 miles.  Pleasant marsh paddle.  Does include 1-2 miles of paddling.
Portage Canal:  2.3 miles.  A unique experience filled with history.  Unfortunately the canal can be at times challenging to navigate.
Hwy 33 to Governor Bend:  5.4 miles.  A classic stretch and one of the best water trails on the Fox.
Governor Bend to Hwy O:  5.7 miles.  A pleasant stretch.
Hwy O to Endeavor:  7.6 miles.  A surprisingly nice section with good wildlife.
Buffalo Lake:  10.6 miles.  An artificial lake/flowage.  Looks boring….  Beware of the weeds in late summer.
Montello to Grand River Locks:  3.4 miles.  A good section. 
Grand River Locks to Lake Puckaway:  5.3 miles.  Probably a nice section.
Puckaway Lake:  6.2 miles.  Also looks boring and to be avoided.  At least it's not fake like Buffalo Lake.  Maybe 7 miles.
North Puckaway Lake to Princeton Locks/Dam:  9.8 miles.  I do not know much about this stretch.
Princeton Locks/Dam to the City of Princeton:  3.5 miles.  A simple but pleasant section.
City of Princeton to White River Locks:  6.0 miles.

City of Princeton to Old St. Marie Landing:  1.9 miles.  A pleasant wooded section with a historic turn bridge.
Old St. Marie Landing to the White River Locks:  4.1 miles.  A slow, broad channel that is ok, but gets repetitive.

White River Locks to Landing Road: 10.4 miles.  The White and Puchyan Rivers add a lot of volume by now.  Not sure this is a great paddling stretch.
Landing Road to Riverside Park in Berlin:  3.4 miles.  A simple section that flows through downtown Berlin.
Riverside Park to Eureka Boat Landing:  7.8 miles.  River is probably no longer a cute baby and is instead an ugly teenager.
Eureka to Omro:  Roughly 6.5 miles.  Probably too big to be enjoyable.
Omro to Lake Butte des Mortes:  5.0 miles.  Likely uninteresting.
Trip Map
Overview Map
Photos
2 Comments to "Fox River – Swan Lake"
How did your trip turn out?

Questions or comments?

Feel free to leave your feedback.