Elk River – Flemings Rapids Rd to Hwy W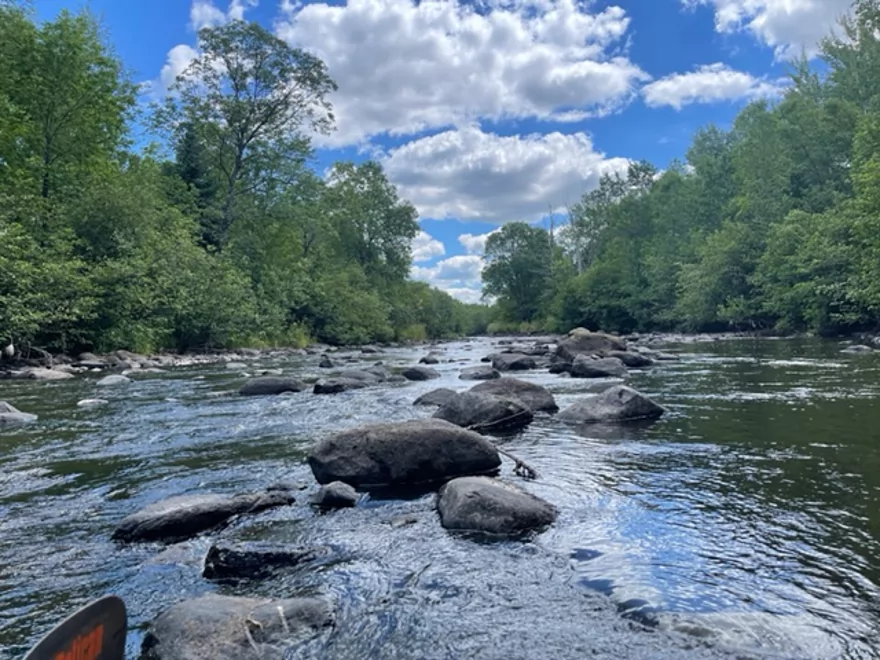 Put-in:
Flemings Rapids Rd
The Elk River is the source for a series of flowages in Price County. The trip passed through Soo Lake.
The put-in at Flemings Rapids Rd is very good with parking spots at the bridge approaches and is a popular fishing spot. The trip started out with abundant wildlife including a deer, loons, and many turtles. Grass Lake was the first lake encountered and is fairly shallow as expected. However, it was a good paddling depth.
After Grass Lake, there were a series of smaller rapids that were too shallow to run. The rapids had to be walked due to a lack of flow. Once the rapids were finished, the depth improved approaching Soo Lake.
Paddling across Soo Lake was very enjoyable with boats and jet skis keeping their distance. There weren't many waves and was easy to paddle across. The stretch closest to the dam is a no wake zone.
Wiemers Dam was easy to Portage with a path and a portapotty. The depth below the dam was good but quickly changed after approaching more rapids. There was a lot of walking through the rapids as the depth deteriorated.
The Elk flows into the South Fork of the Flambeau River which is a little deeper and there was an enjoyable finale to the Hwy W landing.
The scenery and the river has potential to be an excellent trip with higher water levels. I will definitely try again when the rapids can be properly run.
Addendum from the Webmaster:
Thanks Peter for the review! WisconsinRiverTrips.com is always very appreciative of guest reviews, and if you the reader is ever interested in submitting one, you can use this online form.
Elk River Overview from the Webmaster:
Upstream from the first FR 131 Bridge:  The river is likely too overgrown to paddle.
FR 131 to FR 136:  3.0 miles.  Not much is known about this stretch.  I suspect it is more open and marshy.  At times the river narrows dramatically and dense vegetation may form difficult bottlenecks for paddlers to get through.
FR 136 to FR 131:  6.1 miles.  Reviewed by Frank Piraino.  He described this as an intimate small channel with several shallow boulder gardens.  Parts of this section are difficult and include a large snag followed by some rapids in a dense boulder field.
FR 131 to Hwy H:  1.8 miles.  A more open and less wooded stretch of the river.
Hwy H to Musser Dam:  4.2 miles.  First half is narrow, wooded and rocky, and an interesting prospect.  Second half is likely uninteresting lake paddling.
Musser Dam to Big Elk Road:  7.3 miles.  Reviewed by Rick Kark.  He describes this as wooded and rocky.   Some rapids but none greater than Class 1.
Big Elk Road to Elk Lake Park:  3.7 miles.  Mostly wooded with some possible obstructions.  Some lake paddling at the end.
Elk Lake Park to Jobe Dam:  3.7 miles.  Mostly a lake paddle through the resort community of Phillips.
Jobe Dam to Flemings Rapids Road:  2.1 miles.  Long narrow lake.  Likely not super interesting.  Highlight is Flemings Rapids (Class 1) at the end.
Fleming Rapids Road to Hwy W:  9.2 miles.  Reviewed by Peter Johnson.

Fleming Rapids Road to Grassy Lake:  1.6 miles.
Grassy Lake: 0.8 miles.
Grassy Lake to Soo Lake:  2.1 miles.
Soo Lake to Wiemers Dam:  2.2 miles.
Wiemers Dam to Hwy S:  0.8 miles.
Hwy S to Mouth on Flambeau:  1.1 miles.
Mouth to Hwy W:  0.4 miles.
Trip Map
Overview Map
Photos
How did your trip turn out?

Questions or comments?

Feel free to leave your feedback.