Lemonweir River – 19th Ave to HH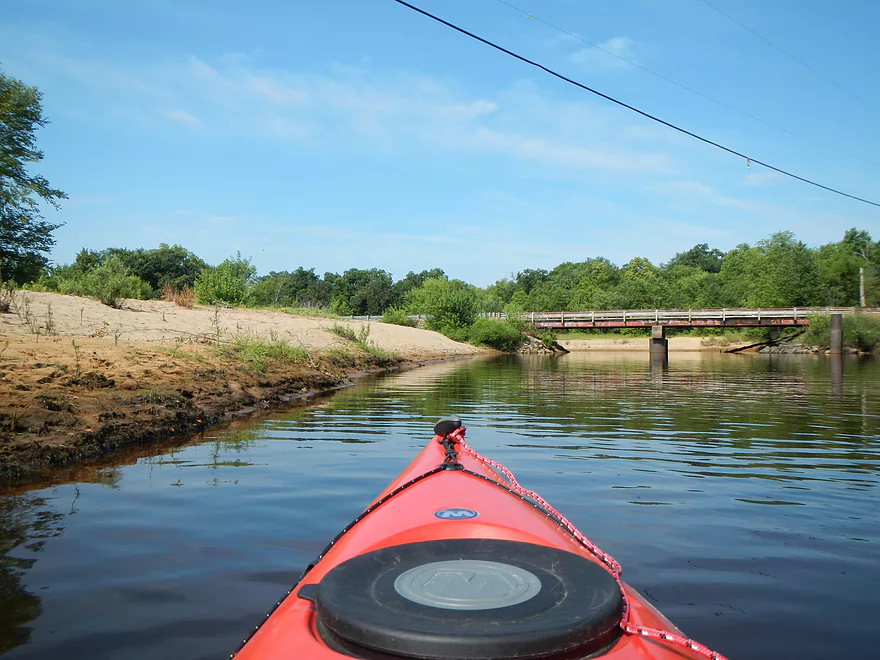 Having done and been pleasantly surprised with the previous two sections of the Lemonweir below Mauston, I decided to do the "middle section," which is a 14 mile stretch from the 19th Ave Landing to the HH landing (bridge to bridge).  If you haven't already, go ahead and read my review for the first five miles and the last five miles.  Thankfully the lower Lemonweir is serviced by a shuttle/rental service, "Country Cruisin' Canoes & Kayaks," which I was able to utilize.  They request that you do make appointments in advance though (608-548-4280).
In talking with my shuttle drivers, it appears that the section between the New Lisbon Dam and Mauston dam is probably too long to paddle, while the flowage above New Lisbon is too filled with log jams.  He did admit that it's been a while since he's paddled the upper Lemonweir and I have heard that there is a canoe race in the New Lisbon area, so they might not be too bad and could be future prospects.  He did confirm what I've heard before in that there are bluffs above Mauston (I think there is a set a couple miles below New Lisbon and another set 5 miles above New Lisbon, but could be wrong).  He did say the lower sections were the most popular and that there could be say 20 canoers on the river the day I went (which is a decent amount).
Normally, we would have put in at the public launch at the 19th Ave bridge, but due to the low water, the area around the landing had been reduced to a small pond.  This wouldn't have been the end of the world to portage, as the current is mild (more on this later) and there is a dug out area in the sand that would have been easy to portage through, but the shuttle driver volunteered to put me in at the private launch on the opposite side of the bridge, which worked fine.  Probably just as well, as I remember the 19th Ave public landing as a hotspot for mosquitoes (one of the worst I've ever encountered).  I paid my fee (shuttle only was 15 dollars I think) and paddled through the remnants of the Old Mill dam.  This (there were actually two mill dams) had been removed and the river has changed a lot since this happened.  The only evidence remaining of the dam are large, unusually shaped sandbars.
Paddling along, this segment of the trip wasn't super exciting.  The highlight were the frequent sandbars.  Which, while not epic like Wisconsin River sandbars, were decent.  The best sandbars will be in roughly the first half of the trip.  Roughly speaking, where there are sharp/long bends, there will be sandbars.  Bing maps actually has much better reconnaissance of the sandbar situation than google maps.  Why is this important?  Well if you go camping, then knowing where the best sandbars will be is very important, as is knowing where the backup plans are in case of high water and/or if the best sandbars are occupied.  Even if you don't go camping, it's always nice to take a break on the sandbars for lunch and to take a swim.  Because of the length, a lot of people do overnight camping trips on the Lemonweir, which is a good idea.  From Mauston to the mouth is roughly 25 miles, so picking a halfway point or just doing the right subsection for overnighting is pretty important.
Other than the sandbars, though, there isn't that much that is super exciting on this segment.  During the first half of the trip, you constantly hear Highway 82 in the background.  There isn't abundant wildlife, although there are nice clams and dragonflies.  The reason why there are so many dragonflies (and they're friendly!) is probably because of all the mosquitoes and flies.  This is a bad mosquito river…and you definitely want to bring your DEET-free/cancer-free repellent.  In fact, one of the houses I floated by had a mosquito net on their porch.  The water quality isn't bad (well, compared to, say, the muddy Baraboo) but it is not perfect.  The sandbars, while nice, tend to be on the runty side and not as clean and light as other sandbars I've been used to (plenty are nice enough for camping and picnicking though).
One of the biggest qualms I had about this section of the Lemonweir was the lack of current.  Sometimes it would just forget to move…and this was one of the slowest non-flowage rivers I've ever paddled.  The grade is well under 1′ per mile, which is bad (especially for a 14 mile trip!).  I did alright in a 12.5′ kayak cruising with little breaks to finish in five hours (long kayaks are faster).  But people with shorter kayaks or who aren't as athletic might find this tough sledding.  Normally, five miles is a nice trip length.  10 miles is a long trip.  And 14-15 miles is a very long trip.  Although current can "shorten" these trips considerably, the lack of current on a 14-mile trip was a big deal IMO.  I came across two older women who had purchased kayaks and this was one of their first trips.  Felt sorry for them that they made the mistake of starting with such an unreasonable trip for a first trip (beginners should start with top prospects like the Kickapoo!).  Also felt sorry that they were paddling in short "play kayaks" under 9′ that do not track nor maintain momentum well.  I came across the guy who was picking them up at the landing and he was shocked at how long it was taking them to paddle the river…
Before I paddled this segment, I did ask about log jams, and was told there was one…so I brought my saw and was able to cut through it when I came across it.  So this (and presumably the entire river below Mauston) should now be log jam free.  Now there are plenty (well a LOT) of logs in the water, but the Lemonweir is so big at this point that it goes around the jams.  The water levels were down and I did have to get out and drag my kayak twice.  Not a big deal with slow moving current and nice soft sandy bottoms. 
While there are a number of side sloughs/channels, it is pretty hard to get lost.  Generally speaking, just follow the largest/fastest channel.  There is one fork in the river that goes around a massive island (see map/pictures) and I went left (can't guarantee the right side is obstruction free).
Just before the HH bridge, I came across what appeared to be a lost canoe straddling a side channel shallow area.  During spring floods, unfortunately I think a number of people lost their boats.  This was a nice one, with padded seats, so hopefully the owners recover it (it has a rabbit and the word adventure on the bow if anybody is missing a canoe).  I informed the livery company of the canoe and its whereabouts so perhaps they can find the original owner.
I've referred to the take-out as the HH bridge…but technically this is not true.  Keep going past the HH bridge and there will be a snowmobile bridge almost immediately after.  The take-out is just after the bridge and on your left.  The landing and parking is nice, but there are no bathrooms here nor at the 19th Ave landing.
While some of this review may come across as negative (and it only has a two-star rating), I don't want to give the impression that this segment is all bad.  It can be a nice float that is reasonably remote (some houses on the river and road noise the first half).  If you bring your repellent, this can make for a very nice camping trip that should be much more private than, say, the Wisconsin River.  Generally speaking though, if you're new to the Lemonweir, I suggest doing the Mauston to 19th ave section or the HH to the mouth section instead.  The first is very nice– starts with some riffles and runs through a nice "north woods-ish-feeling" area, with clean defined banks and pines to 19th ave.  Occasional sandbars can be found in this section, including some nice ones.  From 19th to HH (which I just reviewed) is more floodplain territory…more hardwoods and sloppy bank quality, with occasional nice sandbars.  From HH to the mouth or Two Rivers Landing) makes for some nice delta paddling with three very nice bluffs on the water.  I do hope in the future to do more of the upper Lemonweir River, which seems promising.
Detailed Overview
Lemonweir River - Main Branch:
East/South Fork Confluence to Hwy PP:  1.0 miles.  Maybe 3 logjams.
Hwy PP to Funnel Road:  2.0 miles.  Very straight.  Maybe 6 logjams.
Funnel Road to 2nd Ave:  1.2 miles.  Very channelized and straight.  Maybe 3 logjams.
2nd Ave to Hwy H:  1.8 miles.  Maybe 4 logjams.  The channel at times is not well defined.
Hwy H to River Road:  2.3 miles.  Maybe 4-6 logjams.  There are confusing side channels and getting lost may be an issue.
River Road to 6th Ave:  5.4 miles.  Probably doable but there are a lot of logjams.
6th Ave to 37th Street Landing:  4.4 miles.  This is occasionally paddled but does have some logjams.  Definitely a future trip.
37th Street Landing to New Lisbon:  6.6 miles.  A big, long lake pretending to be a river.  Honestly, somewhat boring, but a nice rock outcropping, fall leaves and attractive white pines gave it redeeming value when I paddled it.
New Lisbon Dam to Hwy 12/16 Shoulder:  7.9 miles.  Nice prospect with the "Little Dells" rock outcrop…but some jams (maybe 6).  The Hwy 12/16 shoulder where a small creek enters the river is a speculative access option and may not be practical.
Hwy 12/16 Shoulder to Riverside Park in Mauston:  4.6 miles.  Mostly slow open flowage paddling.
Mauston Dam to 19th Ave:  4.5 miles.  One of the nicer stretches on the river. 
19th Ave to Hwy HH:  13.1 miles.  Not as interesting with slow current. 
Hwy HH to the Mouth:  3.3 miles.  Good section with attractive rock outcrops.  A prelude to the Dells.
Lemonweir River - East Fork:
Hwy EW to Buckley Ave:  3.1 miles.  Starts with some flowage paddling and then transitions into a marsh paddle.  Some of the dikes may be confusing to navigate.  Perhaps 12 logjams...but most are clustered near the end.
Buckley Ave to Hwy 173:  4.7 miles.  One of the most scenic stretches on the Lemonweir.  This is a diverse paddle with a marsh, a lake, cranberry bogs, sandbars, and scenic pines.  There are a handful of logjams but they are mostly located at the end of the trip and are easy portages.
Hwy 173 to Backwater Bar and Grill:  3.5 miles.  An interesting prospect through frac sand country and on my todo list.

Hwy 173 to Dove Ave:  0.9 miles.  Very open and sandy with countless small sandbars.  Good prospect.
Dove Ave to Cooper Road:  2.4 miles.  Sandy stretch that runs by some frac sand mines and cranberry farms.  Maybe two logjams, but mostly open.
Cooper Road to Backwater Bar and Grill:  0.2 miles.  A scenic stretch on a small flowage.  Note, I called the local bar and the access by the dam is open to the public.

Backwater Bar and Grill to Hwy 21:  0.5 miles.  Many likely logjams...perhaps almost nonstop.
Hwy 21 to East/South Fork Confluence:  0.3 miles.  Maybe 2-3 logjams.
Lemonweir River - South Fork:
Butts Park/Lake Tomah to Forbes Road:  4.5 miles. 


Butts Park to Lake Tomah Dam:  0.2 miles.  A short paddle on Lake Tomah to reach the dam.  Lake Tomah is a nice lake but nothing special.
Lake Tomah Dam to Memorial Park:  1.2 miles.  A small sandy stretch with many downed trees to deal with.
Memorial Park to Tomah Dog Park:  0.6 miles.  A mostly open and pleasant stretch...but there is one large logjam that was a very difficult portage.
Tomah Dog Park to Forbes Road:  2.5 miles.  The first half contains many logjams, some of which are difficult portages.  The second half is mostly open but does require two logjam portages.

Forbes Road to County Hwy N:  6.1 miles.  A future trip.

Forbes Road to Hwy ET:  1.6 miles.  Pretty open...maybe 2 logjams.
Hwy ET to County Hwy N:  4.5 miles.  Surprisingly open and a good prospect.  Maybe 3 logjams.

County Hwy N to Excelsior Ave:  3.0 miles.  The golf course is pretty open but the woods likely have a number of logjams....maybe 6-8.
Excelsior Ave to East/South Fork Confluence:  0.5 miles.  Likely countless logjams.
Trip Map
Overview Map
Video
View in fullscreen/1080 for max quality!


Photos
7 Comments to "Lemonweir River – 19th Ave to HH"
How did your trip turn out?

Questions or comments?

Feel free to leave your feedback.