Maunesha River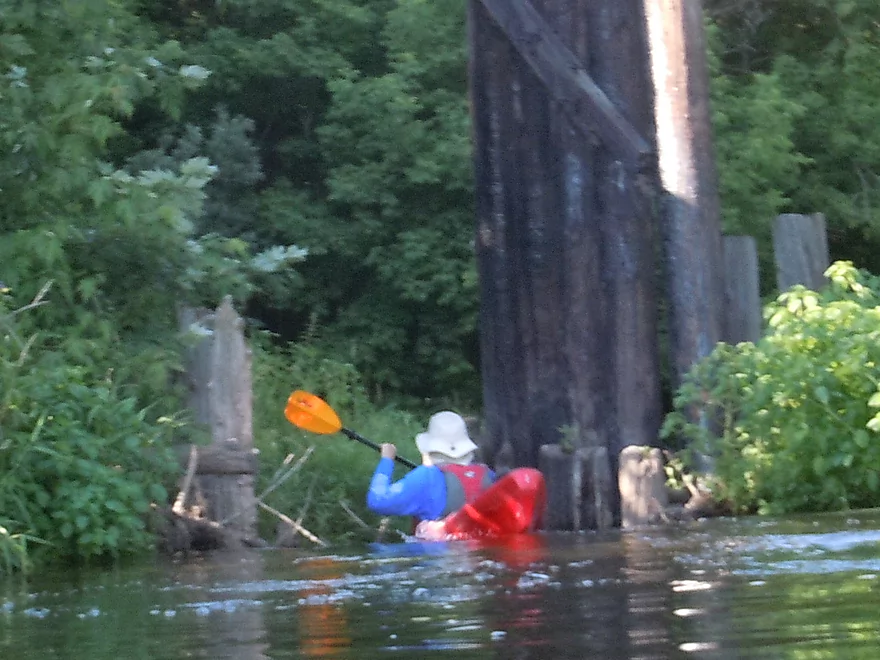 Put-in:
Marshall Dam (access below)
Time:
6 hours (4 hours would be more typical)
Gradient:
2.2' per mile until the third bridge, then 18' per mile in Waterloo
A good put-in and start to the trip below the dam at Marshall.  Right off the bat, there is a minor ledge you'll get to paddle over which foreshadows that this is not a lazy river.  Stay right of the island, but cross the rapids on the far left so you don't get hung up on the concrete debris (0:05 in the video).
The first mile of the trip is pretty open and mostly flanked by farmland.  Not too exotic.  You'll paddle by the amusement park "Little Amerricka" to start the trip (and will be able to hear it the roller coaster screams for two miles).  If you paddle upstream on Spring Creek, you can actually see the park train pass over the Spring Creek dam (0:39 in the video). 
Shortly after Spring Creek, you'll encounter the first of eight log jams.  I've meticulously marked these on the map with details of how severe they are for reference.  I only had to get out of my boat once for a portage, but this is only because I'm very experienced at this.  I'm able to get under and over logs that most cannot.  I suspect your typical paddler doing this section will have to do 4-5 portages and 3-4 annoying squeakers.  On top of this there were numerous "hat lifters", "pokers", "shovers" and "strainers" that added to the stress on an already fast, deep and dirty river.  So that was the downside of the trip.  One of the more interesting log jam adventures was when we encountered a large jam buried under gorgeous grape vines.  It was unassailable.   …unless you were willing to hop over two logs maybe a foot above water.   It made for an interesting picture (see below).
Aside from the log jams, dirty muddy water and occasional trash in the water this was actually a pretty cool paddle.  Good current with many frequent riffles.  Pretty much from the second Hwy 19 bridge for 3 for the next three miles, is mostly a woodland paddle.  The trees really enclose the river giving it a cozy and mysterious feel (you might not need your sunscreen for this trip).
After the 8th and final log jam (marked on the map), the river opens up where the old flowage used to be.  I really liked this section as it was very peaceful and scenic with the green rolling hills in the background.  The highlight was getting to see a 1-2′ beaver dam (and the owner furiously swimming away from us).  This was easy to get over and hopefully we didn't cause too much damage (2:13 in the video).  There is a bar nearby called "Whispers Bar and Grill", that may be a good alternate access to avoid the jams, but still be able to run the Waterloo rapids.  Call (920) 478-9787 for access options.
You'll see a lot of bridges on this trip including many road bridges and scenic pedestrian bridges, but the coolest are three massive railroad bridges.  Very historic, majestic and high up.  The third of which has a problem though.  The wooden pylons are mostly sealed shut by log jams with just one open chute on the far left.  This is an impressive drop of 3-4 feet and made very tricky as the open pylons can trap your kayak and turn it sideways unless you go down it PERFECTLY straight.  I made it through no problem, but my paddling companion paddled over a stick which acted like a spring and shoved the nose of the kayak behind a pylon on the right trapping the kayak in the fast current.  It was an adventure getting unstuck.  Needless to say I do recommend just portaging this instead (left bank).  Hopefully in the future this can be properly cleared out.
After that nasty chute is the good part.  A 2.5 mile paddle with mostly rapids through scenic Waterloo.  While you still need to dodge obstacles in fast water, there are no major log jams for the rest of the trip.  This was actually one of the better light whitewater experiences I've ever had and was a lot of fun.  If the trip had been just Waterloo, it would have been five stars.  Most of the many rapids are safe class 1's, but there are say two class 2's to be mindful of. 
One is where the old dam used to be and requires some quick turning in bouncy water (funnest rapids of the trip 3:24 in the video).   The second of which is just prior to the Madison Street bridge (it seemed pretty safe at these water levels 5:26 in the video).  With the bridge right there, it is easy to scout these rapids ahead of time to know if you'll have enough water (most days in the summer you won't).  Shortly after the dam, you'll see odd pylon concrete stumps which you should stay well away from.  The very fast current wraps around them and could pin your boat sideways. 
The scenery in Waterloo is very cool.  You'll see some unique architecture and bridges at times, but mostly you'll be paddling under a dense canopy of trees (very cool with rapids and rocks).  Even the towering malt factory (and its mysterious effluent seeping into the river) add an exotic touch to this stretch.
Take-out was at Fireman's Park which is a nice park, but was more difficult than expected because the parking wasn't obvious (the no-parking signs were) and the banks were steeper than anticipated.
So a frustrating trip because of the jams, the mishap under the railroad bridge and many other incidents which I won't mention (it was a jinxed day).  But…the river has a lot of potential and hopefully Capitol Water Trails and the Maunesha River Alliance can finish  the garbage and log jam cleanup they both started as it so would be worth it.  Until then, I do suggest this river…just put in by "The Whispers Bar and Grill" (ask permission first), portage the railroad bridge and run the 2.5 miles through Waterloo to Fireman's Park which will be a lot of fun (if you have enough water).  If you hear of any further cleanup work on the river, definitely add a comment below.
Webmaster's Update…as of 2019-11-13, all of these logjams have been cleared out thank to the Maunesha River Alliance!
Put-in:
Below the dam in Marshall is a very nice public launch on the north side of the river.  It's accessible via a hidey dirt road off of Waterloo Road.  Do park on the street and drag your boat down to the water as the road is in poor shape and you can get stuck (don't ask me how I know this).  There is a nearby outhouse in Lions park (north of the dam off Hubbell Street).
Take-out:
The take-out is in Fireman's Park Waterloo just prior to the Hendrick Street bridge.  The bridge has no parking signs everywhere which is unfortunate.  You can park west of the bridge and south of the river by the local sanitation plant where there is a decent parking lot and local water trail signs mark where you can access the river.  The water is deep here for an access with steeper banks, so this isn't ideal.
Shuttle Information:
I car shuttled, but a bike shuttle should be quite manageable at 4.9 miles with 56′ of climbing and 7′ of descending.
Hazards and Log Jams:
Many.  Detailed in the write-up above.  I had presumed they had been cleared out based on the reports from Capitolwatertrails.org and the Maunesha River Alliance.  But this was not the case.  Granted, I just had to portage once myself, but this doesn't tell the whole story as you'll find out.  I've marked the major hazards on the map so locals reading this review will have the information needed to find and clear them out.
Webmaster's Update…as of 2019-11-13, all of these logjams have been cleared out thank to the Maunesha River Alliance!
River Depth, Navigability and Current:
Crawfish River @ Milford – 1700 CFS:  The Maunesha River lacks a gauge so it is difficult to provide an accurate depth guide.  I suspect the best gauge is the Milford gauge on the Crawfish River located just downstream from the mouth.  But obviously this isn't accurate because it includes the much larger Crawfish.
0-300 CFS:  A low depth.  Upstream from the Malt Factory the river is likely fine for paddling.  Downstream where the rapids are it might be too shallow.
301-400 CFS:  An average depth.  The rapids downstream from the Malt Factory would be pretty bumpy but likely doable.
401-600 CFS:  Above average depth…a good target range.
601-800 CFS:  A high depth with poor water clarity.  A good target range for the rapids (although you'll still hit a few rocks).
801-1100 CFS:  A very high depth.  Current may be pushy in spots and the river likely isn't as attractive.  The downtown rapids stretch though would be fun to do at this level.
1101+ CFS:  Perhaps too high for enjoyable paddling.
Wildlife:
Many of the usual suspects: a beaver, muskrats, dragonflies, carp, a softshell turtle, ducklings and a great blue heron.  There were a lot of wild grapes growing on the banks and also a random apple tree hanging over the water nowhere near civilization which was cool.
Trees were mostly silver maple (the one tree that doesn't mind getting flooded), but unfortunately silver maples have a tendency to end up as log jams.   There were also walnuts, boxelders, willows, red oaks, and white oaks.  But the highlight of the trip were the bur oaks (mostly between Waterloo Road and Cherry Road).  Very majestic and grand, with one specimen having limbs that nearly spanned the width of the river…a nice contrast to some of the other messy trees along the banks.
Detailed Overview
Elder Lane to E. Branch Road:  1.8 miles.  Likely too many logjams.
E. Branch Road to Twin Lake Road:  1.1 miles.  Likely too many jams.
Twin Lake Road to Greenway Road:  1.4 miles.  Likely too many jams. 
Greenway Road to Hwy TT:  4.0 miles.  Passes through the Deansville State Wildlife Area.  Logjams are likely a major concern, but some of these should be cleaned out in the process of being cleaned out.  Greenway Road is likely NOT a feasible access.
Hwy TT to Lion's Park:  3.0 miles.

Hwy TT to Charles Langer Family Park:  1.4 miles.  Slow current, a bit muddy and partly wooded.  This was recently cleared of logjams.
Charles Langer Family Park to Lion's Park:  1.5 miles.  A lake paddle on Marshall Millpond.  The banks are heavily developed but still somewhat interesting.

Marshall Dam to Cherry Lane:  4.0 miles.

Dam/Waterloo Road Access to Waterloo Road Bridge:  1.4 miles.  A wider and more open section of the river. 
Waterloo Road Bridge to Cherry Lane:  1.6 miles.  Nice wooded section. 

Cherry Lane to Waterloo Firemen's Park:  5.3 miles.  A very nice stretch.  The first third flowed through a nice woods with thick gravel substrate.  The second third is a more open paddle through a former flowage.  The last third flowed through downtown Waterloo and contains many fun rapids.
Waterloo Firemen's Park to Hubbleton Road Landing:  6.4 miles.

Waterloo Firemen's Park to Hwy 19(1st bridge):  1.2 miles.  A scenic wooded stretch.
Hwy 19(1st bridge) to Hwy 19(2nd bridge):  2.0 miles.  A very cool wooded stretch that is quite scenic. 
Hwy 19(2nd bridge) to Hubbleton Road Landing:  2.3 miles.  River is wider, more open, and somewhat less interesting compared to upstream sections.

Hubbleton Road Landing to Hwy BB:  0.9 miles.  A short but simple stretch on the Crawfish.  There are nice boulders in the river near BB.
Trip Map
Overview Map
Video
Photos
12 Comments to "Maunesha River"
How did your trip turn out?

Questions or comments?

Feel free to leave your feedback.