Baraboo River Floodplains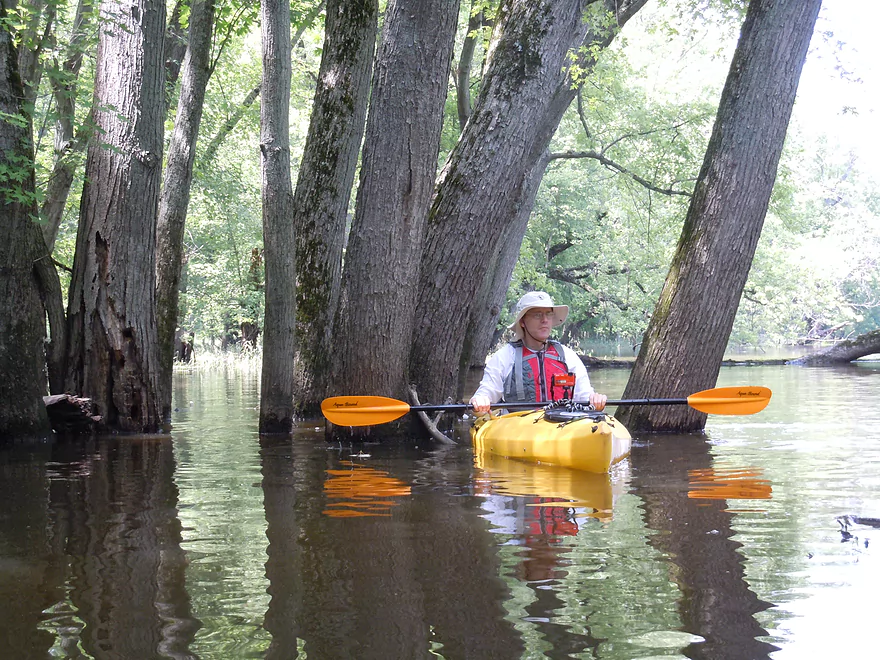 Take-out:
Waterfront Road Landing
This is the last paddlable segment on the Baraboo River before it hits the Wisconsin.  Normally this is a mediocre prospect due to dirty water, lack of sandbars, and occasional log jams (rumor has it that it might have been cleaned out locally).  But it's not a bad section to paddle that can be very peaceful and shady on a hot summer day, in contrast to the wide open Wisconsin River next door.
The goal of this trip was to intentionally paddle this segment during near flood stage, as it becomes a completely different prospect.  Why?  Well, what happens is that when the Baraboo spills its banks, it floods into the nearby forest, which creates a unique paddling experience.  There are two ways this can happen.  Either the Wisconsin floods and backfills a decent section of the Baraboo River floodplain, or the Baraboo itself floods.  At the time of the trip, both were happening.
For a trip on the lower Baraboo, putting in at Wayside Park (near Cascade Mountain) would normally be a great idea, as there is a fine landing there (no bathrooms though…heck, none of the Baraboo landings/bridges we came across had bathrooms).  But, at the time of the trip, the water was encroaching on the parking lot and was zipping.  I thought this would be too harrowing and opted for the Cty U bridge instead, which halved the trip to about five miles.  This may still be a nice section though, as it runs through a state natural area known for its large diameter hardwoods.  This could have been a better floodplain prospect, but I don't know…from the segments I saw between Wayside and U, the river had not spilled its banks here.
If you do a trip like this, be SUPER careful.  For starters, keep an eye on the USGS gauges (our measurements are at the top of the page) and the amount of recent rain, which will lag trend the gauge up or down.  The ft. reading isn't as important as the CFS though.  If that is too high, the river will become way too fast and dangerous.  Too low and you won't have adequate floodplain paddling options.  In our case, the river was a nasty compromise…tad fast for comfort, but not high enough for perfect floodplain paddling.  The most dangerous sections will be the most narrow on the river, as that will force the flood waters to speed up.  Once the flood waters spill their banks, you're actually in very good shape and it becomes actually easier to paddle, paradoxically enough (imagine removing your finger from a garden hose as an analogy).  Avoid paddling flood waters with long boats and canoes.  You need maneuverability to dodge strainers…so shorter is better.  Plus, longer boats are more apt to "dam the current" if turned slightly sideways.  Easy to do if you so much as brush against a branch or strainer in fast water.  If this happens, keep the current flowing under your boat…never over.  Tip the boat up to "eat the current" and you should stabilize somewhat.  Key is to never touch or even get close to strainers and to never turn your boat sideways in fast current.
Putting in at Cty U, the drainage ditch had flooded, which made for a perfect access point into the river.  Normally I don't know if the launch area is this nice or if this was a lucky accident.  The water was again quite high and, in fact, think with a foot higher we wouldn't have been able to get under the bridge and would have had to put in on the downstream side.   This section of the Baraboo is somewhat unique in that it has been artificially straightened and the banks raised by the local farmers.   This is "somewhat" unique because the farmers have done the very same thing multiple times between Baraboo and Cascade (poor Baraboo River!).  This is bad for high water paddling though as it funnels the water to speed it up.
We knew this in advance and hoped after some zippy "canal" paddling in the first 3000 ft, the water would spill its banks and everything would slow down.  Paddling the big ditch was a little tricky because of the speed and number of strainers.  Kind of like playing a classic bottom scrolling video game…you need to be on your game to avoid touching a strainer.  As long as you pay attention, have experience paddling, and have a maneuverable kayak, you'll be fine.  But turn your neck once too often and  the current will probably force you into and under a strainer.  Once the ditch ended, the banks unfortunately were still not spilled.  The day before, the CFS was about 33% higher and that probably would have been different.  It was still nice to be able to paddle the river in its more natural, curvy state.  The banks (at 1400 CFS) don't really spill consistently until maybe halfway into the trip.  You'll come across occasional sections that you can sneak into (usually you have to plow though a grass barrier) and there are side sloughs/lakes you can mess around in.
The most scenic sections (best forests), about in the middle of the trip, unfortunately were not adequately flooded to paddle (which I remember from being on as a kid).  This was a shame, although there were still nice sections to explore.  Once the banks no longer consistently hold the Baraboo, the river loses a lot of velocity and it becomes a very easy paddle.  Near the mouth, you'll actually bump into Wisconsin floodplains as well.  During high water, the Wisconsin will flood and backfill, which can be an alternative place for flood forest paddling.  Paddling the Boo at lower water levels while the Wisconsin is high is probably the safest way to do this…but you'll miss out on upper river flood forest.  You shouldn't miss the mouth of the Baraboo, despite the flooding (you'll see the power plant in the distance and a massive hill on your right). 
As far as wildlife goes, we didn't see too much, but one treat we did experience was a bald eagle that let us get relatively close to his perch.  A brief note on the log jams…while we never once had to get out to portage, there were some situations that might have been tricky in lower water.  I can't guarantee that this segment is jam free if paddled during lower water levels.
Take-out is actually, technically on the Wisconsin River…but not far from the Baraboo.  Hug the right shoreline, as the landings are easy to miss and protected by hidey channels/islands.  You'll have your choice of landings on either Waterfront Road or Thunderbird Road (about the same IMO).  I liked the idea of taking out on the first landing–in case I missed it, I could take out on the second.  Take-out was a little muddy though for a concrete landing and bugs were bad (bring your DEET-free repellent).
Detailed Overview
Nutmeg Road to Hwy PP:  6.2 miles.  Flows by the historic Elroy-Sparta Trail and is mostly open, but there are a few logjams.  This is a narrow small stretch that will need very high water to be runnable.  There are scenic outcrops on this stretch….maybe 3.
Hwy PP to 2nd Main Street:  1.6 miles.  Maybe 3 logjams.
2nd Main Street to Franklin Street:  0.9  miles.  Maybe 1-2 logjams.  Trip starts at a scenic covered bridge and on Class 1 rapids.
Franklin Street to Hwy 82(South of Lincoln Street):  0.5 miles.  A good stretch that is mostly open and has maybe one outcrop.
Hwy 82(South of Lincoln Street) to Schultz Park:  0.6 miles.  Maybe 2 logjams.
Schultz Park to Hwy 82(South of Snyder Road):  4.0 miles.

Schultz Park to Hwy 82(North of Lumsden Road):  0.6 miles.  One outcrop, one logjam portage and a few tight fits.
Hwy 82(North of Lumsden Road) to Hwy 82(South of Snyder Road):  3.4 miles.  Three outcrops, three significant logjams and several tight fits.  A section with good potential but needs cleanup work.

Hwy 82(South of Snyder Road) to Hwy W:  1.9 miles.  Maybe 2-3 jams…think this is doable though.
Hwy W to Hwy 82/Union Center:  1.3 miles.  Good prospect by the golf course with maybe 2 outcrops.  Maybe 1-2 logjams.
Hwy 82 to Hwy FF Landing/Wonewoc:  7.1 miles.  A great section with one of the largest rock outcrops on the river.
Hwy FF Landing to Wayside Park:  2.9 miles.  There used to be a lot of logjams here.  I think it might be doable…maybe 2-3 major portages.
Wayside Park to Kalepp Road:  4.5 miles.  An uninteresting part of the river with weedy, muddy banks.  But…there are three fantastic sandstone outcrops.
Kalepp Road to N. Dutch Hollow Road:  5.3 miles.  One logjam portage with several "hoppers" and "duckers".  There are some outcrops but most are recessed and away from the river.  Mud and downed trees are a bit unsightly, otherwise a pleasant paddle.
N. Dutch Hollow Road to La Valle:  3.8 miles.  Second best section on the entire river with great rock outcrops.
From La Valle to Lake Redstone:  3.6 miles.  One of the more underrated sections of the Boo, which I really liked.
Lake Redstone to Monument Park/Reedsburg:  9.0 miles.  Supposedly kind of boring, but the logjams should be cleared out.
Monument Park to South Park:  1.4 miles.  Spanning the length of Reedsburg, this should be a nice section mostly free of jams.
South Park to Golf Course Road:  4.7 miles.  Maybe 4-5 logjams.  Probably one too many.  Should be 1-2 small sandstone outcrops.  Golf Course Road might not be a good access.
Golf Course Road to Hwy 136(by Beth Road):  3.6 miles.  Maybe a few jams.  Likely mostly floodplain paddling and probably uninteresting.
Hwy 136(by Beth Road) to Hwy 136(by Ableman's Gorge):  6.0 miles.  Maybe some outcrops at the end, but mostly uninteresting paddling I suspect.  Likely several serious logjams with difficult portages because of the high muddy banks.
Hwy 136(by Ableman's Gorge) to North Freedom Boat Launch:  8.2 miles.

Hwy 136(by Ableman's Gorge) to Rock Springs Boat Launch/Firemen's Park:  1.3 miles.  One of the most scenic parts of the entire Baraboo River.  Highlights include a steep gorge, riverside boulders and scenic outcrops.
Rock Springs Boat Launch to North Freedom Boat Launch:  7.1 miles.  This is a nice paddle, but with some downed trees to dodge and one to portage.  Highlights include historic railroad bridges, scenic outcrops, and seeing the railroad museum from the river.

North Freedom Boat Launch to Giese Park:  7.4 miles. 


North Freedom Boat Launch to Kohlmeyer Road:  4.3 miles.  Stretch starts nice as the river naturally curves and has many shade trees.  There is a scenic long outcrop after Seeley Creek.  River becomes boring after that except for a scenic railroad bridge and a few rocky banks.  Kohlmeyer Road isn't a great bridge access.
Kohlmeyer Road to Giese Park:  3.1 miles.  Some longer and less interesting stretches.  There is however a unique large volume artesian well, and a historic railroad tunnel you can wade under.

Giese Park to Gander Outdoors:  2.9 miles.  A pleasant but simple farm country paddle.  Highlights include the Skillet Creek bridge, the towering Hwy 12 bridge, and a rock outcrop upstream of Hwy 12.
Gander Outdoors to Glenville Landing:  4.9 miles.  A fantastic stretch through the heart of Baraboo with many light rapids.

Gander Outdoors to Haskins Park:  0.6 miles.  A good stretch with some fantastic rapids upstream of Hwy 136.
Haskins Park to

Maxwell-Potter Conservancy

:  3.3 miles.  The best section on the entire river with many rapids.

Maxwell-Potter Conservancy

to Glenville Landing/Hwy 113:  1.1 miles.  A pleasant stretch, but lacking in rapids.

Glenville Landing to Luebke Landing:  5.1 miles.  A pleasant trip, but a little boring at times.  I would rate this as one of the more uninteresting sections of the Baraboo.  On the plus side it had no logjams (as of 2023) and remains plenty navigable even during big droughts.
Luebke Landing to Hwy 33:  3.5 miles.  This might be one of the better legs on the Lower Baraboo.
Hwy 33 to Wayside Park:  8.0 miles.  A stretch I'm curious about.
Wayside Park to Hwy U:  3.9 miles.  Simple but pleasant short section flanked by busy interstates.
From Hwy U to the mouth:  5.3 miles.  The final leg running through floodplain forest.
Notable Baraboo River Tributaries:
West Branch of the Baraboo River:  For the most part, too many logjams, but the flowage by Hillsboro is navigable with scenic outcrops by the dam.
Dutch Hollow Lake:  A heavily developed lake and popular with locals.  Not as great as Lake Redstone but still nice.  Dutch Hollow Creek is likely too shallow to run, but it (and the bike trail) goes past a fantastic and huge exposed rock face.
Hemlock Slough:  A nice little lake paddle with many rock outcrops and attractive hemlocks.  
Little Baraboo River:  For the most part too many logjams.  However the small flowage by Cazenovia Memorial Park is navigable and there are small outcrops both below the dam and on the northwest corner of Lee Lake.
Lake Redstone:  Definitely a fun paddle with fantastic red rock formations, a swimming beach, and a spillway waterfall.
Big Creek:  You can't get too far upstream because of logjams, but there is a nice outcrop by Hwy F and this can be combined with a trip on the north side of Lake Redstone.
Narrows Creek:  There is a neat section by Weidman Memorial Park with boulders and light rapids with I believe nearby outcrops downstream.  Unfortunately there are likely too many logjams.  I did partly paddle a nice downstream portion from the mouth on the Baraboo before I hit a logjam and turned back.
Seeley Creek:
Skillet Creek:

From Gasser Road to Pewit's Nest:  Gorgeous, but filled with logjams.
Pewit's Nest:  Stunning scenery, but the ledges are likely too steep and narrow for kayaking.  Best experienced as a hike.
Pewit's Nest to Hatchery Road:  A bit of nice geology, but likely small with several logjams.  Neither endpoint is a great access.

Rowley Creek:  A scenic creek, but shallow and with hostile locals.
Leech Creek:  From Hwy U to Tritz Road would be 2.5 miles.  Likely open and an easy paddle, but uninteresting because of the artificial channelization.
Long Lake:  A very slow creek that empties into the Boo close to the Wisconsin.  There could be serious logjams by the mouth, but the upper sections are plenty navigable and are paddled by locals.
Trip Map
Overview Map
Video
Photos
How did your trip turn out?

Questions or comments?

Feel free to leave your feedback.