Black River – West Clay School Road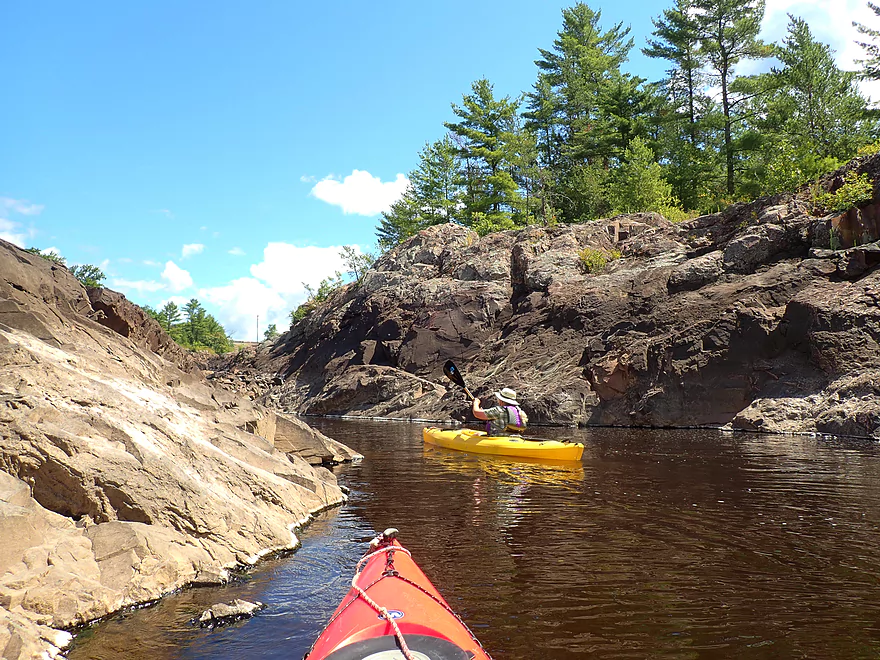 Put-in:
West Clay School Road
Take-out:
Powerhouse Road Landing
Gradient:
11' per mile (fast!)
The Black River is one of the best paddling rivers in the state.  And it's VERY BEST section is from the Hatfield dam to the Hatfield Powerhouse.  I've known about this leg for some time…but hadn't paddled it because of rumors of fierce rapids.  During my Lake Arbutus trip I extensively scouted the area and cross-correlated several depth gauges.  My surprise conclusion was that this leg actually WAS viable for rec paddlers but only if done at the right (meaning low) levels.  
So a month later I decided to finally do this trip.  Just to be safe though, we first scouted the river from the Hwy K bridge which has a fantastic vista of the Island Rapids (Class 3).  The backup plan was to do another stretch on the Black if things looked too rough (or bony), but fortunately water levels looked good and we decided to go for it.  We parked at the W. Clay School Road and hiked 780′ to reach the river.  That may sound like a long hike for a paddle…but it wasn't bad.  The trail was scenic (many white pines), mostly downhill, and helpful signs told kayakers where to go.
I knew from my Lake Arbutus scouting that the exact put-in location would be key.  If we launched too far downstream, we would miss out on a lot of good scenery.  Fortunately we found a nice area to launch from just upstream of the East Channel/West Channel confluence.  Here the West Channel "waterfall" (Class 4 rapids at the outlet) was immediately across from us and slightly to our left.  This allowed us to paddle upstream to the last East Channel pool and through a scenic gorge and dells.  Most rec paddlers won't think to paddle upstream like we did, but it's well worth the effort. 
Whitewater paddlers do occasionally paddle upstream into the East Channel gorge, but mostly to surf its fun waves (these didn't exist at our low levels).  Uber serious whitewater paddlers will actually put in below the East Channel dam itself.  When carrying a boat, this is a difficult hike over steep granite rocks.  After they reach the dam, they'll paddle the main East Channel gorge, which is stunningly scenic, but also very difficult even for expert whitewater paddlers.
After exploring the gorge as best we could we returned downstream.  We passed the outlet of the West Channel which contained a serious Class 4 drop (the "waterfall") and paddled past several fishermen casting their lines atop huge granite mounds.  Immediately downstream from the East/West Channel confluence there were light rapids, but nothing too serious.  Along the west bank was an impressive wall of granite.
After that, we turned left and came into view of the Hwy K bridge.  It's quite majestic and positioned atop steep granite cliffs.  It also looks suspiciously similar to the I-90 Mirror Lake bridge.  Along the shore, we saw a number of fishermen and hikers.  I guess the secret is out that this is one of the most scenic areas in the state.  Trails lead up to the Hwy K bridge on the east bank (and I believe the west bank), and certainly this is a viable access option for paddlers.  But had we launched here, we would have missed out on the most scenic part of the trip.
Following the Hwy K bridge the river is split by a large island.  In high water the east channel will be open and navigable…but on that day it was only a huge, dry boulder field.  The west channel contains the famous "Island Rapids" which are typically Class 3.  We had scouted these previously atop the Hwy K bridge, but also scouted these close-up along the east bank.  I HIGHLY recommend paddlers scout these rapids.  This is because these rapids (at our levels anyway) don't have a clean line…and you need to carefully fit between a few rocks and bounce over others.  I went through ok (and got an applause from the watching fishermen), but if you aren't comfortable with what you see, there is no shame in portaging.  The rec kayakers behind us did just that.  Following the Island Rapids there were a series of scenic boulders and additional Class1+ rapids (Class 2 in higher water).
That mostly concluded the first mile of the trip, which was terrific.  The second mile was flatwater and not as interesting.  There were still areas of exposed granite along the banks and scenic white pines that created nice reflections on the still water.  While we never saw the Hatfield Canal itself from the water, we did come close to one of its embankments which was quite large and towered over the river.
Another surprise was seeing fishermen in motorboats on this section.  That shouldn't have been possible as there were serious rapids above and below this leg.  But, it turns out there is a secret DNR boat landing along the eastern shore that allows big boats on this short stretch of the Black.  One of the few trip downers was the amount of algae in the water.  The Black is typically a very clean river, and I don't ever recall seeing this much algae.  I suspect one of the upstream wastewater plants (perhaps Hatfield's) is leaking untreated water into the river.
At roughly "mile 3" we encountered another large granite island.  We got out to scout the rapids, but the island itself turned out to be a highlight with exotic erosion patterns in the rocks.  In several areas small rocks would tunnel into the main granite like a drill.  Several of these potholes were impressively deep.
Along the north shore was a spectacular rock face, which I waded out among the boulders to get a nice photo of.  From here to the Hatfield Powerhouse was a mile of almost continuous rapids that were a lot of fun.  Past the granite island, we weaved around several large boulders while constantly on the lookout for the best path.  Just prior to where the river takes a sharp left, we encountered some more serious rapids (likely Class 2+).  These were quite rocky and lacked a clear line.  I made it through ok but did have to hop over and balance on several rocks.
Following a sharp turn south, we encountered our third and final large granite island.  The inside bend of the river is incredibly rugged and scenic…but unrunnable.  The outside channel was open and at one point the bulk of the river gets funneled through a narrow and impressive chute creating Class 3 rapids.  This we scouted from an adjacent island and liked what we saw.  While the drop was steep…there was a very clear line through.  These rapids were super fun, but our kayaks did take on a lot of water which we had to bail out.
After the Class 3, there was more spectacular scenery with large wedges of granite protruding into the river from the shoreline…but at this point we were a little "granited out".  Following a last series of rapids, we came to the Hatfield Powerhouse where there was a nice public landing.  Behind the powerhouse the canal came to an end as its contents were funneled into the powerhouse through massive black pipes.  One wonders what our trip would have been like if all that water had been flowing in the original channel instead.
In summary this was a fantastic trip…among the best I've ever done.  The boulder fields, granite outcrops, and rapids were all top-notch.  The big revelation from this trip (for me anyways) was that it's actually viable for rec paddlers, not just whitewater paddlers.  Now rec paddlers should still exercise a lot of caution…this means only going during low flows, scouting all the big rapids, and portaging the ones they aren't comfortable with.  The one thing I wouldn't recommend from our trip was taking out at the Hatfield Powerhouse as that made for a very short trip.  Instead I suggest taking out at Halls Creek which would mean more good scenery and rapids.
Hatfield Dam and Canal History:
In 1904, a dam was built at Hatfield which had a dramatic impact on the Black River.  The first big change was the creation of Lake Arbutus.  This was an ecological tragedy as it buried many interesting rapids and rock formations underwater.
A massive canal was created that connected the dam at Hatfield to a powerhouse three miles downstream.   This was a remarkable feat of engineering and to this day it remains the largest canal built in Wisconsin.  Unfortunately this canal means the original river channel is often artificially starved of water to feed the canal and the powerhouse.
Then two dams (not one) were created at Hatfield itself.  The west dam is the larger one, and I believe where the original river channel used to flow.  The east dam is built just upstream of the incredible granite fields.  However…the base of this dam is about 30′ higher than the west dam (per Google Earth), so I suspect the river never originally flowed through the gorge here. 
The two Hatfield dams have been beat up by floods over the years.  In 1993 the canal breached after heavy rains which was considered a dam failure and did result in flooding in Black River Falls.  In 2016, a large flood pushed docks, boats, and larger trees over the dam….some of which damaged the gates.  Here's an incredible video of a pontoon boat going over the west dam.  This event (and others) in the past two decades have necessitated serious repairs to the dam and even partial drawdown of Lake Arbutus. 
Is it worth it to have a powerhouse that generates a mere 6 MW given the ecological impact the dams have?  Good question.  For comparison the Columbia County Power Plant (north of Madison) generates 1,112 MW and the Horicon wind turbines generate 137 MW.
Noteworthy Wildlife:
Sights included two snakes (a red bellied and a baby milk snake), several eagles, one osprey (coincidentally near an artificial osprey nest platform), a scarlet tanager, many dragonflies, and a very large and wet mink.  At the powerhouse there was a massive pike.  If you count road sightings…we did see a roadkill porcupine on our shuttle and a coyote sprinted ahead of my car on busy I-94.
Local Diversions:

Granite Trail:  One of the coolest hikes in the entire state is to hike the granite gorge between Hwy K and the Hatfield Dam.  Park at the wayside off W. Clay School Road, then follow the scenic pine trail 780′ to reach the Black River.  From here you can hike east along the massive granite mounds and boulders until you reach the dam.  This is not an easy hike and will require climbing over some boulders…but it is fun and super scenic.  Here's drone footage of the gorge. If you're feeling adventurous you could cross the river at a shallow spot and explore the massive granite island between the west and east dams.  I do see fishermen on this island so crossing the river must be viable.  After that I suggest hiking downstream along the river until you reach Hwy K or even the Island Rapids which see occasional fishermen (so that too must be accessible by foot).  Then you can turn around and get out at Hwy K (the east embankment has convenient trails that lead up to the road) or you can perhaps head back upstream along the opposite shore.
Put-in:

West Clay School Road:  Off of W. Clay School Road there is an obscure wayside intended for kayakers.  Parking here is free.  From here, you'll need to drag your boat 780′ along a public trail to reach the water.  The dirt trail will fork…I suggest taking the right path as it will let you launch further upstream and you won't have to deal with the stairs on the left path.  The right path will be clearly marked…just follow the kayak signs.  The shoreline will be very rocky…but there is a small ledge that is good for launching (right at the junction of the east and west channels).  You want to pick your exact launch area carefully because if you launch too far downstream, you'll miss out on a neat paddling experience.  Ideally the "waterfall" (Class 4 rapids of the west channel joining the East Channel) should be left of your launch (not to the right).
Alternate Put-ins:
Lake Arbutus – East Dam:  There isn't an easy way to access the river below the east dam.   A few whitewater paddlers will hike 900′ upstream to reach this point, but that is difficult to do when carrying a boat over the rough terrain.  I suppose in theory you could hike along the railroad for about a third of a mile to reach the launch…but there are strict No Trespassing signs that prohibit hiking on the railroad.  There is actually a dirt road that leads to the dam, but it appears fenced shut from satellite images (although this fence may open on special occasions).  If the dam gates are closed, then the best way is to simply launch from a Lake Arbutus ramp, paddle 0.3 miles, and simply portage the east dam to start your trip.  You would need to dodge a debris guard cable (not that difficult…I've done it).  If the gates are open, this is too risky though because you would be too close to the outlets.  The reward for launching just below the east dam is high though…as the subsequent 900′ flows through a spectacular and steep granite gorge.  This is only for the most advanced whitewater paddlers as this stretch is too rocky in shallow water, and can have dangerous "keepers" in high water.

Lake Arbutus – West Dam:  The channel here is much bigger than the one from the east dam.  There is an access road along the dike that I believe is open to the public during special releases (not 100% sure).  Note, you are supposed to park at an obscure dirt parking lot…and not on the canal embankment itself.  An alternate way to access this area might be to launch from Lake Arbutus, duck the debris cable, and portage the dam (east side).  This would not be advised if a lot of water is going over this dam.  The advantage of launching here (adventurous paddlers only), is you get a cool vista of the railroad bridge, dam, and a large boulder field.  You also get to experience some Class 1-2 rapids and don't have to hike the 780′ path off of West Clay School Road.  Those doing this route will likely want to portage the Class 4 rapids at the confluence of the East/West channels (easy portage).  And then they would still want to explore the east channel as far upstream as they could to experience the granite gorge and its dells.
Hwy K:  In theory you could launch at the bridge.  There are small waysides on either side of the bridge and trails lead to the bottom where we saw many fishermen.  The east side of the bridge looks to be the better access option.  But…it would be a horrible mistake to launch here as you'll miss out on the most scenic stretch of the Black River located just a quarter mile upstream.
Take-out:

Powerhouse Road Landing:   There is a great public access located below the Powerhouse.  Parking is free and an outhouse is available.  The parking lot filled up during our trip, but I was able to park on the shoulder no problem.
Alternate Take-outs:
Palm Road Landing:  This is a super obscure DNR landing located one mile upstream of our take-out..   Frankly I don't think this is a good option.  The road leading to the landing is bad and may be impassable after a rain.   The location is also bad.  As a take-out, you leave the river too early (there are great rapids/scenery just downstream).  As a put-in, this means you would miss the incredible stretch by and above Hwy K.
Halls Creek Landing:  Most paddlers will take out here instead of by the Powerhouse to extend their trip from 3 miles to 7 miles.  This is highly recommended as 3 miles for most paddlers is just too short.  The stretch from the Powerhouse to Halls Creek landing is great and features more good scenery and rapids. 
Shuttle & Rental Information:
Bike Shuttle:  (4.0 miles – 16′ of ascent)  While we car shuttled, this would be a relatively easy bike shuttle at just 4 miles with practically no hills (except the take-out itself).
Hazards and Concerns:
Logjams/Fences/Strainers:  Nothing to worry about.
Dam Releases:
Hatfield Dam:  Both the East and West dams at Hatfield have occasional releases.  Usually these occur before or just after a big rain, but can also occur at unpredictable times such as for maintenance.  Additionally, there are special releases done for whitewater paddlers (usually once a month in the summer).  The exact dates, times, and amounts of these releases are posted online.  Rec paddlers likely don't want to do this stretch during a release.  If close to the dam, you should be able to hear an alarm horn that will sound prior to a release.
Hatfield Powerhouse:  Located near the take-out, this isn't much of a concern.  Even after a large release, the take-out will be well accessible and currents won't change that much. This might only be an issue if you actually (and foolishly ) attempt to paddle into the powerhouse itself.  Releases should be proceeded by a warning horn.
Rapids:
Hatfield Dam Rapids.  Both the East and West dam channels have significant rapids.  We launched at the confluence downstream of these channels and therefore didn't need to run them.  But I will still try to share what I know:

West Channel – Below Dam (Class 2):  There are rapids immediately below the dam that look fun. (Map Location)
West Channel – Outlet (Class 4):  Where the West channel empties into the East Channel is a steep drop (maybe 5′) and strong rapids.  These are easy to scout and/or portage if need be.  (Map Location – Video 415 CFS – Video 950 CFS)
East Channel – Gorge (Class 4/5+):  Perhaps the most extraordinary rapids in the state.  The action starts below the dam where steep granite banks narrow the river significantly and force it down deep chutes.  The gorge starts with Class 2-3 rapids but ends with two significant drops.  American Whitewater warns "between the dam and this point lie some serious drops which contain near inescapable boiling cauldrons at moderate to high flows"  So definitely only for advanced paddlers.  Often the "gorge" will be too shallow or too high.  Sometimes whitewater paddlers will just paddle up to the bottom of the gorge (where it is relatively safe) and simply surf the waves there.  At our low levels there were no waves.

Trip Rapids:  There were a number of rapids on our trip.  Most are manageable at low levels for rec paddlers with some whitewater experience.  But…there are a few stronger rapids that should be treated seriously by rec paddlers.  These rapids should be scouted and portaged if they look too difficult.

River Depth and Navigability:
This is very important as the river can be either too low for paddling or too high.  Rec paddlers should aim for low/safe levels while whitewater paddlers will prefer higher levels.  There are a number of gauges in the area but most are not trustworthy.
Neillsville Gauge: (Trip done at 415 CFS).  This is likely the best gauge of the lot but is quite flawed.  It's upstream of the East Fork and doesn't reflect dam releases done at Hatfield. 
Hwy K Visual Gauge:  There is a gauge under the Hwy K bridge, but it has been damaged by floodwater and is missing its lowest rung…so it's practically useless.
Hwy 95 Gauge and East Fork Gauges:   These are out of commission and of no use.
Hatfield Dam Gauge:  (Trip done at 882.43′)  The closest of the gauges but not trust worthy because it's on the lake and affected by the dam.
Hatfield Powerhouse Gauge:  (Trip done at 787.54′ or 409.0 CFS)  The gauge appears to be located on the downstream side of the powerhouse between two of the chutes.  While AmericanWhitewater.org refers to this gauge…I think it is of little use as it is erratic.  Strictly speaking it is on the millrace canal and separate from the original channel.  We did do a trip from the Powerhouse to Halls Creek a few years back when this gauge was at 176 CFS.  At the time the rapids upstream of the Powerhouse were low and bumpy.
Estimates based on the Neillsville Gauge.  If a release is happening, these figures won't be accurate.
0-150 CFS:  Perhaps too low.  Note, the dam operator might divert some water from the canal/lake to maintain minimum flow rates in the old river channel, which could be good news for paddlers.  I thought the floor for the original channel was 75 CFS but could be wrong.
151-300 CFS:  A low depth and a little bumpy.  I suspect this is doable for most rec paddlers, although some shallow areas may need to be waded.  When I scouted this stretch in June (250 CFS), the river looked low, but doable.
301-500 CFS:  A good target range for rec paddlers.  There will be a few bumps, but most rapids will be adequately padded and pretty fun.  Our trip was done at 415 CFS.
501-700 CFS:  Experienced rec paddlers should be ok…but the current will be pushy in spots and the river should be treated with respect.
701-1000 CFS: This is likely too high for most rec paddlers…but an ideal depth for experienced whitewater paddlers.  Here's a video of the Hatfield Gorge at about 1000 CFS.
1001-1400 CFS:  A very high depth…only suitable for experienced whitewater paddlers.
1400+ CFS:  Perhaps too high for almost all paddlers.  Here's a video of whitewater paddlers doing the river at about 3000-4000 CFS.  Note the huge waves!
Hatfield Dam Releases

Roughly speaking, once a month in the summer the Hatfield Dam will do a special release to help whitewater paddlers.  Detailed notes on these releases and how they work can be found here.  In 2020, the release dates are June 13th, July 11th, August 8th, and September 12th.  Note our trip (August 1st) was not done on a release.  Had it, I think water levels would have been a bit higher but perhaps not significantly so.  It's tough to say.  Rec paddlers may want to stay off this stretch during releases. 
The exact releases will happen between 11:00 AM and 3:00 PM.  The amount of water released is dependent tremendously on the amount of incoming water.  If inflows are 130 CFS or higher, they do a 350 CFS release.  If inflows are 70-130 CFS, they do a 200 CFS release.  If under 70 CFS, they do a 80 CFS release.  Given how much rain we've had these past few years, I suspect most recent releases are 350 CFS.
Here's a quote from "MnktoDave" on the releases:  "As I recall, when they do dam releases here, the dam releases water at a gradually increasing flow rate, during the whole scheduled release time…they do not just pump it up to the highest release level in short fashion and leave it there for the whole release (like most other dams do) so it's hard to know the exact levels when you run it. Depending on the amount of water in the reservoir above the dam, they (might) release up to about 450 cfs of total flow (half again what you see here) and it can get pretty gnarly in this narrow channel."
For more information about the releases you can contact "Friends of the Black River" (FB – Website).
Quick Overview
Black River:
Upstream of Hwy 73:  Obscure sections of the Black with little known about them.  Some legs will have logjam issues.
Hwy 73 to Lake Arbutus:  48 miles.  Good legs with a mix of rapids, boulder gardens and undeveloped banks.  Only reason these legs don't receive more paddling traffic is because they're located away from population centers.
Lake Arbutus:  3 miles.  A scenic but challenging lake because of the waves.
Hatfield Dam to Halls Creek Landing:  7 miles.  Some of the best and most fun whitewater on the Black River.
Halls Creek Landing to Black River Falls Dam:  6 miles.  An impounded part of the river, but nice with cool cliffs.
Black River Falls Dam to North Bend:  37 miles.  This is the heart of the Lower Black and sees the most paddling traffic.  No major rapids, but there are many scenic cliffs and creek inlets.
North Bend to Mouth:  30 miles.  This is the second half of the Lower Black.  While not as scenic, there are still cool sandbars and sandbanks.  Few paddle these stretches.
Noteworthy Tributaries:
Robinson Creek:  One of the best paddles in all of Wisconsin.
Halls Creek:  Also one of the best and with amazing sandstone walls. 
Morrison Creek:  Very scenic creek with some fun whitewater.
Wedges Creek:  Great paddle with amazing boulder gardens. 
East Fork of the Black River:  Some fun riffles and unique granite geology.
Perry Creek:  Shallow but a super scenic creek. 
Dickey Creek:  A wonderfully scenic creek with fantastic sandstone…but too many logjams.
Beaver Creek:  Some fun rapids and amazing sandstone in Galesville, but logjams on the downstream portions.
Popple River:  A shallow whitewater river that is very nice.
Arnold Creek:  A pleasant tributary to Lake Arbutus with really nice reflections.
Rock Creek:  Many scenic boulder gardens, but usually this creek is too shallow to run.
Roaring Creek:  Very scenic creek with a great waterfall at the mouth, but might be a challenge to paddle.
Vismal Creek:  Super scenic but has a lot of logjams and is shallow.  Requires very high water conditions.
Plus countless small creeks that are too small to paddle but quite fun to explore by foot.  If you know of viable paddling options, let me know!  Am very curious to know more about Douglas Creek, Levis Creek, O'Neal Creek, and Crawley Creek.
Detailed Overview
Headwaters to Neillsville:
Upstream of Division Drive:  Likely too many logjams to be navigable.
Division Drive to Sawyer Ave:  (6.5 miles)  Rocky and a few light rapids.  Maybe 4 logjams.
Sawyer Ave to Hwy 64:  (2.5 miles)  Rocky and a few light rapids.
Hwy 64 to Bridge Road:  (14.4 miles)  Solid prospect reviewed by Mike Svob.  Some Class 1 rapids and nice gravel bars.  Intermediate access points at Bahnkes Ave and Hwy AT.
Bridge Road to Hwy X:  (6.0 miles)  Little is known of this section…likely pretty simple.
Hwy X to Colby Factory Road:  (6.0 miles)  Little is known about this section…likely some rapids and outcrops.  Intermediate alt access points at Hwy 29 and Hwy N.
Colby Factory Road to Popple River Mouth:  (7.9 miles)  This stretch has far fewer rapids than downstream legs with only a few minor rapids.  It should still be pleasant though.
Popple River Mouth to Reese Ave:  (5.3 miles)

Popple River Mouth to Warner Drive:  (1.0 miles)  This is a slower and less interesting stretch, but does include 4 Class 1's and scenic Hemlock Rapids which are Class 3.
Warner Drive to Greenwood Park:  (3.4 miles)  A good leg with many rapids (3 Class 2's and 17 Class 1's).
Greenwood Park to Reese Ave:  (0.9 miles)  A slower stretch with just 2 Class 1's.  Part of this passes through the community of Greenwood.

Reese Ave to Twenty Six Rd:  (5.1 miles)

Reese Ave to Sladich Rd:  (0.7 miles)  A mostly nondescript wooded stretch.  The exception is Greenwood Rapids where an island splits the river.  The right side is scenic, but the left side has fun Class 3 rapids.
Sladich Rd to Willard Rd:  (1.6 miles)  A somewhat slow and relatively uninteresting leg.  Highlights include one nice outcrop, a few gravel bars and a 400' stretch of Class 1 rapids.
Willard Rd to Twenty Six Rd:  (2.8 miles)  A great leg with 10 Class 1's and 2 Class 2's.  Highlights also include scenic boulder gardens and a few outcrops.

Twenty Six Road to Hwy H:  (5.0 miles)  Multiple Class 1 & 2 rapids. 
Hwy H to Grand Ave/Hill Road:  (8.0 miles)  A great trip with several Class 2 rapids and scenic granite outcrops.
Note, for more details on the Upper Black, I highly recommend "Indian Head Rivers" by Michael Duncanson.
Alternate Black River Trips – Neillsville to Black River Falls:
Grand Ave/Hill Road to Opelt Road Landing:  (6.7 miles)

Grand Ave/Hill Road to Hwy 10:  (2.2 miles)  Nice section with a handful of rapids.  These are mostly Class 1 at lower depths, but strengthen to Class 2 during high flow rates.
Hwy 10 to River Road Landing:  (4.3 miles)  Fantastic whitewater section.  Maybe six Class 2's and two class 3's.  Scenic boulder gardens and a few outcrops.

Opelt Road Landing to Bryan Ave Bridge:  (1.1 miles)  Not sure there is anything special about this stretch.
Opelt Ave Bridge to Hwy 95:  (4.4 miles)  Ok…nothing special.
Hwy 95 to West Arbutus County Ramp/Hatfield Dam:  (4.8 miles)

Hwy 95 to North Arbutus Boat Landing:  (2.4 miles)  Includes a scenic gorge, boulder gardens and rapids including the Class 3 Red Granite Rapids.  River slows after rapids.
North Arbutus Boat Ramp to West Arbutus County Ramp:  (2.4 miles)  A large open water paddle on Lake Arbutus that can feature challenging waves on summer afternoons.

Hatfield Dam to West/East Channel Confluence:  0.2 or 0.3 miles.

West Dam to West/East Channel Confluence:  0.3 miles.  There is a large boulder field and Class 2 rapids below the west dam.  At the outlet of the west channel is a Class 4 drop.  This is easy to scout and portage.
East Dam to West/East Channel Confluence:  0.2 miles.  Perhaps the most extraordinary rapids in the state with Class 4/5+ rapids.  The action starts below the dam where steep granite banks narrow the river significantly and force it down deep chutes.  The gorge starts with Class 2-3 rapids but ends with two significant drops.  American Whitewater warns "between the dam and this point lie some serious drops which contain near inescapable boiling cauldrons at moderate to high flows". 

Hatfield Dam Confluence/West Clay School Road to Powerhouse Road Landing:  (3.1 miles)

Hatfield Dam Confluence to Hwy K:  (0.3 miles)  One of the most scenic paddling areas in the state with massive granite outcrops.  There is one set of Class 2 rapids.
Hwy K to Powerhouse Road Landing:  (2.8 miles) The first half mile by Hwy K is very scenic and contains one Class 3.  The second mile is mostly flatwater.  The third mile is almost continuous rapids and features one Class 3.

Powerhouse Road Landing to Halls Creek Landing:  (4.0 miles)  Scenic section with a few Class 2 rapids and a steep ledge.
Halls Creek Landing to Black River Falls Dam:  (6.2 miles)  Wonderful sandstone cliffs.
Alternate Black River Trips – Black River Falls to Mouth:
Black River Falls Dam to Mason's Landing:  (4.7 miles)  A great little section.
Mason's Landing to Irving Landing:  (9 miles)  A good section.
Irving Landing to Lost Falls Campground (2.3 miles)  A popular stretch.   Highlights include a few small outcrops, two tiny waterfalls, several impressive sandbars, and one large sandbank.  A side hike to Roaring Falls can be arranged.  Note Lost Falls Campground is private and you must purchase a pass from them to use their access.
Lost Falls Campground to Grinde Landing:  (6.4 miles)  A popular section with some nice outcrops and a waterfall by Roaring Creek.  Wolf Creek may also have a cool slot canyon.  The river splinters into multiple channels, some of which may be quite shallow in later summer.  As of 2023, Grinde Landing is closed because somebody stole the owner's deer stand.
Grinde Landing to Melrose Landing:  (3.9 miles)  A shorter section but with a really nice rock outcrop before Melrose Landing.  As of 2023, Grinde Landing is closed because somebody stole the owner's deer stand.
Melrose to North Bend:  (10.1 miles)  Likely the most popular stretch with the best sandbars on the river, three sets of outcrops, and a few waterfalls.
North Bend to Hwy 53:  (13.3 miles)  Likely a nice paddle with sandbars, large sandbanks and maybe a few outcrops.  Unfortunately it is very long.
Hwy 53 to Hwy 35:  (8 miles)  A nice section with epic sand banks.
Hwy 35 to Lytle Road:  (4.0 miles)  Goes through the Van Loon Floodplain Forest.  This can be a shallow trip but features many nice sandbars.
Lytle Road to Fred Funk Boat Landing (Mississippi):  (5.0 miles)  Multiple options because of the river delta.
Trip Map
Overview Map
Video
Photos
How did your trip turn out?

Questions or comments?

Feel free to leave your feedback.