Upper Spring Brook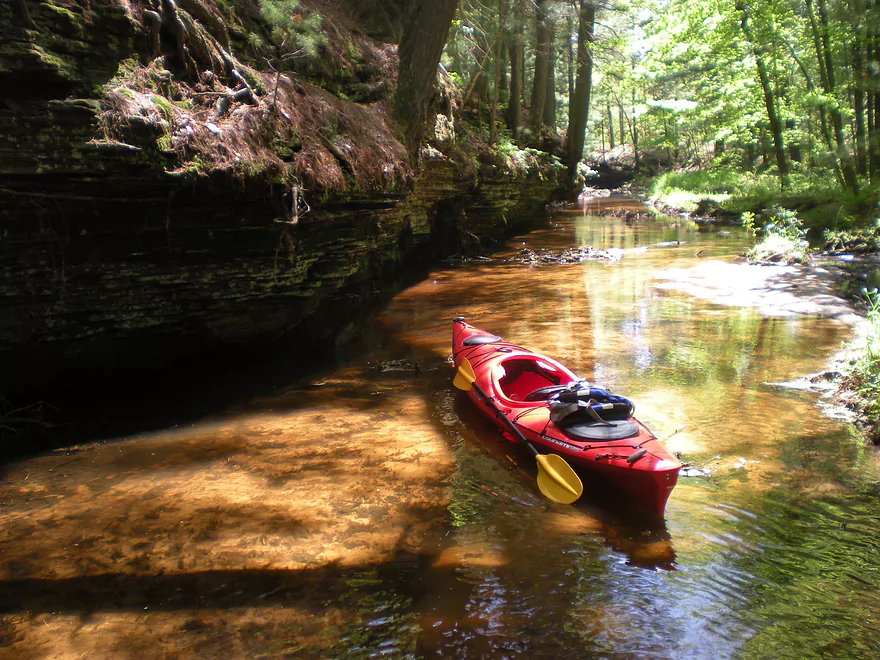 Put-in:
Spring Brook Landing
Take-out:
Spring Brook Landing
Distance:
3 Miles Round Trip (Roughly)
If you plan on kayaking in the Dells/Lake Delton area, chances are you'll do either Mirror Lake, the Upper Dells, the lower Dells, or even Lake Delton.  Somewhat of a secret that most paddlers don't know about is Spring Brook, which is a very cool creek north of Dell Creek and empties into Lake Delton under Highway 12 (right by the 'Ski, Sky and Stage show').  The lower section can be accessed by the main southeast Lake Delton boat ramp.  Put in here and paddle to the west node of Lake Delton (avoid the ski show if in session…) and sneak under Highway 12 through the concrete  tunnel.  And voilla, you are in Spring Brook.  This is a very cool area surrounded by bluffs on both sides and is quite scenic.  If it was more accessible, it would be a tourist trap.  The problem is that water levels can be a little low (you have to wade around a bit) and that access is somewhat nonexistent outside of the tunnel route I described.    The creek (going upstream) meets Lake Blass and the dam that creates the lake.  Logically you would think that with a dam, there would be access (there are roads and a resort there as well).  Unfortunately this is not the case, as the roads are gated and you can't even get close to the creek from this area. There are also, unfortunately, log jams, but the scenery is 5-star.  I hope to cover this section in more detail later.
The section that I will review will be on the upstream side of the Lake Blass dam and working my way as far upstream as I can get.  Getting into Lake Blass is a trick.  There is no landing on the west side…and there is a small unmarked public (90% sure it is public) landing on the east side.  It is very cramped back here though and parking is somewhat non-existent (with plenty of no-trespassing signs where you would like to park your car).  Another option is to go upstream into the creek a ways and put in at the marked (see map) landing near the Spring Brook Condo Park.  Basically it appears the company created a very nice canoe landing no doubt as a selling point for the local cabin owners.  This is not marked as no trespassing, so I assume it is open to the public.
Getting back to Lake Blass…this is a meh-meh paddling prospect.  Surrounded by private lake-front property and the interstate, there isn't anything too exciting about the man-made lake.  Going upstream, things get a little bit more interesting.  This is not a big creek, so you'll probably want aquatic shoes and to only go after it has been raining.  As you travel upstream on the creek (you'll first go under I-90), you'll notice nice bluffs, ferns on the banks, and clean, sandy water.  Somewhat 'typical Dells'…but very cool.  About half-way upstream, the creek splits and the minor channel cuts through the rocks and up a nice miniature waterfall.  Continuing on the main channel, you'll see more bluffs and a nice walk-bridge overlooking the creek (the condo association has created a nice trail system that parallels the creek).  Roughly after the bridge, the mini-bluffs die out and you'll come across a dam.  This is an easy portage and you're on the next lake.  Nothing special about this man-made lake either…although it is nicer than Lake Blass.  There are no bluffs that I could see from here on upstream.  About as far upstream as I could get was at the far northern end of the creek where it traversed a golf course.  I couldn't get through the tunnel there so that ended my adventures.
All in all, this section is a very cool section but is tough to deal with because of the lack of good access, the dams, and shallow waters during later summer.   Log jams aren't an issue on the upper section (with a minor squeaker near the second dam).  The lower area is definitely more scenic but harder to traverse and I hope to provide more details on this in the future.
Spring Brook Overview:
Upstream of Berry Lane: Seems too congested to run.
Berry Lane to Blass Lake Road Landing:  1.2 miles.

Berry Lane to Springbrook Dr.:  0.6 miles.   Small flowage pond paddle.  Nothing special.  Parking is poor at put-in and take-out.

Springbrook Dr. to Blass Lake Road:  0.6 miles.  A very scenic but shallow stretch with clear water, some micro-waterfalls, and outcrops.

Blass Lake Road Landing to Blass Lake Dam:  0.1 miles.  A short paddle on Blass Lake which is nothing special.
Blass Lake Dam to Clara Ave:  0.6 miles.  An extraordinarily scenic stretch, but the local resort does let you launch by the dam and the local condo association doesn't allow to take-out north of Clara Ave.
Clara Ave to Lake Delton Boat Ramp:  0.8 miles.

Clara Ave to Hwy 12:  0.2 miles.  Super scenic and shallow stretch by impressive rock outcrops.
Hwy 12 to Lake Delton Boat Ramp:  0.6 miles.  Short paddle on Lake Delton by the Ski/Sky/Stage Show and the heart of the Dells.
Trip Map
Overview Map
Photos
How did your trip turn out?

Questions or comments?

Feel free to leave your feedback.