Grand Island – Lake Superior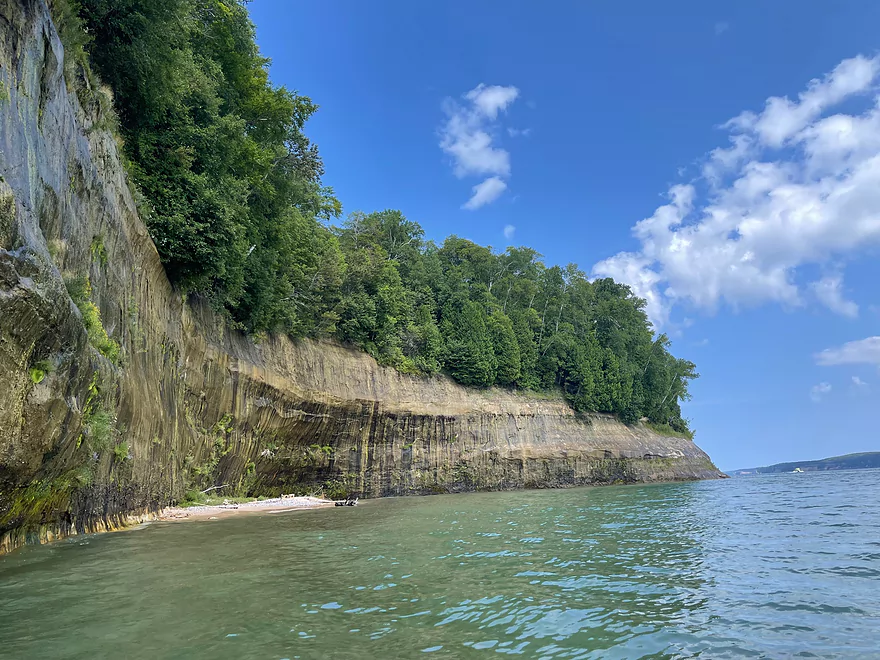 Take-out:
Sand Point Beach
Grand Island is one of the largest islands in Michigan and is often overlooked compared to the rest of the Pictured Rocks National Lakeshore. The island is only about a 1/2 mile paddle from the mainland and most of the paddle is over a large hidden sandbar. The shoreline is very scenic with outcrops and sea caves on the southeast side.
Trout Bay provides an inlet to Grand Island and on this trip I paddled across. It takes about an hour to cross and should only be attempted if winds are calm. There are more scenic cliffs after crossing the bay and it's tempting to keep going but make sure to allow for more time to get back when paddling.
Addendum from the Webmaster:
Thanks Peter for the review.  These are some of your best photos yet!  I actually think for kayakers Grand Island is a better option than Pictured Rocks National Lakeshore.
WisconsinRiverTrips.com is always very appreciative of guest reviews, and if you the reader is ever interested in submitting one, you can use this online form.
Misc notes from the Webmaster:
More on Grand Island:  Peter just explore a small part of the island.  If paddlers wish, there is more to do and see.

Shipwreck Bermuda:  This is in Murray Bay and can be seen when the sun is out and the water is calm.
Beaches:  There are several gravel and sand beaches.  The nicest sand beach is located in Trout Bay and is just at the point where Peter turned around.
Lighthouses:  The island has two lighthouses (East Channel Lighthouse and Grand Island North Lighthouse) which you can paddle by.
More Cliffs:  Most of the island, especially the east face and the northwest face have impressive cliffs.  Murray Bay, Trout Bay, and the southwest portion of the island do not have as many.   The best caves are in the southeast where Peter focused his trip.

Camping:  Because the island is too big to explore in one day, a good option is to split this into a multi-day trip by using one of several lake-side campsites.  Reservations are typically required required.  See this link for more info.
Non-Kayak Access:  Cars for the general public aren't allowed on the island.  A ferry does carry passengers and bikes to the island, but be warned the trails are in poor condition for biking.  A bus tour does run on the island, but the best way to see/experience Grand Island is from the water.
Respect the Wind:  Wind on Lake Superior can be quite strong, and you don't want to fight it.  The south shore of Grand Island will be somewhat protected, but still is a bit exposed.  I would be nervous about paddling Lake Superior in winds stronger than say 7 mph.
Lake Superior Waves:   Lake Superior is very Jekyll and Hyde…sometimes it can be quite calm and other times extremely rough.  Paddlers need to be very conscious of this and to absolutely stay off the lake when it is choppy.  Often the wave height will correlate with the winds…so big winds = big waves…no wind = no waves.  This also means that very early in the morning the lake can be deceptively calm, but in the afternoon stronger winds can cause waves to grow surprisingly fast and big.  An important consideration is the wind direction.  Waves can build up in size for miles, so if the wind is blowing toward the shore the waves will be significantly stronger and more dangerous.  Weather.gov has a rough wave forecast as does surfline.com.  Unless paddlers are experienced they should avoid Lake Superior when waves are over one foot.
Exposure:  Lake Superior is infamously cold even in the summer, especially further from shore.  Even in August when water temperatures are at their warmest, you can die of exposure if you spend a lot of time in the open water.  Protective clothing is highly recommended.  Also note, Lake Superior takes a long time to warm up and in spring, water temperatures are about the same as winter temperatures.  July to September are the best months for water temperature. 
Rentals/Tours:  There are numerous rental options and tours in the area, which you can Google for more info.
Trip Map
Photos
How did your trip turn out?

Questions or comments?

Feel free to leave your feedback.