Bois Brule River – Hwy 2 to Pine Tree Landing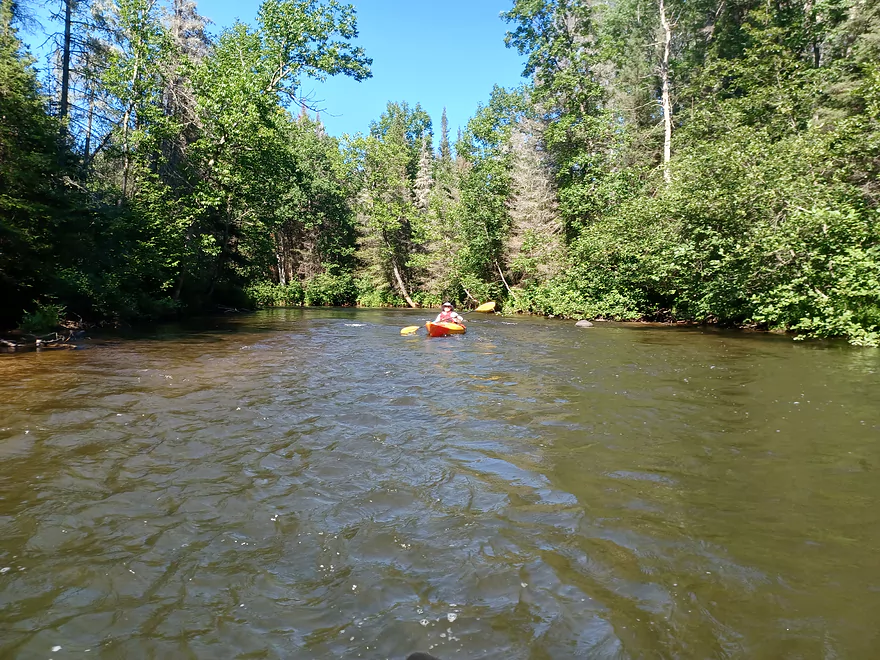 Take-out:
Pine Tree Landing
Time:
3:45 (with stops for pics and snacks)
We paddled this trip on 8/9/22.  Water levels were about 119 CFS, or slightly below the 125 CFS minimum recommended by several sources, but we found these levels to be totally doable. We both had flat bottom boats that can handle shallow water.  Tandem boats or boats with a V hull may need the recommended levels to avoid scraping.
We had three days to explore the river, and because my paddling partner wanted to avoid doing class 2 rapids we chose to do Stone's Bridge Landing to Winneboujou Landing, the section reviewed here and then the Hwy 13 Landing to Lake Superior. According to several sources this is the least popular section of the river, so we were very pleasantly surprised at how beautiful and enjoyable we found this section to be.
The Landing at Hwy 2 has ample parking, bathrooms, and water, but the landing is about 40 yards from the parking lot and has a few stairs. Additionally the platform at the landing was about 2 feet above the river level, so it ended up being easier to get in the boats from the water than from the landing. The river is narrow and fairly shallow here with a good current.  After a quick turn you will pass under 3 bridges, the old Hwy 2 bridge, the new Hwy 2 bridge, and the Tri-County Corridor bridge, a pedestrian/bike/snowmobile bridge.
The river then narrows, the current picks up, and the trees close in a bit. The river continues to twist and turn, passes a few nice cabins, and then enters the area known as "the Meadows" where the trees thin out a bit and there are more open areas. The river continues to vary between riffles, mild rapids, and calm areas as it winds its way past tree lined banks and open grassy areas. There are very few cabins or any other signs of development in this area, but you may see some people fishing as this is an excellent area for fly fishing with several well known "holes".
After several miles you will come to the Copper Range Landing and campground on the right. When we were there a massive Red Pine had fallen right in front of the landing.  It had been cleared some, but still blocked the view of the landing from the river. After a couple of turns and a couple of small rapids you will come to the Pine Tree Landing, also on the right. The landing is a short walk from the parking area which has bathrooms and water. Just down the road is a little bar, the Hungry Trout, a great place for a beer and handmade pizza, well worth a stop.
Here is a link to a video map and pics of our trip.
Addendum from the Webmaster:
Thanks Eric for the review! WisconsinRiverTrips.com is always very appreciative of guest reviews, and if you the reader is ever interested in submitting one, you can use this online form.
Bois Brule Overview from the Webmaster:
Hwy P to Stone's Bridge Landing:  9 miles.  There is a small launch area off Hwy P.  This section is a narrow creek running through a marsh and you may need extremely high water to get through.
Stone's Bridge Landing to Winneboujou Landing:  9.3 miles.  The most popular section on the entire river.  Very scenic with several Class 1 and Class 2 rapids. 
Winneboujou to River Road Landing:  2.8 miles.  A good prospect with one set of Class 2 rapids.
River Road Landing to Hwy 2 Landing:  1.7 miles.  A pleasant section with one set of Class 1 rapids.
Hwy 2 to Pine Tree Landing:  9.2 miles.  More open and slower, this is one of the least popular sections of the river.
Pine Tree Landing to Mouth on Lake Superior:  18.2 miles.

Pine Tree to Hwy FF Landing:  2.9 miles.  A faster section with more Class 1 Rapids.  There is one set of strong Class 2 rapids prior to Hwy FF.
Hwy FF to Hwy 13/Town Park Road Landing:  6.1 miles.  Rapids increase in strength.  Some strong Class 2's and a 3 foot ledge.
Hwy 13 to Brule Dam/Loveland Road:  2.3 miles.  Mostly minor rapids.
Brule Dam to Mouth:  6.7 miles.  A good flatwater section with the highlight being Lake Superior itself at the end. Take-out is east of the beach.
For additional details on the Lower Bois Brule rapids, see WisconsinTrailGuide.com.
Trip Map
Overview Map
Video
Photos
How did your trip turn out?

Questions or comments?

Feel free to leave your feedback.