Upper Yahara River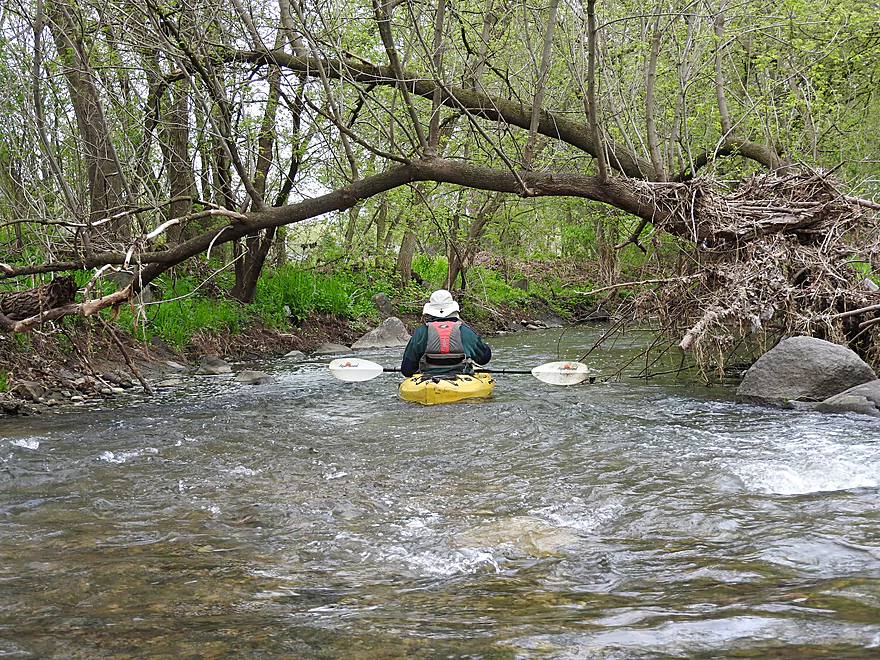 Put-in:
Veteran's Memorial Park
Time:
6 hours 39 minutes (2.5 hours would be more typical)
A few years ago, a reader by the name of Karl provided an interesting review on the Upper Yahara near DeForest.  This proved to be one of this site's most popular reviews and has been on my to-do list ever since.  Relatively recently local groups (Capitol Water Trails and Friends of the Yahara River Headwaters) have further worked to clean up this water trail, which is now in pretty good shape and a favorite paddle among locals.
There are four official canoe landings on the Upper Yahara, but practically speaking the best put-in and the one we used was Veterans Memorial Park.  Our trip started in a residential portion of DeForest with a narrow, fast and rocky channel.  Trees grew close to and over the water, giving this a unique enclosed feeling.  Much of the trip flowed through city park corridors, with the first being Western Green Area Park.  Here we frequently saw hikers on the local trail system which was extensive and often crossed the river.
The rapids started pretty light, but by South Street started to get serious.  Here the river had been artificially constricted and channelized, creating a really fun and scenic chute.  I ran it twice for additional pictures and video.
Past this point, the river then flowed by another park in Sunnybrook.  This marked a change in character, as the river lost most of its homes and became more wooded and wild.  The channel also became rockier and rapids became a more common feature.
Following River Road was one of my favorite stretches.  Here huge swaths of skunk cabbage grew like little forests and there was even a limestone outcrop.  In several cases springs fed the river and we could see the underground water bubbling up out of the ground like little volcanoes.  As we got close to the infernally noisy interstate we did have to portage a logjam, but that was pretty easy.
Following the second River Road bridge, we started encountering more serious rapids and even some surprise boulder gardens (reminiscent of the Waupaca River).  The Upper Yahara is another "Ice Age Paddle" located near the terminal moraine and outwash zone created by our last Ice Age.  The section by DeForest was located near the north of Glacial Lake Yahara which drained following the Ice Age.  The practical effect of this is that the Upper Yahara is rockier, cleaner, and more boulder strewn than it otherwise would be.  Much of this particular section was relatively undeveloped despite its proximity to DeForest thanks to the efforts of the Yahara River Conservancy.
We ended the trip at Sunfish Pond Park, which was the last official take-out (you won't miss it…there is a large sign here).  In theory we could have paddled further…but the 'highlights' would have been a golf course, the interstate and likely some logjams after that.  It's still an intriguing section I might do in the future though. 
In summary this was a really cool trip that I enjoyed and highly recommend.  It compares very favorably to other water trails in the area and might be the best in Dane County (even over other classics like the Badfish, Token Creek and Black Earth Creek).
Noteworthy Wildlife:
This was a terrific trip for wildlife, especially birds.  Here are just a few of the many highlights:
Bald Eagle
Red Tailed Hawk
Cooper's Hawk
Great Horned Owl
Wild Turkeys
Sandhill Cranes
Woodpeckers
Many small songbirds (the Yahara River corridor is known for being a birding hotspot)
Groundhogs
Several deer (they didn't look very healthy…maybe because they were shedding their winter coats)
Local Diversions:
Norske Nook:  This is a somewhat unique Norwegian themed restaurant known for its huge selection of pies…I think I counted over 50 on their main menu.   It's definitely worth checking out if you haven't been there before.  I had the pie of the month (Rhubarb Crunch) which was quite good.  The restaurant is located just next door to Veterans Memorial Park and we could smell the pies cooking as we launched our boats.
Put-in:
Veterans Memorial Park has an official launch area and is a nice put-in option.  Unfortunately the parking lot is located 260′ to the south, so some boat dragging was required.  This park (like the take-out) doesn't have any outhouses so plan accordingly.
There really aren't many good alternate put-ins.  Upstream, you could launch at the "Marvin & Marie Schweers Dog Park" or Yahara Road, but I suspect that stretch might have some logjams.  About a half mile downstream from Memorial Park, there is an official launch at Western Green Park…but IMO starting the trip here would cut out a nice stretch of the river.
Take-out:
We disembarked at Sunfish Pond Park located off Windsor Road.  There is an official launch here which made getting out easy.  …but the parking is over 600′ to the west, so that was a drag.
An alternate take-out about a mile upstream is at Innovation Drive.  There is an official launch here, but ending the trip early here cuts out a nice part of the trip.
An alternate take-out 2.8 miles downstream would be at Hwy 19.  This should be a suitable access, but this additional leg may have some logjams.  A good portion also flows through a large golf course.
Shuttle & Rental Information:
We car shuttled, but for those interested in bike shuttling there is an excellent option in the Upper Yahara River Trail.  This would be a short leg (3.6 miles) that largely parallels the river and should be very scenic.  The portions I saw were paved, which is always a bonus.  Here is the official trail map.
Hazards, Logjams and Current:
Logjams:  There was only one logjam that had to be portaged (marked on the map), but I thought this was relatively easy.
Current:  The current was very fast with many light rapids (none of which were greater than Class 1).  There was only one minor strainer, but otherwise I thought this was a pretty safe trip.
River Depth and Navigability:
There is a depth gauge conveniently located near the take-out.  The Upper Yahara is a shallow and rocky river which will need higher levels to be navigable.
< 27 CFS:  Likely too low for paddling.
27-32 CFS:  A very low depth.  A handful of the rapids might have to be walked.
33-38 CFS:  A low depth and mostly navigable.  Many of the rapids will be shallow.
39-48 CFS:  An average depth.  We did the trip at 43 CFS which I liked and many of the rapids had good padding.  But there were still a few bumpy rapids.
49-62 CFS:  A higher depth and likely pretty fun for the rapids.  Some of the nicer boulder gardens and clarity might be submerged at this point though.
63-84 CFS:  A pretty full river.  Great depth for whitewater paddlers.
85-100 CFS:  River might become pretty pushy at this point.  Perhaps only suitable for experienced paddlers.
101-200 CFS:  Some banks might start to overflow and standing waves could occur.  Definitely only for experienced paddlers.
201+ CFS:  Maybe too high?
Detailed Overview
Hwy 51 to E. Yahara Road:  1.4 miles. Very small and channelized, it seems open but there might be some snags here.
Yahara Road to Veterans Park (DeForest):  1.6 miles.  Very wooded so good chance of jams if not cleared out.
Veterans Park to Windsor Road/Sunfish Pond:  5.7 miles.  A small but fast stretch that has become popular in recent years.
Windsor Road to Linden Drive/I90: 1.5 miles.  An interesting section through a golf course.  Linden Drive access is privately owned by the golf course.
Linden Drive to Hwy 19:  1.3 miles.  There are too many logjams to recommend this.
Hwy 19 to Cherokee Park:  4.5 miles including 1.8 miles of lake paddling.  There are too many logjams downstream of Hwy 19 to recommend that as a put-in.
Cherokee Park to Tenney Park (aka Lake Mendota):  7.6 miles.  A nice lake but really too big and exposed for most paddlers.
Tenney Canal and Locks to Morrison Park:  1.3 miles.  A fun experience.  A canal fee might be required.
Morrison Park to Paunack Park (Lake Monona):  2.6 miles.  Mostly too big and busy to paddle, paddlers still do so and enjoy scenic vistas of the downtown.
Paunack Park to Babcock Park (Lake Waubesa):  4.2 miles.  Probably too much flatwater to be interesting.
Babcock Park to Fish Camp Park (Mud Lake):  4.1 miles.  Wide and flat.  Probably uninteresting.
Fish Camp Road to La Follette Park (Lake Kegonsa):  2.4 miles.  Probably uninteresting lake paddling.
La Follette Park to Viking County Park:  3.5 miles.  Finally back to river paddling!  An ok prospect, but slow and big.
Viking County Park to Dunkirk/Hwy N1st Bridge:  5.2 miles.

Viking County Park to Riverside Drive Park (Stoughton):  2.1 miles.  A flowage paddle through downtown Stoughton.
Riverside Drive Park to the Dunkirk Dam:  3.1 miles.  A small flowage that is ok but nothing special.

Dunkirk/Hwy N1st Bridge to W. Stebbinsville Rd:  4.8 miles. 

Dunkirk to Hwy N2nd Bridge:  2.5 miles.  A good stretch that starts a bit slow, but speeds up and contains a number of large scenic boulder gardens.
Hwy N2nd Bridge to W. Stebbinsville Rd:  2.3 miles.  A scenic rocky stretch flowing through glacial outwash.

Stebbinsville Rd to Murwin Park:  6.2 miles. 


Stebbinsville Rd to Hwy 59:  2.1 miles.  This is the last super stretch of the Lower Yahara.  After Badfish Creek joins up, the river becomes much larger and less interesting.
Hwy 59 to Murwin Park:  4.4 miles.  While not as scenic as upstream legs, this is still a solid stretch and popular with paddlers.

Murwin Park to the Rock River:  2.8 miles.  Final stretch on the Yahara and then a short leg on the Rock River.  Probably ok, but nothing special.
Many of Yahara's tributaries are navigable as well.
Badfish Creek - A classic!  One of the better paddles in Southern Wisconsin.
Token Creek - A surprisingly nice creek located northeast of Madison.
Nine Springs Creek - An underrated prospect located west of Lake Monona that has some attractive springs.
Six Mile Creek

Upper Six Mile Creek - Congested in spots, this is still a really neat paddle with character you don't expect from Southern Wisconsin.
Lower Six Mile Creek - Recently cleared of logjams, this is a varied paddle that includes both dense woods and open marshland.

Starkweather Creek - A slow urban paddle, but interesting because of its bridges and Olbrich Gardens. 
Pheasant Branch Creek - Located northwest of Madison, this is a short trip but has some spectacular springs.
Wingra Creek - A short urban paddle west of the Isthmus that might be fun.
Dorn Creek - A possible prospect west of Madison that would require a lot of water.
Seven Mile Creek - West of Lake Monona, I've heard this is a pleasant paddle.
Swan Creek - Possible prospect but short (south of Lake Waubesa)
Murphy Creek - Interesting wetland prospect but access on the upstream sections looks tricky (south of Lake Waubesa)
Door Creek - Small, slow and channelized but might be ok.  Has had recent cleanup work on it from I believe Hwy MN.
Trip Map
Overview Map
Video
Photos
40 Comments to "Upper Yahara River"
How did your trip turn out?

Questions or comments?

Feel free to leave your feedback.