Lemonweir River – New Lisbon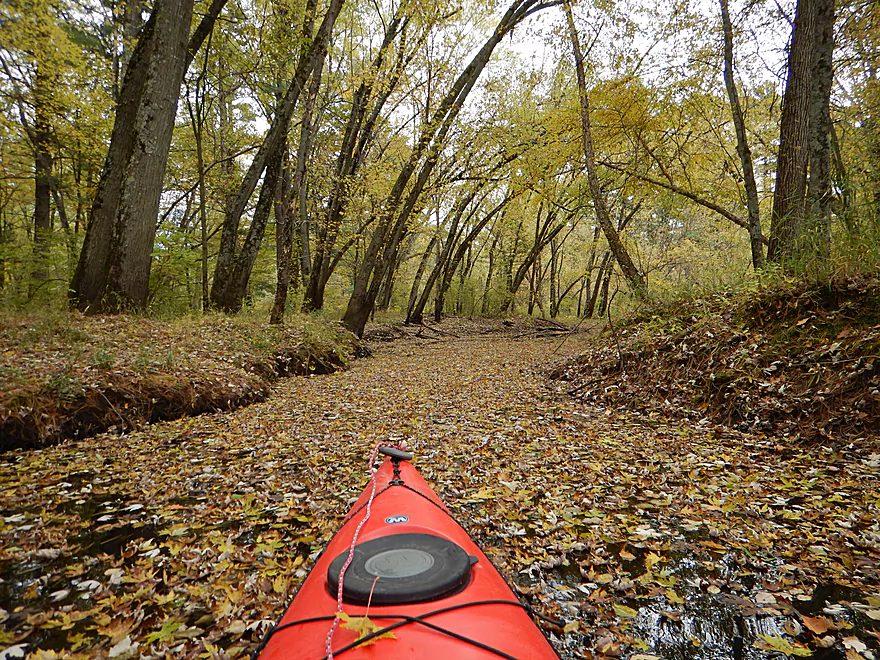 Put-in:
37th Street Public Access
Take-out:
Riverside Park in New Lisbon
Time:
4 hours 18 minutes (3 hours would be more typical)
A big, long lake pretending to be a river.  Honestly, somewhat boring, but a nice rock outcropping, fall leaves and attractive white pines gave it redeeming value.
Put-in:
The old put-in for this stretch used to be the Hwy M bridge (southeast side).  While there still appears to be a launch there, there are "no trespassing" signs along the road, so this is not very inviting.  Somewhat recently the county purchased land maybe 1000′ upstream of Hwy M and set up a public canoe launch on the south bank.  It is a small launch, but there is space to park.  The drive leading into the park is very steep and if the ground is wet, you may just want to park on the shoulder instead.  There are no facilities at this launch.
Shuttle Information:
While the lower Lemonweir is serviced by a livery, this upper section, I'm fairly certain, is not.  Not a big deal, as this is actually a pretty good bike shuttle at only five miles.  Starting from the take-out, there is a nice half-mile public bike trail that runs along the waterfront and crosses over the New Lisbon dam.  From here it is some easy town biking and then onto Hwy M, which is very pleasant, with little traffic and few hills.
River Depth, Navigability and Current:
Negligible current, especially once you get toward the main flowage.  In fact…I was never sure where the flowage started because the river was so slow and deep.  I went at 350 CFS according to the very local New Lisbon gauge, which was maybe a tad above normal, but was significantly higher than my previous three trips on the Lemonweir.  Because of the deep water, the river had little character and I wish I had paddled this during summer and a low of say 100 to 150 CFS.
Substrate and Water Quality:
Mixture of sand and mud.  Not too messy but not too clean either.  The water clarity was not good, but it wasn't that the water quality was so bad (wasn't great) but more so that the river was so deep.
Wildlife:
Skittish beaver, a falcon and a couple of deer.  Supposedly this is a rich area for wildlife but maybe not as much in the late fall.  The highlight for plants were the white pines (always a treat) and the wild rice beds (some of which looked ready for harvest).
The Trip:
While having done the Lemonweir three times before, it has always been the lower sections below the city of Mauston, as I've heard horror stories of log jams on the upper river.  While doing some research, I was able to determine there was an open stretch from Hwy M to New Lisbon and annual canoe races were actually held on this stretch.  Relatively new, Juneau County has constructed a canoe launch west of Hwy M, which was also a good sign (thanks to Ray Feldman for the tip).  With this in mind, I definitely wanted to paddle this stretch.
The river starts out nice enough, with a little current and nice tree walls.  Right past the landing will be a couple of houses and this will be all you see before you get to New Lisbon…so, in a sense, a good wilderness trip (minus the infernal I-90 road noise).  Near these houses is a very small rock outcropping where I saw two little kids furiously hammering away at the rock (think they were trying get the tree the outcropping was supporting to tip over).  They should not have been doing this…
The second rock outcropping is maybe a mile later and much larger and nicer. 

The feel of much of the river is one big, slow, deep lake.  The bank quality isn't too bad and is definitely more tidy than the lower Lemonweir.  What was unique about this trip was the timing.  Fall color was past prime (unfortunately) but many leaves had ended up in the river instead which offered some unique scenes that few paddlers see on rivers like these.

Soon you'll paddle by a public canoe ramp which marks the start of Kennedy County Park.  Quite large, this protected area is a nice stretch of the river.  There are numerous oxbows and islands and it is possible (as I did) to end up paddling the wrong way.  Just read the current (not always easy) and follow the largest channel to find the best path.
Close to I-90 the flowage kicks in at full force (I was never sure where it "technically" started) and the channel becomes open and stagnant.  Once past I-90, you are in the main lake and it is an easy paddle to Riverside Park on your left.
My review might be coming off more harsh than is deservedly so.  Really, I paddled when there was little foliage on the trees, the water levels were twice what was optimal, and it was cold and windy.  So, I might be jaded by the context and this section of the Lemonweir could actually be a three-star prospect.
Hazards and Log Jams:
None.  Well, maybe a low-hanging branch that required a little bit of ducking, but that was nothing.  If you are disappointed and actually like log jams, don't worry, as there are plenty upstream of the Hwy M bridge.  The dam at New Lisbon is something to be mindful of, but really, the take-out is well away from that.  There is a portage path on the northeast side of the dam if you really wanted to portage it.
Take-out:
Riverside Park is a convenient public landing on the south side of the flowage.  The park has a nice boat ramp with good parking, bathrooms and even showers.  Riverside doubles as an RV campsite, so is kind of busy (I preferred to lock my bike/kayak at the put-in instead!).
Human Impact:
The Lemonweir has numerous "human" issues.  The upstream sections have been heavily rerouted and straightened, which artificially drains the upper watershed faster than normal, which in turn exaggerates the high and low flow rates, which in turn contributes to erosion and poor bank quality.
There are many cranberry marshes on the upper sections of the Lemonweir, which are never a good thing for a watershed because of the pesticides they use and the disruptions they cause to the water table.
The big issue for this trip is the dam at New Lisbon.  Already a slow river, the small dam creates a huge (and boring) flowage that really robs the river of recreational potential.  It also (like all flowages) disrupts and weakens the local ecosystem.
You probably won't see too many people on the river (unless you happen to go during the annual canoe race), but I did see three motorboats (all hunters). 
Final rant will be for the noise caused by I-90.  You can hear this, literally, miles away and it started about at Kennedy County Park.  Most unfortunate.
Detailed Overview
Lemonweir River - Main Branch:
East/South Fork Confluence to Hwy PP:  1.0 miles.  Maybe 3 logjams.
Hwy PP to Funnel Road:  2.0 miles.  Very straight.  Maybe 6 logjams.
Funnel Road to 2nd Ave:  1.2 miles.  Very channelized and straight.  Maybe 3 logjams.
2nd Ave to Hwy H:  1.8 miles.  Maybe 4 logjams.  The channel at times is not well defined.
Hwy H to River Road:  2.3 miles.  Maybe 4-6 logjams.  There are confusing side channels and getting lost may be an issue.
River Road to 6th Ave:  5.4 miles.  Probably doable but there are a lot of logjams.
6th Ave to 37th Street Landing:  4.4 miles.  This is occasionally paddled but does have some logjams.  Definitely a future trip.
37th Street Landing to New Lisbon:  6.6 miles.  A big, long lake pretending to be a river.  Honestly, somewhat boring, but a nice rock outcropping, fall leaves and attractive white pines gave it redeeming value when I paddled it.
New Lisbon Dam to Hwy 12/16 Shoulder:  7.9 miles.  Nice prospect with the "Little Dells" rock outcrop…but some jams (maybe 6).  The Hwy 12/16 shoulder where a small creek enters the river is a speculative access option and may not be practical.
Hwy 12/16 Shoulder to Riverside Park in Mauston:  4.6 miles.  Mostly slow open flowage paddling.
Mauston Dam to 19th Ave:  4.5 miles.  One of the nicer stretches on the river. 
19th Ave to Hwy HH:  13.1 miles.  Not as interesting with slow current. 
Hwy HH to the Mouth:  3.3 miles.  Good section with attractive rock outcrops.  A prelude to the Dells.
Lemonweir River - East Fork:
Hwy EW to Buckley Ave:  3.1 miles.  Starts with some flowage paddling and then transitions into a marsh paddle.  Some of the dikes may be confusing to navigate.  Perhaps 12 logjams...but most are clustered near the end.
Buckley Ave to Hwy 173:  4.7 miles.  One of the most scenic stretches on the Lemonweir.  This is a diverse paddle with a marsh, a lake, cranberry bogs, sandbars, and scenic pines.  There are a handful of logjams but they are mostly located at the end of the trip and are easy portages.
Hwy 173 to Backwater Bar and Grill:  3.5 miles.  An interesting prospect through frac sand country and on my todo list.

Hwy 173 to Dove Ave:  0.9 miles.  Very open and sandy with countless small sandbars.  Good prospect.
Dove Ave to Cooper Road:  2.4 miles.  Sandy stretch that runs by some frac sand mines and cranberry farms.  Maybe two logjams, but mostly open.
Cooper Road to Backwater Bar and Grill:  0.2 miles.  A scenic stretch on a small flowage.  Note, I called the local bar and the access by the dam is open to the public.

Backwater Bar and Grill to Hwy 21:  0.5 miles.  Many likely logjams...perhaps almost nonstop.
Hwy 21 to East/South Fork Confluence:  0.3 miles.  Maybe 2-3 logjams.
Lemonweir River - South Fork:
Butts Park/Lake Tomah to Forbes Road:  4.5 miles. 


Butts Park to Lake Tomah Dam:  0.2 miles.  A short paddle on Lake Tomah to reach the dam.  Lake Tomah is a nice lake but nothing special.
Lake Tomah Dam to Memorial Park:  1.2 miles.  A small sandy stretch with many downed trees to deal with.
Memorial Park to Tomah Dog Park:  0.6 miles.  A mostly open and pleasant stretch...but there is one large logjam that was a very difficult portage.
Tomah Dog Park to Forbes Road:  2.5 miles.  The first half contains many logjams, some of which are difficult portages.  The second half is mostly open but does require two logjam portages.

Forbes Road to County Hwy N:  6.1 miles.  A future trip.

Forbes Road to Hwy ET:  1.6 miles.  Pretty open...maybe 2 logjams.
Hwy ET to County Hwy N:  4.5 miles.  Surprisingly open and a good prospect.  Maybe 3 logjams.

County Hwy N to Excelsior Ave:  3.0 miles.  The golf course is pretty open but the woods likely have a number of logjams....maybe 6-8.
Excelsior Ave to East/South Fork Confluence:  0.5 miles.  Likely countless logjams.
Trip Map
Overview Map
Video
Photos
4 Comments to "Lemonweir River – New Lisbon"
How did your trip turn out?

Questions or comments?

Feel free to leave your feedback.