Big Rib River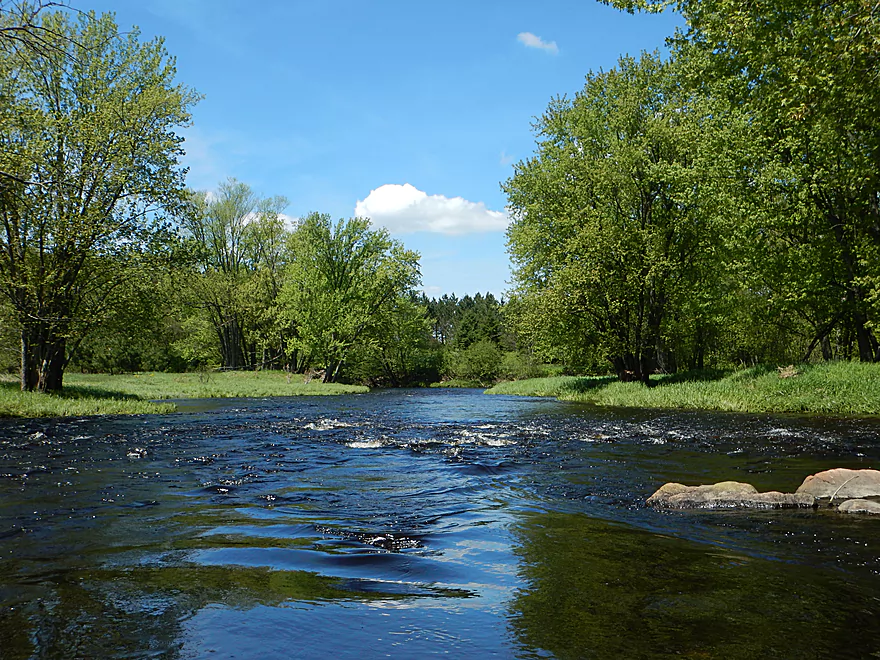 The Big Rib is located in central Wisconsin and empties into the Wisconsin River near Wausau. It does get some paddling traffic but by and large is overshadowed by the other Wausau River (the Eau Claire). The lower sections of the Big Rib are mostly flatwater and unlikely to be as interesting. The middle sections have the best rapids and dells, and are a popular stretch for whitewater paddlers.  But for this trip, I wanted to explore the more obscure far upper reaches.
The expectation for this trip was that it would be a narrow creek flanked by thick pine forests, crystal clear water, large boulder gardens and filled with fun rapids. Perhaps unreasonable…but this was mostly not the case and honestly the trip was a bit of a letdown. The channel was wide and the hill-less banks contained simple grasses, shrubs and a thin layer of hardwoods. I suspect logging has been an issue. Not much for boulder gardens with maybe a small red granite rock here and there. While the current is good, there is only one set of genuine Class 1 rapids. Everything else is riffles and maybe Class 0.5 rapids.
It's not all negative though… Unlike many southern Wisconsin rivers, the Big Rib is remarkably free of mud and the substrate consisted of a neat gravel that you could occasionally see through the root beer water. There are also very few signs of civilization (just a a couple of hunting shacks) and the trip did become more scenic near the end. If this was a river in Southern Wisconsin, it would be actually be 4 stars, but expectations need to be higher for up-north prospects.
In summary, this was a pleasant trip but not special. If you're a local consider checking it out, otherwise there are better alternatives (like the Eau Claire). Now the Big Rib isn't a bad paddling river. Part of the problem was that I just chose the wrong section. The segment immediately downstream of mine has a ton of rapids and the famous dells, and would have been a much superior trip. Amco County Park to Hwy A would also have been a much better option (my backup plan that I had scouted). Oh well…live and learn.
Special thanks to CopperSmithstudios.com for information provided on the river which has some amazing stream pictures. I did the trip partly based on this stunning photo, but it turns out that is downstream of Hwy 64, not upstream. Also thanks to Frank Piraino for his information on the upper reaches. He has a great guidebook of obscure prospects but unfortunately this (like almost all Wisconsin paddling publications) is out of print.
Put-in:
Ok put-in at Lemke Drive.  Lemke is unique as it is a continuous north-south road that instead of going over the river, goes under.  The idea being that if the water is shallow enough and you have high enough clearance, you can ford it (not that day though).  You can launch from both ends, but I chose the south side and the road itself makes a perfect launch ramp.  Note, the nearby forests have No Trespassing signs so don't wander too far from the road.
Take-out:
Ok take-out at Hwy 64.  You'll have to drag your boat 150′ over a grassy embankment to reach your car, but this is doable.  Nice thing about up-north ditches is their weeds are much smaller and contain fewer stinging plants relative to Southern Wisconsin.
Shuttle Information:
While there are shuttle services in Wausau they don't go this far north (that I know of).
The bike shuttle is only 3.7 miles, but…  The majority of it is unpaved and features many small hills. 
Hazards, Logjams and Current:
Roughly speaking a pretty safe segment and I regret not taking my faster but less maneuverable Wilderness Tsunami.  There are no fences to worry about and while there are many light riffles and a fast current, there are few proper rapids.  Maybe 1-2 Class 1 rapids. 
Deadfall is kind of an issue at least in the first mile.  What happens is the river occasionally branches creating islands.  Several of these side-channels contained downed trees, and if you choose incorrectly, you'll have to portage (which wouldn't be difficult).  Strainers are more of a concern, as fast riffles frequently push you toward and under fallen branches.  Alert paddlers should have no problem avoiding these.  But by and large, this is a pretty open segment.
River Depth and Navigability:
There is a downstream gauge at Rib Falls which was at 300 CFS.  This was maybe twice its normal flow rate.  I highly doubt this segment ever gets too low to run as the rocks never get that big (downstream segments need more water though).  The depth for this trip was 2-3′ on average, and water clarity was ok at times, but typically would be much better. Below is a rough depth guide for this segment:
0-100 CFS:  The river is infrequently this low, yet this segment should still be navigable.
101-200 CFS:  A common average flow rate.
201-325 CFS:  The river is above normal but plenty doable.  Clarity is only mediocre.
326-500 CFS:  This would be a pretty high level.  Likely the river is still quite navigable but probably is less interesting.  Some of the snags will be more difficult to circumnavigate.
501+ CFS: These are very high levels and not recommended for casual paddlers.
Noteworthy Wildlife:
Not much.  A family of deer drinking some river water, a redtail flying overhead, and a pair of eagles.
Detailed Overview
Upstream of Hwy M:  Likely navigable paddling, I just don't know much more.
Hwy M to Lemke Drive:  4.5 miles.  An unknown prospect…might be interesting.  Could be some downed trees.
Lemke Drive to Hwy 64:  4.6 miles.  Pleasant but not a special trip. 
Hwy 64 to Silver Fox Road/Greiner Road:  3.7 miles.  Famous section that contains the dells, the most rapids and a tough section with Class 3 rapids.  Likely 5 stars.  Note, the bike shuttle for this section is poor.  Reviewed by AmericanWhitewater.org, but note their flow estimates are very aggressive.
Silver Fox Road to Hwy F/Amco Park:  3.3 Miles.  A pleasant section with some light rapids.
Amco Park to Hwy A:  4.5 miles.  Slower than upstream sections but pleasant and wooded with a few small outcrops. 
Hwy A to Big Rib Falls County Park:  7.7 Miles.  A great stretch and maybe the best leg on the Big Rib River.  Highlights include attractive hemlocks, light rapids, boulders, and seven separate sets of gorgeous granite outcrops.  Ends in a bang with Rib Falls which is very scenic.
Big Rib Falls Park to Marathon Lion's Riverside Park:  6.6 miles.  Not as good as the preceding leg, but still likely some light rapids and outcrops.  I believe there are a number of sandbars on this stretch too.
Marathon Lion's Riverside Park to Sunny Vale Softball Complex:  9.7 miles.  Ok prospect with more sandbars, but fewer (if any) boulders and cliffs.  Take-out is somewhat speculative as I am not 100% sure it is viable.  But it is a public park with a parking close to a slough, and the slough may connect to the river.
Sunny Vale Softball Complex to Mouth:  5.1 miles.  Some sandbars to start, then the river gets squiggly as it enters the delta. Numerous take-out options including Mallard Lane Boat Ramp, Rookery View Park and DC Everest County Park.
Not listed are several of the Big Rib tributaries.  The most interesting one is Black Creek running from Erbach Park/Athens to Meridian Road (5.8 miles).  This contains neat boulder gardens and rocky gorges but could also have unknown hazards.  This creek has been paddled before with the most popular section being a whitewater stretch by Athens per Rick Kark.  Also reviewed by AmericanWhitewater.org.
Trip Map
Overview Map
Video
Photos
How did your trip turn out?

Questions or comments?

Feel free to leave your feedback.