Yellow River – Hwy F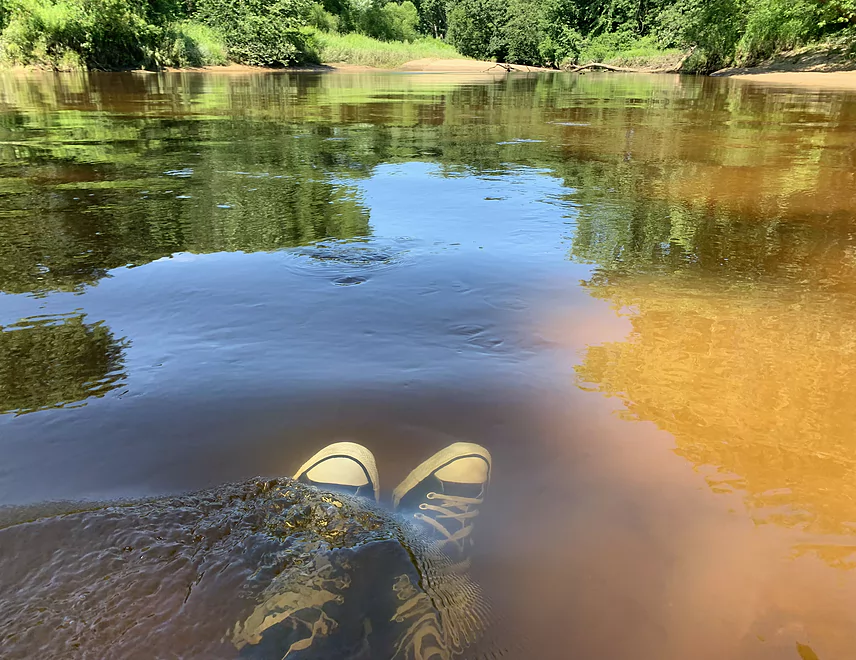 Put-in:
Juneau Cty. Rd F, near Finley
Take-out:
9th Street East, east of Sprague
The appeal of this Yellow River – one of four navigable Yellows in Wisconsin – is typically the more rugged upper sections in Wood County, featuring mid-class whitewater, boulder gardens and appealing dells. I took the river less traveled, in Juneau County – and it made a great difference! Languid current, alluring sandbars, and near-total isolation makes this piece of the Yellow an ideal relaxing paddle and a great candidate for canoe camping.
The only paddling chronicler I could find who offered insights about the Yellow River below Dexterville is Frank Piraino. Writing in the late 1980s and early 1990s, Frank put this river in almost lyrical terms: "Outstanding adventurous canoeing through remote, wild, rugged bottomlands . . for [the] adventurous only….."
This is all true, but this Yellow is less scary than Frank makes it sound. While the river is windy and serpentine, the current is steady without being pushy. I only had to portage once; most of my stops were for taking refreshing dips off sandbars in clear, appealing water. I actually missed having a few obstacles to get around. (This explains my 3.5 rating – I gave it a 3 for "paddling experience" from a technical standpoint, but a 4 from an esthetic point of view.)
Frank's "remote" setting has not changed a bit. I don't think I've been on a river in Wisconsin with so few – actually NO – signs of human presence. No bridges, no power lines, no roads, no cabins. (One exception – a ghost snowmobile trail bridge.) It's almost unsettling until you realize what a thrill it is to hear nothing. The only sound I heard in 3.5 hours on this river was the distant buzz of F-16s racing around somewhere. No chainsaws, no dump trucks, no lawnmowers, no outboard motors. Think about the last time, during the day, you heard no human-made sound.
As a result of the remoteness (which does not mean inaccessibility) of the Yellow, and the fact that paddlers want the thrills and spills of the upper Yellow, well-trod put-ins and take-outs don't exist. I tried at Wisconsin Hwy. 80 near Babcock – ugh. I went to nearby Necedah Road to see if I could put into Hemlock Creek. It looked blocked, so I opted to put in at the bridge of Juneau County Road F, near Finley. That was fine.
The watery reverie began. The floodplain forest through which the Yellow passes looks impenetrable from the river, making the river feel like a watery lifeline. I had to leave my boat only once: there was a strange diversion where half the river disappeared under a huge debris pile into the forest, and a channel to the right offered the only outlet. But after maybe 300 yards the two channels merged again and I carried on trouble-free.
On this warm July day I took advantage of the appealing water and pristine sandbars to skinny-dip three times, including at the very end, where I did a "deep cleanse" to say thanks to the river for a memorable day. All these features are why I'd recommend this as a canoe-camping river, perhaps starting where I did and carrying on to Necedah for a two-day trip.
Note on take-out: there's a bridge on 9th Street East to get out at. (You can't miss it from the river – it's the only bridge you'll see on this stretch.) But just 300 yards downstream, on 9th Street East, the town government created a river access of sorts with a turnout. The bank there (river left) is steep but not high and easily managed. Right there, on the right bank, is the beckoning sandbar where I did the "deep cleanse" to close out my run.
Note about the shuttle (car or bike): Wisconsin Hwy. 80 seems like the obvious choice but do consider using county roads G and F. This may be a remote part of Wisconsin but it is not devoid of strange and remarkable human activity. Cranberry farming is the predominant and a very intensive form of agriculture – it ain't corn you're looking at here. And there's the Air National Guard's gunnery range. You have to do a drive-by of it to appreciate how the ANG is creating a Karner blue butterfly reserve in the midst of a military installation.
Note about water levels: water levels should be reliable below Babcock. Note though that this river is very flashy – there are releases from upstream dams that push its flows very high, which then drop precipitously over a few days. There was mud coating the foliage along the banks of the river a good 15 feet above my boat. Check the USGS stream gauge at Babcock. As illustration of its volatility, the Yellow, per this gauge, was at 500 cfs on July 19. Three days later, it had dropped to 60 cfs.
Addendum from the Webmaster:
Thank you Denny for the review!  Note paddlers may also be interested in Hwy 80 to F, which likely offers a similar experience with plenty of sandbars.  Most of these sandbars will be underwater when levels are high though so you'll want to time your trip carefully.  
WisconsinRiverTrips.com is always very appreciative of guest reviews, and if you the reader is ever interested in submitting one, you can use this online form.
Detailed Overview
Eagle Road to Hwy 10:  12.4 miles.  WisconsinRiverTrips.com contributor Daniel Akin has frequented several of these subsections with his favorite being Yellow River Road to Hwy 10.

Eagle Road to Hwy HH:  2.2 miles.  This is a dangerous section with Class 3 and 4 rapids.  There's also a wire fence across the river to deal with.
Hwy HH to Yellow River Road:  2.1 miles.  A more wooded stretch that I don't know much about.  Nice street view image.
Yellow River Road to Bb:  1.3 miles.  A wooded section with possible logjams.
Bb to Robin Road:  0.8 miles.  Good prospect with some minor rapids by the put-in.  Nice street view image.
Robin Road to Hwy 10:  2.1 miles.  Neat prospect that looks somewhat unobstructed and has several scenic boulder gardens.

Hwy 10 to Hwy 80:  4.0 miles.  

Hwy 10 to Lincoln Ave:  2.2 miles.  Very narrow and wooded.  At times little light reaches the river which is really cool.  Neat boulder gardens and a great stretch, but there are two logjams.
Lincoln Ave to Hwy 80:  1.7 miles.  Good stretch with a number of scenic boulder gardens and one nice outcrop.

Hwy 80 to Hwy N:  3.4 miles.  Starts slow, but ends with nice boulder gardens and rapids. 
Hwy N to North Wood County Park (2nd Dam):  2.9 miles.  A rocky stretch with some rough whitewater including a Class 3 near the put-in by the "Dells".
North Wood County Park (2nd Dam) to Little Bull Falls Grill:  4.2 miles.

North Wood County Park (2nd Dam) to Hwy C:  2.8 miles.  Scenic stretch with many boulder gardens and rapids.  The most serious rapids are near Hwy C and include Jenny Falls which is a Class 3.
Hwy C to Little Bull Falls:  1.2 miles.  More rapids and boulder gardens.  There is a logjam shortly after Hwy C.  Little Bull Falls is a Class 4 and is preceded by a Class 3.

Little Bull Falls to Dexter Park:  7.5 miles. 

Little Bull Falls to Hwy 73:  1.6 miles.  Many rapids on this stretch with some nice rock outcrops.  Launch below the falls and at a private access.
Hwy 73 to Riverside Park:  1.7 miles. More rapids and the biggest and best outcrops.  Hwy 73 is a weedy but doable access option.
Riverside Park to Dexter Park:  4.2 miles. Far fewer outcrops and rapids, but a nice wooded section.  Two miles in the flowage kicks in which is less interesting.

Hwy 54 (Dexter Park) to Hwy 80 (Babcock):  9.7 miles.  While you could launch by the park, your best bet will be to launch SW of the dam off Hwy 54.  Paddling author Frank liked this section and said it had no logjams, but he did it during high water and there are many downed trees.  Can be pushy when high and only for adventurers.  Not too many sandbars.
Hwy 80 to Hwy F:  10.6 miles.  Good sandbars.  Am not sure about jams.
Hwy F to 9th Street:  8.3 miles.  A nice stretch with good sandbars.
9th Street to the dam (Necedah):  16 miles.  A lot less sandy and many oxbows.  Jams are a question mark.  I suspect this is a weak section.
Necedah to Yellow River Bay:  A nice stretch with good sandbars.
Castle Rock Lake:  Blah.  Big, open and dangerous flowage (3rd largest in the state).
Buckhorn State Park:  You can explore the back channels and they seem nice, with interpretive signs…but with no current and only 1.5 miles.  Here is a map of the official water trail in the park.
Thanks to Frank Piraino, author of "Small River Canoe Adventures of Wisconsin," and American Whitewater for a lot of this information!
Trip Map
Overview Map
Video
Photos
One Comment for "Yellow River – Hwy F"
How did your trip turn out?

Questions or comments?

Feel free to leave your feedback.