Spring Brook – Lower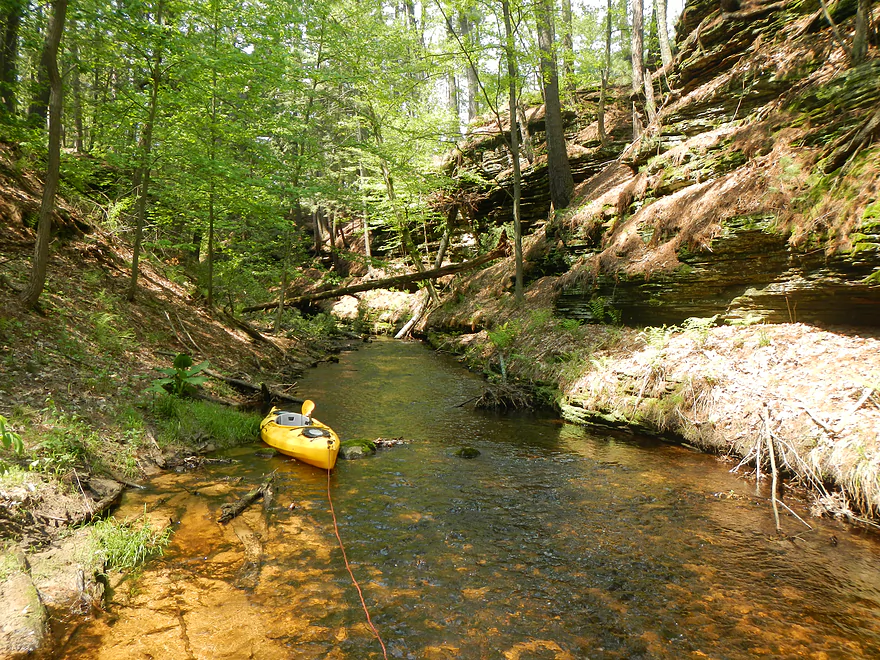 Put-in:
Lake Delton Boat Ramp
Take-out:
Lake Delton Boat Ramp
Spring Brook is one of two creeks that empties into Lake Delton by Wisconsin Dells. This is not a well traveled creek, despite being next to Lake Delton, as it is usually very shallow, lacks good public access, and has a nasty log jam.  If it were more accessible, it would probably be swarming with tourists.  Yet, a kayak is a great way to explore a neat area that you can't do by foot, boat or any other means. 
Access is difficult to say the least.  You could put in at a public landing on Lake Blass and try to portage the dam, but this might be tricky.  The downstream side of Lake Blass is surrounded by private property and even gated roads, so this is very difficult to get to (although this section has the most potential of the three I've looked at on Spring Brook).  For this section, I put in at the main Lake Delton boat ramp.  Go "downstream" a couple hundred yards to the north, then take a sharp left at Tommy Bartlett's Ski, Sky and Stage Show (west fork of Lake Delton).  Keep going and there will be a tunnel under Hwy. 12 that you can scoot through.  Once past the tunnel, you leave civilization behind and enter a lost world in the middle of Touristland (except for the whine of cars going over Hwy. 12).
Spring Brook can be quite shallow, so definitely bring aqua shoes for wading and a rope to tow your kayak.  There is an initial log jam that I somewhat cleared.  You can continue upstream going through this canyon gorge until you come across another bridge and the mother of all log jams.  The narrow canyon has bottle-necked a ton of debris, which is most unfortunate.  I had hoped to cut a path through, but without power equipment this wouldn't have been possible.  So, if you do this section, you'll have to come back the way you came. 
Takeout will be on the Lake Delton boat ramp, which is very busy and smells of dead fish, but it is a decent access point and it has bathrooms.  I hope to paddle the tweener/upstream section of Spring Brook from the Blass Lake dam in the future, but will have to get permission from the property owners to get a decent access point.
This isn't a long stretch (only 1.5 miles total), so you may stretch this by taking a spin around Lake Delton or by paddling up Dell Creek, which is very nice.  Also, nearby is Lake Blass and Upper Spring Brook which I review here.
Spring Brook Overview:
Upstream of Berry Lane: Seems too congested to run.
Berry Lane to Blass Lake Road Landing:  1.2 miles.

Berry Lane to Springbrook Dr.:  0.6 miles.   Small flowage pond paddle.  Nothing special.  Parking is poor at put-in and take-out.

Springbrook Dr. to Blass Lake Road:  0.6 miles.  A very scenic but shallow stretch with clear water, some micro-waterfalls, and outcrops.

Blass Lake Road Landing to Blass Lake Dam:  0.1 miles.  A short paddle on Blass Lake which is nothing special.
Blass Lake Dam to Clara Ave:  0.6 miles.  An extraordinarily scenic stretch, but the local resort does let you launch by the dam and the local condo association doesn't allow to take-out north of Clara Ave.
Clara Ave to Lake Delton Boat Ramp:  0.8 miles.

Clara Ave to Hwy 12:  0.2 miles.  Super scenic and shallow stretch by impressive rock outcrops.
Hwy 12 to Lake Delton Boat Ramp:  0.6 miles.  Short paddle on Lake Delton by the Ski/Sky/Stage Show and the heart of the Dells.
Trip Map
Overview Map
Video
Photos
2 Comments to "Spring Brook – Lower"
How did your trip turn out?

Questions or comments?

Feel free to leave your feedback.