Neenah Creek – Oxford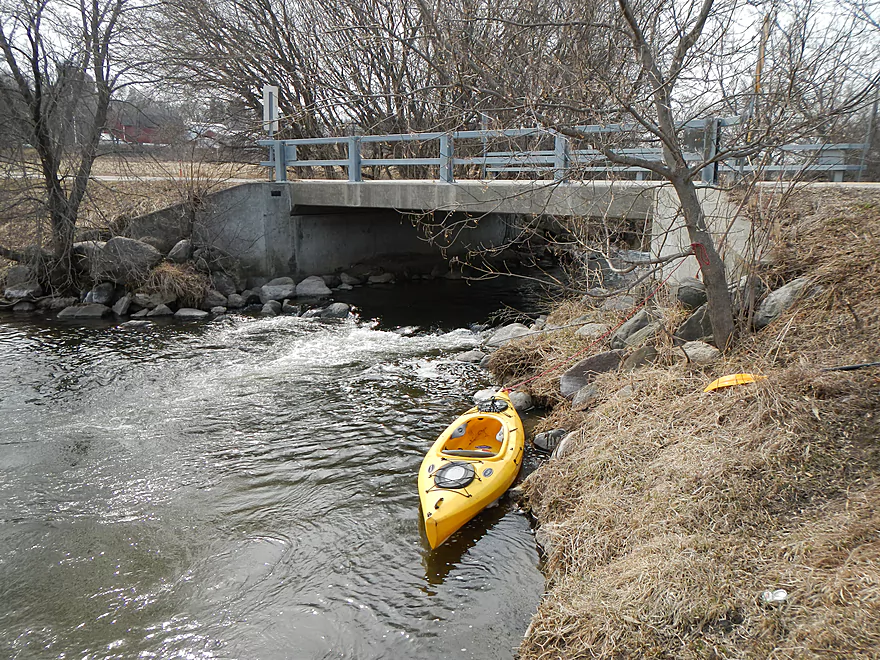 Put-in:
W Chauncey St Bridge
Time:
4 hours (slowed by pictures and cutting limbs)
Gradient:
3' per Mile (guess)
Neenah creek is an occasionally paddled creek that is normally known for its open grassy areas, wetlands, waterfowl, and for being the first major tributary of the historic Fox River.  A far more obscure segment of the stream, rarely paddled, is the far upper section, which I learned about from Small River Canoe Adventures of Wisconsin by Frank F. Piraino.  Last week, I decided to give this a try and was glad I did, as it is a pleasant stream (but with quirks, which I'll cover).
For put-in options, I'm not sure you can go much further upstream than the Oxford dam.  Granted, you could do some flowage paddling (and Google terrain view actually shows the potential for bluffs far enough upstream), but the chances of deadfall and insufficient water are pretty high IMO upstream of the flowage.  Putting in at the dam is an option, as there is parking on the street, a portage sign, and a grassy area where you can launch.  I don't recommend this though, as there is a no trespassing sign (not sure if this is for the dam), it is a decent hike to the landing, and I thought I saw one log jam from the road.  A better option is to put in just a couple hundred yards downstream on the other Oxford bridge at Chauncey Street.
This is not a bad bridge–with light traffic, decent access, and a pull-off area for parking.  There is no shuttle service for this area, so I do recommend a bike shuttle (or a friend).  It's a pleasant route that actually just happens to be a promoted bike route by the local tourism agencies:  the Oxford/Briggsville Loop (which roughly parallels the creek).  Once you put in at the Chauncey Street bridge, the first thing you'll notice is the mini-rapids under the bridge.  You can run this by putting in upstream of the bridge, but IMO it looked a little boney, so I passed.
What will impress you after putting in is how clear the water is.  Remarkably so.  And how sandy it is (although there is some gravel substrate close to the put-in and unique clay areas in the later half of the trip).  The creek does run shallow in the upper section and I honestly don't know if it runs dry in the summer (as opposed to my early April paddle).  I've included a gauge of the closest creek of similar size in Ten Mile Creek…but I doubt that is accurate.  For the most part, the water level wasn't an issue.  I had to "wheelchair" a couple of times (not fun in the cold) and only had to get out once because of the shallow water (more on that later).
Soon into the paddle, you will pick up the smell of the local waste water treatment plant.  Encountering these is old hat for paddlers and they tend not to be a problem, but this particular one stood out for about a half mile.  I don't want to discourage you though, as it wasn't an overpowering smell and the water still remained clean.  Funny coincidence…the Neenah Spring Water bottling plant (where I get some of my water) is right next door to the waste-water facility.
This upper section of the upper creek is my favorite, which meanders though some grassy areas, but through a lot of wooded areas, too, with a decent current.  Thanks to the clear water, you'll, for the most part, be able to see the cool sandy lines in the water and occasional minnows.  Didn't see any big fish, but did see a LOT of birds.  Mostly geese and ducks.  Some swans close to the end of the trip.  During the summer the water plants could make this very scenic (like Cedar Creek, that I reviewed earlier).  Other wildlife included a beaver (tons of beaver handiwork as well), birds I couldn't identify, some clams, and some terrific mud dauber nests on the undersides of the first two bridges.
The current is a little on and off.  The latter section is a tad slow, but the upper section is respectable, but in no way dangerous except for the rapids.  These are all marked on the map.  The first is the Chauncey Street drop that again looked a little rocky (maybe class 2).  The next section (that at least makes noise) is a culvert (I have video/pictures of all of these).  This is actually fun to go through and is probably only a .5  riffle.  The danger here is getting high-lowed because the culvert is low.  I was able to duck forward–no problem in a kayak, but a canoe might have to portage this.  The Fox Road bridge has a nice drop (maybe class 2) that was fun to go over.  Canoes and skinny v-bottom boats may want to avoid this one.   There is a smaller rapids later on that isn't much of an issue.  Then there is the take-out on the Hwy A bridge, which is maybe a class 1–fun to go over, but easy to avoid by taking out on the upstream side of the bridge.
A paragraph does have to be devoted here in regards to the logjams.  Normally, a creek like this is filled with them…and Neenah was remarkably free of them, but there were multiple issues (mostly minor IMO).  All in all there were only two instances where I had to get out of my boat because of a logjam, and this was easy to do because of the sandy shallow water and shallow grassy banks.  On top of these, there would have been more logjams, but I brought my camp saw and was able to cut through three of them, which should help future paddlers.  By my account, what remains would be: 2 major log jams, 2-3 hoppers, 2-3 duckers (one serious…both probably can't be ducked by someone in a canoe), and one shallow area that required me to get out.  A couple more shallow areas required "wheelchairing."  But, all in all, for a creek like this, this isn't bad.  There is evidence that this has been cleared out in the past and hopefully can be properly cleared out in the future. I think I took a picture of every single problem area to give you a feel for what you would encounter should you paddle this route.  Lastly, there was one barbed wire stretching the creek, but that was super easy to lift and to go under.  The current is never pushy (except by the rapids), so this isn't an issue.
Maybe a mile past the second bridge (Fox Road), the creek changes quite a bit.  It slows down, gets bigger, loses its trees, and gets very curvy.  It's one oxbow after another….  The water is still clean though and the grassy areas have a certain charm to them…but it can get a tad repetitive after a while.  This section had the most birds (which really makes Neenah Creek famous) and is more representative of the creek at large then the far upper section I started at.  You'll see three silos in the far distance…and these will mark the next bridge at Hwy A (a good reference to know how far you are…but an eternity to paddle to in a 10′ kayak).   Close to A, the terrain changes to more wooded, you'll pass under a nice pedestrian bridge, and encounter that serious ducker I mentioned earlier.  Always lean forward with these for safety, so you can fall back if needed.  My kayak rides high and water levels were up, so this might be easier for other boats (not canoes), but I had issues and had to take off my life jack to fit under the last tree.
Take-out at Hwy A is good for a bridge landing.  There is a fire hydrant in the middle of nowhere and a "no parking" sign, but it is easy to park on the other side of the bridge.  If you don't want to run the last rapids, you can again take out before the bridge.  I didn't find the rapids to be difficult, but the water levels were up a bit, so it might be too boney to run normally.
Webmaster Update:  Paddlers are reporting this section now has serious logjams.  See comments at the bottom of this review.
Detailed Overview
Main Branch:
Upstream of Peppermill Creek:  I suspect the creek is too congested to run
1st Lane (Peppermill Creek) to 1st Court:  1.1 miles. First half is a nice clear open stream but there is congestion after that.  
1st Court to Seeley Lake Access:  2.8 miles.  Amazing clarity, nice riffles and steep hills…but serious logjams issues.  Been on my to-do list for a while…
Seeley Lake Access to West Chauncey Street:  0.6 miles.  Mostly pleasant lake paddling with a dam to portage.
West Chauncey Street to Hwy A:  6.8 miles.  My favorite section with terrific clarity, a few fun rapids, and clean substrate...but rumor has it new logjams might be an issue.  Reviewed Apr 2014.
Hwy A to Hwy P:  4.1 miles.  My second favorite section.  Very nice wetgrass paddle with great clarity and no logjams...best saved for a sunny day.  Reviewed Oct 2014.
Hwy P to Grouse Drive:  6.4 miles.  Reviewed Dec 2017.

Hwy P to Hwy 23:  3.9 miles.  A pleasant stretch that starts nice with clear, sandy seeps but becomes less interesting when it flows though the marsh.
Hwy 23 to Grouse Drive:  2.5 miles.  A mediocre stretch...less marshy than before, but still very open.

Grouse Drive to Muskrat Road:  3.1 miles.  Creek slows down and widens significantly.  Reviewed Feb 2017.
Muskrat Road to Hwy CX:  4.6 miles.  A big open wetgrass paddle...at times pleasant with good water fowl, this is likely my least favorite section.  Reviewed Nov 2016.
Hwy CX to Dixon Road:  3.1 miles.  Mostly open but with some possible jams.
Dixon Road to Hwy CM (on the Fox):  1.2 miles.  Final stretch with take-out on the Fox River.
Tributaries:
Trip Map
Zoom in to untangle the markers or zoom out for more:
View
Neenah Creek
in a larger map
Overview Map
Video
For best quality, view in fullscreen and 1080p.


Photos
16 Comments to "Neenah Creek – Oxford"
How did your trip turn out?

Questions or comments?

Feel free to leave your feedback.