Spring Creek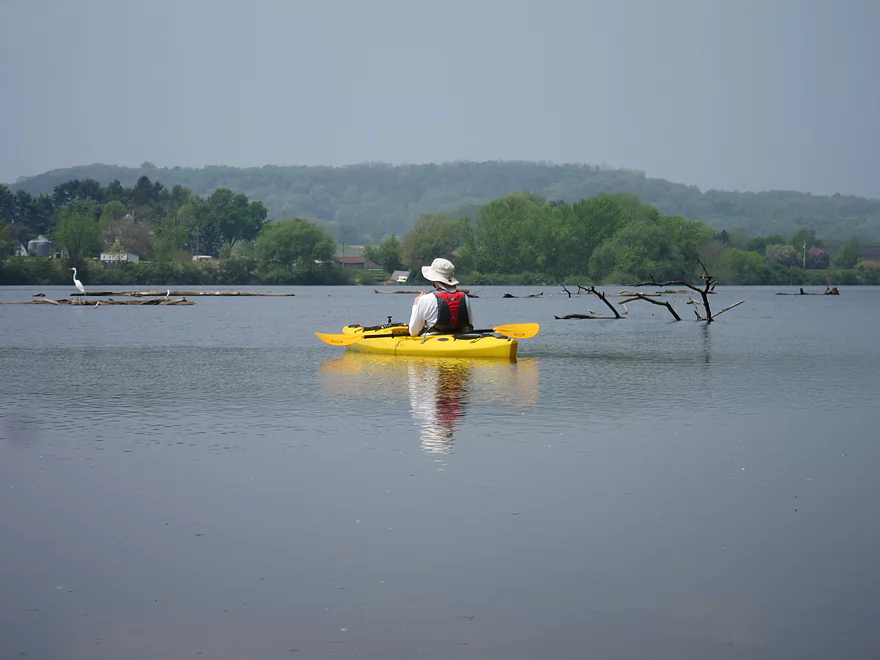 Put-in:
Lodi Spring Creek Fishery Area
This is a very nice creek that starts near the town of Lodi and empties into the Wisconsin River close to (and across from) the city of Merrimac. Spring Creek itself primarily starts in a marsh southwest of Lodi (which would be a nice kayak spot if there were access). It then winds through town (very pretty section) before a final leg and then hits Lake Wisconsin. The city section right now is probably too log jammed to run, which is a shame. In 2010, Friends of Scenic Lodi Valley cleaned up the creek from Haberman Park to Okee Bay.  Unfortunately, this has filled in since then and hopefully they do another clean-up soon.
For my stretch, I cheated and skipped the town section and put in at the last bridge (there is a public fishing area that makes for a nice put-in).  Soon after putting in, we encountered the first of two major log jams that forced us to get out of our kayaks.  After that, the current picked up and was actually surprisingly brisk for the remainder of the trip.  In fact there were a number of rapids and ledges to go over (see pictures below).  Some of these rapids were class 2, so you do want to be careful (especially when you get log jams + rapids).  In some areas (especially where the log jams dig out ruts in the stream), the water was surprisingly deep, whereas in other areas the water level was somewhat shallow.  All in all, I couldn't complain about the water level…but think we might have had a tougher trip over the rapids had the water levels been at lower summer levels.
Even though there were just two (get out of the boat) log jams, there were  many major squeakers that could have been an issue for longer boats.  Some required some tricky ducking that actually would have been easier in lower water.  The rapids were one of the highlights of the trips and it was surprising how rocky they were compared to the rest of Lodi and Lake Wisconsin.
After traveling a mile or so through the forest, things open up into a marsh area and you paddle into Okee Bay.  The highlight here is the wildlife.  I saw what appeared to be a mother beaver and a baby beaver.  I also saw a green heron, a white egret, ducks, nesting cranes and nesting geese.  We had hoped to see white pelicans, which we had seen in the bay a couple weeks earlier.  In fact, this was one of the major reasons for doing the trip.  Before we put in, we saw a large flock of pelicans in the bay and after we took out, we saw a large flock in the bay….but during our trip there were no pelicans to be found.   We suspect the cause was a jet-skier we saw showboating or fishermen who had scared them away, which was unfortunate. 
All in all, this was a very nice but short trip that I liked.  The log jams were unfortunate though.  This creek has major potential if ever properly cleaned out  all the way from the town of Lodi to the Wisconsin River (it might even be able to support a livery service).
Special thanks to Timothy Bauer for his advice on this section.  We definitely benefited from some of the limbs he cut (we cut some of our own, too, which should help future paddlers).  Also, thanks to Fred Hofmann over at Friends of Scenic Lodi Valley for his clean-up efforts and the information he provided to me about the creek.
Detailed Overview
Upstream of Lee Road: There really isn't much to paddle (the creek starts as a natural spring).
Lee Road to Hwy Y Side Channel: 1.4 miles. A nightmare tangle of logjams.  Not recommended (reviewed May 2014).
Hwy Y Side Channel to Riddle Road: 6.6 miles. Scenic wetland paddle with multiple natural springs, but probably 5 logjams (reviewed May 2014).
Riddle Road to Pleasant Street: 0.7 miles. A frustrating wooded section because of 10 logjams (reviewed May 2015).
Pleasant Street to Fair Street/Sanitation Plant: 1.1 miles. Very scenic part through downtown Lodi with some fun rapids and no logjams (reviewed May 2015).
Sanitation Plant to Hwy J: 1.1 miles. Attractive paddle, but ~7 logjams (reviewed May 2015).
Hwy J to Hwy 1131st: 1.0 miles. More of an open grassland paddle with no logjams but a few low fences (reviewed May 2015).
Hwy 1131st to Hwy 1132nd: 1.3 miles. A frustratingly muddy section with many downed tree and three major logjams (reviewed May 2015).
Hwy 1132nd to Hwy K Landing: 2.1 miles. Surpsingly nice and attractive wooded section but there will be a serious logjam or two to deal with.  Trips ends on Okee Bay (reviewed May 2013).
Trip Map
Overview Map
Video
Photos
How did your trip turn out?

Questions or comments?

Feel free to leave your feedback.