Pecatonica River – East Branch – River Road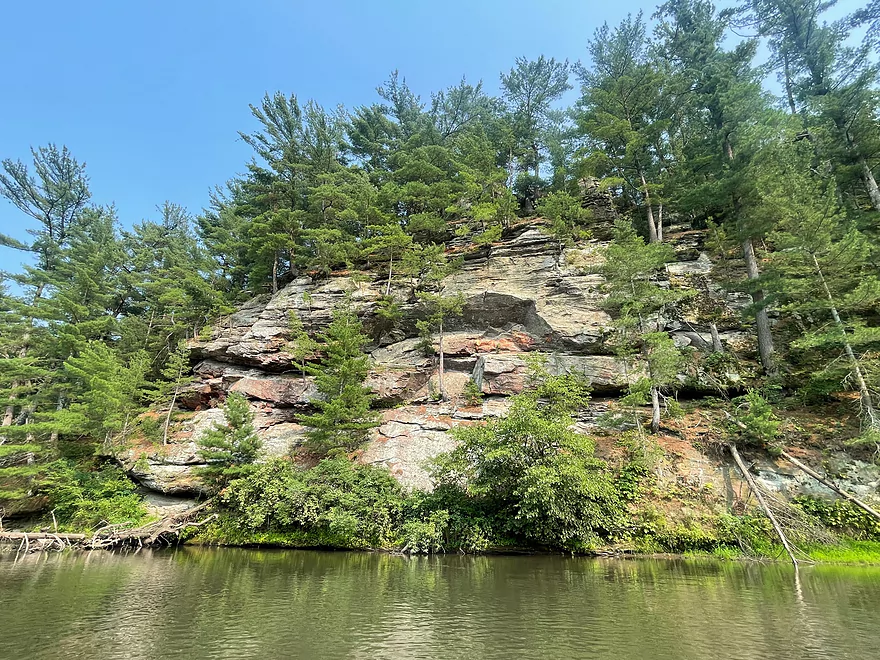 Take-out:
Argyle Boat Landing
This section of the Pecatonica River is very scenic with changing and diverse landscapes. There are farm fields, lush forests, and rock outcrops along the way.
The trip starts out with mainly farm fields and trees dotting the shoreline. Once the river turns south after viewing a farm in the distance, rock outcrops appear for the best scenery of the trip. After the outcrops, pine trees line the river until the vegetation thickens into deep woods.
Once the vegetation thins, there is a house at a river bend where there are more outcrops to the left and a golf course to the right. The course isn't very visible but there were sounds from people playing.
After the Yellowstone River flows into The Pec, the golf course no longer parallels the channel and the river starts to turn towards Argyle. There's a horseshoe bend where the river switches back west, then turns south briefly. The final turn east has outcrops and houses start to dot the river when entering Argyle.
This stretch of the Pecatonica River is a scenic, yet easy trip. There are no logjams or rapids, and the current is decent for the most part. The two landings are well maintained and make launching easy. The Pecatonica is a hidden gem that's worth checking out.
Addendum from the Webmaster:
Thanks Peter for the review!  WisconsinRiverTrips.com is always very appreciative of guest reviews, and if you the reader is ever interested in submitting one, you can use this online form.
Detailed Overview
Upstream of Hwy Hk:  Too many logjams to recommend.
Hwy Hk to Burma Road:  1.3 miles.  An ok prospect with perhaps some obstructions.
Burma Road to Star Valley Road1st:  2.0 miles.  An interesting prospect with good scenery and not too many logjams.
Star Valley Road1st to Hwy 39:  3.1 miles.  Good scenery potential but too congested.
Hwy 39 to Horseshoe Bend Road:  7.6 miles.

Hwy 39 to McKenna Road:  3.9 miles.  A pleasant section with a rock outcrop near the take-out.
McKenna Road to Horseshoe Bend Road:  3.7 miles.  Another pleasant section with a massive rock wall.

Horseshoe Bend to Blanchardville Dam:  3.6 miles.  Less interesting prospect compared to the immediate upstream section.  This part of the river has seen tornado damage, but this should be mostly cleared up now.
Blanchardville Dam to Hwy 78:  3.9 miles.

Blanchardville Dam to Gordon Creek Landing:  0.3 miles.  A short, but pleasant stretch through the outskirts of Blanchardville.
Gordon Creek Landing to Hwy 78:  3.5 miles.  While not bad, this is one of the lesser interesting stretches.

Hwy 78 to River Road:  6.4 miles.  A good prospect with several nice outcrops.
River Road to Argyle Boat Launch:  7.4 miles.  A good stretch with impressive outcrops.
River Street in Argyle to Hwy M in Woodford:  9.3 miles.

Argyle River Street to Blackhawk Memorial Park:  8.3 miles.  No outcrops and a lot of farm scenery.  Not as nice as previous sections but still decent.
Blackhawk Memorial Park to Hwy M:  1.0 miles.  Section includes a very large island.  You must take the east channel to reach the access on M.

Hwy M to Cisserville Road:  6.4 miles.  Probably uninteresting.
Cisserville Road to Mouth:  2.2 miles.  Probably a weak prospect.
Mouth to Hwy 11:  3.2 miles.  A leg on the Pecatonica River (main branch) to reach a take-out.
Trip Map
Overview Map
Photos
How did your trip turn out?

Questions or comments?

Feel free to leave your feedback.