Kickapoo River – Rockton to La Farge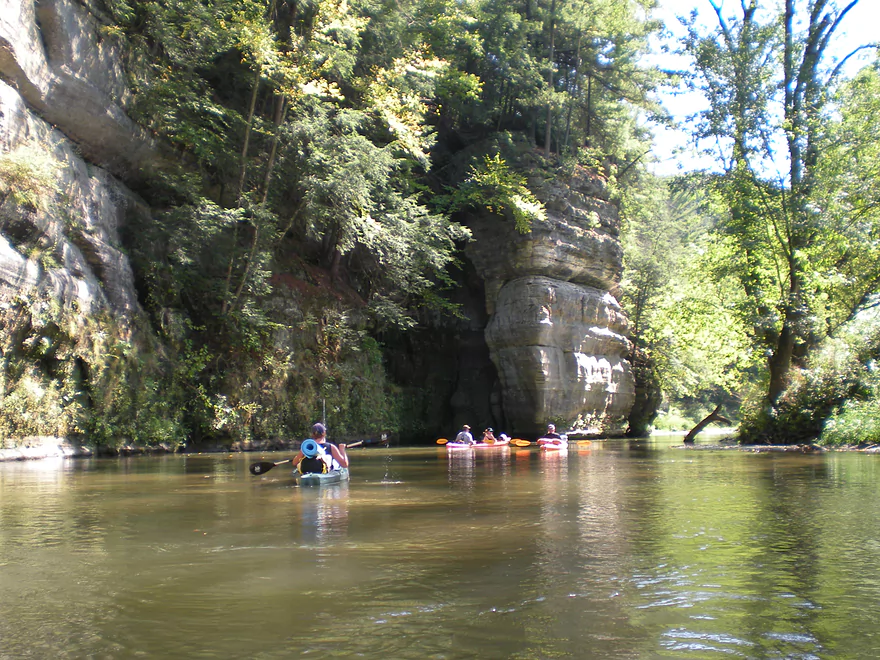 Date:
September 17th, 2012
Take-out:
La Farge Landing
Of all paddling rivers in Wisconsin this might be the most popular.  And of all sections on the Kickapoo, this is probably the second  best stretch to run after Ontario to Rockton.  There are a large number of landings on the river, at least shuttle/rental services, so you do have a lot of options as to how and where you want to tackle the river.  You can even camp on the river as well (you do have to register in advance for these though).
For my part trip, I put in at a landing just south of Rockton and a massive bridge going over the river.  This is a nice landing that has a bathroom and was very nice (like most landings on the upper Kickapoo).  I do not know if the landings charge a fee (I used a shuttle service).   This stretch of the river isn't as popular as Ontario to Rockton for good reason…  The water quality isn't the same…the sandbars are much more scarce, there aren't that many inviting swimming holes and there are more mud banks.  On the plus side, this stretch of the river has lots of bluffs that are gorgeous.  In fact, I actually believe these bluffs are larger than the ones on the upstream section.  The other plus for this section is that there are hardly any people on the river.  When I paddled Ontario to Rockton, the river was packed with a lot of paddlers; many of whom were drunk and disruptive.  On the La Farge section, I only encountered one convoy of 5 paddlers and that was it.
You can kind of divide this trip into thirds.  The first third goes through a nice sheltered section with occasional bluffs.  In the second section, the bluffs get much bigger and nicer.  The third section honestly isn't as interesting as (with exceptions) the bluffs largely disappear and the banks start to open up.  While you paddle downstream you will be able to see the uncompleted dam intake tower on your right.  There is a dike in the same area that you can walk out on, but because of the tree cover you can't see this from the river nor the river from the dike.  Around this area, there are a number of very minor riffles.  This area finally opens up into a little bit of farmland and cow country unfortunately.  One of the last bridges (they're all numbered) is a very cool red covered one that is pretty photogenic.  Generally speaking the Kickapoo from Ontario and to La Farge is cleaned out by the livery companies but there are occasional squeakers.  Water levels were considered down when I went but I never had to get out and this wasn't a problem.
Takeout at La Farge is another nice landing with a bathroom.  You can in theory paddle downstream of La Farge and there are infrequent bluffs hiding here and there…but according to my shuttle driver, there are some nightmarish log jams plus steep banks down there (bad combo).  Some people he ferried said they absolutely would never do that stretch again.  On the flip side, there have been some major clearing operations down there (costs 100k+) so this may have improved.  Others have paddled downstream of La Farge and not complained, so I don't really know. Titanic canoe rentals won't service this area though. 
Google says this was only 11 miles, but this felt more than that.  You can split this up…but don't omit the last section as it had the best and largest bluffs.
Once you get out of the water, there you might consider doing a little exploring.  This is 'Organic Valley' (one of Wisconsin's highest concentration of organic farms in the state) and there is an organic outlet store in La Farge south of the landing (with awful hours though).  There is also a visitor center where you can learn about the abandoned Kickapoo dam and a trail that leads over the dike.  While technically possible, I don't think you can drive out on the dike (there was a warden watching the area with binoculars so I think this is enforced).
Third Party Resources:
Kickapoo Valley Reserve Map – Very well done with detailed bridge numbers.  The Rockton landing had free printouts of this map that you can take on your trip.  Don't trust their distances though.
Shuttles/Rentals

Drifty's Canoe Rental : 608.337.4288 – Hwy 33 & 131 North, Ontario, WI 54651
Kickapoo Wild Adventures : 608.337.4522 – 30352 State Hwy 131, Norwalk, WI 54648
Mr. Duck Canoe Rental : 608.337.4711 -100 Main Street, Ontario, WI 54651
Ok Corral Canoe Rental : 608.337.4517 – 30531 St Hwy 31, Norwalk, WI 54648
Titanic Canoe Rental : 608.337.4551 – 300 State Highway 131  Ontario, WI 54651
Kickapoo Yacht Club : 608.625.4395 – S2463 Rockton Loop Road  La Farge, WI 54639
Crooked River Resort : 608.629.5624 – S. 8019 Hwy 61, Readstown, WI
Flasher's Canoe Camping Trips : 608.435.6802 -PO Box 114, Wilton, WI 54670
Quick Overview
Wilton to Ontario:  12 miles.  This stretch is seldom paddled, but is cleaner and faster than downstream legs.  Those willing to endure weedy bridge accesses and occasional snags will be rewarded with spectacular outcrops.  A very underrated part of the river.
Ontario to Rockton:  13.5 miles.  This is the most popular section for kayaking on the river (if not the entire state).  Highlights include many spectacular sandstone outcrops.  This stretch can easily be subdivided.  Shuttle services are plentiful, but this leg can get crowded and noisy during summer weekends.
Rockton to La Farge:  11 miles.  This is the second most popular stretch of the river.  While the outcrops here aren't as numerous as the Ontario leg, they do tend to be larger and more impressive.
La Farge to Mouth:  ~90 miles.  After La Farge there are few rock outcrops and the river becomes much less interesting.  The lower Kickapoo is a generic hardwood floodplain that is at best a mediocre paddle.
Tributaries:

Kickapoo River – West Fork:  While lacking the outcrops of the main branch and a bit shallow in spots, this is a very underrated river with many fun rapids.
Billings Creek:  I actually like this creek better than the main river itself.  There are just as many outcrops, and the water and banks are much cleaner.
Tainter Creek:  While not very big and lacking in outcrops, it's still a cool creek with very swift current.
Detailed Overview
Upstream from Lincoln Ave:  The river is likely too small and degraded by open pasture to have  much appeal for kayaking.   Although "Kickapoo Springs" (the primary source of the river and a public DNR area) might be interesting.
Lincoln Ave to Keystone Road:  2.5 miles.  River is small (likely too small for most paddlers) and more scruffy with fewer outcrops.  Figure 1-2 logjams and 3 outcrops.  Several of the Elroy Sparta Trail bridges are quite scenic/rustic.  High water will be required to do this stretch.
Lincoln Ave to Hwy 131 (East of Midge Road):  6.3 miles.

Lincoln Ave to Hwy 71:  1.6 miles.  Section includes five outcrops including one really nice one.  River is shallow here with many Class 1 rapids.  There is one strainer that has to be portaged, but no other logjams.  I encountered a bull on this stretch (here) which might be a deal breaker for most paddlers.  You could possibly portage around the farm in question along the Elroy Sparta Trail but it would be a long and difficult portage.
Hwy 71 to Wilton Campground/Library:  0.7 miles.  A nice stretch with ~3 mediocre outcrops and one really nice one.  Water clarity is stunning here.  There is a low tree that requires some tight ducking to get under.
Wilton Campground/Library to Hwy 131(by Posey Creek):  1.4 miles.  Less attractive stretch but still ~4 mediocre outcrops.  There is a serious logjam by Water Street that must be portaged.

Hwy 131 (by Posey Creek) to Hwy 131 (by Mica Rd):  1.3 miles.  A terrific stretch with scenic pine trees, several mediocre outcrops and one fantastic sandstone outcrop.
Hwy 131 (by Mica Rd) to Hwy 131 (East of Midge Rd):  0.7 miles.  More of a scruffy stretch, but still a few mediocre outcrops.  The Black Valley hills in the distance are very scenic from this leg.

Hwy 131 (East of Midge Road) to Hwy 131 (near Nicollet Ave):  4.1 miles.

Hwy 131 (east of Midge) to Hwy 131 (by Michigan Ave):  0.5 miles.  A good leg with a one nice set of outcrops.
Hwy 131 (by Michigan Ave) to Hwy 131:  0.6 miles.  Another good leg with 3 outcrops.  Some minor rapids including a 4-6" ledge.
Hwy 131 to Hwy 131 (by Nisswa Rd):  0.6 miles.  One of the best legs on the Upper Kickapoo which features 6 noteworthy outcrops and terrific ice flows.
Hwy 131 (by Nisswa Rd) to Hwy 131 (by Nordale Ave):  1.1 miles.  Not as scenic as other legs with messy shorelines and eroded banks.  There are still a few nice outcrops.
Hwy 131 (by Nordale Ave) to Hwy 131 (by Nicollet Ave):  1.3 miles.  Another one of the Upper Kickapoo's best legs with ~6 outcrops including a small natural bridge one can paddle through.

Hwy 131 (near Nicollet Ave) to Ontario:  5 miles.

Hwy 131 (by Nicollet Ave) to Hwy 131 (Oil City):  2.3 miles.  Two long stretches of bluffs contain great outcrops. 
Hwy 131 (Oil City) to Hwy 131 (Kickapoo Wild Adventures):  1.4 miles.  Terrific stretch with two major outcrops.  One set of Class 2 rapids.
Hwy 131 (Kickapoo Wild Adventures) to Ontario (Brey Valley Road Park):  1.5 miles.  One set of outcrops.

Ontario to Hwy 131/Bridge #4:  3.6 miles.  A more open and flatter stretch of the Kickapoo.  There are still 3-4 outcrops. This is THE most popular leg on the entire river.
Bridge #4 to Bridge #7:  6.0 miles.

Bridge #4 to Wildcat Landing:  3.1 miles.  A super popular stretch and the most scenic on the Kickapoo.  River flows past steep hillsides and many outcrops (at least 16).
Wildcat Landing to Bridge #5:  0.9 miles.  River opens up a bit, but still three super sandstone outcrops.
Bridge #5 to Bridge #7:  2.1 miles.  A good stretch with seven major outcrops and one cave.

Bridge #7 to Rockton/Bridge 12:  5.1 miles.

Bridge #7 to Bridge #8:  1.2 miles.  From bridge #7 onward, the Kickapoo becomes much less interesting.  There are still some good spots though.  This stretch has maybe 3 outcrops.
Bridge #8 to Bridge #10:  2.5 miles.  A good stretch with 5-6 outcrops.
Bridge #10 to Rockton/Bridge #12:  1.4 miles.  This stretch is more open, but still perhaps 3-4 outcrops.

Rockton to La Farge:  10.4 miles.

Rockton to P/Bridge 14 Canoe Landing:  2.4 miles. An ok stretch with 3-4 outcrops.
P/Bridge 14 Canoe Landing to La Farge/Bridge 14 Landing:  8.0 miles.  A great stretch with a covered bridge and 4-5 outcrops...several of which are huge (the largest on the river).

La Farge to Hwy 131 (by Ski Hill Road):  6.8 miles.  Nice section but with a few jams. 
Hwy 131/Ski Hill Road to Viola (Banker Park):  7.0 miles.  Maybe 2 bluffs, but mostly open I think.  Have been told there are 26 portages between La Farge and Viola, so beware.
Viola to Readstown:  12.5 miles.  Should be able to subdivide.  Not sure if any rock outcrops and might be some jams.
Readstown to Soldiers Grove:  6.7 miles.  Should be clear of jams and perhaps the most popular section on the lower Kickapoo.  But it does not seem too special and I doubt there are rock outcrops.
Soldiers Grove to Hwy B:  9.0 miles. I doubt there are logjams, but I think this stretch would not be very interesting.
Hwy B to Gays Mills:  4 miles.  Probably not interesting.  A dam and flowage to contend with near Gays Mills.
Gays Mills to Hwy S:  4.6 miles. 
Hwy S to Haney Valley Road:  5.8 miles.
Haney Valley Road to Taylor Ridge Road:  3.6 miles.
Taylor Ridge Road to Steuben:  5.0 miles.
Steuben to Plum Creek:  13 miles.  Maybe not interesting?  Think you can subdivide this if need be.
Plum Creek Landing to Wauzeka Boat Landing:  9.8 miles.  Non-exotic but flows through a wildlife area.  A landing at Hwy 60 allows you to subdivide the trip.
Wauzeka to the Wisconsin River:  0.9 miles.  The last stretch before the Wisconsin.  Numerous take-out options on the Wisconsin River itself.
Trip Map
Overview Map
Video
Photos
3 Comments to "Kickapoo River – Rockton to La Farge"
How did your trip turn out?

Questions or comments?

Feel free to leave your feedback.