Mecan River – Dakota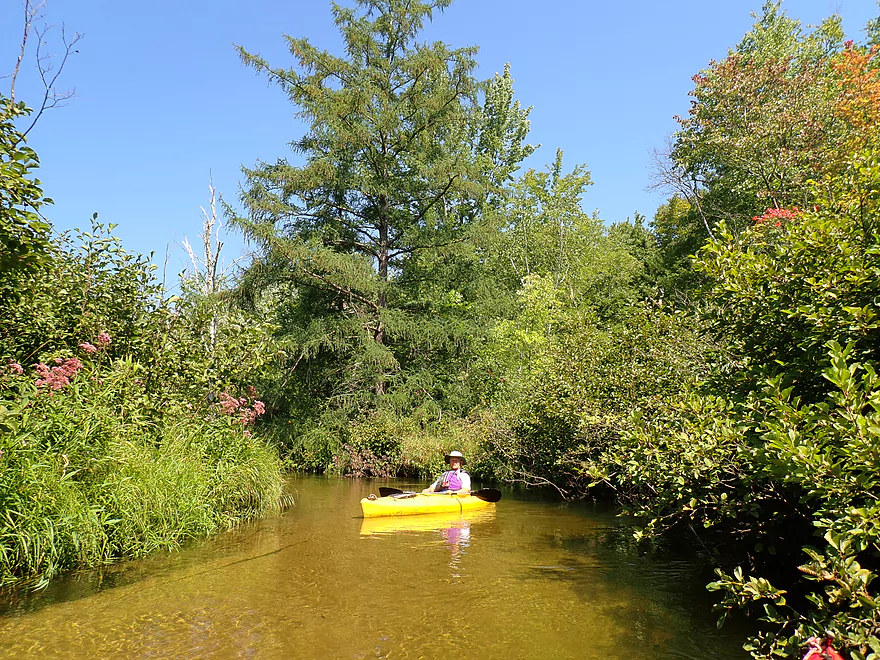 The Mecan is a popular kayaking river located halfway between Portage and Stevens Point.  Its two best stretches are 11th Road to Dakota and Dakota to Dixie Ave.  I've already reviewed both, but the latter was done over 11 years ago and has since become quite outdated.  The goal for this trip was to "redo" this popular stretch below Dakota and give it the proper attention it deserves.
We started at the Hwy Y bridge near the community of Dakota.  The put-in area was incredibly scenic with a line of tall white pines towering over the parking area, an attractive large culvert bridge, light rapids, clear water, and an attractive forest canopy.  The only downsides were the frequent gunshots, and a group of loud and surprisingly vulgar Amish kayakers.  None were wearing life jackets…I wonder how many Amish know how to swim?
The first two miles were the best of the trip and rank among the finest on the entire river.  Here the Mecan was fast, twisty, narrow, and INCREDIBLY clear.  The river is relatively shallow with a typical depth of just one foot.  But even in the rare 7'+ deep pools, you could see perfectly to the bottom.  What made this more impressive was the substrate, which was mostly a clean, light-colored sand that reflected even more light through the water.  At times the river was so clear, it was like floating on air.  The clarity is such a highlight that I recommend paddlers time their trips just for this.  Ideal conditions would be no clouds to block the sun, low water levels, and little wind (so ripples aren't created).
Bank quality was also very good.  Vegetation included a number of ferns, flowers, exotic grasses, white pine trees, tamaracks, spruces, and oaks.  The Mecan feels like an up-north river despite being just a half hour north of Portage.  Part of what makes the Mecan River special is that it is mostly spring-fed and its headwaters are actually a decent-sized lake called Mecan Springs.  This keeps water levels unusually stable even during dry and wet periods.  Stable water levels translate into stable banks which are clean and tidy.  There are no big muddy banks or signs of erosion on the Upper Mecan, which is fantastic.  The springs also keep the water incredibly cold (too cold to swim despite it being August).
One of the best spots on the trip was a narrow stretch perhaps two miles into the trip.  Here there was a fantastic grove of huge white pines which created a canopy over the river.  The base of the river consisted of small glacial boulders which were mostly covered up by the sand but did stick out in a few spots.  A border of ostrich ferns added to the scene.
In several spots interesting inlets, fens and seeps joined the river.  We did paddle past the outlet of Crystal Lake which is a decent-sized spring lake located west of the river.  We tried paddling a bit upstream to reach the lake outlet, but encountered a congested marshy area and decided to turn back.  In theory, one could reach the lake from the river, but it would likely be difficult and the lake itself is somewhat overdeveloped (but still nice with cool springs on the west end).
The 14th Ave bridge marked not only the halfway point in the trip (roughly), but also an important demarcation for the river.  Hereafter the river changed in character and while still nice was no longer elite.  From then on, there were far fewer pines and tamaracks, and the banks were more open and flat.  There were also more alders which I consider an annoying weed tree.  The occasional oaks were fantastic though (part of this leg flows through the Mecan River Pine-Oak Forest State Natural Area).  The water clarity despite the changes in scenery remained terrific.
We ended the trip at Dixie Ave which was a very scenic take-out.  Unlike most Wisconsin bridges which are supported by uninteresting concrete pillars, the Mecan features several large culverts which are much more interesting to paddle through.  The culvert under Dixie Street in particular is massive and, combined with a high embankment, makes it seem like you're paddling through a large tunnel. 
The current moves at a good clip by Dixie Ave and you have to get out by some deep water, climb over uneven boulders and then up a hill to reach the parking lot.  But it's all doable.  It's also recommended to take out here (or 14th Ave), as the river downstream from Dixie Ave isn't as interesting.  Paddlers who want to see the best the Mecan has to offer should actually start at 11th Ave and take out at 14th Ave.  Lastly, I suggest (if possible) to time a Mecan River trip for Later September or early October as then the fall color on the river can be quite impressive.
Noteworthy Wildlife:
Sights included one mink, several fish (this is a noted trout stream), blue herons, a green heron, and a kingfisher.  The
Mecan River
is actually one of the few streams in the entire state with a naturally reproducing population of rainbow trout.  It is, however, heavily fished and we saw very few fish.  We actually expected more wildlife, but the noisy kayakers ahead of us may have scared them off.
Plants along the river included sensitive, royal, and ostrich ferns.  Pale, rose-colored joe pye flowers added frequent color along the river, along with blue vervain, and white turtleheads.  Clumps of elodea grew underwater, along with long dark strands of string algae (which looked like the dementors in Harry Potter).  There were occasional clumps of blue flag leaves, bur-reed, and cattails.
A highlight were the wonderful pines and tamaracks, which occurred about in even numbers along portions of the river.  There were a handful of what looked like black spruce.  Pines and oaks grew on more upland banks and ridges where they created inviting understories.
Dakota/Hwy Y Bridge:  This is a popular and scenic put-in.  There is a public parking area east by the white pines, but it is small and does fill up.  I have seen cars park on the shoulder closer to Dakota, but if you do this you should be careful not to block traffic.
Alternate Put-ins:
11th Road (3.7 miles upstream from Dakota):  You can either launch from the bridge or from the parking lot to the north.  This stretch of the river is very scenic and is highly recommended. 
Take-out:
Dixie Ave:  This is another nice and scenic Mecan River carry-in landing.  The only downside is the take-out by the shore features a somewhat steep, rocky bank next to decent current.   Then you have to walk up a hill to reach the parking lot.  I considered this all plenty manageable though.
Alternate Take-outs:
14th Ave (2.5 miles upstream from Dixie Ave):  There is a nice public access/pull-off southeast of the bridge.  This is a great spot to take out as the river downstream from here is much less interesting than the upstream sections.
Dover Ave (2.0 miles downstream from Dixie Ave):  This is a decent access with a pull-off northeast of the bridge.  The preceding leg is mediocre.
Hwy E (3.8 miles downstream from Dixie Ave):  I don't think many paddlers take out here because of the fire hydrant, but you should be fine as long as you don't block the hydrant with your car.  The preceding leg is more flat and open.
Hwy 22 (4.5 miles downstream from Dixie Ave):  There is a nice paved pull-off northeast of the bridge.  The shoreline here was muddy when I was last here over a decade ago but may be nicer now.  The preceding leg(s) are ok but nothing special.  Again the best parts of the river are upstream from 14th Ave.
Shuttle & Rental Information:
Bike Shuttle:  4.2 miles with 62′ of ascent.  This would be a good bike shuttle with decent tree cover from the sun/wind, few hills, and not a lot of heavy traffic.
Mecan River Outfitters:  This is a possible rental and shuttle option.  Typically though they prefer to service the far lower Mecan closer to the mouth.  If you prefer an Upper Mecan River trip, you should contact them before committing to a trip to make sure they would be willing to go that far north.
Hazards and Concerns:
Current/Rapids:  There is only one set of notable rapids, and that is an easy Class 1 at the put-in.  The current in general is brisk and moves at a good pace.
Logjams/Hazards:  No major logjams as the locals do a good job of keeping this stretch clean.  There was one low branch that had to be ducked, but I didn't find that difficult to get past.  Cannoes and sit-on-tops may have to portage which wouldn't be hard.
Low Bridges:  Two private bridges are relatively low.  We ducked under no problem but in high water of for those in canoes/SOTs, a portage may be required.
River Depth and Navigability:
Trip Depth
:  10.4 CFS or 3.62′ per the gauge at 
Chaffee Creek @ Coloma
(which isn't a great analog for the Mecan).
The following are only very rough estimates.
< 3.58′:  The river rarely gets this low.
3.59-3.60′:  A relatively low depth but should be navigable.
3.61-3.63′:  An average late-fall depth and a good target range.
3.64-3.68′:  Above average depth.
3.69-3.72′:  High depth…but should be navigable.  Clarity might not be as good.
3.73'+:  A relatively high depth.  Likely navigable but perhaps not ideal for kayaking as you might lose a lot of good clarity.
Detailed Overview
Generally speaking, the further upstream you go on the Mecan, the better.  Upper Mecan segments tend to have less mud, better current, better clarity, and more attractive shorelines.
Mecan Springs to 9th Ave:  1.4 miles.

Mecan Springs Boat Launch to Hwy GG:  0.6 miles.  The river starts as a spring-fed lake sandwiched between two moraines.  This is a neat lake paddle with clear water and visible springs located mostly along the western end.  Trip length can be expanded by 1-2 miles if you explore the various bays throughout the lake.
Hwy GG to 9th Ave:  1.4 miles.  The first mile of the river has a few snags to dodge, but is super scenic with nearly perfect water clarity.

9th Ave to Hwy 21:  2.3 miles.  Satellite maps indicate there could be many logjams and portages.
Hwy 21 to Cumberland Road:  2.3 miles.  Satellite maps indicate there could be many logjams and portages.
Cumberland Road to 11th Ave:  3.9 miles.  A great section with fast current, clear water and scenic white pines.  A few logjams to portage but not bad.
11th Ave to Hwy Y/JJ:  3.7 miles.  A fantastic section and my favorite on the entire river.
Hwy Y/Dakota to Dixie Ave:  5.4 miles.

Hwy Y to 14th Ave:  2.8 miles.  An excellent section with white pines, tamaracks, narrow twisty turns and crystal clear water.
14th Ave to Dixie Ave:  2.5 miles.  While not as good as the previous leg and more open, this is still a good stretch.  This includes the "Mecan River Pine-Oak Forest State Natural Area".

Dixie Ave to Dover Ave:  2.0 miles.  An ok section, but not as good as upstream sections.  Even more open and slower, with far fewer pines.
Dover Ave to Hwy E:  1.8 miles.  River starts to become less interesting but is still ok.
Hwy E to Hwy 22:  0.7 miles.  Nothing special about this section.  Open and somewhat simple.
Hwy 22 to Duck Creek Road/Electric Fence:  4.2 miles.  More open and not as interesting, but the river does flow through a state natural area.  Access to Duck Creek Road may be restricted.
Duck Creek Road/Electric Fence to Dam:  1.6 miles.  River turns into flowage pond and marsh.  Take-out is on a small access road off Hwy N.
Dam to Elk Road:  6.3 miles.  The most popular section on the Lower Mecan.

Dam to Hwy N:  5.2 miles.  River turns into a flowage pond and marsh.  Take-out is on a small access road off Hwy N.
Hwy N to Elk Road:  1.1 miles.  The river completely moves east creating a really cool corridor.

Elk Road to Hwy 23:  2.4 miles.  Traditionally a section with many logjams, this does get cleared out periodically by the local livery.  Hwy 23 is a poor access option.
Hwy 23 to Hwy C:  2.7 miles.  Again, this usually has logjams but they are often cleared out by the locals.  Hwy 23 is a poor access option.
Hwy C to Mouth:  1.1 miles.  Simple open stretch leading to the Fox River.
Mouth to the Princeton Locks:  3.1 miles.  An uninteresting stretch on the Fox River.
For further information on the Fox River, see my Fox River review.
Trip Map
Overview Map
Photos
17 Comments to "Mecan River – Dakota"
How did your trip turn out?

Questions or comments?

Feel free to leave your feedback.