Pictured Rocks National Lakeshore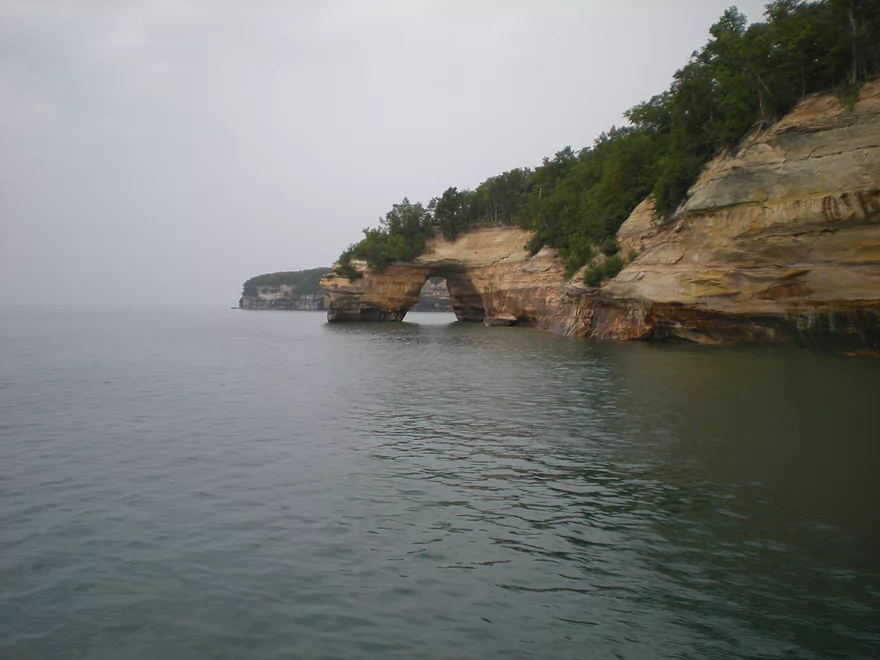 While technically not in Wisconsin, Pictured Rocks is definitely worth checking out.  It is a National Scenic Lakeshore, located on the north side of Michigan's Upper Peninsula next to Lake Superior.  The prominent feature of the park are the massive colored sandstone bluffs and rock formations along the shore.  There are a couple of ways of experiencing the area.  One is to hike sections of the 'Lakeshore-North Country Trail' but this is quite long (probably 30miles) and requires backpack camping.  Furthermore, you can't see the best views for the most part from land.
You can explore somewhat the area by car.  But access points are  rare and are mostly for beach areas.  There is one exception at "Miner's Castle," which has two nice overlooks accessible by car.
The most popular option is to tour the lake shore by boat.  I believe there are some minor pontoon rental services you can use, but the most popular service is 'Pictured Rocks Cruises' which, I believe, has an exclusive contract with the national park to do guided tours.  The boat tour starts in Munising Bay, goes for about 3 hours, and ends at  to Chapel Beach or Spray falls (make sure to get the tour that goes all the way to Spray Falls).  Reservations, while not required, are probably a good idea.  There are various departure times throughout the day…the last one will have the best lighting for photography but will probably be the most packed (a big deal if it is raining, as the upper deck is exposed).  There are shipwreck tours as well, if that is more your thing.
The last option you have is to explore the bluffs by kayak.  The advantage of this is that kayaks are quieter, you can get closer to the bluffs/beaches, and you can better appreciate the clear water.  This lacks the sea caves (although there are few) that the Apostle Islands have…but the bluffs are much grander.  The disadvantage is that the National Lakeshore is so long, that it is not practical to cover the area by kayak unless you camp on the various beaches (some people do this).  That or you pick a smaller subsection to concentrate on. 
The put-ins are as follows:
Miner's Beach (the most popular?)
Sand Point (second most popular…mostly for exploring grand island…is a little west to explore the best of the shoreline)
Twelvemile Beach
Hurricane River
Some of the more remote put-ins:
Grand Island Landing
Munising City Marina
Munising/Brown's addition boat ramp
Ana River (near Munising)
Grand Marais (on the other extreme end of the park–this is way east of the bluffs)
If you take a kayak tour, you may be offered an option to do Grand Island (especially if the weather is bad)…which is nice…but it is not on par with the lakeshore. 
The following are paddle-in camping options (all of which require park back-county permits).
Beaver Creek
Chapel Beach
Mosquito Beach
Sevenmile Creek
Au Sable Point East (harder to get to)
Benchmark (harder to get to)
Coves (harder to get to)
Pine Bluff (harder to get to)
Obviously, sea kayaking on Lake Superior can be kind of dangerous, so you'll probably want to go with one of the local kayak tour groups.
Two of the main tour companies are http://www.northernwaters.com and https://www.paddlingmichigan.com/kayaking-tours/ .  There is a third smaller company: http://www.exploringthenorth.com/kayak/munising.html …but I'm not sure how much of the shoreline they service and they may focus mostly on Grand Island.  The trips vary depending on whether you do an overnighter (pricey!).  The longer trips tend to go from Miner's Beach to Spray Falls.  Miner's Beach is the most popular put-in and kind of divides the shoreline in half.  The best parts are east of the beach…but there are nice parts west of the beach that run to Sand Point and to Munising.  At least one of the companies offers combination pontoon shuttles (car access is very limited) and hiking options.  For more information just check out their websites.
It should be noted there are other cool things to do in the park besides touring the lakeshore.  Grand Sable Dunes on the east end of the park and is definitely worth a visit.  It has massive sand dunes (from the broken up bluffs to the west).  There is a nice lookout on the west end of the dunes and a nice trail, and pebble beach access at the outlet of Rhody Creek (lots of agates supposedly in this area).  There are also lots of waterfalls in the area (and in fact throughout the UP).  The two main ones I saw were Munising Falls (easy access on the west side) and Miners Falls (one mile hike).
If you go, you definitely want to check out the main park website and to visit the park office at the west end.  Here is a nice map of the park.
Pictured Rocks Distances:
Munising to Sand Point: 3.4 miles

Munising Launches: Grand Island Landing,  Commercial Street Landing, Munising City Marina, and Anna River Put-in
Sand Point Launches: South Beach and North Beach (north is closer to the cliffs)

Sand Point to Miners Beach: 4.3 miles

Sand Point Launches: South Beach and North Beach (north is closer to the cliffs)

Miners Beach to Mosquito Beach Campsite: 3 miles
Mosquito Beach Campsite to Chappel Beach Campsite: 4 miles
Chappel Beach Campsite to Beaver Creek Campsite: 4.5 miles
Beaver Creek Campsite to Seven Mile Creek Campsite: 5.5 miles
Seven Mile Creek Campsite to 12 Mile Beach Landing:  2.2 miles
12 Mile Beach Landing to Hurrican River Landing: 2.9 miles
Hurricane River Landing to Grand Marais Landing: 10.7 miles
Trip Map
Video
Photos
How did your trip turn out?

Questions or comments?

Feel free to leave your feedback.