Pictured Rocks National Lakeshore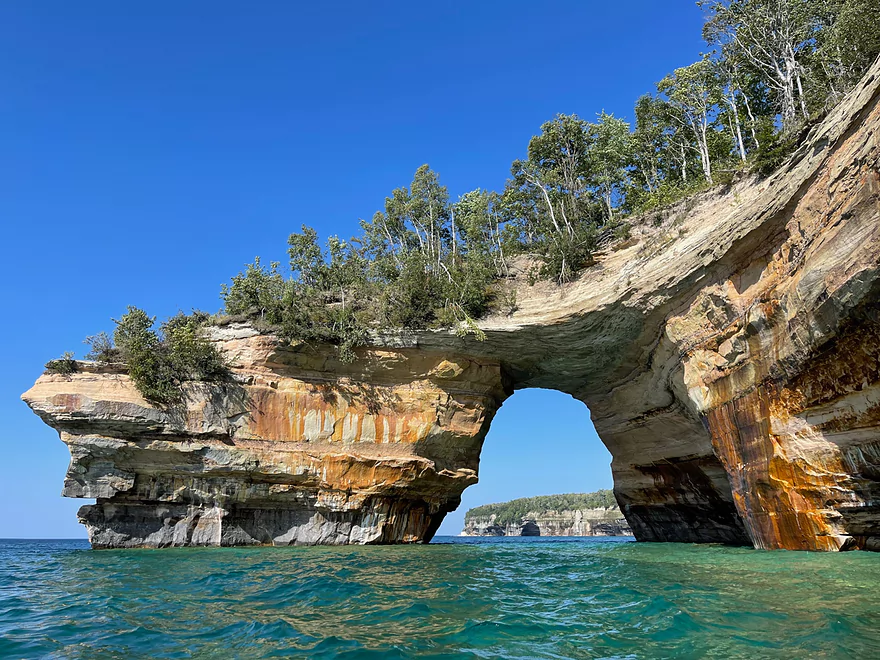 Date:
September 4th, 2023
Pictured Rocks is a challenging, yet rewarding kayaking experience. The conditions need to be just right and it's better tried in late summer when the water is warmest.
The trip started at Miner's Beach which requires an 800 foot carry to the beach. The trip started by heading east which starts out with the beach. After paddling about 1/2 mile, the rocks appear and the cliffs rise in elevation. There are a few sea caves that can be entered with water dripping from the ceilings. Water is constantly seeping out of the cliff walls. The colors become more vivid as the trip continues east. There is a break in the cliffs at Mosquito Beach which is a popular rest stop. Lover's Leap is visible in the distance.
Lover's Leap was the highlight of the trip with the huge arch and natural bridge that rises 140 feet above the water. The cliffs continue for many more miles to the east which may be tempting to paddle. However it is a 4 mile paddle back to Miner's Beach and a grueling trip back awaits so the trip turned back west. On the return trip, there was a stop at a rocky beach and the colors changed with different sun angles. After approaching Miner's Beach the trip continued to Miner's Castle just to the west of the beach. After paddling around the famous rock formation the trip ended where it started 5 hours earlier.
Overall the trip is challenging paddling in Lake Superior, but the sights are some of the most spectacular that can be seen during a kayaking trip.
Addendum from the Webmaster:
Thanks Peter for the review!  WisconsinRiverTrips.com is always very appreciative of guest reviews, and if you the reader is ever interested in submitting one, you can use this online form. 
Note to readers.  This Pictured Rocks review supplants a previous review that had become outdated.   I (the webmaster) have added some additional information below on Pictured Rocks to help paddlers plan a trip along Pictured Rocks. 
Hazards:
Wind:  Lake Superior obviously lacks cover, so wind can be a major problem.  Kayakers should carefully monitor forecasts and avoid the lake if winds are stronger than say 7 MPH.  There are many wind/forecast websites out there…I like Windy.com.  Note, typically winds are calm in the morning and build up by the afternoon.  It can be worth it to set an alarm clock for an early start to beat the winds.  Also strong winds usually correlate with big waves….especially if the winds are blowing toward shore which allows the waves to grow for long distances.
Cold Water:  Lake  Superior is infamously cold…especially further away from shore.  July to October are the ideal times to paddle the lake.  Outside of that, the lake will be too cold for most paddlers.  Even in later summer, Lake Superior away from the beaches and coves won't be much above 50 degrees.  Protective clothing (mostly neoprene) is highly recommended.  I'm a big fan of NRS apparel especially their hydroskins.  NOAA does feature an experimental water temperature forecast which you can see here.
Waves:  Paddlers should stay off the Great Lakes when there are decent waves.  Ideally wave height should be less than 1′.  You can check wave heights from a number of sources:
Distance:  Much of the Pictured Rocks Lakeshore is very steep, with few spots to get out for a break or to recover from an emergency.  Paddlers should carefully study the maps and know where the beaches and break areas are.  Also paddlers should be careful not to plan trips that are too long.
Splash Protection:  Paddlers may want to consider a half-skirt or full-skirt to keep water from splashing into their cockpit.  A simple bone sponge is also recommended to remove water.  The best way to keep splashing waves out of your boat though is to simply time your trips when Lake Superior is calm.
Rock slides:  If paddlers are extraordinarily lucky, they may get to see a rock slide.
Camping:
There are a number of campsites along the shore.  Some can only be accessed by kayak and some via the "North Country Scenic Trail".  Many of the campsites lack amenities and are a long hike or paddle from civilization.  Prepare carefully before doing a camping trip.  Also note, the National Park Service has created countless rules for camping.  For starters, you must obtain a backcountry camping permit before you use any campsites.  Here is an expanded list of rules and a map of campsites.
Rentals/Shuttles:
Pictured Rocks Distance Overview:
Note also…paddlers can paddle out to Grand Island which is scenic and features sea caves on the eastern shore.  To go from Sand Point to Trout Bay and back would be roughly an 11 mile trip.  Here's more information.
Local Highlights:
Trip Map
Overview Map
Video
Photos
How did your trip turn out?

Questions or comments?

Feel free to leave your feedback.