Pine River – Hwy 80 to Hwy D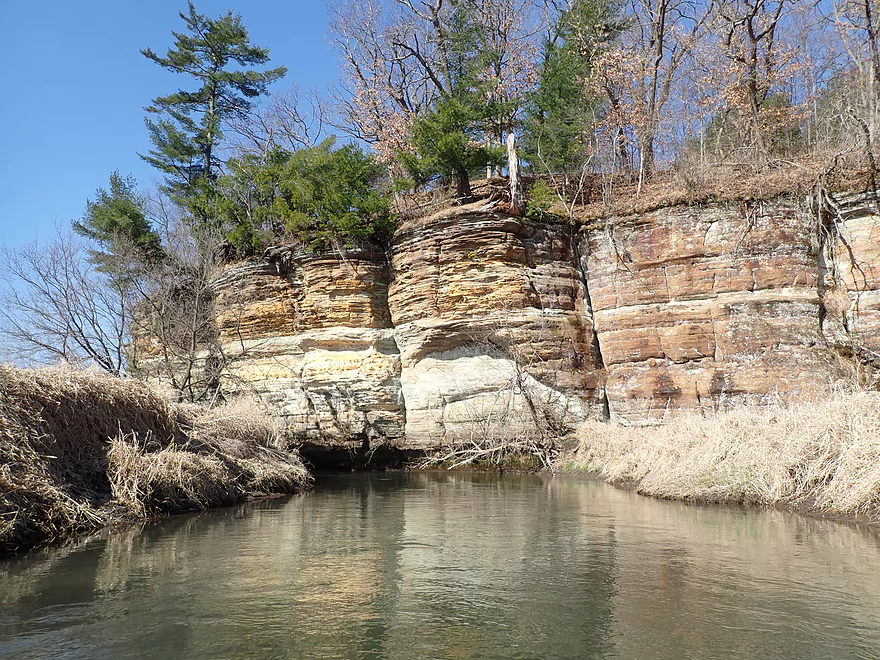 Put-in:
Hwy 80 (by Gardnerwall Ln)
Take-out:
Hwy D (by Buck Creek)
Ten years ago I did an exploratory paddle on the Pine River by Rockbridge.  That trip had many challenges…  It was raining, my camera battery prematurely died, there were many serious logjams with difficult portages, and the trip was overly long at over 11 miles.  On the plus side, we saw many spectacular outcrops.  The thought kept going through my head that this could be an incredible water trail if only the downed trees were cleared up…and what do you know that happened!  A local business was formed (Pine River Paddle and Tube) which has since done tremendous work removing logjams, installing new landings, and providing shuttle/rental services to kayakers.
Fast forward 10 years, and I was anxious to see how the river had changed with all the new improvements.  A secondary goal was to explore a little known upstream sub-leg by launching a mile north of Rockbridge.  My previous scouting indicated it could have some nice cliffs.
I started my trip at Hwy 80 just upstream from Gardnerwall Lane.  I had to drag my boat down a long embankment, but it wasn't bad and I was able to get onto the water ok.  The cool thing about launching here was that it was backdropped by a gorgeous sandstone cliff.  Unlike many Pine River outcrops that mostly face west, this one faced east and was really nicely lit up by the morning sun.  Of the 13 or so outcrops I saw on the trip, this was my second favorite (after Pier County Park of course).
The next mile or so I feared multiple difficult logjam portages, but aside from a few tight fits and "hoppers" I never had to get out of my boat which was a relief.  The channel was deep and fast though, so it was definitely not a stretch for beginners unaccustomed to snags.  There were downed trees in the channel, but usually a way around them.  In one case a decent-sized hunting blind had even fallen onto the river.  At about the half mile mark, I encountered my second outcrop, which was another east-facing cliff (super scenic).
After a mile, tall vertical sandstone cliffs marked the start of Pier County Park.   It was also here that the West Branch of the Pine River joined the main branch.  I highly advise paddling upstream a short ways on the West Branch as a means to explore the park.  Pier County Park has changed in 10 years, and I was pleasantly surprised to see not one but two new launch areas in the park for paddlers.
The highlight of the park (if not the entire river) is where the West Branch punches a tunnel through the thick sandstone cliffs.   One can (and should) paddle through the tunnel where you'll encounter another impressive cliff on the west end of the park.
While you can see much of Pier County Park by boat, it's worth it to also explore it by foot.  There is a second, man-made tunnel (not to be confused with the river tunnel) which connects the east and west ends of the park.  This is part of a scenic trail system that does a figure-8 through the park and even climbs up on top of the bluff.  One can camp on the blufftop plateau, but you do need a camping pass which you can purchase from the adjacent "Natural Bridge Store". 
After that, I floated back out of the park and onto the main branch to continue my trip.  From then on, snags were mostly a non-issue thanks to the incredible cleanup efforts of locals. 
Honestly, the river itself wasn't that interesting.  The channel was somewhat deep, dirty, fast, and consisted of a lot of dead wood and debris.  But the outcrops were fantastic and there were so many of them.  My final trip tally was 13, which is a lot for a 4-5 mile trip.  So the Pine River is a bit of a one trick pony, but that trick is so good it makes it all worth it.
I opted for a shorter trip and ended at Hwy D by Buck Creek.  Ten years ago this area was overgrown and uninviting as an access.  But now it was nicely mowed and a small launch station was set up on Buck Creek.  I could have continued to the next take-out and seen a few more outcrops, but I decided to keep things short as I knew I had already experienced the best part of the river.
In summary this was a terrific trip and a Driftless Area classic I would recommend to all Southwestern Wisconsin paddlers.  Because it is so close to the Kickapoo and Baraboo Rivers, one might ask how it compares?   Well the Kickapoo is very special in its own right and I would still rate that slightly higher even though it doesn't have anything like Pier County Park.  The Pine though is certainly much better than the Baraboo, which is a good water trail in its own right.
Note, I would recommend that most paddlers not start at Hwy 80 by Gardnerwall Ln (like I did), but rather at Pier County Park.  At this time, there are too many snags for casual paddlers in this upstream segment.  But experienced paddlers not minding a few downed trees and wanting to see new scenery will find it worth launching by Gardnerwall Lane.
Hopefully in the future, the local community will clean up this upper stretch as well as much of the far Upper Pine which is brimming with potential as a water trail.  I previously paddled the upper Pine between Hub City and Yuba, and was impressed with its outcrops (especially between Hwy 80 and Shellington Drive).
Noteworthy Wildlife:
I didn't see much…just a few muskrats, geese, and one mink.  The river is very close to noisy Hwy 80 which likely scares off a lot of wildlife.
Local Diversions:
Roadside Outcrops:  Northern Richland County is part of the driftless area and is what locals refer to as the Ocooch Mountains.  It's ridiculously scenic because of all the sandstone cliffs along the roads.  It's worth it to drive around on Hwy 80 and Hwy 58 just to see them.  If you're up for a scenic car tour or a "parade of outcrops", I've compiled from memory a map of the major cliffs you can see from your car.  The most impressive are marked in red.
Put-in:
Hwy 80:  Note, Hwy 80 crosses the Pine River multiple times.  The bridge I'm referring to is just north of Gardnerwall Lane.  This is a medium difficult put-in as one has to pull their boat down a large bank and then under the bridge itself to launch.  I thought it was manageable, but less adventurous paddlers may disagree.
Alternate Put-ins:
Pier County Park:  1.4 miles downstream of my Hwy 80 put-in.  This is a great access with a floating dock for launching, a public parking lot, outhouses, and a super scenic cliff.  Most paddlers will prefer launching here.  Only adventurous paddlers wanting to see additional outcrops will launch from the upstream Hwy 80 bridge.
Take-out:
Hwy D:  At the corner of Hwy D and Hwy 80, Buck Creek enters the Pine River.  Here there is a nice shoulder for parking and a mowed embankment leads to the water.  On the creek there is a small station where paddlers can launch or disembark.  All in all a good access, but Buck Creek is a bit muddy.
Alternate Take-outs:
Hwy 80 (south of SR):  2.3 miles downstream from Hwy D.  I believe there is a new landing here for paddlers.  This is a good add-on leg and would add maybe 3 outcrops to the trip.
Shuttle & Rental Information:
Bike Shuttle:  2.6 miles with 10′ of ascent.  This is a super easy bike shuttle.  The only downside is Hwy 80 is a bit busy, but it's all manageable.
Pine River Paddle and Tube LLC:  This is a good rental and shuttle service that I've used before.  Their primary shuttle coverage is from Rockbridge to Richland Center.  Contact Mark to ensure availability (608-475-2199 or message on Facebook).
Hazards, Logjams and Current:
Current:  The current is somewhat brisk, but there are no real rapids to worry about.
Fences:  None.
Logjams:  Strictly speaking I didn't have to portage any logjams for the trip.  But upstream of Pier County Park, there were several tight fits around downed trees that were a bit tricky.
Strainers:  There were a few strainers below Pier County Park, but mostly not too concerning.  These might be a bit tricky for inexperienced paddlers in high water though.  Upstream of Pier County Park there were 4-5 tricky strainers that required careful circumnavigation.  Beginner paddlers will likely want to avoid paddling upstream of Pier County Park.
River Depth and Navigability:
Closest Gauge:  Kickapoo River @ Ontario
Trip Depth:  8.82′
Navigability Estimates:  The following are only rough estimates.  Please use your own good judgement when deciding to paddle a river or not.

< 8.75′:  Below average, but very good for paddling. 
8.75′-8.95′:  An average depth.  Good for paddling.
8.95′-9.05′:  Above average. Fine for paddling.

9.05′-9.2′:  A highish depth.  The current may get a bit pushy especially around some partially submerged trees.
9.2′-9.4′:  A high depth, perhaps only suitable for skilled paddlers.
9.4'+:  Perhaps too high for paddling.
Detailed Overview
Map Overview:
Click here to see a map of water trails and access options on the Pine (and its tributaries).
Quick Overview:
Yuba to Pier County Park:  Few paddle this stretch because of deadfall issues, but the river here is scenic and has some great outcrops.
Pier County Park to Hwy D:  The best and most popular part of the river.
Hwy D to AA:  An ok stretch with some outcrops, but not as many.
Hwy AA to Hwy O:  A nice stretch through the city of Richland Center.  There are no outcrops here, but there are fun Class 2 rapids by Seminary Street.
Hwy O to Mouth:  This was cleaned up years ago, but likely has a few deadfall issues now.  This is a mediocre paddle with no outcrops and isn't as interesting as upstream legs.
Detailed Overview:
Yuba to Hwy C:  2.3 miles.  Relatively open with some light rapids.  Maybe one logjam.
Hwy C to Beatty Dr:  0.4 miles.  Mostly open with maybe some outcrops.  Good prospect.
Beatty Dr to Quarry Dr:  1.6 miles.  Maybe 4-5 logjams.
Quarry Road to Shellington Rd:  4.8 miles.  Mediocre trip with some deadfall and mud, but some nice geology.


Quarry Road to Hwy C:  1.5 miles.  4 major logjams make this not worth it IMO.  There are two outcrops, but they aren't major.
Hwy C to Shellington Road:  3.3 miles.  Some snags, but no logjams.  Bit of a trout stream feel to it.  Two nice clusters of outcrops at the end.  An underrated paddle.

Shellington Rd to Hwy 80:  1.5 miles.  Maybe 5 major logjams, but there should be some great outcrops on this stretch.
Hwy 80 to Hwy I:  0.5 miles.  Likely an uninteresting stretch with maybe 3 logjams.
Hwy I to Hwy 80:  0.8 miles.  Not a great stretch with maybe 2 serious logjams.
Hwy 80 to Hwy D:  5.1 miles.

Hwy 80 to Pier County Park:  1.4 miles.  Two great outcrops, but also a number of snags on this stretch (none that I had to portage).
Pier County Park to Hwy D:  3.7 miles.  11 outcrops on this stretch makes this the best leg on the Pine.  The highlight is Pier County Park.

Hwy D to Hwy AA:  6.9 miles.

Hwy D to Hwy 80/SR:  2.3 miles.  Roughly 3 outcrops on this leg.
Hwy 80/SR to Hwy AA:  4.6 miles.  Trying to remember…I believe there are 1-2 nice outcrops on this leg.

Hwy AA to Hwy Q:  5.4 miles.

Hwy AA to Industrial Dr:  2.7 miles.  Nice open section with views of the hills.
Industrial Dr to Krouskop Park:  1.7 miles.  More tree cover.  Some submerged logs to dodge.
Krouskop Park to Hwy Q:  1.0 miles.  Great section with cool bridges, class 2 rapids and hilly scenery.

Hwy Q to Hwy O:  5.5 miles. 

Hwy Q to Bohman Dr:  2.3 miles.  A nice section.
Bohman Dr to Hwy O:  3.2 miles.  Mostly open with some cornfields.  Not as nice as the previous sections.

Hwy O to Twin Bluffs:  4.8 miles.  Mediocre prospect.
Twin Bluffs to Gotham (mouth on Wisconsin River):  9.6 miles. Mostly floodplain paddling so not as interesting, but still ok.
Noteworthy Tributaries:
Willow Creek:  The best of the Pine River tributaries with fantastic "cake-shaped" outcrops.
Melancthon Creek:  An incredibly scenic creek that can only be done in high water.  There are two tunnels that you can paddle through.  Sadly there were a few annoying logjams on this stretch when I did it in 2017.  Hopefully they've been cleared up by now or will be in the future.
Hawkins Creek:  This is a speculative prospect I will likely do in the future.  It has many scenic outcrops, but also a fair degree of logjams, fences, and can only done in high water.
Pine River - West Branch:  This is one of the weaker tributaries.  A lack of outcrops and likely fences/logjams make this somewhat unappetizing, but I might try to explore the more open sections in the future.
Trip Map
Overview Map
Video
Photos
2 Comments to "Pine River – Hwy 80 to Hwy D"
How did your trip turn out?

Questions or comments?

Feel free to leave your feedback.