Madeline Island Sea Caves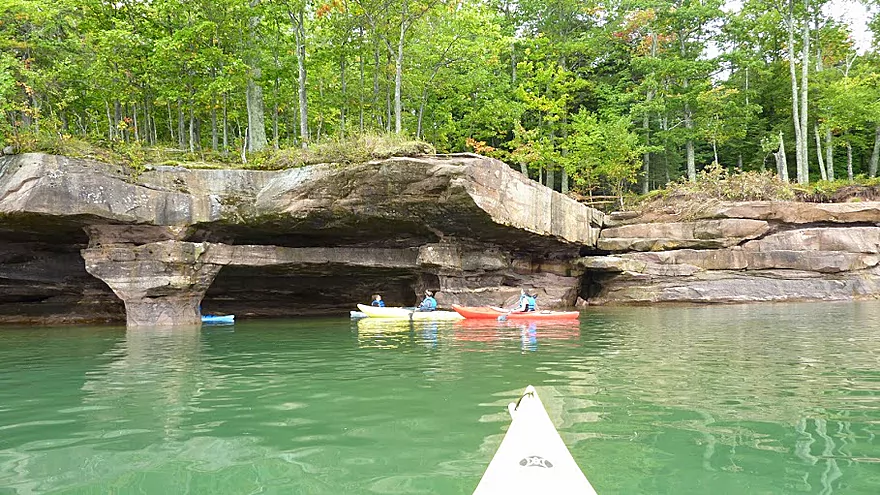 Put-in:
Big Bay State Park--Barrier Beach
Take-out:
Big Bay State Park--Barrier Beach
At 14 miles long and 3 miles wide, Madeline Island is the largest of the 22 Apostle Islands off Wisconsin's Lake Superior shore.  It is the only one of the islands that is inhabited and the only one not included in the Apostle Islands National Lakeshore. 
Madeline Island has two outstanding parks:  Big Bay State Park and Big Bay Town Park.  They are located adjacent to each other and on opposite sides of a protected Lake Superior cove called Big Bay.  Both parks have camping and beach access, picnic areas, trails and overlooks.  Big Bay Sand Spit and Bog State Natural Area is also located here.
The Big Bay area offers an unusual diversity of shoreline types for kayakers:  sandstone cliffs, rock formations and sea caves, a very long sand beach, and a barrier sand spit and lagoon. Trails in both parks give additional views and a chance to explore on land.  Recommended trails are Bay View Trail, above the rocky cliffs and caves, and Barrier Beach Trail, a boardwalk on Big Bay Sand Spit.  Be sure to bring your camera!
For the really adventuresome, cliff jumping is popular at Big Bay Point (right above the sea caves)–that's if you are really daring and need to cool off.  (And by the way, the water temperature here is never more than 50-60 degrees, so if you jump in, you WILL cool off).
Safety
In the summer of 2018, a tandem kayak flipped while traveling from Madeline Island to Michigan Island.  Despite wearing life jackets, the father and three of the children died from hypothermia, while the mother survived.  Michigan Island was 4 miles away and a difficult trip because of the 3 foot swells.  Kayakers should always be mindful of the forecasted wind (ideally nothing greater than 10 mph) and the swell height (no more than 1′ for rec boats).  Also protective clothing against hypothermia (even in the summmer) should be worn for open water paddles on the great lakes.
Getting to Madeline Island
The Madeline Island Ferry travels from Bayfield to Madeline Island every half hour and takes about 20 minutes. Many people bike or walk onto the ferry to save money. Both of the island's kayak liveries–and everything else in La Point (Madeline Island's only town)–are within walking distance, and both island liveries provide shuttle service to their launch sites (check ahead though). 
The trip
While on Madeline Island in June for a family event (my cousins grew up on the island), I discovered that Madeline Island not only has sea caves (like their mainland and Apostle Island siblings), but there was a local livery that provided kayak tours to the caves.  So, although it wasn't in my original plans, I had to check this out. 
We did our trip with Apostle Islands Kayaks, which has been in business for 11 years and has introduced thousands of people to both kayaking and Madeline Island's fantastic shoreline.  Ed Kale, the owner, is a unique character who is obviously very comfortable with people…and kayaks.
Joni's Beach, a small park across the street from Apostle Islands Kayaks, is a popular launch area, but our tour began closer to the island's sea caves at Big Bay State Park, 6.5 miles away.  Parking and facilities are all handy at Big Bay, and since it's an out and back trip, no shuttling is necessary. We did get a ride over with our guide, but people can also meet at the park.
Our guide was Kelsey, a Northland College student with lots of kayaking experience and a truck plate that read "KAYAKED." Kelsey passed out paddles and life jackets to everyone and then gave us a quick lesson on kayaking basics:  Hold your paddle so that a pizza box will fit between your arms…  Last chance for a bathroom stop, and then it was down a long wooden stairs to Barrier Beach–a phenomenal 1.5 mile crescent of sand rimming Big Bay.
No kayaks in sight.  They were stacked discretely on a rack back under the trees.  We had a choice: single or double.  Most chose double kayaks–despite my warning that they aren't known as "divorce makers" for nothing. I think people had the illusion that with two the work would be shared (a fanciful thought to all but the really experienced). 
Some practice for the newbies on getting into and out of the yak without bailing, a little adjustment to the footrests, and then we were off–in water so clear and aqua blue it was a treat just to float on top of it. The water was also glassy smooth and I asked Kelsey how often Lake Superior offered such smooth sailing. He joked, "Never!" (I think he meant infrequently…)
Lake Superior is difficult if not dangerous when it's windy or stormy, and kayakers need to be ready with alternate plans if the weather doesn't cooperate.  At the very least, a wind will sap your energy and enjoyment. The great advantage of paddling where we did, on the east side of the island, is that it is protected from winds that would chase less fortunate kayakers off the water.
Our tour proceeded about 50 to 100 feet out from shore. The water could have been 10 or 20 ft. deep–it was so clear, it was hard to tell–but we could see huge rock slabs and boulders under the surface.  It was a little hard to take pictures though.  Just a few shots put me woefully behind and then it was a power paddle to catch up.
It was at this point that Kelsey pointed out Wisconsin to our left and Minnesota far off in the distance (I knew all that). But what was really amazing was that we could also see Upper Michigan's Porcupine Mountains on the far right, appearing as a thin, bluish, rugged line hugging the lake horizon. 
Steep red banks of clay soon gave way to rocky edges with unique formations:  the "Gnome's Home" and the "Turtle's Head."  Bay View Trail runs along the shore here just inside the woods and we could occasionally see people walking through the trees or stepping out onto the scenic promontories to view the lake.
The stone on Madeline Island is called "brownstone" and is colored reddish from small amounts of iron.  It is different from the lighter sandstone that underlies most of the other Apostle Islands. 
About a mile from the beach we finally reached Big Bay Point, which is where the largest cliffs and sea caves are.  The caves are extremely scenic, with some large enough to paddle around underneath–a tribute to thousands, if not millions, of years of watery erosion.  This is the place where the camera needed to get a workout, but…too many family pictures the previous day…my camera died (serendipity doesn't always come with charged batteries.)
The caves and rocks needed lots more time to explore, but we were on a schedule and had to turn back. It was a quicker return trip, but the tour was only half done. The plan (per tour package) was to stop at the beach for lunch, then continue in the other direction to explore Big Bay Lagoon–a very long pond almost totally cut off from Lake Superior by a thin ridge of sand.
Paddlers did have the option to park their kayaks and head out at this point, and that's what everyone ended up doing. Most of us had long drives ahead, and the newbies seemed tired. Some of the paddlers had done pretty well, but one woman who had struggled to paddle in synch with her partner exclaimed, "It was a beautiful trip, but I'll never, ever kayak again!" (May I recommend the single kayak next time?)
Ed Kale later agreed to share some of his pictures of the sea caves and of the lagoon for this website, since we didn't quite reach the lagoon (perhaps another trip). So, a great experience and lots of good images (pizza boxes, turtle heads–but mostly fantastic rock formations and incredible scenery) to take home with me.  A highly recommended trip if you're ever in northern Wisconsin or even as a destination paddle. 
Rentals and kayak tours
Apostle Islands Kayaks  (715) 747-3636 
Located on Madeline Island only 3 blocks from the ferry (easy walk).  Offers kayak rentals at Joni's Beach in La Pointe or at Big Bay Town Park (about 7 miles away). Guided tours depart from Big Bay State Park (6.5 miles away) and take in the cliffs and sea caves, with an extended paddle option to nearby Big Bay Lagoon.  Note, this business may no longer use Big Bay State Park as a put-in.
Adventure Vacations  (715) 747-2100
Located in La Pointe just one block from the ferry.  Only does guided cave tours–not kayak rentals. Kayaks are located on the beach at Big Bay Town Park. Tours cross Big Bay to the cliffs and sea caves at Big Bay Point, with a take-out on the rocks and options to snack, snorkel, or cliff jump (very popular at the park).
Public launch sites
Joni's Beach  (three blocks from the ferry on Main Street)
A terrific spot to launch (it has a regular boat landing), but is on the windward side of the island, so can be rough in windy weather.  The paddle to the sea caves, mid-way around the island, is much longer from here. If you go around the entire island, it's 32 miles.
Big Bay Town Park  (halfway across the island on Big Bay Road)
A great place to launch, but you'll have to drag your canoe 100 yards from the parking lot, heel-nip it down 33 steps, and carry it over a scenic walk bridge (which lots of people do–although going back up the steps will be a bit harder).  There's no park fee, which might explain why the this park is such a popular spot to put in.
Big Bay State Park  (Middle Rd/Cty H and Hagen Rd)
Barrier Beach (also great for swimming, lounging, picnics, photographs, and agate hunting) is accessible down a long flight of stairs (this one has 40 steps) at the edge of the park's north picnic area. This is where we put in and is an absolutely beautiful launch area.  You will need a park sticker if you bring a vehicle.
Grigg's Landing (just north of the ferry dock)
North End Park (far end of the island on North Shore Drive–about 10 miles)
Schoolhouse Beach (10 miles east of La Pointe on Hwy H)
Old Fort Road Beach (end of Old Fort Road just south of La Pointe)
Other trip options
Additional exposed rocky shorelines and cliffs occur north of Big Bay Town Park and at Steamboat Point and Devil's Cauldron on the island's northeastern shore.  These can be done from Big Bay in an out and back trip, or you can kayak around the entire island for an extended trip (figure two days).
Madeline Island is often used as a hopping off point for nearby Basswood, Hermit, Long and Stockton Islands.  Because of this, it is often called the gateway to the Apostle Islands National Lakeshore.
Kayak trips off Madeline Island include, of course, the very famous sea caves on the mainland at Cornucopia (reviewed here).  There are also sea caves on Sand Island, Stockton Island, and Devil's Island.  Numerous outfitters offer trips to these caves, plus trips and campovers to the various islands.
And remember…on days when it's too rough to paddle the open water of Lake Superior and your Cornucopia sea cave plans go bust, Big Bay can still give you caves and kayaking.  Plus, Big Bay lagoon is always a quiet, wave-free sure bet with excellent plant and wildlife viewing opportunities.
The Lake Superior Water Trail (LSWT)
Madeline Island is one of 12 segments on the Lake Superior Water Trail (LSWT)–a network of mapped access points and recreational resources along Lake Superior's south shore.  A interactive map and guide is available online, with info for paddling part or all the way around Madeline Island.
Trip Map
The yellow line is where the bluffs and caves are, the green line is the tour route, and the red line is the extended lagoon tour.


Video
Live webcam feed for Madeline Island at La Point:


Photos
How did your trip turn out?

Questions or comments?

Feel free to leave your feedback.