Lawrence Creek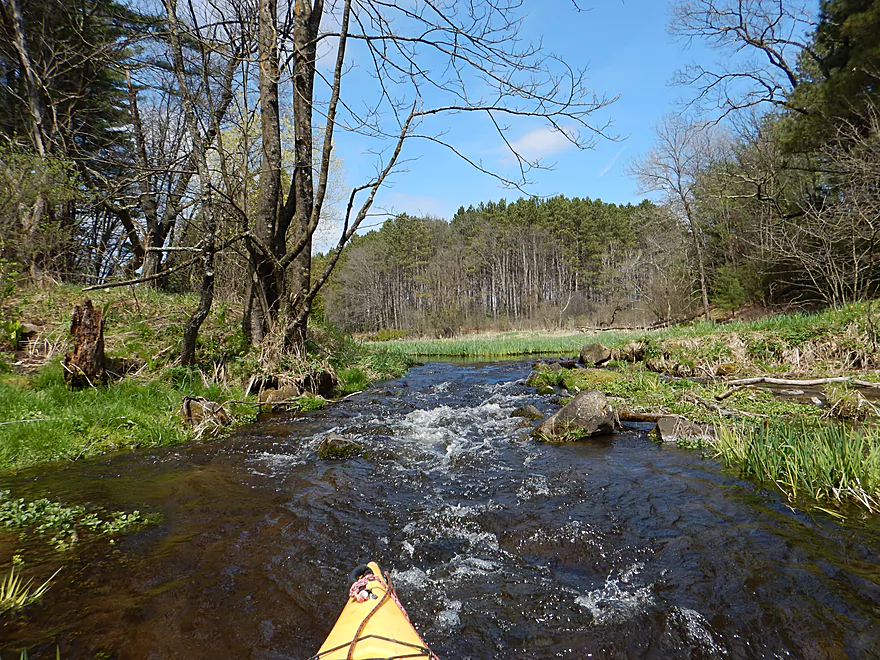 Take-out:
Lawrence Lake - North Ramp (3rd Road)
Chances are you haven't heard of this creek.  It's located about 40 minutes northeast of Wisconsin Dells and is a tributary of the Montello River.  Almost the entirety of the creek resides within the "Lawrence Creek State Natural Area".  While few in the public are aware of this natural area, it is popular with fishermen (several of which I saw).
The highlight of this trip was the water clarity.  Absolutely amazing at times.  The creek seems to be almost entirely spring fed.  The headwaters (located maybe a half mile west of 1st Ave) spring out of "nowhere" (a ground moraine) and are constantly reinforced by springs and seeps from the side.  Many of the seeps are kind of easy to spot from a boat as they tend to be near thick groves of skunk cabbage. 
The other nice thing about this trip was the clean substrate and banks.  I had just paddled the Kickapoo last week, which was relatively muddy with huge dirt banks.  Lawrence Creek on the hand is extremely sandy and clean with occasional pebble gardens in the substrate.  It was pleasant being able to see over the banks and see the surrounding countryside (unlike many southern Wisconsin Rivers that are hemmed in by walls of eroded mud).
The downside to this trip would be the logjams, but don't let this discourage you (although I did take a star off the trip because of them).  The first section, (from the put-in until the woods), is a nice open marsh and has no logjams to worry about.  The "woods section" does have a number of down trees…but these are super easy to portage because the water is shallow, sandy and clean.  Plus none of the jams are very big.  I suggest bringing rope and aquatic footwear, and just walking your kayak for the wooded section (maybe a third of a mile).  Very easy.  The woods are the best part, with the fastest current, attractive pebble gardens, hills that hug the creek, and scenic seeps coming out of the hillsides.  After the woods, there were a few portages but these were  easy because the banks are so flat.
You might think that the creek seems too narrow to be navigable from the pictures, but this was actually never a problem and navigation was easy.  The small width actually gave the creek a lot of its character (especially in the fast sections) and it reminded me of the upper Mecan River.
After Eagle Ave (super scenic section BTW), the creek drowns under a flowage.  Lawrence Lake is overdeveloped, busy, weedy and too muddy to like.  It's actually a deep lake and the dam undoubtedly has buried some good gradient and fast current.
Put-in:
Good bridge access by 1st Ave with a public parking lot just southwest of the creek (the creek gets a lot of fishermen). 
Take-out:
There are two boat ramps on Lawrence Lake.  Both are free but lack outhouses.  Do note that these are small and might fill up on summer weekends.  For taking out, I chose the north ramp as it meant a significantly shorter bike shuttle.
Shuttle Information:
The bike shuttle is a little hilly but not bad–a scenic route with little traffic and only 2.5 miles.
Hazards and Log Jams:
There are a few class 1 rapids, but these are easy.  Most of the trip did not have logjams, but there was a short section in the woods that had a number.  Don't let this discourage you as portaging these was super easy. 
River Depth, Navigability and Current:
Because Lawrence Creek is spring fed, I suspect it stays fairly stable no matter when you paddle it.  The creek, despite being narrow, is often times surprisingly deep (some holes were about five feet down).  The current is very peppy but never obnoxious.  Again, there were several riffles and minor class 1 rapids.
Noteworthy Wildlife:
Black squirrels, cranes, geese, ducks, and painted turtles.  I could see many fish through the clear water but few were very big.  For plants, there was a lot of skunk cabbage and mint (both of which I could smell).
Special Thanks:
Thanks to Adam Kiernicki for suggesting this as a trip idea (and for some other ideas you may see reviewed in the near future as well).  If you have ideas or requests for paddling trips, feel free to let me know.
Detailed Overview
Headwaters to 1st Ave:  1.0 miles.  In theory, there should be a spring located at the headwaters a mile upstream from 1st Ave.  This might be more viable as a roundtrip.
1st Ave to Lawrence Lake (North Ramp):  3.0 miles.  Technically Lawrence Creek, this is a small paddle with some logjams, but is really nice with stunning water clarity and virtually no mud.  A very underrated paddle.
Lawrence Lake (North Ramp) to Lawrence Lake Dam:  0.8 miles.  A simple lake paddle.
Lawrence Lake Dam to Pioneer Memorial Park:  5.6 miles. 

Lawrence Lake Dam to Westfield Veterans Park:  4.8 miles.  A terrific paddle because of the incredible clarity and natural springs.  Only downside are a few logjams, but they are easy portages.
Westfield Veterans Park to Pioneer Memorial Park:  0.8 miles.  The river here is faster, deeper, more wooded and less clear.  It's a scenic stretch flanked by steep clay banks.

Pioneer Memorial Park to Hwy E(by Charles St):  0.6 miles.  A nice little prospect.  Mostly within earshot of busy I39.
Hwy E(by Charles St) to Hwy E/B(by Maynard Dr):  5.1 miles.   Maybe 15-20 logjams.
Hwy E/B(by Maynard Dr) to 10th Lane:  1.4 miles.  This section should be mostly clear with I believe the only jam being the one you'll see from the Hwy E bridge.
10th Lane to Hwy E:  0.7 miles.  Nice open marsh paddle. Good access at both the put-in and take-out.
Hwy E to Water Street Dam:  1.7 miles.  A boring flowage.
Water Street Dam to Hwy J:  600'.  There are cool rapids between the two bridges in this short stretch.
Hwy J to Ember Lane:  5.1 miles.  A good prospect with clear water.  There are some logjams (maybe 6), but I think you can squeak by most of them.
Ember Lane to 11th Rd:  4.0 miles.  A good prospect but some logjams to deal with (maybe 4).  Good water clarity.
11th Rd to Lake Montello (park on south shore):  3.7 miles.  A simple section with some lake paddling.
Montello Dam to the Fox River:  0.6 miles.  A nice little urban stretch.
Trip Map
Overview Map
Video
Photos
8 Comments to "Lawrence Creek"
How did your trip turn out?

Questions or comments?

Feel free to leave your feedback.