Prairie River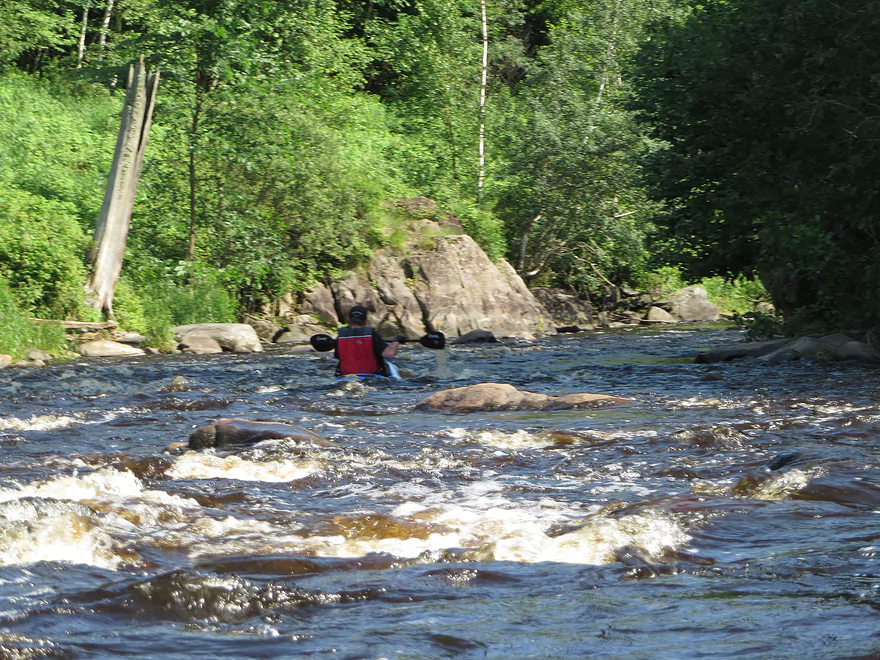 Take-out:
Prairie Road Public Access
Time:
Over 4 hours (with lunch break)
Gradient:
18' per mile (roughly)
We did the Prairie River from Heineman Rd. to the public access at the end of Prairie Road.  This stretch is only a few miles northeast of Merrill, in north central Wisconsin.  The Prairie River proved to be a typical northern Wisconsin small river, with cool, clean, root beer-colored water that moved along at a moderate clip.  The highlight of the trip was a long stretch of rapids through scenic, rocky dells, for which the river is known.
The route was largely forested, with grass and overhanging shrubs dominating the shore.  The bottom started off as gravel and mud, then gave way to rocks as it approached the rapids.  Although the water wasn't that low, there were lots of submerged rocks that we kept hitting.  There were no fallen trees to negotiate, which was nice. 
There were numerous beds of different water plants.  Insects were abundant.  Damselflies, dragonflies, and midges made up the majority of them.  Although we did see five or six private homes/cabins scattered along the route, this stretch is largely undeveloped.  It took us a little over 4 hours to cover approximately 5.5 miles, although we did stop for a half hour to eat lunch.  We took it pretty slow.  This would certainly be a quicker run in high water.    
Details: 
The put-in location by Heineman Rd. consists of a steep, grassy bank next to the bridge leading down to a muddy shore.  We just parked next to the bridge–it wasn't too difficult.  The first one-quarter of the route had no obstacles and was easygoing.  Shortly after Prairie Dell Pond (which exists on the map only), the rapids began and continued off and on until about the halfway point.  Boulders started to pop up here and the river got shallower, causing us to scrape bottom frequently.  This is a long stretch of rapids that doesn't give you time to recover from any mishaps–mostly class 1, with some class 2s, but some of these were pretty rough.  A couple of times, I wasn't confident I was going to emerge right side up! 
The shoreline is much steeper along this section and is also more wooded.  There are a couple of nice rock formations here, as well as a rocky bluff with an observation platform on top.  The second half of the river was more level, with a number of riffles, but no noteworthy rapids.  Our kayaks scraped rocks numerous times on this segment.  The take-out was a little hard to find.  It consisted of a muddy trail through the shrubs up to a small gravel parking area.  My GPS was very helpful here.
Miscellaneous considerations: 
At the midway point of our trip is Prairie Dell County Park.  It consists of a wooden lookout platform overlooking the Prairie River.  The view is nice, but not a must-see, as much of the river is obscured by trees.   The park can be accessed by car via a short drive off Hwy 17.  
For those of you who do bike shuttles, it is not a short ride, but is mostly paved and not too hilly.  
Although not dangerous at the water levels we did it, whitewater experience is definitely recommended for this one.  If you don't use a skirt, you will take on water in the rapids.
For a shorter trip, or if you were just interested in the rapids, you could put in at the old Hwy. 17 bridge by Prairie Dell Pond and take out on Shady Lane Ave. (which dead-ends near the river).
Final thoughts: 
Although a nice river, constantly hitting rocks was annoying.  I would only do it again if the water was higher and I was looking for some excitement.  I would also do a shorter section. 
Webmaster's Addendum
Thanks, Corbin, for the review!  It should be noted that Corbin has also run the Little Wolf and felt the Prairie River was actually rougher.  Again, the Prairie is a river not to be taken lightly.   The Prairie Dell Pond that "exists on the map only" did exist prior to the 90s when the DNR, to improve trout habitat, removed a large dam that backed up the river.  At one time, four separate dams slowed the Prairie on its way to the Wisconsin River.  None remain.  If you are interested in learning more about the Prairie River, here are some additional resources:
Prairie River Overview:
Upstream of Hwy J:  There are likely navigable sections upstream of J, but I don't know more.
Hwy J to Heineman Road:  1.7 miles.  I assume this is a simple but pleasant section.
Heineman Road to Prairie Road Public Access:  5.7 miles.

Heineman Road to Hay Meadow County Park:  1.5 miles.  Easygoing with no obstacles.
Hay Meadow County Park to Shady Lane Ave:  2.5 miles.  Scenic section with boulder gardens, outcrops and dells.  Includes some Class 2/3 dells.
Shady Lane Ave to Prairie Road:  1.6 miles.  Likely minor rapids and boulder gardens during low water.

Prairie Road to Hwy C:  2.9 miles.  A handful of large islands.  Maybe some minor rapids.  Could be a few logjams on some of the  islands channels.
Hwy C to Prairie Trails Park:  7.4 miles.  Likely a pleasant wooded paddle.
Prairie Trails Park to Strange's Park:  1.9 miles.  A wooded section through downtown Merrill.
Strange's Park to Mouth:  1.1 miles.  Final stretch of the river. 
Take-out Options on Wisconsin River:  Shortly after the mouth, there is a dam.  Unfortunately I'm not sure this is a good take-out option.
Trip Map
Overview Map
Video
Photos
One Comment for "Prairie River"
How did your trip turn out?

Questions or comments?

Feel free to leave your feedback.