Mill Creek (Richland County) – Boaz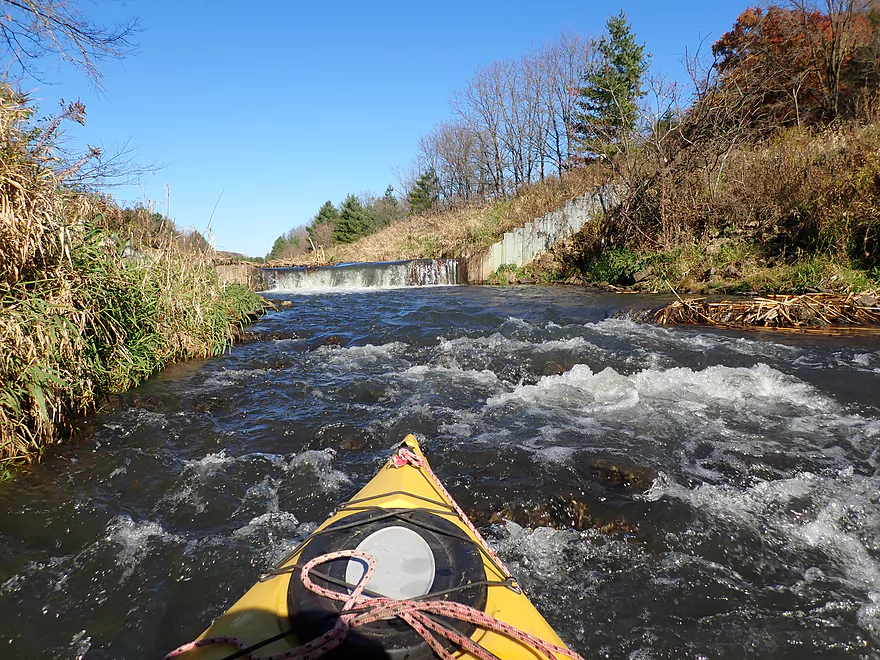 Time:
Figure just under 2 hours
Mill Creek is a small tributary to the Wisconsin River located just west of Richland Center.  While not as big or as interesting as its neighbors (Kickapoo River, Pine River, Willow Creek, and Melancthon Creek), it's still a pleasant stream that has been on my todo list for a long time.
I started the trip at Hwy 14 just north of the community of Boaz.  The put-in was a bit weedy but manageable.  Just upstream from the bridge was a nice stand of pine trees and the first of what I dubbed a "half dam" (a 2′ artificial ledge with an open middle).  After paddling upstream a bit to check that out, I turned around and headed downstream to start my trip.
Just after Hwy 14, the East Branch joined the main branch.  I paddled upstream on it to Hwy 171 which was a nice tributary with clear water and small fish.  Unfortunately it got pretty shallow fairly quickly and ultimately I was stopped by yet another half-dam.  It was on the East Branch that the famous Boaz Mastodon was found.  To this day there might be more Mastodon bones in the area just waiting to be found.
Back on the main branch, the creek just above Boaz ran fairly straight, deep (~3′), slow, and was flanked by high banks.  It's a good bet it was channelized by farmers some years ago. 
I soon encountered another "half-dam" upstream from the Boaz Community Park.  The sides of the dam were shallow which made for a doable portage, but the outlet could still be considered dangerous and not something you want to get too close to.
The purpose of all these half-dams (Mill Creek and the East branch have at least 5) isn't 100% clear, but I suspect they are some type of flood control.  This is unfortunate, as the science behind dams as impediments to flooding is a bit outdated.  In reality, almost all dams silt in over time and a surprising number fail each year.  On top of this dams actually raise the ground water table adjacent to the creek/river.  This in turn decreases the ability of the ground to soak up rain water and it is more apt to run off into streams.  Hopefully one day the dams on Mill Creek will be removed and it is restored to its natural state.
Paddling through the community of Boaz was fairly nice.  There was a trail bridge, a small set of bumpy rapids and then the Hwy E bridge.  After E, the creek finally started to meander and became a bit more natural and "creek-like". 
I paddled by some large farms where eroded banks were a bit of an eyesore, but later the creek flowed by some really nice driftless hills (known to locals as the Ocooch Mountains) that still had some nice oak color despite being past prime.
About halfway into the trip, I encountered the last and largest of the half dams.  This too was easy to portage, but extra care was needed not to get too close to the outlet.  The dam was immediately followed by a Class 3 pitch of rapids, which I also portaged.  In some ways the half-dams were kind of annoying, but they did create artificial waterfalls that were scenic and photogenic.
After that final dam, the creek became much more shallow and really started to meander.  This was a nice stretch and the driftless scenery very much reminded me of Tainter Creek.  One logjam had to be portaged, which wasn't fun, but was managable.  I actually expected more logjam portages, so only having to do one was a bonus.  I ended the trip at Hwy Q and then bike shuttled back to my car in Boaz.
In summary this was a nice trip, but not an elite trip.  Those goofy half-dams were a bit annoying to get around, but were unique and it's always great to paddle by driftless hills in October.  But if you're not a local, I'm not sure I would recommend a big drive to do this stream when there are so many better area water trails.  But locals looking for a new adventure and not minding some dam portages should have a good time.
Noteworthy Wildlife:
Typical of many later fall paddles in Wisconsin, there wasn't much wildlife.  I saw a few small fish and heard some heavy splashing (likely a turtle taking a dive).
Local History:
Mill Creek and the Blackhawk War:  A historical marker in Boaz reads:  During the Black Hawk War of 1832, Black Hawk's band and the pursuing military ventured into this unknown terrain of steep ridges and valleys.  Following nearby Mill Creek, some of the band headed over these rugged hills known as the Ocooch Mountains.  Along the way, many Indians died from exhaustion, starvation and battle wounds. 
Boaz Mastodon:  In 1898, bones of a mastodon were found on the East Branch of Mill Creek.  They were given to the UW Geology Museum which made it a centerpiece exhibit.  A few years back the museum had the bones tested and it turned out the exhibit was a combination of plaster, bones from another mastodon (dug up near Fennimore), and just a few bones from the Boaz mastodon.  It's still impressive that any mastodon bones were found in Boaz though.  Perhaps the remainder of the Boaz skeleton is still waiting to be discovered in the Mill Creek area.
Put-in:
Hwy 14:  Northeast of the bridge there is a pull-off parking area that seems public (a DNR deer disposal station is located here).   However you do have to plow through some thick weeds and down a steep bank to launch.  The best put-in area is directly under the bridge which isn't bad.
Alternate Put-ins:
Pine Valley Rd:  (5.7 miles upstream from 14)  This is a nice prospect that I've previously scouted.  But…there is likely 4-5 logjams, one fence, and one "half dam" to contend with.  Future trip…
Boaz Community Park:  (0.5 miles downstream from Hwy 14)  Steep banks, but a better put-in than Pine Valley Rd.  The stretch between here and Hwy 14 is straight, ditched, and does have one "half-dam" that is kind of scenic.
Take-out:
Hwy Q:  There is a nice sandbar directly under the bridge for taking out.  But the bank leading up to the road is a bit steep.  There is also a dilapidated fence you have to drag your boat around.  It's all manageable, but this isn't a great bridge access.
Alternate Take-outs:
Cty Rd E1st Bridge:  (1.6 miles downstream from Q)  When I scouted this, the bridge looked steep, weedy, but doable…  This additional leg seems mostly open and nice, but there are likely 1-2 logjam portages.
Cty Rd E2nd Bridge:  (3.9 miles downstream from Q).  Trying to remember…I think this seemed like an ok bridge access when I scouted it.  But this additional leg would add maybe 10 logjam portages to a trip.  Not worth it.
Shuttle Information:
Bike Shuttle – Q to Hwy 14:  3.2 miles with 89′ of ascent.  I thought this was a scenic and nice rural bike shuttle.  There is only one minor hill to deal with.

Hazards, Logjams and Current:
Logjams:  There was only one logjam that had to be portaged.  This was a bit tricky because of a somewhat steep weedy bank, but I thought it was manageable.
Current:  The first half of the trip is mostly impounded and pretty lacking in current.  The second half of the trip had some minor current with a few riffles.
Rapids: 
The "half dam" by Boaz Community Park had a Class 2 pitch following the dam.  Most will simply portage that and the dam so it won't be an issue.
There is a Class 1 ledge just upstream from Hwy 171
The "half dam" located about halfway into the trip has a Class 3 following it, but again most will likely portage that plus the dam together so no biggie.
There is a minor Class 1 at the take-out.
If returned to its native state without all the dams, this creek might actually have quite a few fun rapids.
Dams:  This creek has several "half dams" (2′ ledges with open middles).  Their purpose is unknown but they must be portaged.  They do create scenic waterfalls.
Half dam #1:  This is located just upstream from the put-in and you can optionally paddle upstream to see it. 
Half dam #2:  This is located just upstream from Boaz Community Park.  When levels are low, it's not a difficult portage over the side of the dam.  When levels are high stay away from the mouth and get out much earlier by the park. This is a steep climb up and down a grassy bank but is doable.
Half dam #3:  This is located about halfway into the trip.  It is the largest and most impressive half dam.  You can get out by the dam and just pull your boat over…but be super careful not to get swept over.  In high water, you don't want to be anywhere near the outlet and should portage well upstream of the ledge (more difficult but doable).  There is a Class 3 ledge below the dam, but below both of those, there is a nice shallow area good for putting in.
River Depth and Navigability:
Trip Depth:  70 CFS or 8.65′ per the Kickapoo River Gauge by Ontario: 
< 8.70′:  On the shallow side but plenty navigable.  The half dams are easier to get past when levels are low.
8.71-8.80′:  Average depth.  You should still be able to get somewhat close to the half dams but be careful.
8.81-8.95′:  Above average depth.  Stay clear of the half dam outlets.
8.96-9.10′:  A high depth.  Maybe some strainers on the downstream side.  Stay clear of the half dam outlets.
9.11+':  A very high depth.  The creek is likely still navigable for experienced paddlers though.
Mill Creek Overview:
Hood Hollow Rd to Quarry Rd:  0.6 miles.  Nice stretch.  Maybe 2 logjams.
Quarry Rd to Hwy Ee:  0.1 miles.  Short stretch between bridges.  Looks nice.
Hwy Ee to Pine Valley Rd:  1.3 miles.  Maybe one jam.  Nice section.
Pine Valley Rd to Hwy Ee Shoulder:  3.2 miles.  Maybe 4 logjams.  The Hwy Ed shoulder is a speculative access (see map).
Hwy Ed Shoulder to Hwy 14:  2.5 miles.  Nice open section.  Likely two small dams/ledges to deal with.  Maybe 1-2 logjams and one fence.
Hwy 14 to Hwy Q:  3.9 miles. 

Hwy 14 to Boaz Community Park:  0.5 miles.  An open channelized stretch of creek with tall banks, but kind of nice.  There is a "half dam" to portage, which is a manageable portage when levels are low.
Boaz Community Park to Hwy Q:  3.4 miles.  One half-dam and another logjam to portage, but a nice stretch with a few riffles and scenic vistas of the nearby Ocooch Mountains.

Hwy Q to Cty Rd E1st Bridge:  1.6 miles.  Decent stretch.  There might be 1 logjam though.
Cty Rd E1st Bridge to Cty Rd E2nd Bridge:  2.3 miles.  Maybe 10 logjams.
Cty Rd E2nd Bridge to Basswood Rd:  1.6 miles.  Maybe 9-10 logjams.
Basswood Rd to Crossover Rd:  1.4 miles.  Maybe 13 logjams.
Crossover Rd to Hwy 193:  3.5 miles.  Maybe 2-3 logjams, but a really nice prospect with light rapids and a cliff.  On my todo list.  Hwy 193 is a bad put-in (steep bank, long guardrail), but just upstream is a lane where the former dam used to be.   This is a good access, but private.  Call 608-739-4198 to get permission to launch here.
Hwy 193 to Hwy 60:  3.3 miles.  Maybe 4-5 logjams.  On my todo list.
Wisconsin River:  The Hwy 60 ramp is practically on the Wisconsin River.  If you wanted to you could extend a trip on Mill Creek down the Wisconsin.
Trip Map
Overview Map
Video
Photos
How did your trip turn out?

Questions or comments?

Feel free to leave your feedback.